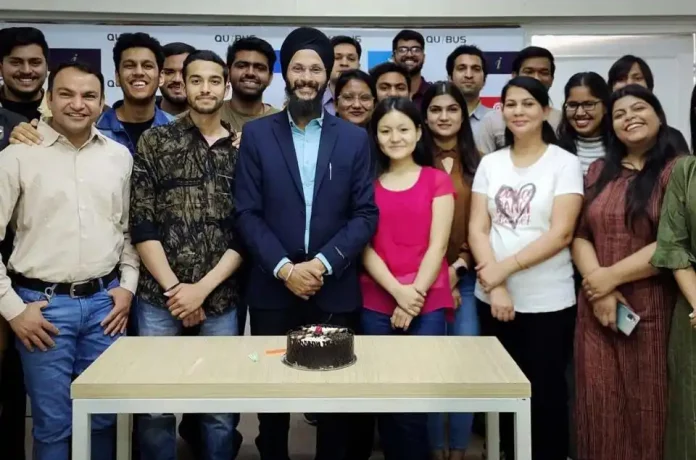 Many institutes are providing the Best Digital Marketing Courses in Jaipur, but the purpose of joining the digital marketing course for all people is quite different. Many people come to learn this course only for business purposes, and many come to build their careers ahead with this course.
If you want to learn from the basics, join a short-term course that helps you to reach your digital way. For that, join Quibus training which is the best institute for Digital Marketing Course in Jaipur. In Quibus training, you will find the best trainer who has an experience of more than twelve years. He designed this course in a way in which he makes you learn from the basics to the advanced level.
The class environment is academic and well-disciplined during the learning time. He guarantees you will find an excellent job if you follow his class and implement it in real life.
Why is Quibus Trainings the Best Digital Marketing Institute in Jaipur?
Quibus training is the Best Institute for Digital Marketing Courses because it provides the best to its student in just 4 months, from the basics to the advanced level. Their class timing is very flexible; they run only two batches simultaneously. Morning and evening batches with the puny strength of the class. So that no college, office, or business hour clashes in between.
In this article, you will learn more about Quibus Training and the benefits of joining it:
1. Quibus Trainings has an Experienced Trainer
Quibus training is run by "Mr. Paramveer Singh Sandhu." He was from a physics background, and now he is running three companies of his own. And providing Digital Marketing Classes to the students. His story is an inspiration for so many people.
with twelve years of experience, he started his career in the digital marketing field. He provides SMM, PPC, Google Analytics, Google Ads, E-mail marketing, and SEO course in Jaipur.
Along with the trainer, he is a good motivator and always says one thing to their student "Do it; it doesn't matter if it is wrong or right." He provides daily assignments, involves case studies, and provides you with tools to learn the topics and understand them in a better way.
2. Provide a Short-Term Advanced Course
Quibus training provides a 4-month course in which they are making you learn from the basics. And to join this course, you don't have to be from a technical background.
One thing you need in this course is your efforts and clarity for your career. In this short-term course, if you give your time and work on the challenges you face in this entire course, you will build your career in this and reach the decided goal in between two to three years.
3. Offer Free Internships to Selected Students.
They offer 6 months internship, and this opportunity is only for those who are focused on their career and want to grow in this field. And for this internship, you must clear all the certificate exams, class exams, and an interview.
It will be an opportunity for those students who got this internship. Because, from the interview, they understand your eligibility and in which field a student will grow, they started providing you with work and assisting you with the lead of that particular work. And one more benefit you will get in this internship is experiencing a different project.
4. Provide 100% Job Assistance.
They assure 100% job assistance because they believe their students follow every step that they provide you in their short-term course. Then, they get the job, could do freelancing and use their skill in growing business because Digital Marketing is the most demanding career skill right now and in the coming future.
5. Help in Doubt Solving
After each session's end, he asked every student if you have any problem regarding the topic. They can freely ask we will discuss it. After the class also, students can clear their doubts. Despite this, for communication, he provides a telegram group to discuss doubts and share everyday class learning. And he is also active in that group in solving doubts.
6. Providing Offline And Online Classes:
Before the pandemic, they provided only offline classes. Because he believes in offline classes, students grab much and interact with their competition. Digital marketing is wholly based on communication and connection, and offline classes improve it. There is no difference in the quality of education of both classes. For him, all are the same, and he is providing equal facilities to online students.
Conclusion
The above article mentions that the best institute provides Digital Marketing Courses in Jaipur. This article will teach you about the institute, its quality education and its trainer.