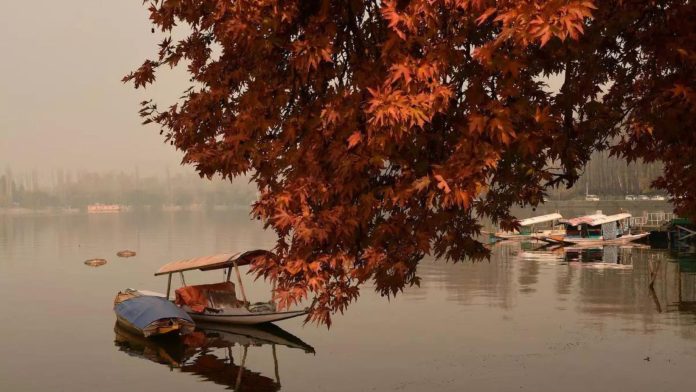 Exploring the Enigmatic Charm of Kashmir:Welcome to the country of beauty par excellence! Here is beauty at every bend in this natural tapestry. It has everything it takes to attract tourists, from natural beauty to serenity; located at the foothills of the Great Himalayas. This area encompasses everything from snowy mountains and tranquil lakes to vast grasslands and antique shrines or mosques, and is ideal for people looking for respite in Nature's arms.
For your upcoming trip to Kashmir – an insider's guide. Well then, pack your bags for exploration at the ever beautiful Kashmir.
Top Tourist Destinations in Kashmir
1. Srinagar Charm of Kashmir :
The Jewel of Kashmir imagine sailing on calm Dal Lake aboard a charming shikara, surrounded by floating gardens and old-fashioned houseboats. Hello in Srinagar – welcome to our homepage of Kashmir's capital. The city of Srinagar is famous for its beautiful Mughal gardens such as Nishat Bagh and Shalimar bagh – it's just one spectacular sight after another. Discover the lively buzzing marketplaces and stop at Jama Masjid that is a landmark symbolizing the culture in this city.
2. Gulmarg Charm of Kashmir : A Winter Wonderland
For all the snow freaks out there, Gulmarg is heaven on earth. This idyllic hilly retreat is renowned for its powdery inclines which attract skiers from all over the world, providing unforgettable winter experience. Alternatively, go up to Apharwat Peak to enjoy striking vistas or try some snowboarding and sledging of their perfect slopes. To heat up, sit beside a roaring fire and sip some warm Kahwa tea.
3. Pahalgam Charm of Kashmir : Nature's Retreat
Nature lovers rejoice! An Emerald Oasis- Welcome To Pahalgam. Take a trip down to the Betaab Valley and behold mesmerizing mountain ranges at their best or leisurely saunter alongside the Lidder River as captivating vistas of the snow-capped peaks play out before your.
4. Kashmir Great Lakes Trek: A Hiker's Paradise
For people who are bored with usual routine, there are the Great Lakes of Kashmir Trek that will provide unforgettable adventures in a wild nature. Cross high mountain passes like Gadsar Pass & Nicnhai Pass over lush valleys with glacial lakes. There are new wonders every day when you sleep under the open air and have for company the wild nature of night stars.
Unique Experiences in Kashmir
In this picture-book, you will see a lot of striking views in the lap of the Himalayas, in the place called as Kashmir. It's a paradise on earth with beautiful lakes and stunning snowy peaks.
One of the most enchanting experiences in Kashmir is the shikara ride on Dal lake, which one must see to believe. As you glide on the placid waters amidst the floating gardens and enchanting houseboats, you would realize yourself in the lap of dreamland.
Trekking in Kashmir caters to adrenaline junkies seeking a thrilling experience. Or mastering the toughest trails of Gulmarg which takes you closer to a nature's wonder with each step.
Pari Mahal should be the place to go for cultural immersion on a trip. It's architectural beauty, and most of all, its view that makes it a spectacle within the city of Srinagar.
Food lovers have nothing but admiration for the delicious Kashmiri cuisine that is steeped in tradition. Be prepared for a blast of flavors, which will include exotic biryanis, delightful Kebabs, biryani made of saffron infused rice and Kashmiri pulao.
Adventures in Kashmir
The land of Kashmir is no less than a beautiful dream place but an idealist's heaven adventure. This is one region which is full with majestic Mountains, roaring rivers and beautiful valleys that offer excitement seekers a world full of adventurous activities. If you're a seasoned explorer or just curious about something different, there is plenty to see and do in Kashmir for everyone.
Trekking is considered as one of the best adventures in Kashmir. It is famous for its scintillating treks, like the Amarnath Yatra and fascinating Tarsar Marsar Trek. The trails will lead you through breathtaking country side, with an additional chance of camping in a sky studded with stars.
For lovers of water, white-water rafting in the magnificent Jhelum rivers calls for one. Deep gorges are also carved along this river which provide ideal places of rapids, targeting both beginners and advanced expertise. Wow, what a feeling it's going to give you.
You might consider adding a paraglide trip in Gulmarg if you like your thrills above the land rather than below the sea. It is truly an experience that will remain etched forever in one's memory as it involves soaring high up into the sky atop the mountain range draped in white snow and peeking down into the breathtaking valley below.
Those looking for adventure on their wheels, should miss no chance when it comes to mountain biking at Ladakh. It has been an ideal sanctuary to those passionate about adventure cycling owing to its harsh terrain and spectacular scenery.
It's also important not to forget about skiing! In winter, Kashmir attracts skiers with its powder slopes and such resorts as Gulmarg and Pahalgam.
All these and more are some of the amazing activities that await you in Kashmir. Here, adventure seekers can engage in pursuits such as hiking, rock climbing or snowboarding.
Therefore, put your suitcase together, summon up your bravery, ready for fascinating adventures in enchanting Kashmir!
Insider recommendations for travelling to Kashmir
1. Plan your go to all through the off-height season:
Kashmir is a famous traveller destination, so if you need to avoid crowds and high costs, consider travelling all through the off-top season. The months of April to September are perfect, as the climate is fine and there are fewer tourists.
2. Get dressed accurately:
Kashmir is thought for its conservative way of life, so it's essential to get dressed modestly while exploring the area. girls must consider sporting free-becoming garb that covers their shoulders and knees, whilst men ought to choose long pants and shirts.
3. Appreciate neighborhood customs and traditions:
The humans of Kashmir have a wealthy cultural historical past, so it's crucial to admire their traditions and customs. bear in mind of nearby sensitivities while traveling spiritual websites or interacting with locals.
4. stay in a houseboat on Dal Lake:
One particular enjoy in Kashmir is staying in a conventional houseboat on Dal Lake. those superbly embellished floating homes provide beautiful views of the surrounding mountains and offer an real glimpse into local existence.
5. Strive conventional Kashmiri delicacies:
Do not pass over out on trying actual Kashmiri cuisine at some stage in your visit! sample dishes like Rogan Josh (a flavorful lamb curry), Dum Aloo (spiced potatoes), and Kahwa (traditional tea infused with saffron).
6. Hire a knowledgeable manual:
To in reality immerse your self in the allure of Kashmir, consider hiring a informed neighborhood manual who can display you hidden gems that won't be cited in guidebooks.
Conclusion
After exploring the enigmatic allure of Kashmir through its pinnacle tourist locations, particular reports, and exciting adventures, it is obtrusive why this region have to be on every vacationer's bucket list.
Kashmir gives a captivating combo of lovely natural beauty, rich cultural heritage, and warm hospitality. whether or not you're in search of tranquility amidst breathtaking landscapes or seeking out adrenaline-pumping sports, Kashmir has some thing to offer every body.
The numerous landscape of Kashmir boasts majestic mountains, pristine lakes, lush valleys, and enchanting meadows in order to depart you awe-inspired. From the serene Dal Lake in Srinagar to the picturesque hill station of Gulmarg with its snow-covered peaks and global-elegance snowboarding facilities – each destination in Kashmir is like a bit of heaven in the world.
One can't pass over experiencing the unique offerings that set Kashmir other than different locations. Take a ride on a conventional Shikara boat throughout the tranquil waters of Dal Lake even as marveling on the floating markets and charming houseboats. indulge in delectable neighborhood cuisine like Rogan Josh (spicy lamb curry) or Wazwan (a multi-direction ceremonial dinner) that tantalizes your taste buds with genuine flavors.
For adventure enthusiasts, there are limitless possibilities to get your coronary heart racing in Kashmir. Embark on exciting treks via untouched trails surrounded by means of towering peaks which include Amarnath Yatra or explore hidden caves like Aharbal Waterfall Cave Trek. If water sports excite you, try river rafting along gushing rivers like Lidder River in Pahalgam or experience kayaking on lovely lakes.
Check also : Revolutionizing Luxury Travel: A New Way to Experience Limo Service in LA