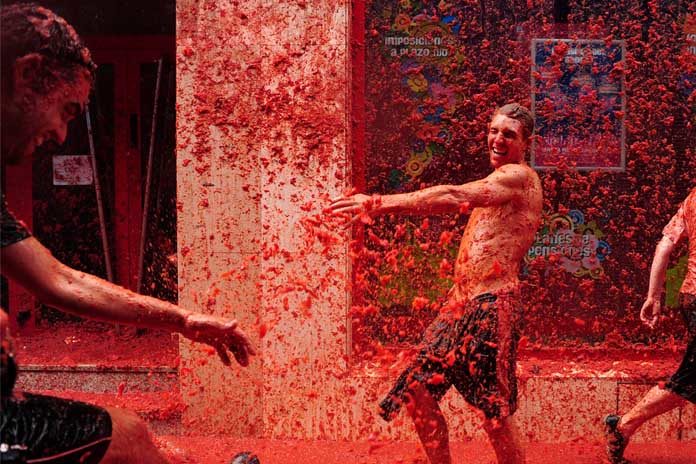 La Tomatina – Tons of tomatoes squashed and smeared on bodies, thousands of crazy people squeezed around an alley in the middle of a town and an insane electric atmosphere in the surroundings- this will precisely be the scene in the small city of Buñol near Valencia in Spain.
This is because on August 31 this year, once again we are going to witness one of the most popular and if one may add, mental festivals around the world- La Tomatina.
La Tomatina Festival
La Tomatina- the annual tomato throwing festival and the world's largest food fight is round the corner. A few thousands of lucky people will gather in Buñol to take part in this crazy extravaganza of tomatoes.
Tomatina is perhaps the most popular events of Spain along with bullfighting.
What is La Tomatina? The word Tomatina originates from the word 'tomate' to which "-ina" is added at the end which means "lovely." So, the word means lovely tomato festival although it is much more than just lovely!
The tomatina festival takes place on the last Wednesday of August every year. It is a part of an ongoing festival week in Buñol. Tourists from several parts of the globe come together to have a glimpse of the rich Spanish culture and tradition. Although the main tomato throwing festival goes on for only an hour, the festivities and celebrations go on for a week.
The week-long tomato festival consists of cultural parades, fireworks, lots of dancing, drinking and even a massive cooking contest in which people participate to make a Valencian rice dish called Paella. The main attraction, however, remains the La Tomatina where the madness of tomatoes overcomes every living person on the streets of Buñol.
Why is Tomatina Festival Celebrated- History of La Tomatina
Local people say that La Tomatina originated in the year 1945. However, nobody knows the exact reason behind its origin. Several stories surround the beginning of this tomato festival in Spain.
Different Stories of La Tomatina
One of the most widely quoted stories is about a bunch of wild, carefree group of friends. These friends had come to Buñol in October 1944 to attend a parade called Gigantes y Cabezudos or Giants and Big Heads. In this ceremony, people used to dress up and wear giant masks.
During the period, the frenzied excitement of those friends made one of the participants fall from the podium. He landed on a vegetable stall in the market and angrily started throwing off tomatoes at the crowd.
Other people joined in and responded with more tomatoes and started pelting tomatoes on each other. This led to a full-fledged street brawl of tomatoes. The tomato fight ended only after the local authorities intervened and put a stop to the madness.
However, next year during the same period, those young friends returned and started throwing tomatoes on musicians. Those musicians were performing during the festival but the crowd was not enjoying their music. Once again it led to a tomato fight and from then on, a tradition continued for following years.
A similar story goes by in which one of the kids in the friend group fell forward due to some reason. However, the kid thought that somebody had intentionally tripped him. So, he took tomatoes from a nearby store and started throwing at people. Soon other people in the procession also joined the battle and started hitting each other with tomatoes.
In fact, people provoked and dragged even the city officials into the fight.The store owner had to call the police eventually. The authorities forced all participants to pay for the loss of store owner due to the massive wastage of tomatoes.
After one year, this time, three weeks before the Gigantes y Cabezudos festival, those kids returned again with their tomatoes and repeated the same event. And, from then onwards, the tomato festival kept on growing in popularity. Eventually, it became an annual tradition to celebrate it on the last Wednesday of August every year.
Opposition to La Tomatina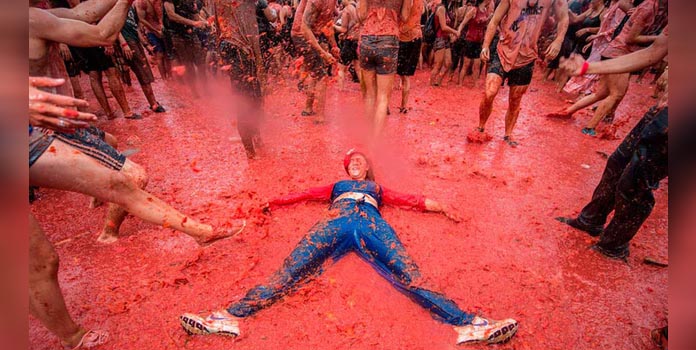 In its initial years, La Tomatina faced immense opposition from authorities due to the hooligan and vandalism associated with the festival. In the beginning, Mayor of Buñol banned the tomato festival thinking that it would cause unrest and disrupt harmony in the city.
However, the people opposed vehemently in the streets and organized a tomato funeral. The musicians used to play a funeral march in the procession and people continued to celebrate the tomato festival despite opposition from officials.
The primary opposition to La Tomatina came in the period from 1950-1954. During that time, Francisco Franco of the ruling kingdom banned the tomato fight claiming that it did not have cultural or social significance.
City officials and police managed to stop people from celebrating the festival every year during that period. Though people never stopped trying to organize the tomatina festival, they were not able to throw all their tomatoes.
In the year 1955, the ardent supporters and lovers of Tomatina from Buñol held a massive protest against the ban of their town festival. They held a real funeral event of Tomatina festival called the Burial of the Tomato ("El Entierro del Tomate").
They carried a giant tomato in a miniature coffin and took the coffin to the plaza of Buñol where the tomato fight had originally started. People even performed the funeral rites and played songs of funeral ceremonies.
With prolonged protests and continued persistence of people, in 1957, the government of Spain agreed to their demands and allowed the tomato throwing festival with certain rules and restrictions. The condition was that the Buñol city government was to be responsible for supervision of planning and execution of the event.
From the year 1975, "Los Clavarios de San Luis Bertrán" (town patron of Buñol) started organizing the tomato festival and bringing tomatoes. Earlier, the local people used to bring their tomatoes. Later in the 1980s, the town council took complete charge of the event and has been organizing tomato festival in Spain every year on the last Wednesday of August since then.
People nowadays celebrate La Tomatina in honor of the patron saints of the town, Luis Bertran and the Mare de Deu dels Desemparats (Mother of God of the Defenseless). Slowly the unusual nature of the Spain tomato festival led the popularity of La Tomatina spread to other parts of the world. In 2002, Spanish Department of Tourism declared La Tomatina as the official festival of Spain.
The popularity of the tomato festival in Spain grew to extraordinary heights at the beginning of this decade when around 50000 people began turning up for the festival in streets of Buñol. The general population of the town is nearly 9000, so it led to massive security and safety concerns.
Keeping in mind the same, the authorities introduced fees of $12 for participating in the tomatna festival. They have also limited the number of participants to around 22000 from 50000 to ensure the safety of people.
What Happens On The Day of La Tomatina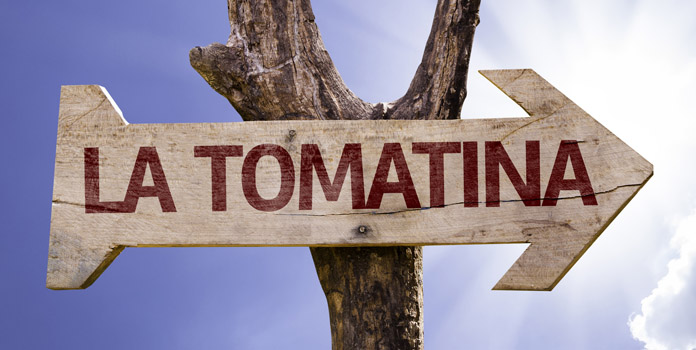 La Tomatina festival takes place in the center of Buñol town known as Plaza del Pueblo. There is a two story high pole made of wood and covered with grease in the middle of the street. The top of the pole carries a ham, and a person needs to climb the pole and reach that ham target.
The tomato fight does not officially begin until one person becomes successful to arrive at the target. The tradition requires them to wait for a maximum of two hours. If no person can reach the goal by that time, the tomato fest begins anyway after that.
However, during this period, residents from the balconies of their homes keep on throwing buckets of cold water on the tourists and participants. At around 11 am, many trucks carrying tons of tomatoes arrive at the place.
These tomatoes are procured from the nearby town of Extremadura. The tomatoes in that city are less expensive as they are unfit for consumption and usually consist of small, fleshy and rotten tomatoes.
A gunshot is fired after a person successfully climbs the top of the pole. Water cannons are fired from hose and pipes to mark the beginning of the festival. What follows is an absolute cacophony of chaos, madness, and wild fun.
People grab tomatoes from the truck and begin the tomato throwing festival. Tomatoes are squeezed, thrown, and smeared on the bodies of individuals. Be it stranger, friends, local person, or tourists- nobody is spared as the town slowly turns into the dark red color.
This continues for an hour after which another gunshot is fired. After this, nobody can throw tomatoes at anybody. Another group of trucks- this time, fire trucks arrive at the venue with huge water sprays from a Roman aqueduct.
They direct high-speed jets of water on the streets as well as people to clean the red remains of tomato pulp and juices.
However, they focus more on cleaning the streets rather than visitors. So you need to take care of yourself for cleaning. There are plenty of showers spots built in the nearby areas where you can go and clean yourself.
Some people also take a dive in the nearby Buñol River to wash while some get generous hoses of water from residents in balconies.
In any case, you will need long and tedious hours of cleaning your messy body after witnessing and experiencing the craziness of tomatina festival. However, if you have come to Buñol from Valencia on a tourist bus and intend to go back by same, you need to clean yourself up from the showers. You will not be allowed to board the bus if you are covered in tomato. After the cleaning by fire trucks, the streets become spotless due to the acidic nature of tomatoes.
Rules and Regulations of La Tomatina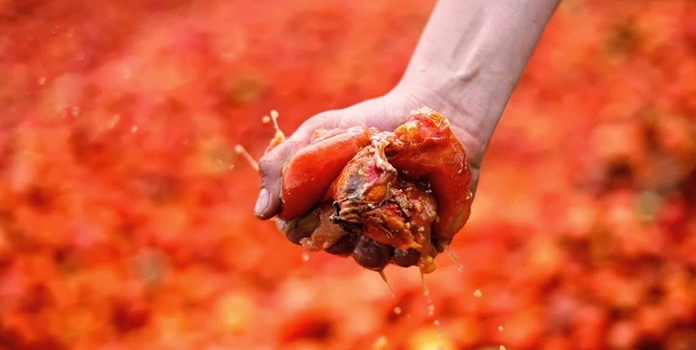 1. Safety First – You cannot throw any hard objects, bottles, or any other thing apart from plump, juicy tomatoes at other people. This is to ensure the safety of individuals participating in the tomato festival.
2. Squeeze and Throw – Squeeze the tomatoes lightly before throwing them to lessen their impact and avoid any chances of injury.
3. No Ripping – This is one rule which is rarely followed by the participants. You cannot rip off T-shirts of other people during the festival. However, again, we are talking about perhaps the craziest festival of the world, so there is little chance of strict adherence to rules.
4. Follow the gunshot – You cannot start throwing tomatoes before the gunshot and water cannons are fired in the beginning. Towards the end, everyone should stop pelting tomatoes after the second gunshot fired after one hour to mark the ending of La Tomatina.
5. Give way to trucks and lorries – You should maintain a safe distance from trucks and lorries carrying tomatoes and water. When they arrive at the venue, give way to them to come in the center.
6. Follow the directions of security staff – Organizers of La Tomatina make sure that their volunteers and staff are present at the venue to take care of proceedings and ensure the safety of everyone. Make sure that you follow their directions.
7. Reach early – The entry to urban area by car is prohibited after 7 am. So, try to reach earlier if you do not want the hassle of walking.
Checklist of Items for La Tomatina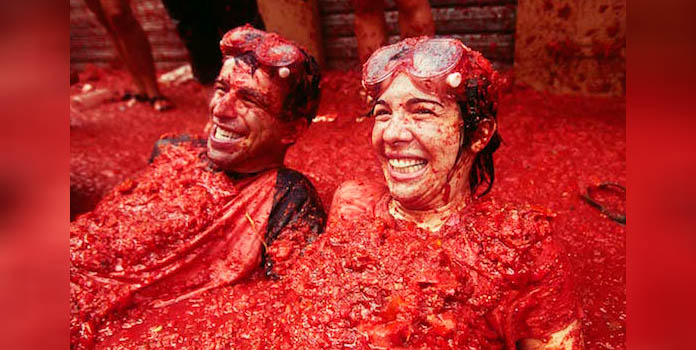 No matter how much you have heard about La Tomatina and how much you are excited to take part in the madness, you can never be fully prepared for the tomatina festival. Amidst all the fun, excitement, tomatoes, and thousands of people, you need to ensure that you carry some essential items with you to increase your pleasure during the tomato fight.
1. Old clothes/White clothes – You should wear old clothes or clothes which you never plan to wear again. This is because they will become either ripped or dirty beyond recognition after the tomato festival. Many people also wear white clothes to flaunt their tomato stains proudly after the hour long battle.
2. Shoes – Never think of going to La Tomatina while wearing open sandals or flip-flops. Imagine a crowd of over 20000 people squeezed together in the narrow streets and throwing tomatoes at each other.
There is every chance of someone stepping on you not just once but over and over again. Always wear closed-toe shoes, preferably older ones as you may have to get rid of them in all probability.
3. Eye Goggles – Goggles may help you immensely as tomato juice can cause irritation in eyes due to its acidic nature. Also, if you wear contact lenses, goggles will be extremely beneficial to you.
However, ensure that you have something with which you can clean them up. You can try those funky goggles used in snorkeling. You can also find many goggles nearby the venue where many local vendors sell them at a reasonable price.
4. Clean clothes and shoes/sandals – Some people do take away their dirty clothes and shoes after the tomatina festival as soigneurs. Unless you are one of those, we recommend you carry a backpack with a pair of clean clothes and shoes to change after the tomato fight. Moreover, if you plan to board the tourist bus, you need to clean yourself, so it becomes a necessary thing.
5. Carry the smallest possible backpack – The cloakroom at Buñol station is very busy and crowded during La Tomatina. So, do not bother to leave your belongings there if you are traveling by train. Instead, go for the smallest possible backpack with only essential items.
Helpful Tips for La Tomatina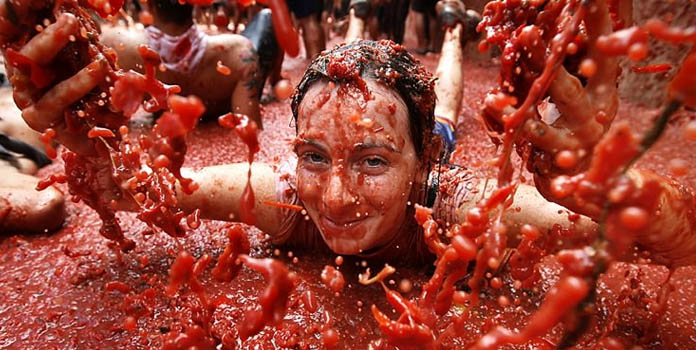 A few tips for extra care can enhance your experience at the world famous tomato festival in Spain. There are ways in which you can not only do this but also prevent undesirable occurrences while you are amidst tomatoes and thousands of people. Follow these tips to get more out of your La Tomatina experience:
1. Waterproofing your belongings – It is advisable to keep your belongings at your accommodation and carry only the essential items. However, if you still need to take some things, make sure that you waterproof them properly. This will avoid any damage to them while you enjoy in the madness.
2. Carry a waterproof camera – La Tomatina is once in a lifetime opportunity for many people. So, you would not want to rely only on public images or photographs by strangers. Invest in a good waterproof camera and record your memories. This will remind you later about the crazy, wild fun you had at La Tomatina, Spain.
3. Tuck in Your T-Shirt – This is useful only if you manage to save your t-shirt from getting ripped until the end of the festival. Tucking your T-shirt inside your shorts will keep a portion of it dry and clean which you can later use it for wiping off your goggles or face.
4. Book Your Ticket and Accommodation in Advance – You need to buy a ticket for participating in the La Tomatina festival. (You can buy La Tomatina tickets from the official website) Given the immense popularity of La Tomatina, you should try to purchase the ticket well in advance to avoid any disappointments later.
Take care of the bracelet that they give you for entering the tomatina festival. Also, book your accommodation in advance. The city becomes very crowded and people book hotels in advance for the tomato festival.
5. Reach early and grab a right spot – You can arrive first thing in the morning in Buñol as the streets are quite narrow, and it takes some time to search for the right place. If you want to be in the thick of the action, occupy a place near the Town Hall. However, if you are not too adventurous, try the square next to the Town Hall for fewer tomatoes and a great view.
5. Bring Packed Food – Most places in Buñol are closed and protected with sheets and covers during the tomato throwing festival. So, bring enough packed food with you in case you decide to stay back for little longer and spend time in the town for more exploring. Also, carry a bottle of water with you to keep you hydrated throughout the day.
6. Stay Hydrated – It is scorching in Buñol at the time of La Tomatina so do not forget to keep a plastic water bottle with you. Especially if you reach early at the venue, it will help you a lot. You can refill the bottle through the aqueduct located on the square next to the Town Hall. However, mind the people and localities around you who will be throwing water on you!
7. Large plastic bags – Carry few large plastic bags with you inside your backpack to the venue in which you can have your clean clothes and any other electronic items.You can also carry soap bar and a small shampoo bottle in the bag. This will help you in cleaning off tomato remains from your hair and body.
8. Be Careful of Shirt Rippers in the Crowd – Shirt ripping is not allowed during La Tomatina. However, many past participants have reported that sometimes a group of people gathers together in a circle. They trouble other members by forcefully ripping off their shirts whenever they come near their circle. So, beware of them.
Where to Stay During La Tomatina
Buñol is a small city with a meager population of about 10000 people. So it is usually very tough to find accommodation within the town. This becomes even more challenging during the time of La Tomatina when people from all over the world visit the place.
Most of the tomato festival participants prefer to stay in the nearby province of Valencia. Buñol is located at a distance of about 20 miles from Valencia. Valencia is the biggest city near Buñol and has a large number of hostels and hotels.
Due to this reason, most tourists and travel organizers plan their trip to Buñol from Valencia. Moreover, the city also boasts of a fantastic nightlife in addition to pre and post Tomatina parties.
How to reach Buñol from Valencia
You can easily reach Buñol from Valencia through a train ride. It will take about 45 minutes to an hour and a half. However, keep in mind that the train to Buñol does not go from the central railway station in Valencia.
You will need to take a train from Sant Isidre train station to reach Buñol. If you are starting from Colon station, you can take a subway line 6 to reach Sant Isidre. You can then take a train from there to Buñol.
The main venue of La Tomatina is about 15 minutes downhill walk from the railway station. You can follow the crowd from the station to the venue to reach there. There are several bus and shuttle services also which operate between Valencia and Buñol.
You can recognize the right place when you begin to see buildings covered in tarps and mesh (for protection).
La Tomatina will take place on 31st August this year. You can buy La Tomatina tickets from the official site of the tomatina festival. Do not forget to share your experience and tell us more about the world famous food fight in Spain.