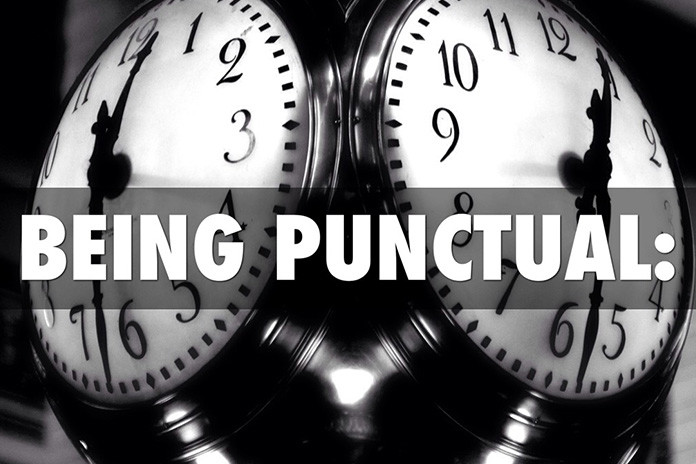 Time Management Tips
"Time is money."- Benjamin Franklin. Are you one of that person who hate getting late? Or, one of those who get late often enough, that it has become a habit. Either way, it says a lot about your personality! It's irritating and exasperating when someone is unpunctual.
Well if you do try explaining the importance of punctuality. You are thought of as crazy and overbearing.
Time is essence and tardiness are distasteful. Productivity and success depend on promptness. We set up meetings and deadlines to meet expectations without exhausting time and effort. You must know about time management.
Having no regard for time is a self-destructing attitude. The "it doesn't matter", "it won't make a difference", "chill dude", or "just go with the flow" mental outlook will take you nowhere. How do you think all the millionaires became so?
Some Pros & Cons of Being On Time:
Cons of being late show that you
Disrespect your own as well as the time of those waiting for you.
Are inconsiderate to the efforts put in by others to arrive on time.
Are disorganised, inattentive and unreliable, lowering your credibility and future opportunities.
You are a rude person, who only cares about making the big entrance, a megalomaniacal idiot.
Fail to prioritise and manage commitments, making you an unprofitable asset to your company.
Pros of being on time
Help increase your self-respect and gain the respect of your work colleagues.
Makes you trustworthy, dependable, and appreciated.
Builds a strong a dangerous reputation at your workplace.
Shows your professionalism opening more doors to profitable opportunities.
Removes all stress from life with a feel good attitude towards work and life.
"How did it get so late so soon?" Is this the sum of your current lifestyle? Don't let this become a habit, it is critical.
Tardiness is distasteful and acceptable only when a real emergency arises. An emergency is a situation that bears a genuine and danger to live, property, health or nature.
| Fake Emergencies | Real Emergencies |
| --- | --- |
| Spilled beverage on clothing | Delay of public transport due to some technical or weather conditions |
| Got late getting kids to school or elsewhere | The occurrence of an accident |
| Got in a fight with someone on your way to the said commitment | Mechanical problem or a punctured tyre of your vehicle |
| Your pet problems delayed you | Feeling unwell |
| Didn't realise the time because you were attending an unexpected phone call | Sudden illness or death of a close friend or family member |
| Forgot the particular date of the meeting | A natural calamity |
| Got late because of traffic! Not again. | A state of curfew |
When you hold a position of authority, it becomes essential to reprimand latecomers. Be confident enough to speak to such people. Have a personal conversation with them, asking them the reasons for such tardiness. Request them to improve their ways, get more organised and responsible. No matter who the person, they need to be reminded that their slowness is annoying.
How would you feel if you had arrived punctually to a party, meeting, conference, etc., but still had to wait for someone running late?
Yes, I understand that is provoking. When you can reach on time why not them? Even those apologies seem to fall on empty ears in such instances.
Any person who doesn't respect his position and the value of time is not fit for the privilege. Valuing time shows your care, consideration and thoughtfulness for the people in your life.
A few tips to help you get organised and be punctual & Time management tips:
Before you make a promise make sure to think it through. Do you have the time for it?
If you are pressed for time, learn to say no. It's okay to refuse now, then to keep someone waiting later.
Organise your calendar, make sure you have enough time to reorganise between appointments.
Set your time so that you arrive early by 10 minutes to every commitment.
Always calculate the time required to reach your destination by adding an extra 15 minutes to the time calculated.
Apologies for arriving late, and try making up in any way possible for your tardiness.
Set a goal. Treat yourself when you attend a few meetings in a row on time.
And lastly, if you believe in you anything is possible.
"He lives long that lives well, and time misspent is not lived but lost." -Thomas Fuller
We hope these time management tips will show the right path of success. Try and comment below.