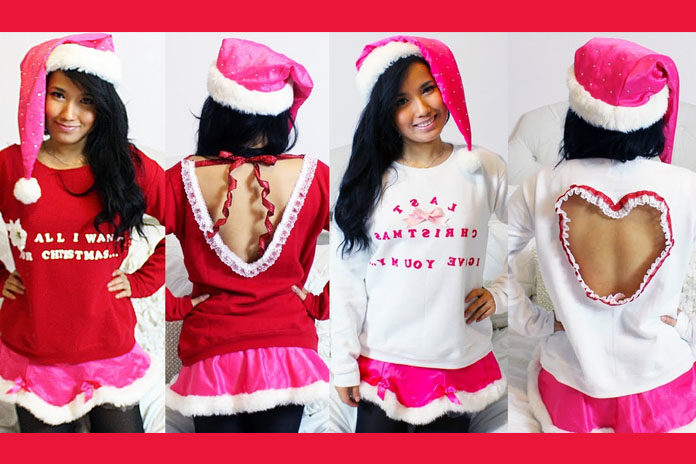 Ugly Christmas Sweater Ideas – Ho ho ho! Christmas season is upon us! That means it is time to get into a jolly mood to celebrate holidays with family and friends. And no Christmas celebration is complete without the mention of ugly Christmas sweaters!
Related: Outdoor Christmas Decoration Ideas.
Yes, those bold red and green sweaters which were once made by your grandparents have become a huge trend all over the world. Mind you these ugly Christmas sweater ideas are not really disgusting and just signify the time when everyone can go crazy with holiday sweaters without worrying about the fashion.
So, what are you waiting for? We know how much you love tacky holiday sweaters and you are going to find a fantastic collection of best ugly Christmas sweater ideas here.
Pick a hideous sweater and get ready to be in the holiday spirit:
1. Funny Ugly Christmas sweaters
You might be wondering that ugly Christmas sweaters are already so tacky and inappropriate that people are sure to laugh at them! However, these funny ugly Christmas sweater ideas take the humor to an altogether different level.
Once you wear any of these tacky Christmas sweaters, you are bound to become the laughing stock of any Xmas party. Some of these are so outrageously bad that they become painfully hilarious. So, what are you waiting for?
Choose the funniest and ugliest Xmas sweaters from this collection. You will find an incredible variety of sweaters, tunics, cardigan with the worst designs and patterns of tacky red and green colors of reindeer, Santa, teddy bear, snowman, and a lot more.
You can even discover a lot of funny Xmas quotes, cartoons, and tacky green and red color patterns on these sweaters and make everyone gag with your outrageous and terrible selections.
So, get ready to become the clown of any holiday party this season by trying the best funny ugly Christmas sweater. Don't be surprised if you also win the title of the most hideous Christmas dress at any of those weird Christmas sweater parties.
2. Star Wars Ugly Christmas sweaters
Long, long away in a far away galaxy, Yoda, Chewbacca, Han Solo and other favorite characters are completely unaware of the Star Wars ugly Christmas sweaters! So, if you have friends who are die-hard fans of Star Wars series, it is time to enrage them by wearing terrible Christmas sweaters inspired by Star Wars. And if you need fresh ideas for such sweaters, this collection is going to help you a lot.
Whether you need a black Darth Vader Christmas sweater or a green Yoda ugly Christmas cardigan, we have got you covered. You can even find tacky Chewbacca sweaters and cute R2-D2 sweaters in this collection which will take your ugly to a new lever.
These Star Wars-themed sweaters are perfect for an ugly Christmas sweater party to gain the attention of all people present in their worst Xmas dresses. These holiday sweater ideas are sure to get you in the festive spirit and turn the "force" to your side.
Of course, you will also get to become a part of perhaps the most famous pop culture of our times. So, do not wait any longer and find terrible Star Wars outfits to wear this holiday season.
3. Cheap Ugly Christmas Sweaters
At first glance, you would think that ugly Christmas sweaters won't cause you a lot of money. After all, they are ugly, right? However, that was the time when old grandmas used to make tacky sweaters at home and force their kids to wear them. Everyone called them ugly, but nobody knew that they would turn into such a big phenomenon.
Since the explosion of this trend all over the world for last few years, ugly sweaters have become hugely popular during holiday times with even celebrities wearing these funny jumpers and cardigans on Christmas.
So, you may have to spend a few hundred dollars to buy a stylish sweater. If you do not want to spend such money, we bring you this collection of cheap ugly Christmas sweater ideas. You do not require to spend a hefty amount on these sweaters as these are quite simple in design yet give that ugly look to you.
These affordable ugly sweaters are the best way to help you blend with the cool people in Xmas parties. After all, ugly sweaters are all about letting go of your inhibitions and feel comfortable in the own skin rather than asking validation from others. So, without any further adieu, check out these amazingly cheap ugly Christmas sweater ideas.
4. DIY Ugly Christmas sweaters
Do you want to make your tacky holiday sweaters more ugly? Well, then you must rely on the old tradition from where these sweaters got a boost. Remember the time when your grandparents used to give you handmade Xmas sweaters during holidays? Nobody liked wearing them, but it was a tradition to wear them. And that culture has led to a seemingly never-ending viral trend of ugly Christmas sweaters. So, what a better way to be a part of that trend than once again wearing homemade ugly Christmas sweaters, right?
So, we bring you these DIY Ugly Christmas sweater ideas which are sure to make you an attraction of any ugly Christmas sweater party! You can make these sweater designs quite easily at home without any fuss by just spending few hours during the holiday evening.
You can even take tips from your grandmother how she made those sweaters that you hated to wear in holidays! Stay open to all ideas she might have for you such as old fashioned cardigans, terrible tunics, or awful jumpers!
You can discover a lot of DIY Ugly sweater ideas from this collection and make sweaters yourself at home. You do not even have to pay particular attention to exact size and fit. After all, they are ugly sweaters so who cares if they are bit oversized or extra tight on your body. It will further help you to have the most horrible look at the ugly Christmas sweater party.
5. Plus Size Ugly Christmas Sweater Ideas
You may search the online and offline stores for hours but may still not satisfied with the design ideas of plus size Xmas sweaters. After all, you have to make an impression, and that too a horrible one if you are going to an ugly Christmas sweater party. Do not worry as we bring you an awesome collection of big and tall ugly Christmas sweater ideas.
These sweaters can fit large body structures quite easily without exposing unpleasant and embarrassing curves of the body Moreover; you can find a lot of fresh ideas which will redefine your outlook on Plus Size ugly Christmas sweaters.
You will discover a range of cardigans, tunics, and jumpers of XXL and XXXL size which you select and easily buy from stores. In addition to this, be assured of finding tacky colors of green and blue as well as dull images of reindeer, Christmas trees, red, fat Santa Claus to make these sweaters as ugly as possible.
Once you choose your favorite design, you can be sure of winning an award of the worst holiday sweater at the Ugly Christmas Sweater party in your neighborhood. So, what are you waiting for? Just exploring this collection and choose the ugliest sweater for this holiday season.
6. Light Up Ugly Christmas Sweater Ideas
What is even better (or uglier) than an ugly Christmas sweater? An ugly Christmas sweater that lights up and highlights every tacky design on your sweater! You will mostly find sweaters with images of Christmas trees which light up with the help of LED lights commonly present in your pockets. In addition to these, you can find sweaters with images of the snowman, Santa Claus, reindeer, and other traditional Christmas-related items.
You can even make simple Xmas sweaters at home and later buy special LED light kits for sweaters from the market. You will find that these kits can work for a surprisingly long period without giving you any troubles. So, you just need to pick your favorite ugly Christmas sweater from this collection and later use these kits to make light up ugly Christmas sweaters!
7. Ugly Christmas Suits
Did you think that only ugly Christmas sweaters are the fashion fad these days? Well, it is not just ugly sweaters which are popular on Christmas. You can even wear ugly Christmas suits, and people will give you the same eyebrow-raising look! You will not only be able to look different but perhaps also the most ugliest in the party. Who knows that you win the contest for the worst Christmas dress in the evening!
So, check out this fantastic collection of ugly Christmas sweater suits. You will find every kind of tacky Christmas suits which you may not have even imagined! These ugly Christmas suits have the most outrageous color combination which makes them tacky. Be it the bold red or extra ugly green or the flashy purple, you can reach new levels of crazy by wearing these tacky Christmas suits!
You can even like those suits with tiny Christmas trees in place of checks giving it an ever more horrible and funny look. Wear any of these suits to ugly Christmas sweater parties and be sure to be the center of attraction of any party! So, pick your favorite ugly Christmas suit and get ready to rock any Christmas sweater party!
8. Ugly Christmas Sweater Ideas for Kids
Make your kids a part of this insanely popular culture of ugly Christmas sweaters by making them wear your old sweaters or these hideous Christmas sweaters. Your kids may already hate those oversized sweaters made by their grandparents in holiday time. However, they will really love unique sweater ideas which can try during various family functions.
These special Ugly Christmas Sweater ideas for kids are perfect to dress up your little ones in traditional Christmas outfits and dress them like you. You can even have a holiday family photo shoot where all members are wearing ugly Christmas sweaters and celebrate the weird family look. To make this even more outrageous, use this picture in your family greetings for Christmas and New Year!
Your children can even wear these ugly sweaters at a kids ugly Christmas sweater party and make the best (or worst) impression in the party among their friends. They will definitely become famous in your neighborhood, and you will be known as the parents of kids with most hideous sweaters! You will have plenty of design choices in this collection like green elf design, runaway sleigh pattern, or T-Rex design. Your kids will simply love these particular Xmas sweaters made for them!
9. Ugly Christmas Sweaters for Couples
Christmas is the best time to bond with that special someone. However, if you are tired of the same, old cliche' ways of watching Christmas movies or dressing up in cute matching Christmas dresses, it is time to try ugly Christmas sweaters for couples. You will discover a huge variety of couple Christmas sweaters which are so hideous that everyone will roll his or her eyes on the sight of you and your partner at the holiday party.
Outrageously bold colors, crazy patterns, and oversized cardigans and tunics form a major part of this ugly sweater collection.You can even dress up as Mr. and Mrs. Santa Claus with these his and hers Christmas sweaters. You just need to stuff a pillow inside the sweater of your hubby to make paunch like Santa Claus. For your own sweater, you can make it more ugly by wearing oversized earrings or adding patches from old cloth.
You will immediately become the center of attraction of any ugly Christmas sweater party by wearing these matching ugly sweaters with your partner. Moreover, these couple sweater ideas will also serve as fresh inspiration for you can also discover fresh inspiration for Christmas gifts.
10. Ugly Christmas sweater Ideas for Dogs
When your whole family is wearing ugly Christmas sweaters, why keep your pet dog away from this tradition? You will love these hideous Christmas sweaters for dogs which will make your dog stand out from your neighbors' pets on the occasion of Christmas. Moreover, the dog is the best friend of man, and you won't want to deny your best friend the pleasure of indulging in latest Christmas fashion fad.
Make him feel like a part of the family by dressing it up in a warm, snug ugly Christmas sweater. For this purpose, we bring you some of the most eye-grabbing ideas of ugly Christmas sweaters for dogs. Try these ideas and have your pet into your family annual photograph in which everyone is wearing horrible Christmas sweaters.
You have got many options to choose from this list to dress up your dog for the festive season. These Christmas sweaters will not only keep him warm in winters, but some sweaters may also help your pet to win an ugly sweater contest in your neighborhood! You will discover some of the best ugly Christmas sweater ideas in this collection for your pet dog. These ideas are sure to give the most unusual and funny look to your pet in these holidays!
11. Ugly Christmas sweaters for Babies
Dress up your little toddler into a cute and ugly Christmas sweater for a full-fledged family celebration on Christmas. After all tacky Christmas sweaters are a part of the tradition now, and no baby should grow up to realize that he or she does not have any childhood picture in a warm, cozy yet hideous Christmas sweater. Moreover, when your kid grows up, it is highly unlikely he will accept those traditional grandma-made sweaters which are actually behind this crazy trend!
To help you in deciding the style of baby Xmas sweater, we bring you some ugly Christmas sweater ideas from which you can choose an ideal sweater for your child. You can find all crazy and bold Christmas colors in these baby Christmas sweaters. Your child is guaranteed to look the best of all babies and may even win an ugly Christmas sweater contest for infants! So, the possibilities are really endless, and you just have to select the most mind-blowing tacky Christmas sweater for your toddler.
The above ugly Christmas sweater ideas are sure to get you all the attention you deserve in any holiday party or family function. You have plenty of choices to pick the most tacky holiday sweater from this ultimate collection.
So, hop on the Santa sleigh and dress up form these jolly ugly Christmas sweater ideas this season!
Merry Christmas 2016!