Jennifer Lawrence Hairstyles: One can never get enough of Jennifer Lawrence. The 26-year-old Hollywood sensation is one of her kind personality who has amazed everyone with her exceptional ability in front of the camera. She won an Oscar for the Best Actress at the age of 23 after making her debut when she was 20.
Related: Only Guide To Beyonce Hairstyles.
Jennifer, often known as JLaw among her fans, is one of the most outspoken and bold female celebrities out there in the film industry.
Also Read: Amazing Hair Colors Ideas.
However, it is not just acting skills or her outgoing personality that has enthralled people all over the world. She has made headlines with her brilliant sense of fashion and style especially when it comes to hairstyles.
Her fans and fashion lovers around the love just love Jennifer Lawrence hairstyles and cannot get enough of them. Even JLaw never fails to flaunt different hairstyles whenever she is in public.
More On Celebrities.
Today, we look at 21 best Jennifer Lawrence Hairstyles which can give you the inspiration for your next haircut:
1. Killer Katniss Look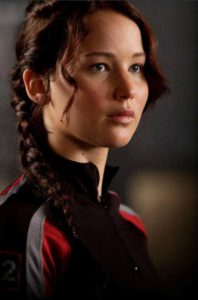 This Jennifer Lawrence hairstyle deserves to be on the top due to the massive craze of fans all over the world for this particular style. The style is inspired by the leading character, Katniss Everdeen of Hunger Games trilogy, exceptionally portrayed by Jennifer Lawrence. We really do not need to get into this side braid hairstyle as it has its name of its own as Katniss hairstyle.
2. Side parted Jennifer Lawrence Hair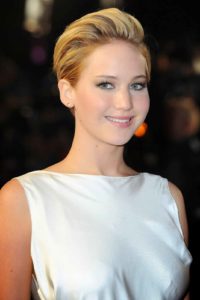 Jennifer Lawrence totally rocked her cropped hairs by varying them from time to time. This one has a side parted, boyish style with a wavy spike in the middle. However, the striking feature that takes this hairstyle to an altogether different level is the side, piercing gaze of the actress which is perfect with this side parted hairstyle.
3. The Ultimate Chic Look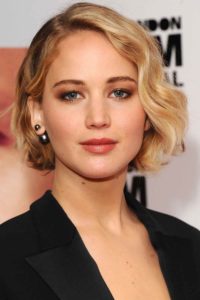 You know her as the confident, bold actress who is not afraid to speak her mind. She, however, has that unique, chic look as well which makes her look like a beautiful girl next door! This chic hairstyle of Jennifer Lawrence with extra waves on one side totally complements her enchanting eyes.
4. Crazy Wave with Bangs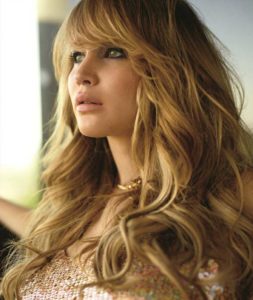 Now, what do we comment on this look? It is perhaps one of the most striking Jennifer Lawrence Hairstyles. The full Jennifer Lawrence hair looks quite different from her mostly cropped and pixie haircuts. Furthermore, that fantastic wavy look with bangs covering her entire forehead is just breathtaking.
5. Jennifer Lawrence Wavy Fringes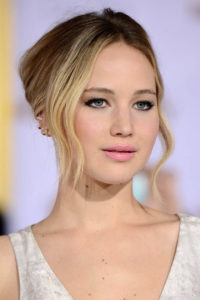 It takes a fashionista like JLaw to add spice to the otherwise typical short hair look. During the period in which she sported short hairs, she experimented a lot, and this Jennifer Lawrence Hairstyle is a fantastic result of those tests. The front hair fringes near cheeks with rest of hairs laid back in a precise position makes this one of our favorite Jlaw haircuts.
6. Jennifer Lawrence Half Bangs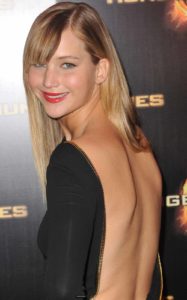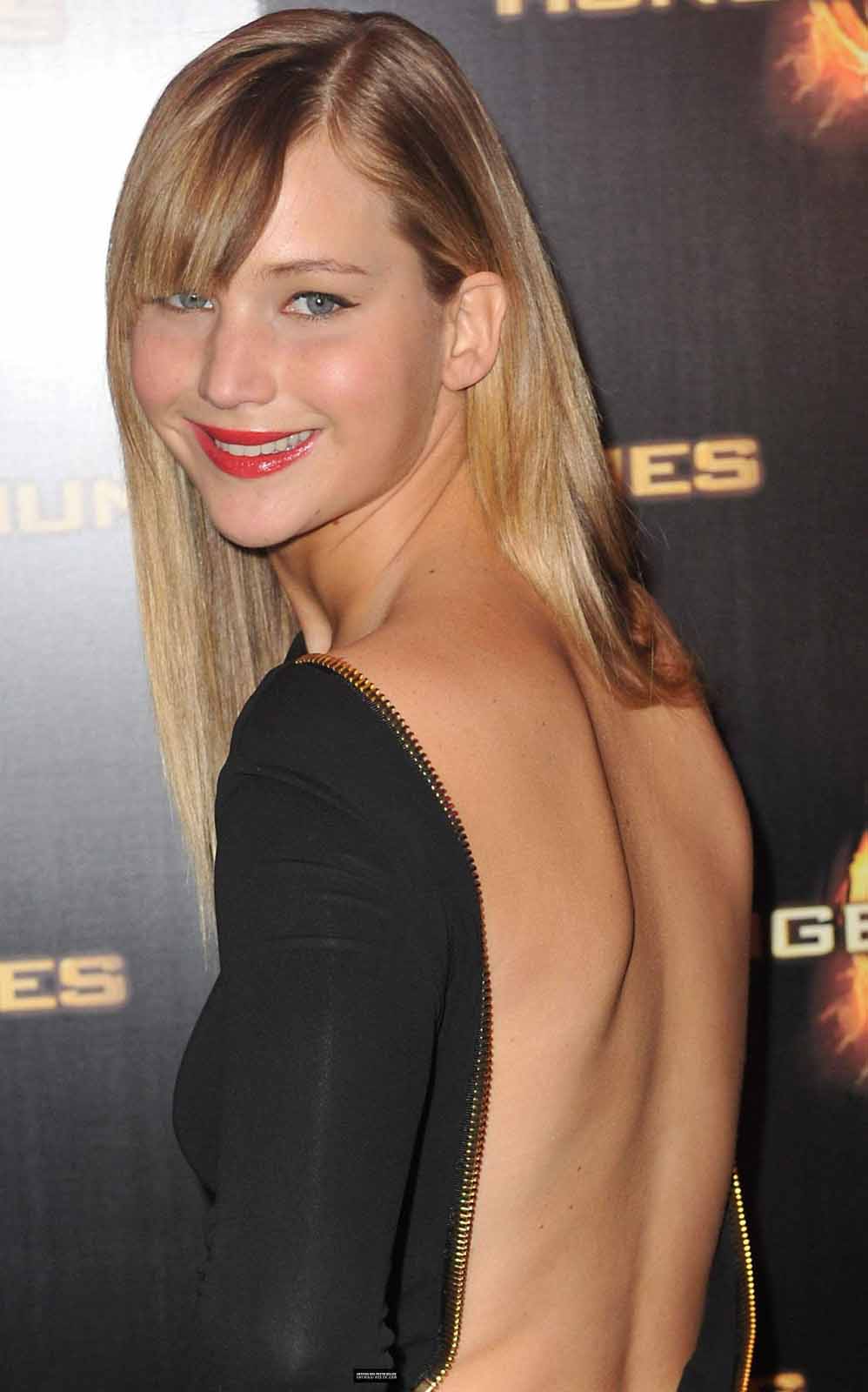 Jennifer Lawrence charmed everyone with this beautiful half-bang looks. The straight hair along with bangs covering half of her forehead look stunning. Add to this the electrifying smile of Oscar beauty and you cannot help but admire the ever changing yet excellent haircuts of Jennifer Lawrence.
7. Brunette Jennifer Lawrence Hair with Fringes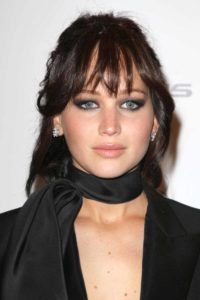 You do not usually see Jennifer Lawrence hair color anything apart from blonde or golden shades. However, this one is an exception with the beauty sporting a brunette look with a black-brown hairstyle. This Jennifer Lawrence hairstyle only looks flawless due to the added charm of her smoky eyes and black dress.
8. Jennifer Lawrence straight shoulder length hair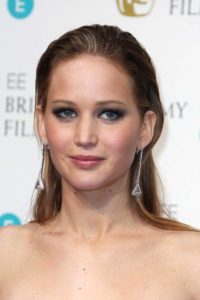 Another unconventional look of Lawrence, this one brings out the simplicity of her personality rather than of an edgy, outgoing nature. You cannot help but admire the plain beauty of Jennifer Lawrence in this simple, straight, and shoulder-length hairstyle. The minimal use of makeup and accessories further complements this Jennifer Lawrence haircut.
9. Terrific Thick Bob JLaw Hair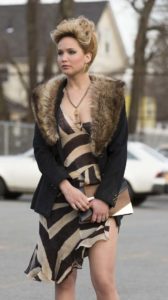 Jennifer Lawrence is never afraid to bring out that bold, peppy side in front of the world both through her movies and public appearances. This Bob JLaw haircut had enough volume and thickness and complemented her character in American Hustle exceptionally well when she appeared for the premiere of the movie.
10. Flat and straight Jennifer Lawrence Hairstyle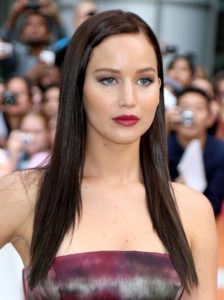 Once again, Jennifer Lawrence surprised everyone at the red carpet when she opted for a rather straight hairstyle without her favorite blonde colored hairs. However, nobody was complaining as the Oscar-winning beauty totally rocked the ultimate diva look with this flat hairstyle.
11. Jennifer Lawrence short hair flick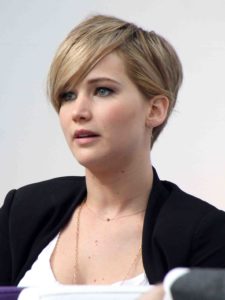 You can never predict the next Jennifer Lawrence hairstyle even after she had chopped her locks for a pixie cut. One of the hairstyles from that period, this one saw Katniss rocking the modern, suave corporate look with flicks covering half of her forehead. It sure does look exceptionally good with her formal blazer and minimum makeup look.
12. Luscious long wavy look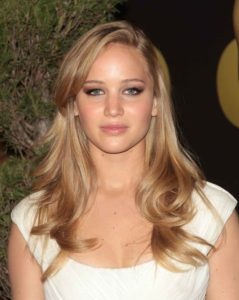 This Jennifer Lawrence Hairstyle one looked every bit of sexy bringing out the smooth, raw beauty of the actress. The somewhat messy ends over the shoulders along with clever use of dark eye makeup makes this a perfect look for that much-awaited date night on the weekend! You will surely love this Jlaw hair cut.
Also Read: Long Hairstyles You Must Look Once.
13. Frisky Frills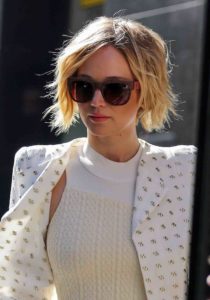 If you have ever wondered how to style hair like Jennifer Lawrence, this hairstyle is your answer. Don't get it? It is about perfection in imperfection. This Jlaw hair cut is far from perfect with irregular frills and growth of hair ends. Like always, the beauty pulls off the imperfect style with utmost perfection. What do you think?
14. Carefree Jennifer Lawrence Hair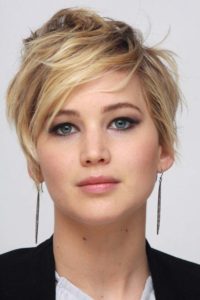 You have to admit that Jennifer Lawrence does a fantastic job with her hairs. Just look at this another variation of short hair with messy top and irregular endings. However, Lawrence sports this unconventional hairstyle with equal elan and elegance. You can try this look if you are short of time with short hairs!
15. Jennifer Lawrence Crowned Braid Hairstyle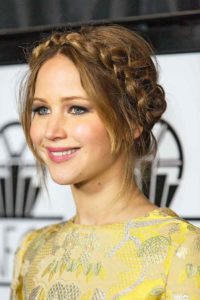 This is one of the prettiest and most loved Jennifer Lawrence hairstyles. Moreover, it totally deserves to be with the excellent placement of braids round the head like a crown. Add to it the lovely smile of Jennifer Lawrence and her vivacious personality simply floors you.
16. The Perfect Blonde Look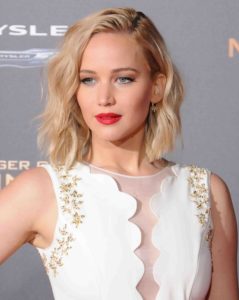 When it comes to blonde hair color and styles, nobody does it better than Jennifer Lawrence. The shoulder touching locks with wavy ends accentuate that well-defined jawline further. The dark red gloss along with the pinkish glow of skin is naturally flawless in this look of Jennifer Lawrence.
17. Pretty Pixie Jennifer Lawrence Hair Cut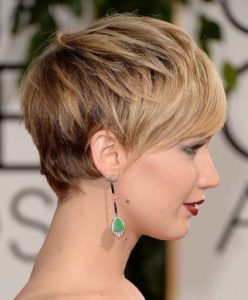 The famous pixie haircut of Jennifer Lawrence undoubtedly redefined the rulebook of short hairstyles in the fashion world. Initially, the reaction of people was mixed, but the way with which JLaw carried herself with short hairs, simply wowed the people who became permanent fans of her beauty sense.
18. Jennifer Lawrence Top Knot Hairstyle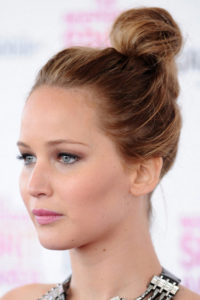 You will agree when we say that this top knot Jennifer Lawrence hair is a top notch hairstyle. JLaw simply brought back the forgotten trend of top buns and knots in hairstyles and gave them a new definition with her personality. This hairstyle can especially look magical if you have a round face.
19. Jennifer Lawrence Hairstyles: Sharp Pixie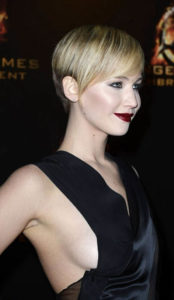 Another variation of her favorite pixie cut, Jennifer Lawrence hair in this style looked gorgeous with her dark red lips and dazzling smile. The thick top of hairs with sharp side ends in this hairstyle further complement the overall charm of this style.
20. Jennifer Lawrence Bun Hair Style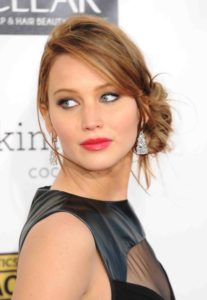 Jennifer Lawrence is truly the queen of hairstyles as she always leaves a long lasting impression in every hairstyle she chooses to sport. This one is a traditional hair bun taken to a different level by the Oscar-winning actress wearing silver jewelry and giving a sultry glance over her shoulders.
21. Jennifer Lawrence Shoulder Length Hair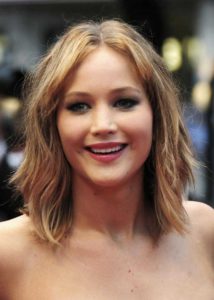 This one portrays the natural beauty and innocent charm of the Hunger Games actress. By sporting medium length shoulder hairs in a casual, carefree look, she perfectly manages to captivate the camera with a lovely smile and expressive eyes. You can try this look by parting your hair in middle after shampooing and light conditioning to create that spread out effect.
Jennifer Lawrence hairstyles are undoubtedly one of the most popular celebrity hairstyles in the world today. She has been fascinating the fashion lovers and fashion world with her eccentric choice of hairstyles for over half a decade now. We are sure you must have loved the above Jennifer Lawrence hairstyles.
Which of the above Jlaw hair cuts are your favorite? You will also love these Miley Cyrus Hairstyles hairstyles who can be another fabulous inspiration for your haircut.  
Also Read: Curly Hairstyles You Must Try Once In Lifetime.
Sexy hairstyles [Hotness Alert]