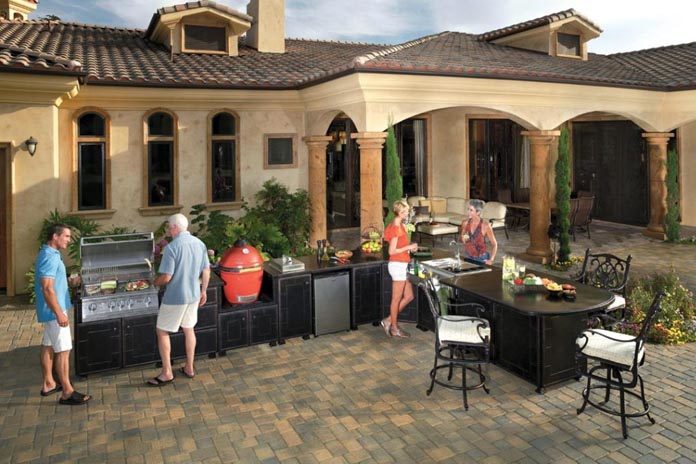 "If more of us valued food and cheer and song above hoarded gold, it would be a merrier world."― J.R.R. Tolkien
Outdoor Kitchen Ideas – Food is one of the foremost pleasures of human life in addition to being a necessity. A delicious meal can uplift mood instantly, isn't it? Moreover, if you eat that food in an environment outside your home, the experience cannot be described in words.
Related: Kitchen Curtain Ideas.
Moreover, what if we tell you that you can easily do that without going anywhere but by building an outdoor kitchen just outside your house, won't it be fantastic? Well, we are going to present before you some of the most practical and beautiful outdoor kitchen ideas to take your food experience to an altogether different level.
We have carefully handpicked these outdoor kitchen designs which will instantly inspire you to take your kitchen outdoor and add a flavor to your dining experience:
1. Sprawling green outdoor kitchen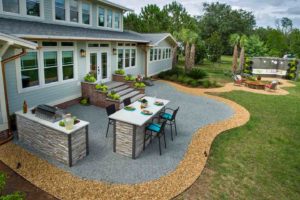 Nothing can be better than to enjoy a delicious meal amidst the sprawling green natural beauty like this. This outdoor kitchen design is simple to implement with a couple of counters and a grill. Of course, you are going to need an expansive backyard to do away with all other necessary things. Just pick a few chairs from inside for seating arrangement and begin your outdoor party!
2. Party-in-Woods outdoor kitchen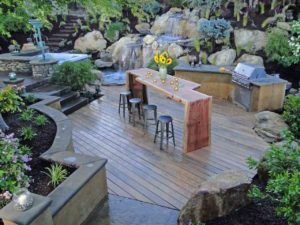 We are in love with this outdoor kitchen idea resembling the surroundings inside the meadow of a forest. Imagine having a party in these surroundings with some grilled items and a couple of drinks. There are miniature bar sized stools where you can sit with your buddies and have a drink on weekends discussing life and beauty!
3. Woody outdoor kitchen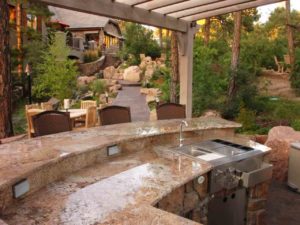 Another kitchen idea for outdoors which will make you want to eat always outside, thanks to its natural aura. Even if you do not have a vast forest area in your backyard like in this design, you can always recreate the interior of this outdoor kitchen using a predominantly wooden brown theme. This idea does look straight out of your dreams, don't you think?
4. Posh outdoor kitchen design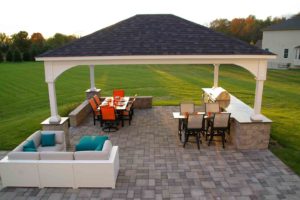 A shaded area with a tomb-like structure in the middle of lush green surroundings is perfect for your private garden or even a golf course. This one is suitable for minimal cooking and maximum serving as the area is big enough to accommodate a party of 20-30 people. You just need a person or two behind that counter who can serve the grilled items on plates to people.
5. Simple outdoor kitchen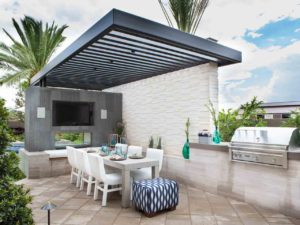 This one deserves full marks for the simplicity of its looks due to the ingenious use of white color which looks fantastic against the backdrop of green outdoors. The area is partially shaded with a gas grill makes it a minimal outdoor kitchen where you can have an evening snack with your family after a long tiring day.
6. Leafy Outdoor Kitchen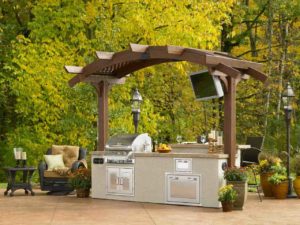 The stylish wooden archway over the kitchen counter looks simply elegant against the leafy backdrop of dense forests. The area surrounding the counter may not be too large, but it is enough for your chef to prepare a snack or grilled barbecue for the perfect lunch. The counter has additional compartments for storing other things which you might need in the outdoor kitchen.
7. Lavish outdoor kitchen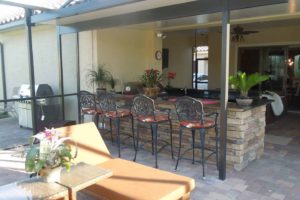 This one is ideal for a terrace apartment where you can have an outdoor kitchen at the entrance of the kitchen. The kitchen may look small but is complete with a grill, sink, and a wide counter. Plus you can also use the bar-height stools near the counter and create a rocking environment at night on the terrace for the weekend party.
8. Perfect outdoor kitchen for barbecue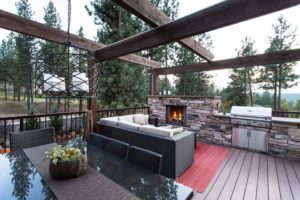 Isn't this just flawless for that much-awaited barbecue night? You have got a fireplace, large grill, comfortable sitting arrangements, and yes that backdrop of scenic beauty which will get you in the mood for food and party. The area is open although you can be a bit creative with it and cover it with a tarpaulin or any other permanent cover if you live in rainy regions.
9. Bamboo outdoor kitchen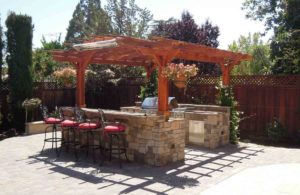 How many times have you dreamed of building an outdoor kitchen in your backyard like that? The kitchen counter area is covered beautifully with the help of bamboo sticks. The counter height stools are another useful addition to the environment and with added decoration of flower pots, the overall setting becomes enjoyable.
10. Outdoor kitchen with swimming pool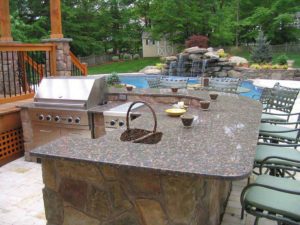 Fancy having a delicious meal after a refreshing swim? Well, this outdoor kitchen design is perfect for you to fulfill your fantasy. You do not need much stuff for creating this kitchen apart from a portable kitchen counter with one or two grills. An addition of a set of chairs is then all you need. You can even try to have a mini pool party in this setting with your friends.
11. Shaded outdoor kitchen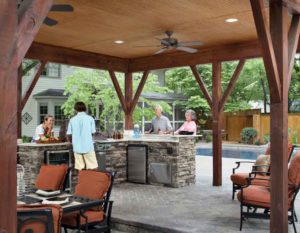 Unlike most other outdoor kitchen ideas, this one is a complete kitchen replete with an entirely covered shade and a set of chairs. If you live in tropical climate, an extra provision of small fans will further enhance your dining experience outside. You can also find additional storage options in the kitchen counter to avoid going inside during the party.
12. Extended outdoor kitchen on terrace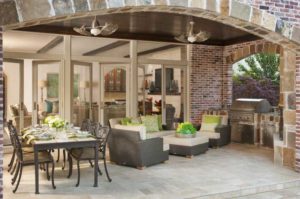 This one extends from a living room and forms an ideal place to sit in a cool weather outside while munching on your favorite snacks. You can have a separate grill for the area stacked in the corner while you can utilize the significant portion of the area to set up a cozy set of sitting arrangement.
13. Terrace outdoor kitchen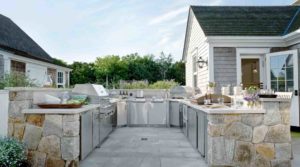 You can never go wrong with building an outdoor kitchen on your terrace. This one is a full fledged open kitchen with multipurpose kitchen counters as they have cupboards inbuilt to store your kitchen accessories. Moreover, the particular look of stone counters from the front along with glossy cabinets is just fabulous.
14. Garden Kitchen Plan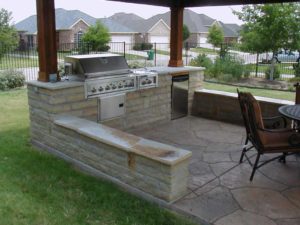 Building an outdoor kitchen in your garden serves two purposes- you get to utilize your extra garden space, and you get to enjoy the pleasure of preparing and having your meal in a peaceful, natural environment. Moreover, this particular kitchen plan also has an inbuilt grill with the kitchen counter.
15. Countryside outdoor kitchen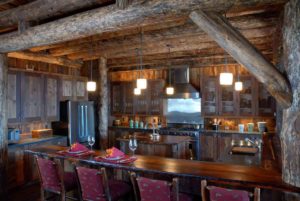 This could be one of the best outdoor kitchen ideas. It has a full-fledged kitchen interior complete with all requirements- crockery, cupboards, sink, gas grills. In short, this is just like you have brought your kitchen from inside to outside. Of course, you just cannot ignore the mind blowing rustic look with those thick wooden logs used for building the structure of this kitchen.
16. Wooden outdoor kitchen with built-in grill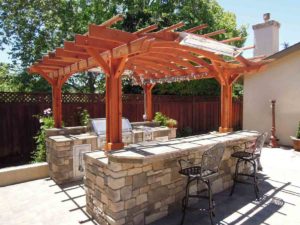 What do we say to this fantastic outdoor kitchen design? You have everything you need in the form of a built-in grill with kitchen counter. You have a stylish shade made up of a unique design of and arrangement of bamboo. Just bring a few metal chairs and you are ready to go for a delicious meal in your backyard.
17. Small outdoor kitchen idea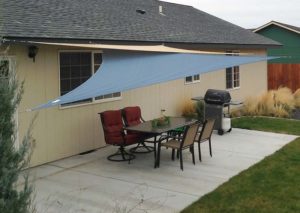 The best part of this outdoor kitchen idea is that you only need a portable grill which can be carried around anywhere. Then you just need to get a small table and grab a few chairs for building an outdoor kitchen. If the outside area is too hot or sunny, you can also arrange for a temporary shade like that.
Related: Small Kitchen Ideas.
18. Poolside outdoor kitchen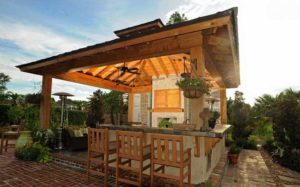 It cannot get better than this, can it? A poolside, well lit outdoor kitchen amidst the natural surroundings looks incredibly inviting to anyone. There are wooden chairs and antique looking tiles outside the kitchen which are giving a rustic look to the overall surroundings. You can also have a sitting arrangement inside the kitchen in case of rough weather.
19. Elegant outdoor kitchen idea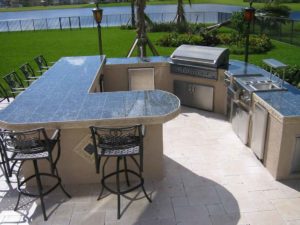 This is perhaps one of the most elegant outdoor kitchen ideas with a trendy G-shaped kitchen counter. The stone based cabinets with black ceramic tiles are just pure beauty. Add the black metal stools placed on gray travertine floors form an ideal outdoor kitchen. The taste of your meals will increase by multiple times when you have them in this kitchen with a garden view.
20. Sunny small outdoor kitchen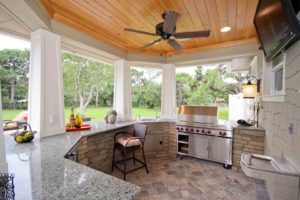 This small outdoor kitchen is beautiful for a little addition to your backyard where you can just prepare evening meal with your family sitting around you. If you have a garden or a sunny backyard, there is not even a need for extra lighting in the day time. Even if you do not have one, this kitchen plan alone is one of the most practical outdoor kitchen ideas.
21. Romantic outdoor kitchen design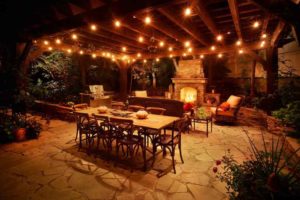 You must already be swooning over this breathtaking outdoor kitchen. There can't be a perfect way than to celebrate your evening with special someone is this kind of outdoor kitchen. Plus the lighting in this kitchen at the night time coupled with a fireplace has taken its vibe to an altogether different level.
22. Outdoor Kitchen-cum-Bar Idea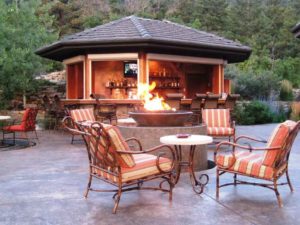 If you live in cold climate, there cannot be a better setting for an outdoor kitchen than this one. There is a provision of a mini bonfire in the center with an in-house bar in the kitchen. The comfy chairs in the setting are perfect for having a cozy get together with your friends and family on a cold winter night.
23. Ravishing rustic outdoor kitchen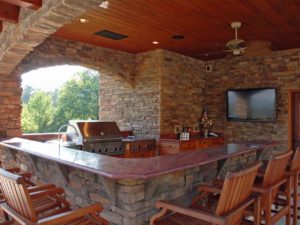 The bare brick structure of this outdoor kitchen along with wooden chairs and hard sun-mica ceiling gives it a ravishing look. When you add a large LED TV in the surroundings, you have got an ideal place to watch the game on weekends while munching on crunchy food prepared with the help of inbuilt grill in the kitchen counter.
24. Perfect outdoor kitchen with fireplace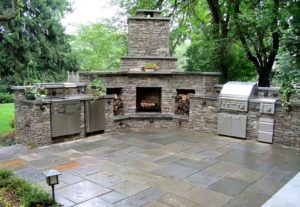 This one is for those old school charcoal based grill you have in your attic. It is time to take them out and use them in your outdoor kitchen. This outdoor kitchen design comes with a central charcoal grill along with inbuilt grills into the stone counters. There is even a place to store those extra wooden logs.
25. Open outdoor kitchen idea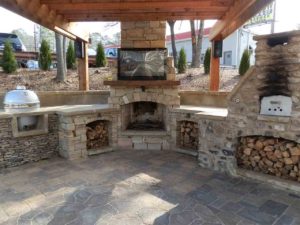 Essentially this is an outdoor fireplace, but you will also find a couple of grills to help you prepare delicious meals. Plus you have got a TV installed on the wall to increase your pleasure further. A delicious meal, warm spot, and the game of your favorite team. Just find a cozy spot near the fireplace, prepare a barbecue and enjoy the game.
26. Ideal backyard kitchen idea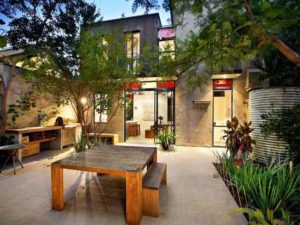 You would agree when we say that this is perhaps one of the best outdoor kitchen ideas we have seen so far. The amount of lighting, wooden counter, table and chair and the surrounding garden makes this place an ideal location to have your meals together with family. You may also buy a portable grill and have it in the kitchen to get all items at one place.
27. Small outdoor kitchen in backyard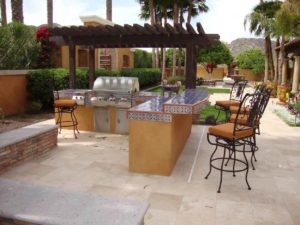 Open style outdoor kitchen like this one will make your evenings pleasurable. The small outdoor kitchen just has a mini shade under which you can keep a grill along with an extended counter. The blue tile coating on the wooden counter is an added charm to the overall setting. Now all you need is some great company, and you are set to go!
28. Royal outdoor kitchen idea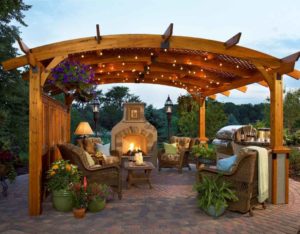 One of the most beautiful outdoor kitchen ideas, this one is indeed royal with a cool curved roof. The lighting on the ceiling with a central fireplace and a big grill on the side makes this outdoor kitchen a must have for your countryside house. A few potted plants and floral decoration on the ceiling and comfortable couches are too hard to resist for a memorable party with your closed ones.
29. All-In-One Outdoor Kitchen Ideas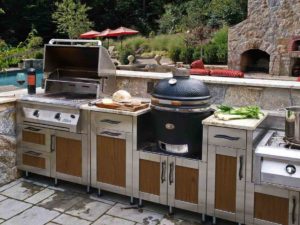 You have got everything in this outdoor kitchen. A big oven, grill, cupboards for storing utensils, a swimming pool, and sunbathing recliner at the back beside the pool. This one is the best setting if you want to set up an outdoor kitchen in your private resort or a house in the countryside. It will be perfect for your occasional family vacations, isn't it?
Building an outdoor kitchen surely looks like a mammoth task in the beginning, but it is not that difficult. Moreover, any effort to establish a kitchen outdoor is worth every sweat. We are sure that these outdoor kitchen plans must have motivated you to make your outdoor kitchen.
You will also love these beautiful blue kitchen ideas to transform the interiors of your kitchen.
Also Read: Rustic Farmhouse Decor.