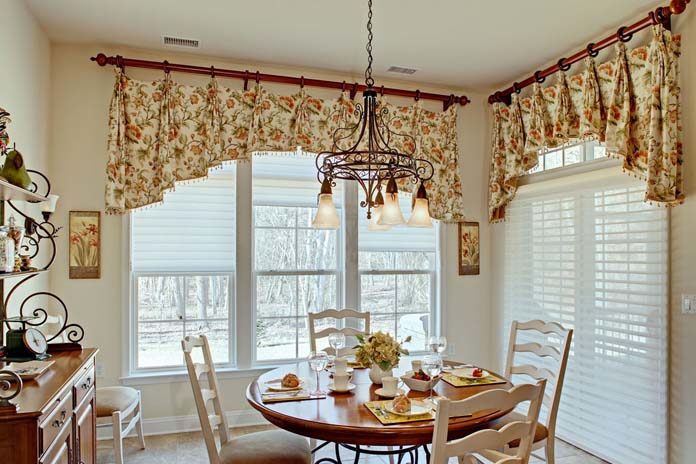 Kitchen Curtain Ideas – You may have given considerable thought to the window treatment in your bedroom or the living room. However, you may have shrugged the idea of kitchen curtains. Much think that kitchen window coverings are not that important. However, they are crucial for your kitchen décor.
Related : Kitchen Cabinet Ideas.
So, think again! Window treatment ideas for the kitchen can introduce new patterns and textures to your kitchen, reduce monotony and help you reflect your lifestyle. Here are some Kitchen Curtain Ideas for inspiration.
The Grey Story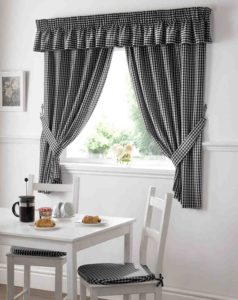 Let your kitchen narrate a story with these gray kitchen curtains. They are gorgeous and work well with a larger or even a smaller kitchen.
The Red Lineup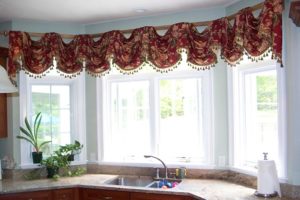 This snug, red colored curtain set is beautiful. The large floral print promptly provides brightness to the room. So, even the curtains are closed, the room would appear bright and inviting. One of the best kitchen curtain ideas is to fold these curtains in a sense that they seem to fall, giving more depth to the room.
The Geometrical Prints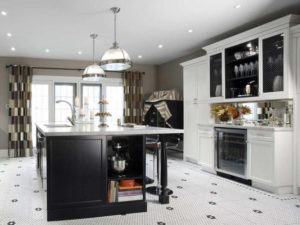 For larger windows in an even bigger kitchen, opt for these geometric themed curtains that complement the walls and appear neutral at the same time. This kind of kitchen window curtain ideas allows you to experiment with monotone contrast or even bright colors.
Beige Curtains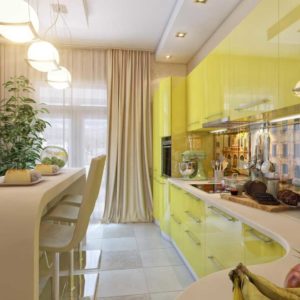 These kinds of kitchen curtain ideas are modern and beautifully blend with all sorts of interiors. The glamorous beige curtains, full length, combine with the quartz countertops and lime green colored cabinets along with creamy chairs and tables.
A Bright Treatment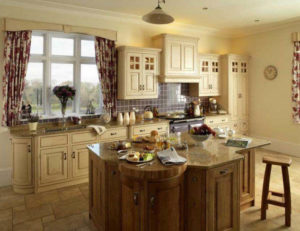 Red beautifully contrasts with cream and makes this kitchen look uncluttered and a lot larger. The smaller curtains next to the sink are an excellent kitchen window curtain idea because they lend charm to the countertop.
Also Read: Rustic Farmhouse Decor.
Private Kitchen Covering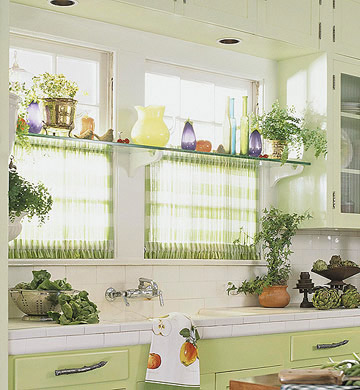 The sheer coverage of these makes them a perfect kitchen curtain idea. If you do not have to open the window often, then these privacy friendly curtains can be attached to avoid any outsider access. At the same time, they are sheer enough to let sunlight in.
The Neutral Beauty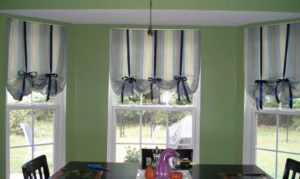 This corner kitchen with beautiful green walls has a neutral scheme for the curtains, which immediately blends with the rest of the interiors. The addition of blue ribbons gives it a pop of color and the right contrast for the décor.
White and Green Blend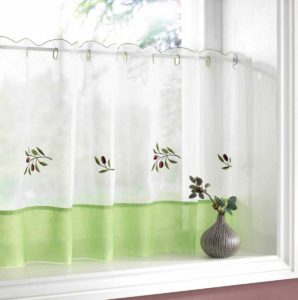 When you walk in a garden, you will find green, white and brown colors amalgamating together. This is what's done with kitchen curtains in this kitchen. These curtains have green and white tones that combine with the brown shades' that are generally used throughout this kitchen.
The Contemporary Elements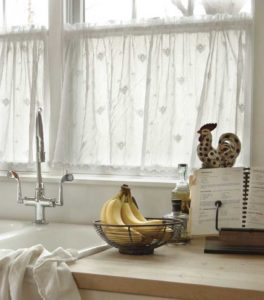 For family homes with smaller kids, this kind of kitchen window coverings ideas works really well because they match with all kinds of décor. So, even if you end up changing something in your décor, you would not have to worry about the curtains have a universal blend appeal.
Roman Beauty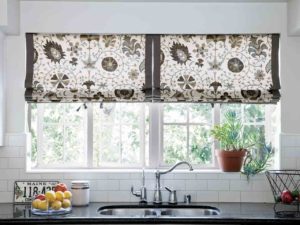 One of the classiest window treatment ideas for the kitchen is to have Roman Blinds. These particular blinds are colorful and in this minimalistic, monotone kitchen, they add a beautiful nature themed, inspirational design. We love the long floral design and a simple, contemporary color scheme of this one.
The Modern Curtain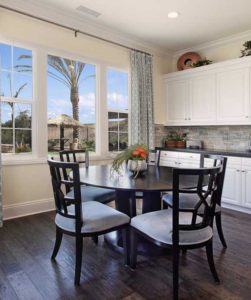 This kind of kitchen curtain ideas works well for the modern kitchen. If you lack a lot of kitchen space, then simply opt for the hexagonal design in a different, but light shade color to add spaciousness to your kitchen interiors.
Striped Green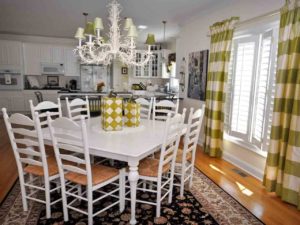 This kind of kitchen window coverings ideas is beautiful because they use several colors for the desired effect. The interesting green striped design matches subtle parts of the kitchen interiors, such as the table decorative, white chairs and the cabinets.
The wooden floors and the black carpet manages to add the right amount of contrast for this window treatment.
Aren't these kitchen curtain ideas just so cool? Which one of those would suit your home interiors? Or which one of these make the cut for your dream kitchen? Let us know.
Also Read : 25 Small Bedroom Ideas To Make It More Expensive