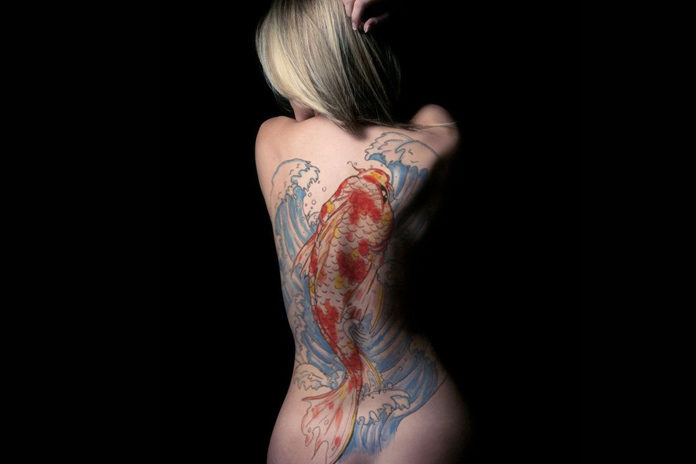 Koi Fish Tattoo – Japanese koi fish tattoo is a very attractive option for those who seek tattoos with meaning. The koi tattoo designs help you look very trendy and stylish. The Koi fish is respected as a symbol of bravery, power, strong will power and progress in the Japanese culture.
Also, Koi is a very active fish and that is the reason why the Koi fish designs are often enriched with bright colors as these colors represent liveliness and energy. We now take you to our unique collection of 18 koi fish tattoo patterns so that you get to choose a tattoo for you!
Also Read : Amazing Angel Tattoos with Strong Message
Koi Swimming Upwards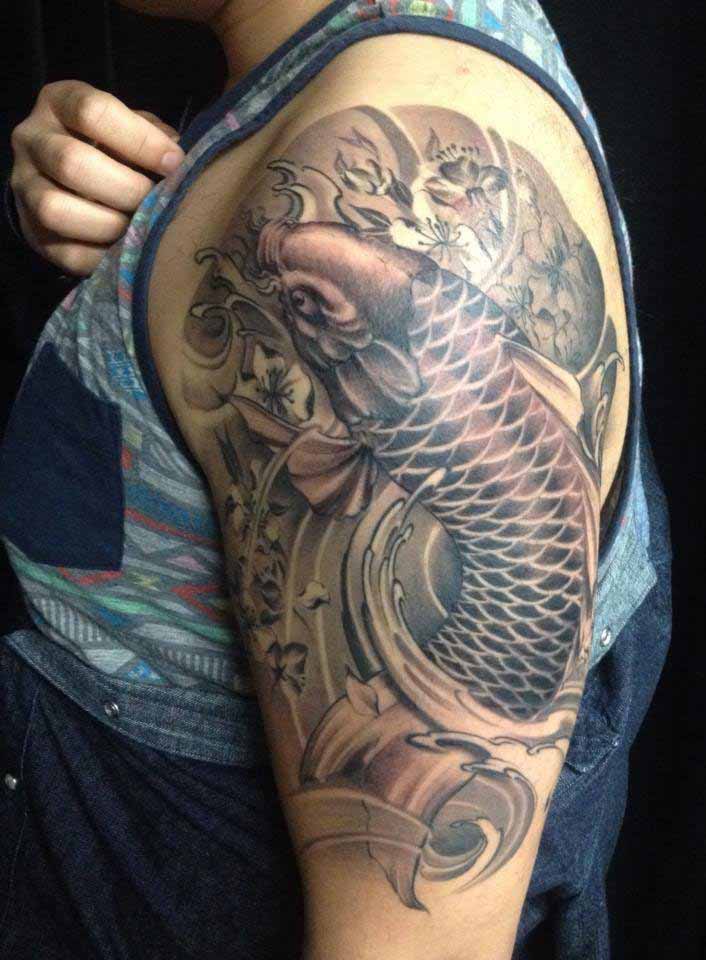 In Japanese koi tattoo designs, it matters that in which direction, the fish is swimming. If it is swimming in an upward direction, it means that you are involved in some struggle but have the courage to overcome that struggle.
Koi Tattoo with Little Red Flowers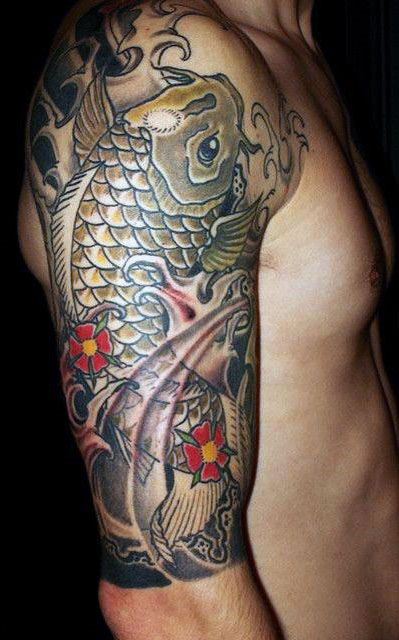 The word Koi also means love. A koi fish tattoo tells that you value love. It also means that you are in love with someone. The little red flowers are symbols of bravery as red color is often related with courage and strength.
Colorful Koi Tattoo for Back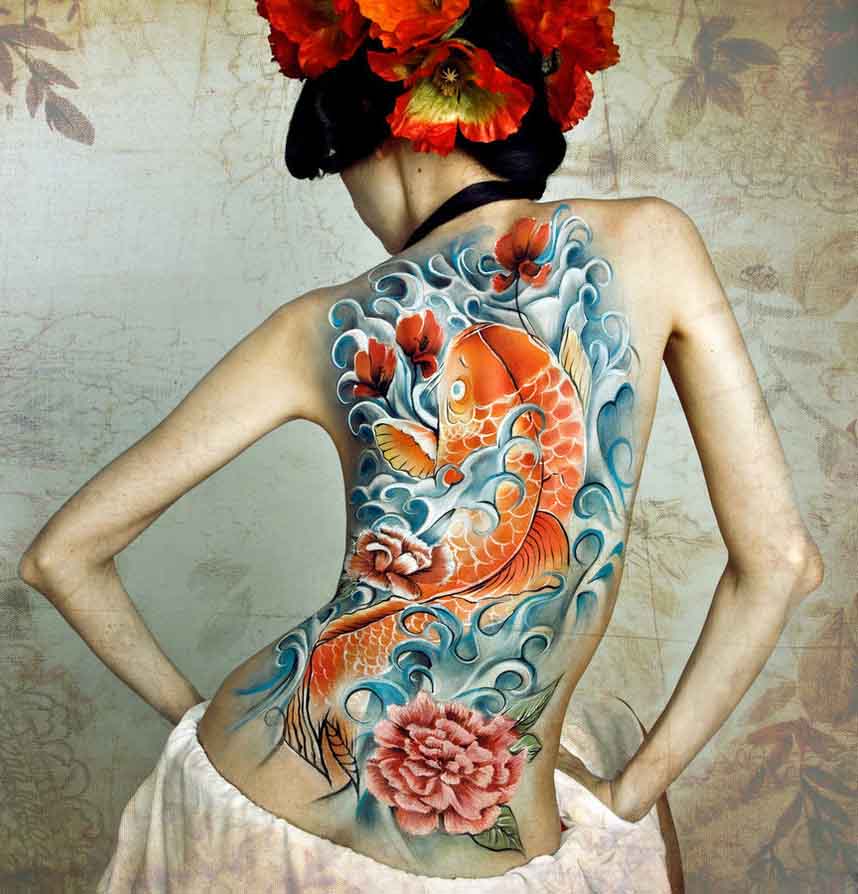 Are you interested in a tattoo that covers your whole back in a beautiful way? Well, if you said yes, do try this amazing tattoo which shows a koi, flowers, and water. This multi-colored tattoo makes you look energetic and trendy too.
Tribal Koi Tattoos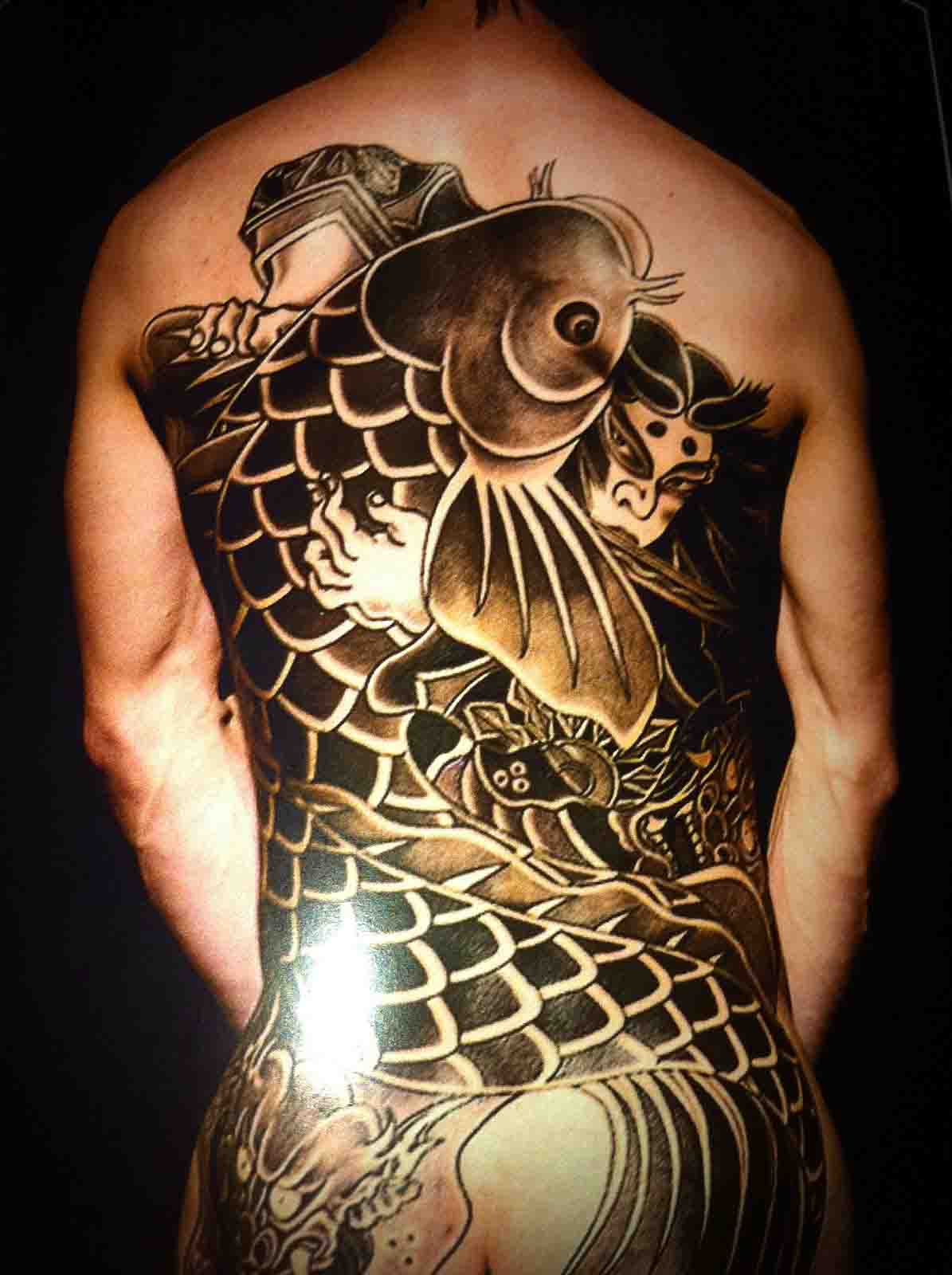 The tribal koi tattoo designs can be found in some models. They can be applied in almost any size. In this image, you see a large tribal koi tattoo pattern that has covered the entire back portion. Search for unique designs and choose carefully as tattoos represent your taste and preferences in life.
Koi Swimming Downstream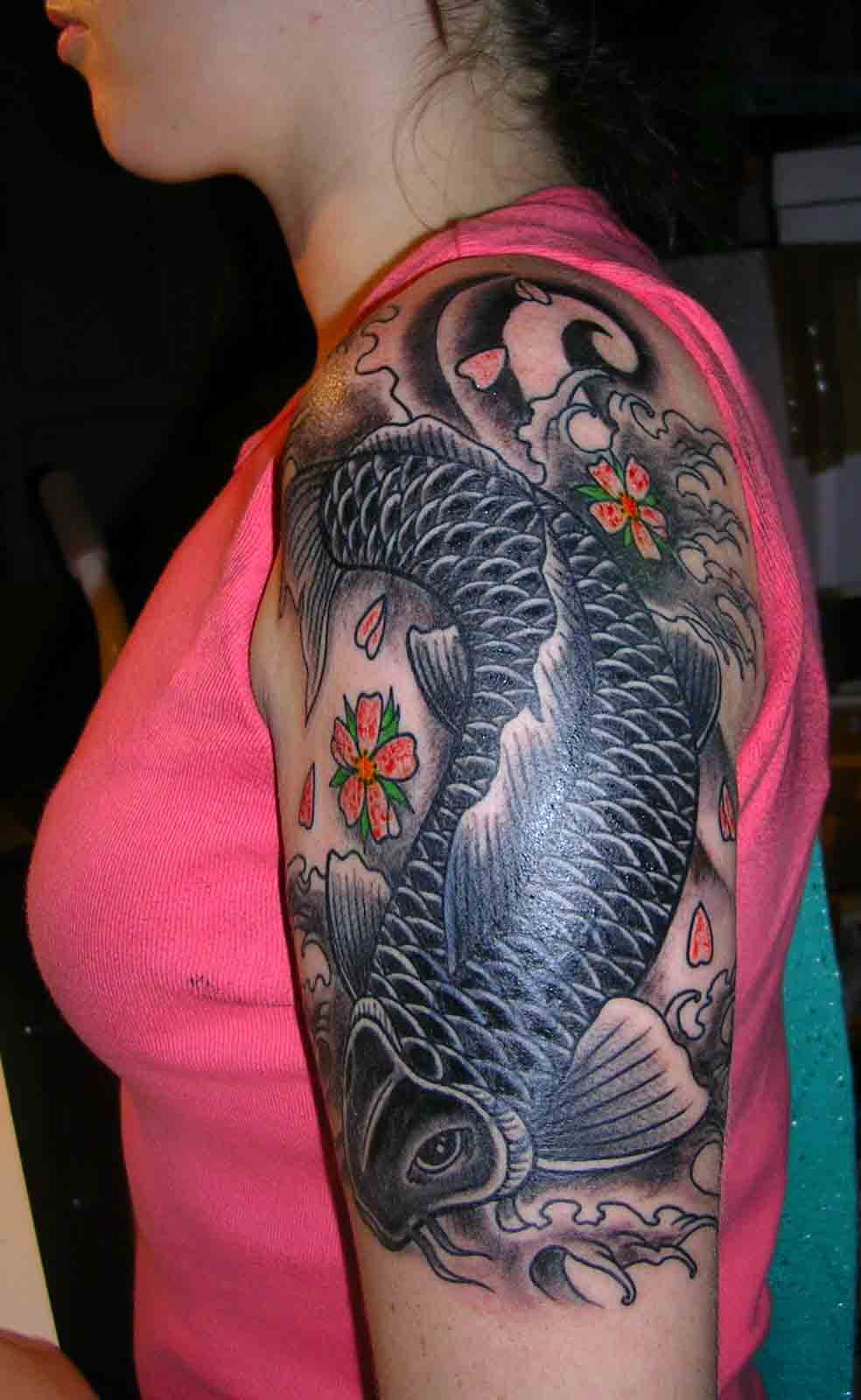 Koi in downward swimming direction has two meanings. One purpose says that you do not have the strength to fight the terrible situation of your life. Another goal means that you have already managed to overcome the problem of your life.
Bright Colored Koi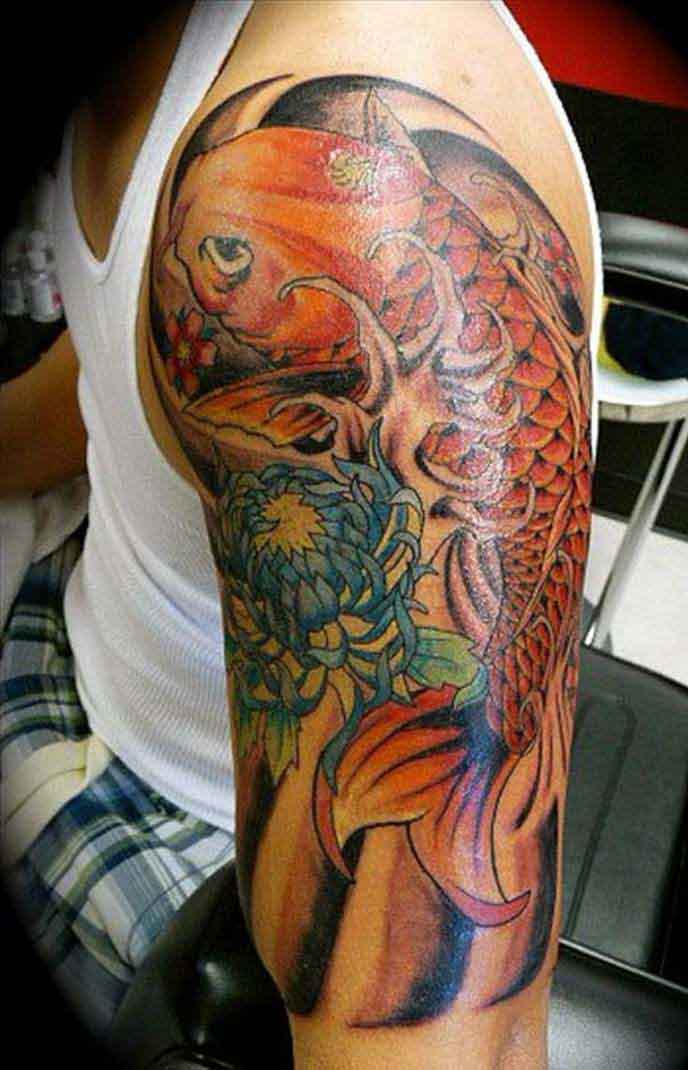 This tattoo is full of attractive and vibrant colors. The Koi fish is not only associated with luck but is also seen as a symbol of tolerance. To get perfect koi tattoos, we advise you to approach only the experts.
Koi Surrounded by Water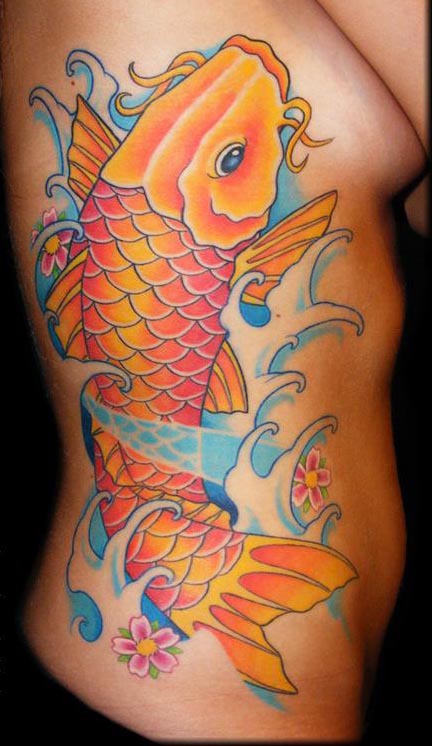 As you can see in this image, the Koi is surrounded by water. Also, the Koi is swimming upwards. This tattoo means that you can overcome the difficult phases of life if you have the power in you. The water here represents your ability.
Tattoo on Chest & Arm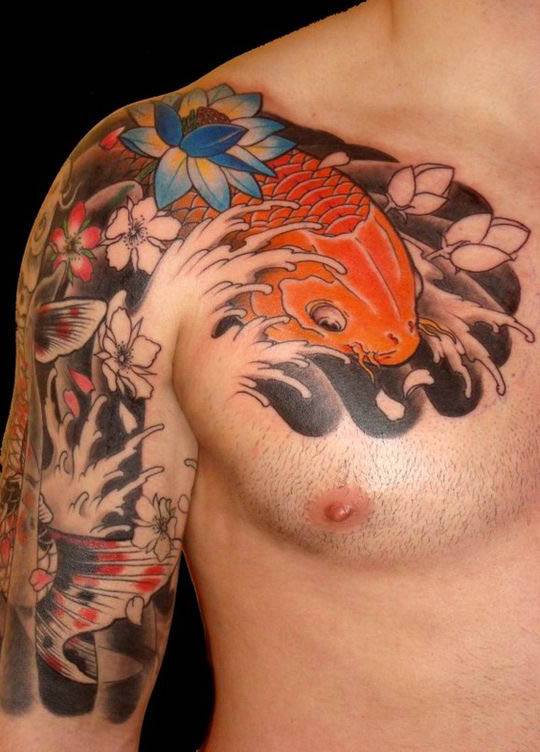 This is a unique tattoo design in which the koi fish has been shown in a beautiful way. The golden colored koi is a stretch on the arm and the chest. Also the black surroundings of the fish highlight Koi in an excellent way.
Glamorous tattoo Look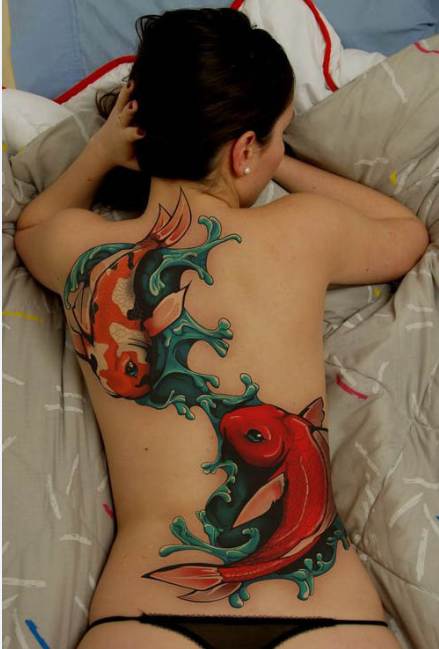 Get a glamorous and sensual look with this amazing tattoo. The beauty of this tattoo design lies in two factors. First, the bright red, orange and green colors and second, the way, the tattoo has been made on the entire back area. Dare to bare, if you want to flaunt this tattoo!
Beautiful Black Koi Tattoo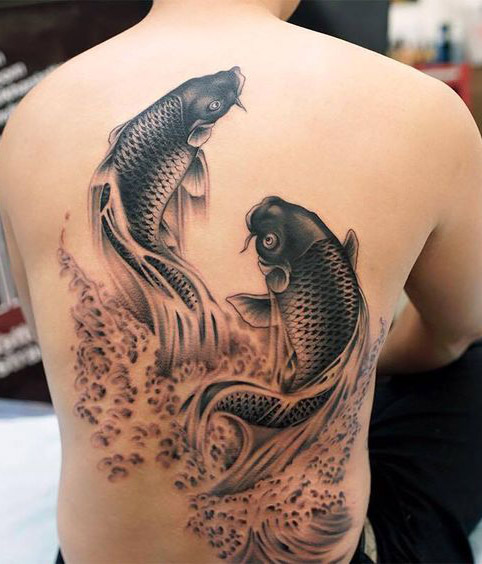 A koi tattoo can be associated with determination and transformation in life too. The two black koi seen in this tattoo have been made with fineness and clarity. Such tattoos also represent masculinity. The most popular legend associated with this fish describes how Koi becomes a dragon.
Golden Koi Tattoo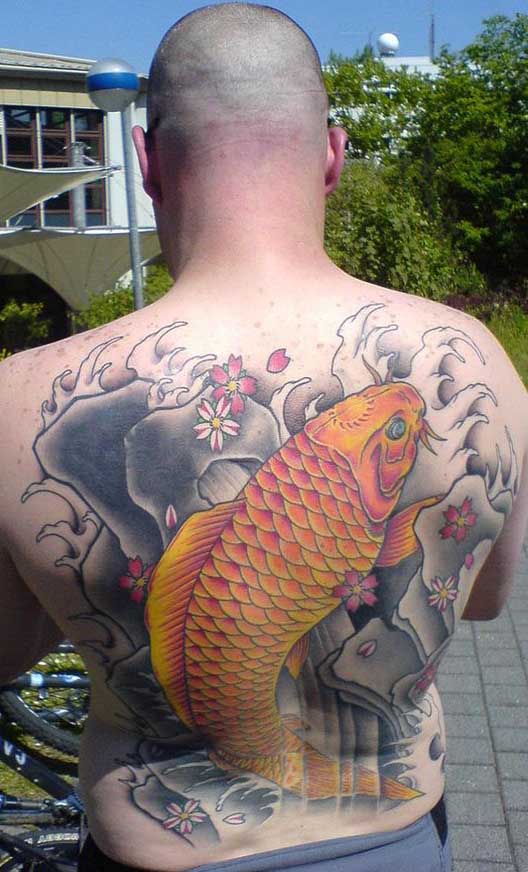 If the tattoo koi fish is covered in yellow or golden color, it is depicted as wealth and affluence. The koi fish, in general too, symbolizes good luck. Those who wish to attract prosperity and wealth in life can opt for Koi tattoos in golden color.
Pink Koi Tattoo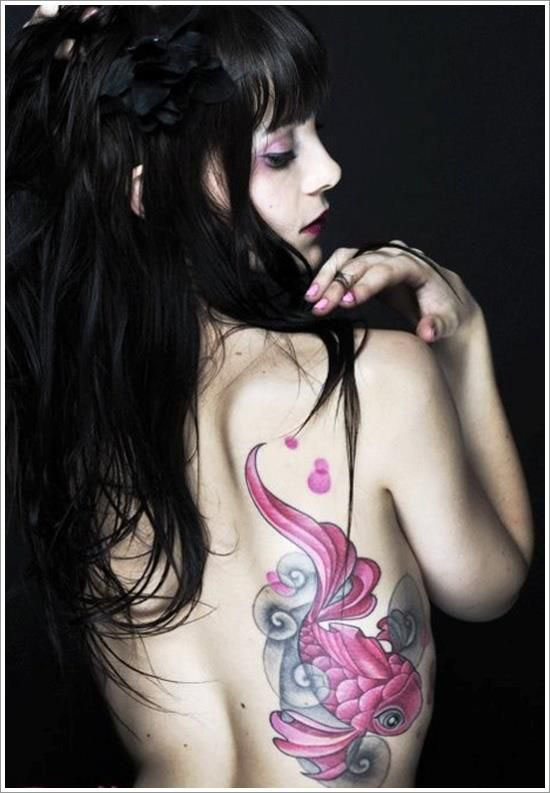 The colors and directions of swimming are given high value in any koi fish tattoo design. This particular tattoo shows a pink colored Koi, which symbolizes 'daughter'. Pink color is also popular in butterfly tattoos. Similarly, a red colored Koi represents 'mother'. Also, these beautiful tattoos can be applied by both the genders.
Also Read : The Best Small Tattoo Ideas for Men and Women
Full Back Covering Tattoo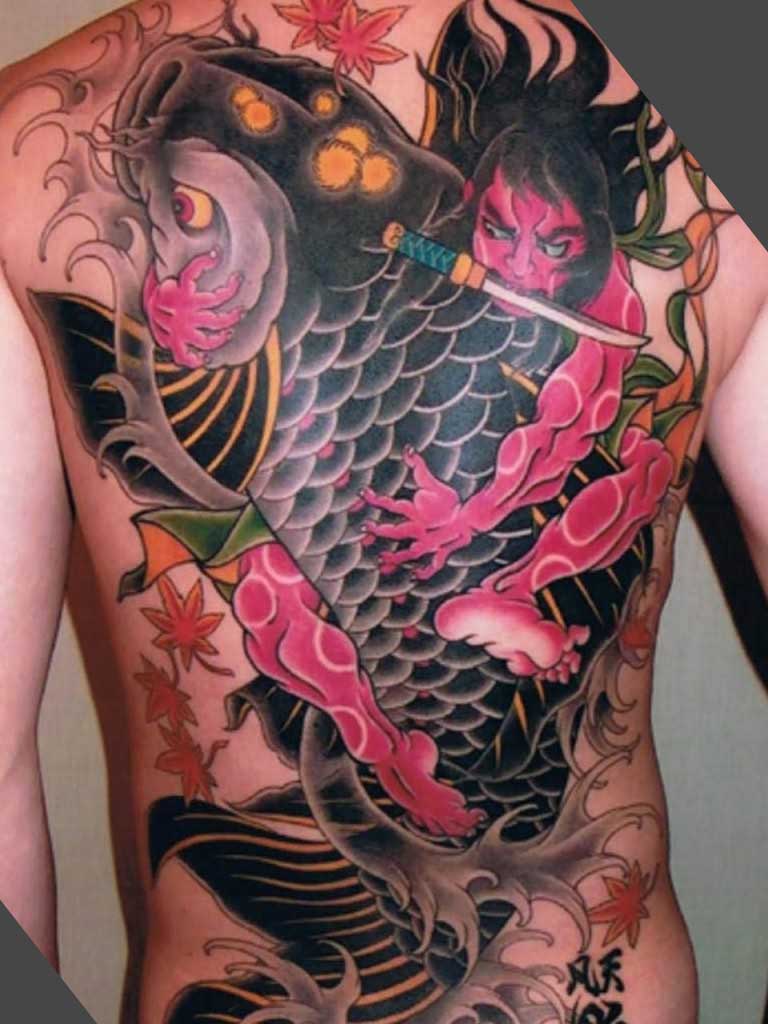 The tattoo koi fish designs can be made as per the demand of an individual. This image has got an incredible tattoo which covers the entire back area. The golden koi along with a beautiful flower vine had been made in a graceful manner.
Intricate Black Koi Tattoo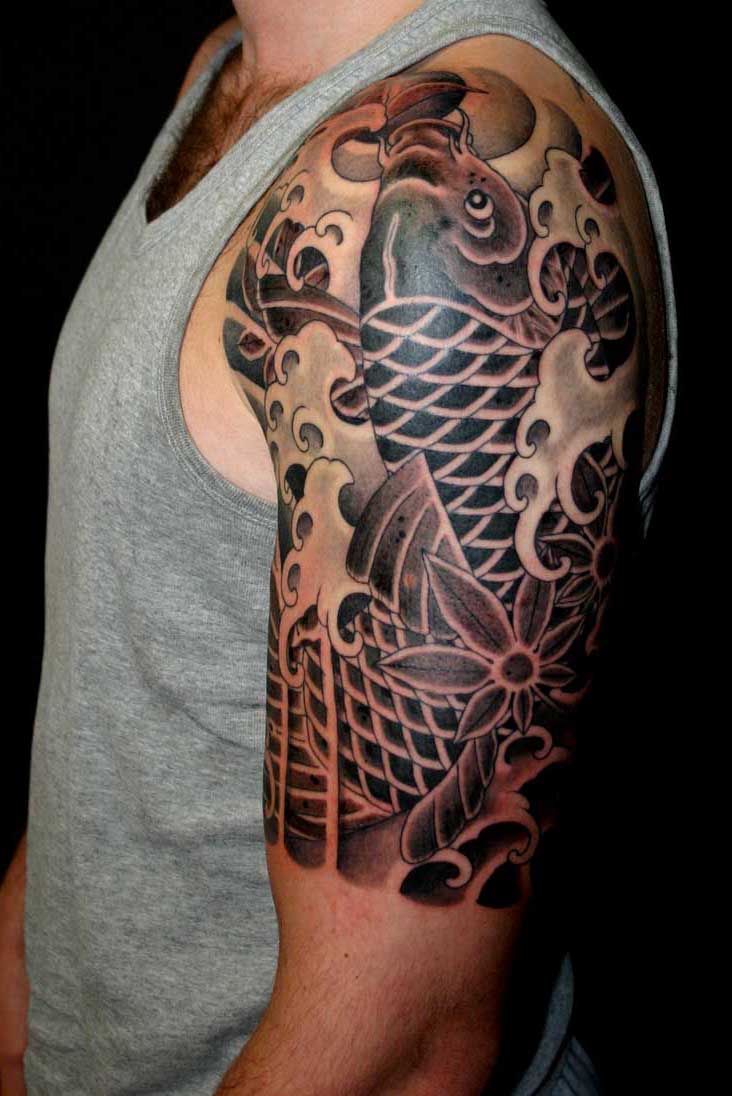 This is a sophisticated and glamorous koi fish tattoo. The black color of koi is directly associated with the person's victory over his struggle in life. The artist has done a great job by making the tattoo in a complex way that almost hides koi in the surrounding design.
Yellow Big Bold Koi Fish Tattoo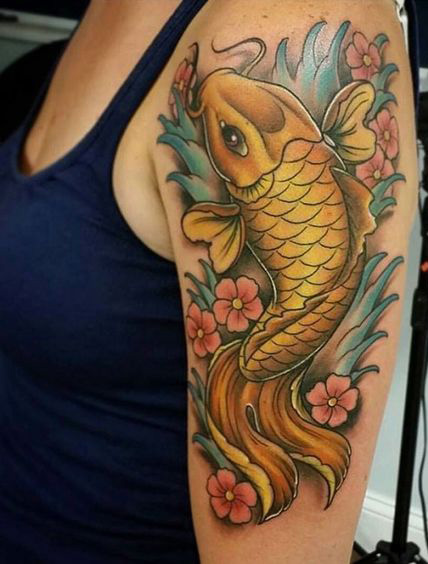 The yellow colored Koi also stands for fortune and wealth. You can get a yellow koi on your arm or at the back if you want the tattoo to be applied on a larger area. Also, the little flowers surrounding the fish give a beautiful look to the whole design.
Feminine Koi Fish Tattoo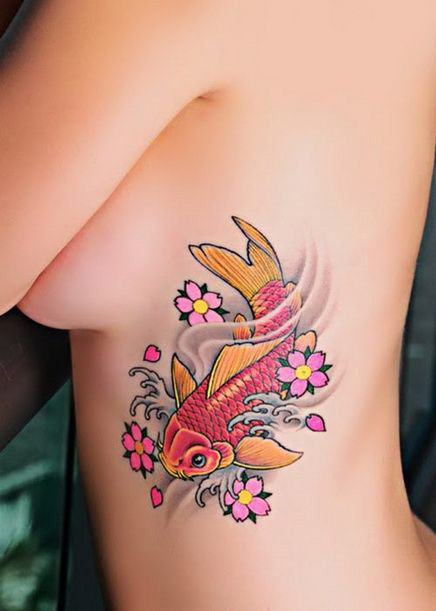 This pink colored tattoo design looks very appealing and alluring. You too can get it at the sideways of your waist. The pink color is associated with feminism and delicacy too. It is often the favorite color of women all over the world.
Multicolored Koi Fish Tattoo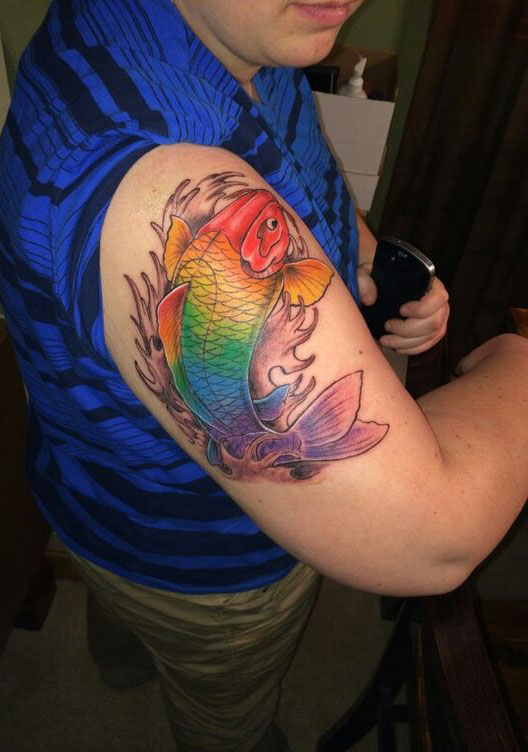 If you want to have all the qualities of different Koi colors in a single tattoo, try this colorful tattoo design. This Koi fish tattoo design looks very stimulating and inspirational. The bright colors like yellow, blue, green and red make the tattoo look quite attractive.
Black Koi Tattoo Sleeve Design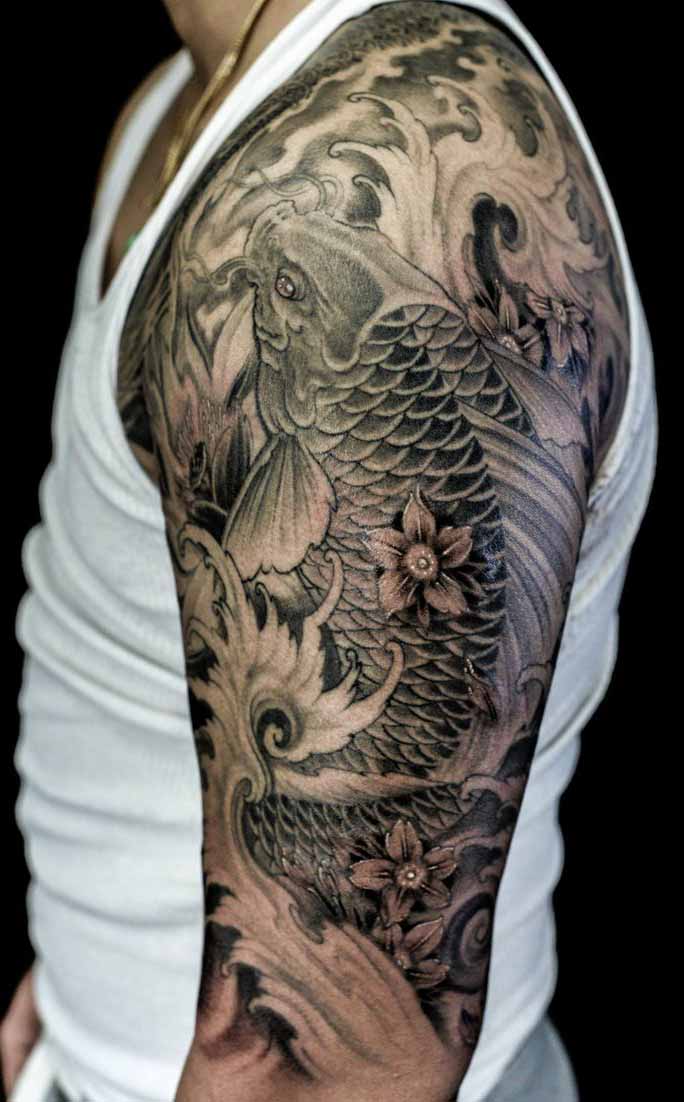 Males often prefer tattoo sleeve ideas to make their arms look strong and masculine. This black koi fish tattoo can be applied to full arms. As we mentioned earlier, the black Koi marks your overcoming of certain struggles in life. These struggles can be related to personal habits, terrible situations in personal life or struggles of professional life too.
A koi tattoo contains a broad meaning along with a creative design. All you need to do is to select a model that includes the right message which matches your personality and feelings.
So just go ahead and get a perfect tattoo for yourself!
Also Read : Angelina Jolie Tattoos that will Inspire You