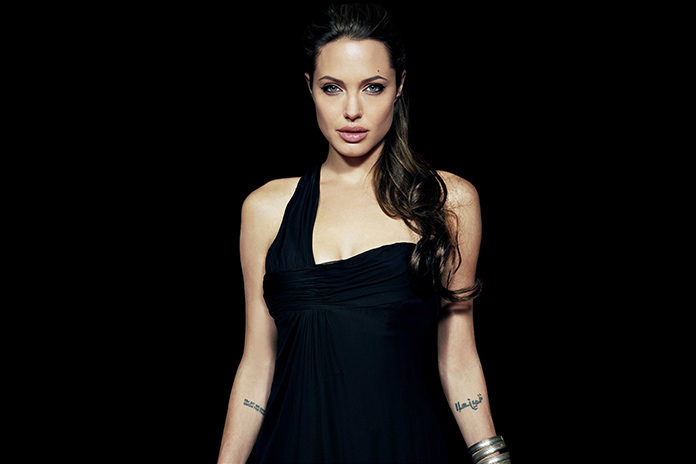 Angelina Jolie Tattoos –  For years, Angelina Jolie's Tattoos have inspired people. Her tattoos go beyond a piece of art. Each one of them has a different, unique meaning. Whether it is Angelina Jolie's Arabic Tattoo or a tiger tattoo, each piece of art on the body has a deep message and drenched in some history.
Let's check out the best Angelina Jolie Tattoos.
Also Read : The Best Small Tattoo Ideas for Men and Women
Billy Bob with Dragon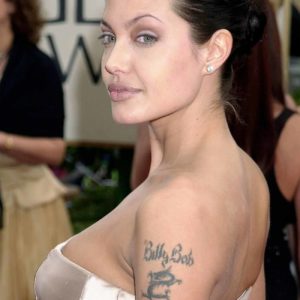 Made on her upper left arm, this was one of the earliest tattoos of Angelina Jolie's. This black and white tattoo was designed in the shape of a Chinese-style dragon with the name of her ex-husband, Billy Bob Thornton written above it. However, after her divorce, she removed this tattoo and got a new one, which represents her children.
Geographical Coordinates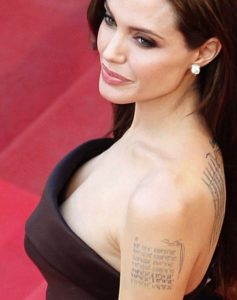 These geographical coordinates tattooed on the upper left arm of Angelina Jolie represent the latitudes and longitudes of the locations where she first met her children. This is one of the most inspiring Angelina Tattoo.
Moreover, this Angelina Jolie tattoo meaning is beautiful, because it represents Cambodian coordinates where she met her eldest son Maddox's and the second one represents Ethiopia where her daughter Zahara was born.
The third one is Namibia where the actress gave birth to her daughter Shiloh, and the fourth place is Vietnam from where her son Pa was born. Then fifth and sixth are the places in France where her twins Knox and Vivienne were born. The last one represents Brad Pitt's birthplace. These tattoos covered her Billy Bob Tattoos.
Buddhist Pali Incantation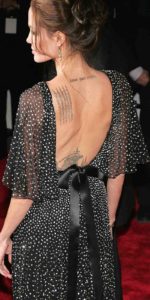 Done on the left blade of her shoulders, this tattoo of Angelina Jolie honors her eldest son Maddox Chivan Jolie-Pitt, born in Cambodia. The tattoo is a Buddhist Pali incantation written in Cambodia's official language Khmer.
It reads, "May your enemies run far away from you. If you acquire riches, may they remain yours always. Your beauty will be that of Apsara. Wherever you may go, many will attend, serve and protect you, surrounding you on all sides".
Know Your Rights Tattoo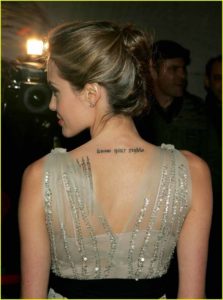 This simple and classy 'Know Your Rights' Angelina Jolie tattoo is located at the center of the actress's shoulder blades, near the Buddhist Pali incantation tattoo. This reflects her belief and her favorite song.
Bengal Tiger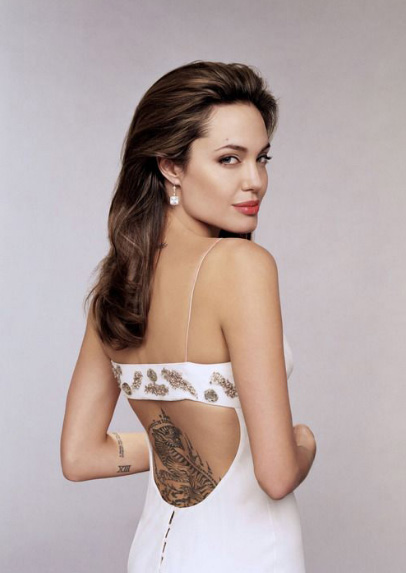 Way back in 2004, the actress got this Bengal Tiger tattooed on her lower back in Bangkok, which went on to become of the most famous Angelina Jolie's tattoos. This 12-inch long and 8-inch wide Angelina Jolie tiger tattoo was made in traditional Thai style using a manual needle and was later blessed by the artist as he chanted an ancient hymn while creating it.
Arabic Script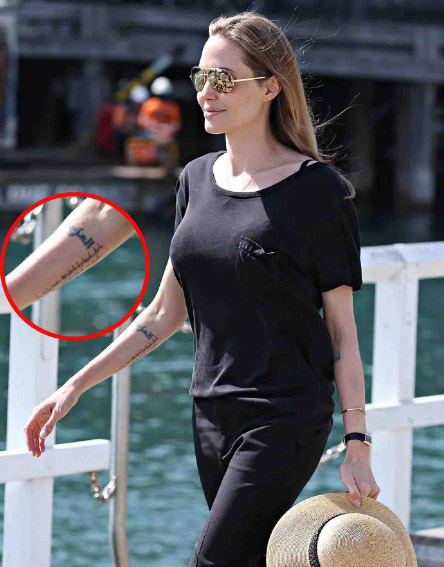 This Angelina Jolie Arabic tattoo translates to ''determination''. However, the actress interprets it as the "strength of will." It is located on Angelina's right arm just below her elbow. This tattoo art covers the abstract lines tattoo that she earlier had during her days with her ex-husband Billy Bob Thornton.
Cross Tattoo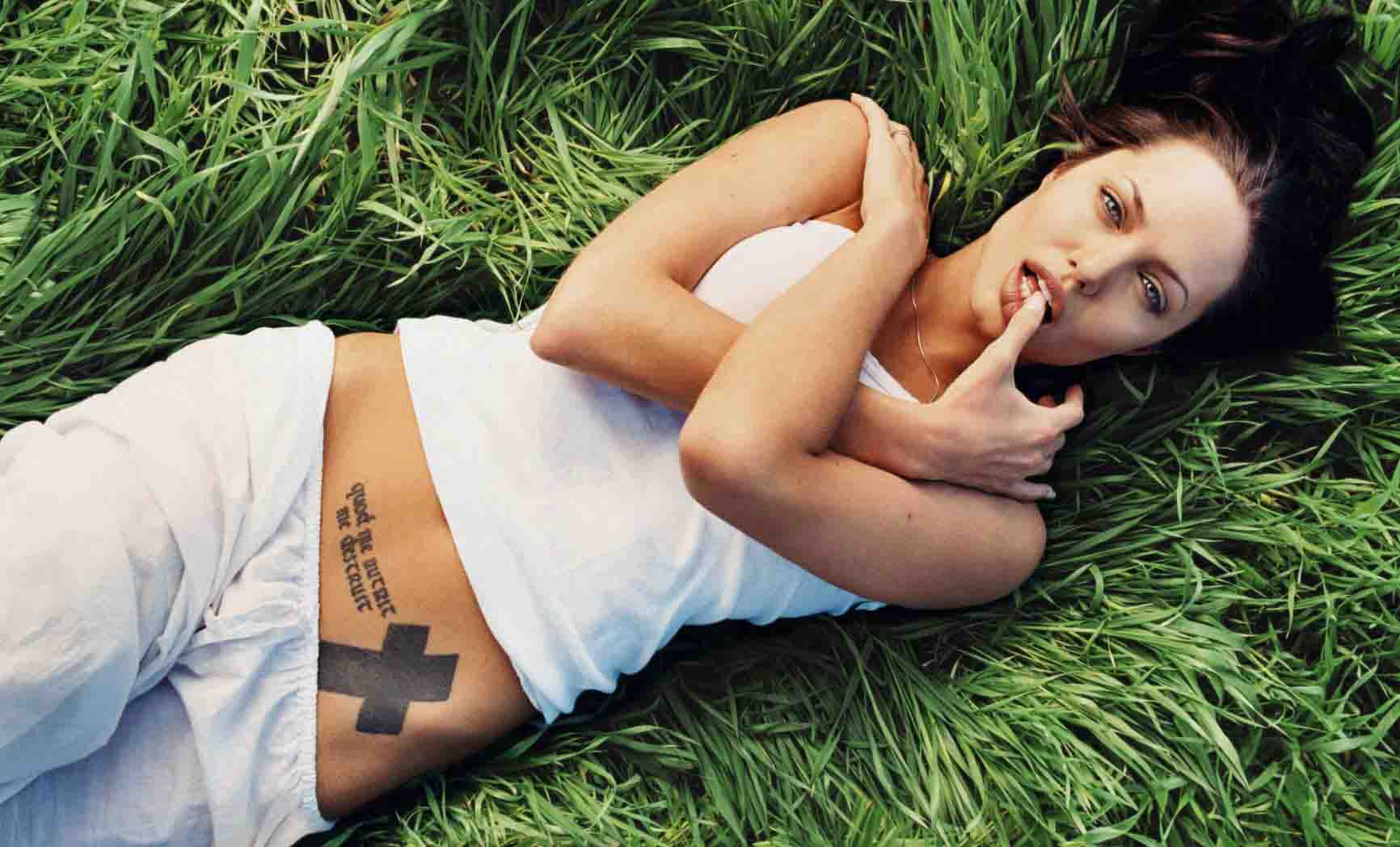 Originally, on her lower waist, Angelina Jolie had a little dragon tattoo, which was tattooed in Amsterdam. However, she got it covered with this cross tattoo along with the Latin Phrase, which reads out "Quod me nutrit me destruit", meaning, "what nourishes me, destroys me." She got the cross Angelina tattoo done in 1995, just a day before she got hitched to Johnny Lee Miller.
Rune Style Tattoo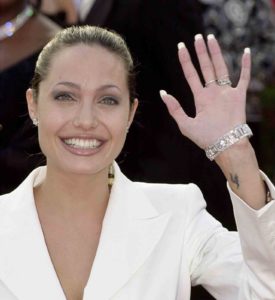 Angelina Jolie Tattoos has a rune style tattoo of the letter 'h' on her left wrist, which is symbolic of her brother James Haven. However, many even believe that this Angelina Jolie tattoo could be a remembrance of her ex-boyfriend Timothy Hutton as well.
Angelina loves her tattoos. Moreover, we love Angelina! Which one of these Angelina Jolie Tattoos is your favorite? Share below.
Also Read : Amazing Angel Tattoos with Strong Message