Mehndi Designs for Fingers – A marvelous finger mehndi designs makes you look fashionable and glamorous. With a little effort and creativity, you can get an elegant look for your beautiful hands. Our collection of 15 spectacular mehndi designs for finger looks trendy & alluring. Just take a look at them!
Also Checkout, Indian Mehndi Designs.
Simple Leaves Design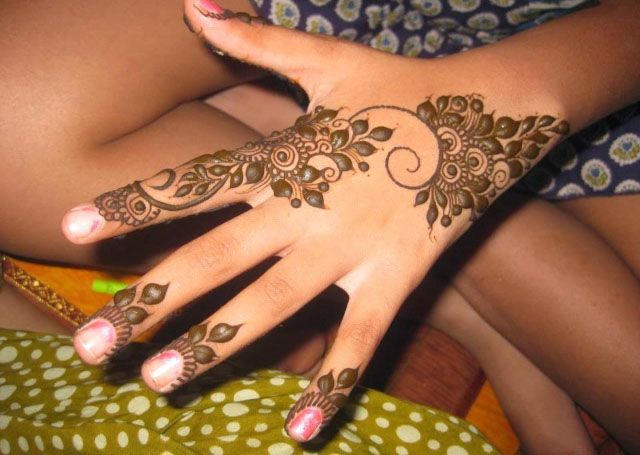 Ornate your finger with this fabulous henna finger designs! It involves five leaves of different sizes on each side of the ring. The smallest leaves have been filled with henna while the other leaves are left empty.
The ring pattern simple mehandi design involves three bands with a decorated periphery comprising straightforward and impactful design. This is a fantastic henna design for the amateurs who want to try their hands in something smooth and beautiful!
Henna Design to Cover Quarter Portion of Fingers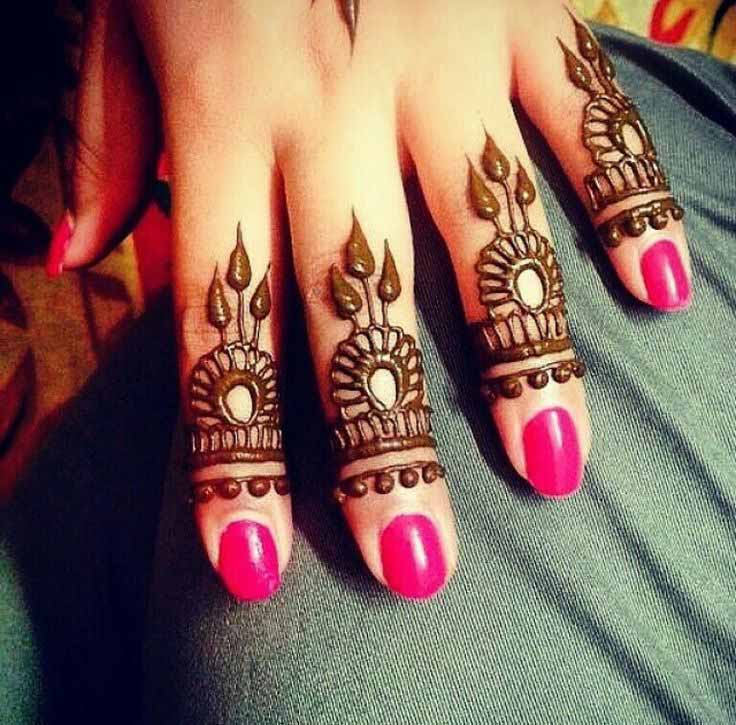 If you are interested in a finger mehndi design that covers only the three-fourth area of your entire finger, then try this magical pattern. Such finger henna designs are easy to apply, and thus, they come as the best option when you have less time, and you want to use henna on your fingers. Apply a beautiful nail paint with this design. Plus you can try this pattern for kids mehandi too.
Superb Geometrical Henna Pattern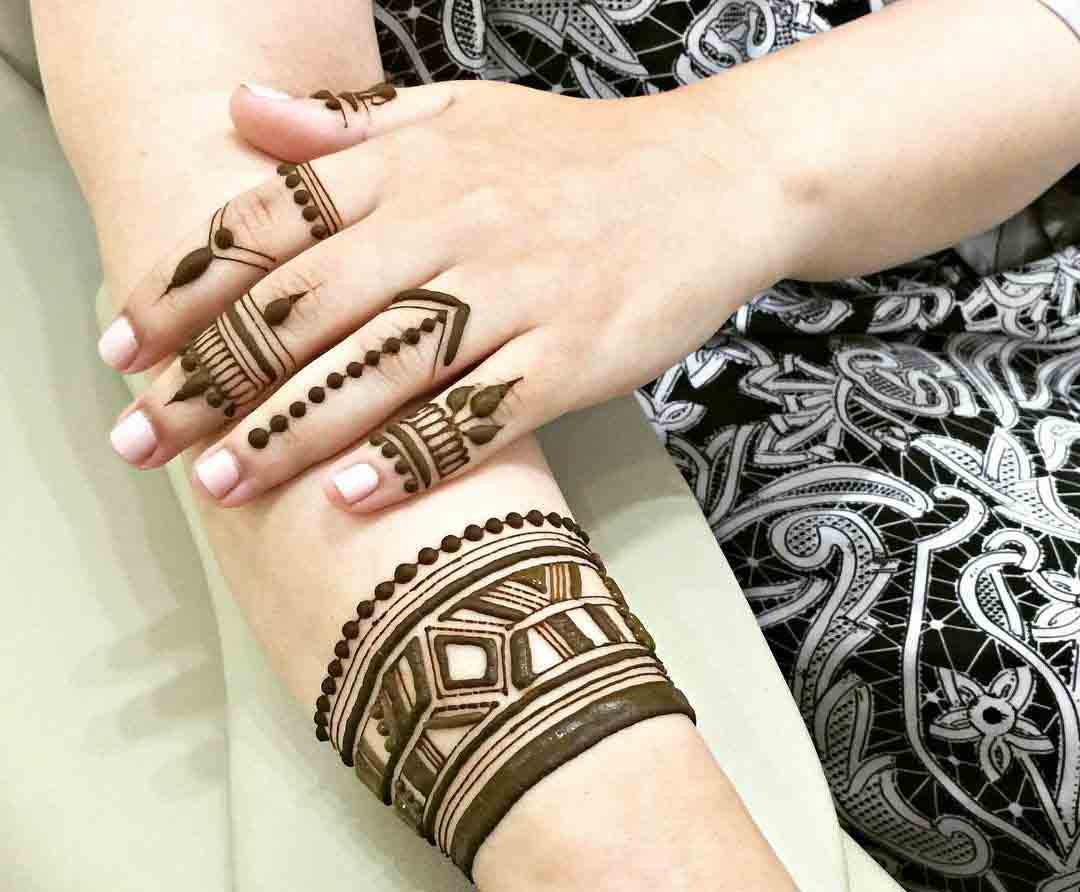 The modern day mehndi designs for finger include a plethora of choices. This excellent geometrical pattern of henna for finger is meant for women who want to look different, modish and tasteful. The henna pattern on the wrist compliments the henna design on fingers and together they create a mesmerizing look for your hands.
Linear Pattern with a Traditional Look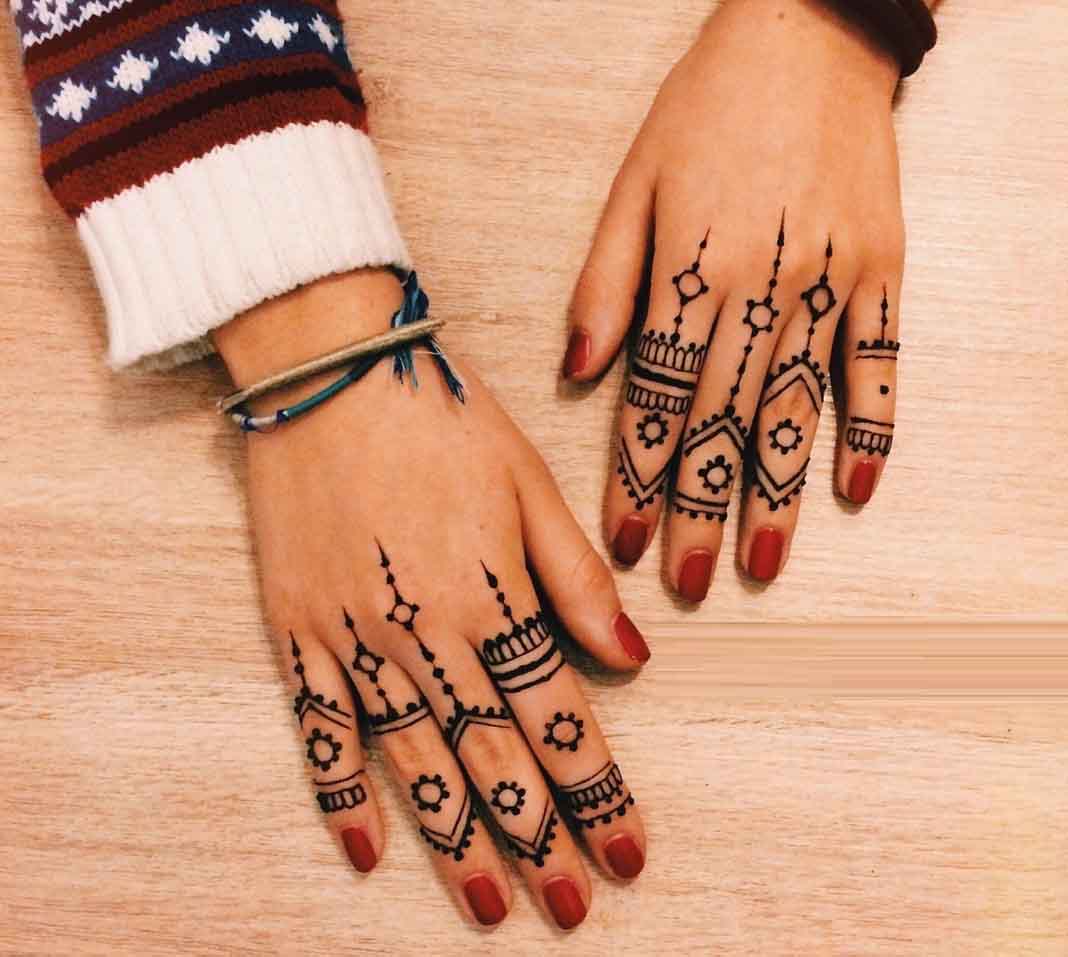 This finger mehndi design encapsulates lines, dots and leaves presented in a traditional way! It is an unusual combination of traditional with henna modern day pattern. You can also add your creativity to this design if you want to take this design to the next level! The simplicity of this henna design allows you to apply it in the ordinary days also!
Excellent Henna Finger Design & Back of Hand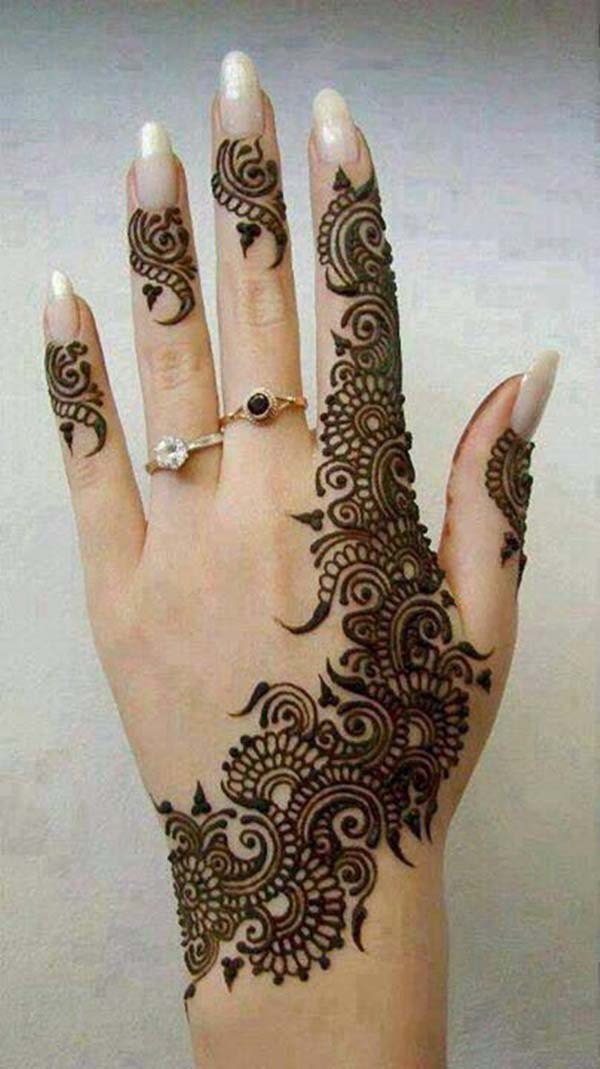 Some henna designs only steal your heart at the very first look! Moreover, needless to mention that this design falls in that category only! Just look at the beauty of this unusual pattern where the finger mehndi involves small but rich pattern and the same pattern has been extended from the index finger towards the wrist.
The design ends at the wrist only. This pattern can be applied both to the front or back of your hand.
So Modern & Stylish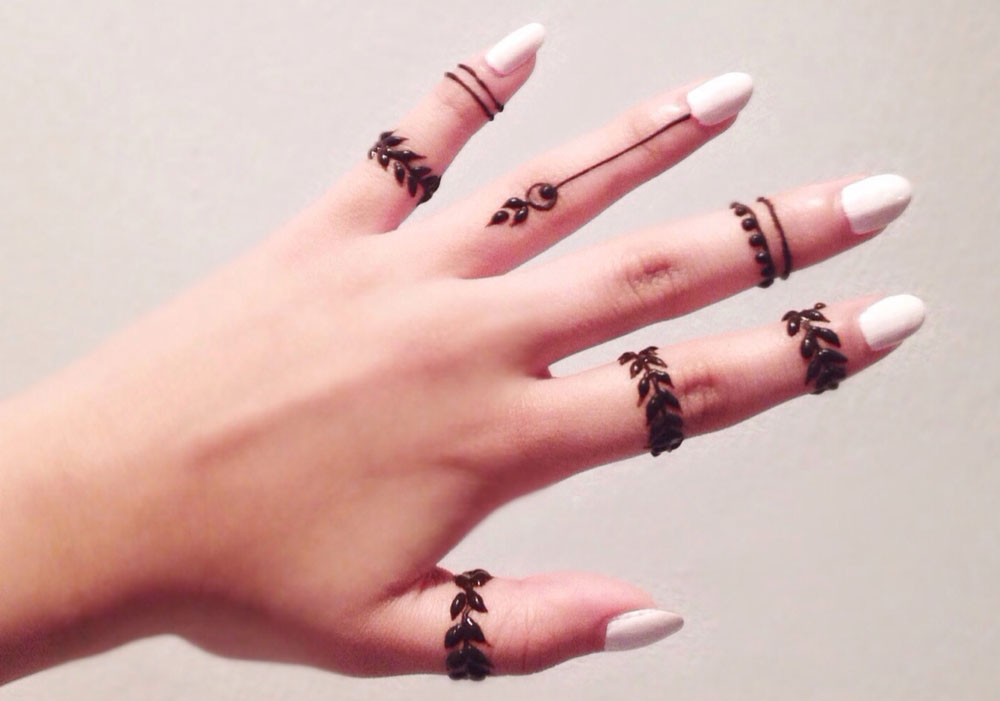 Mehndi designs for finger which involve less effort and high impact are loved and coveted by all women equally. This image indicates five rings or bands on the fingers along with few lines. The mini leaves are full of henna and the natural pattern comprising a single line, circle and leaves on the ring finger provides a unique look to your hand.
Smart Mehndi Designs for Fingers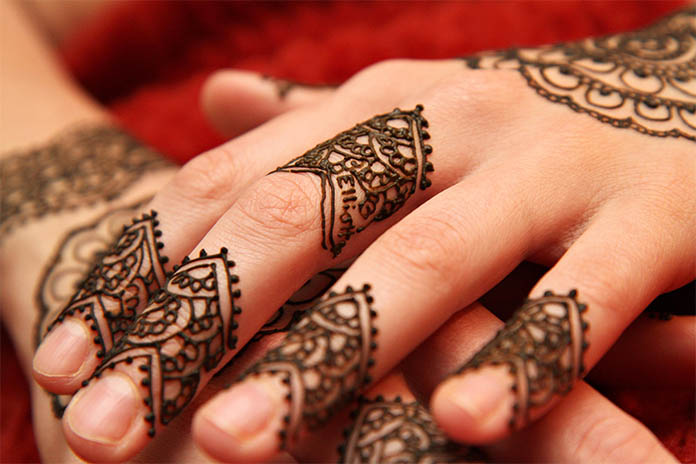 Simple finger henna designs can provide a great look to your hands and can make your hands look attractive. This design has got the triangular pattern as the finger caps and is meant to be applied on the back of fingers.
Henna Design for a Beautiful Look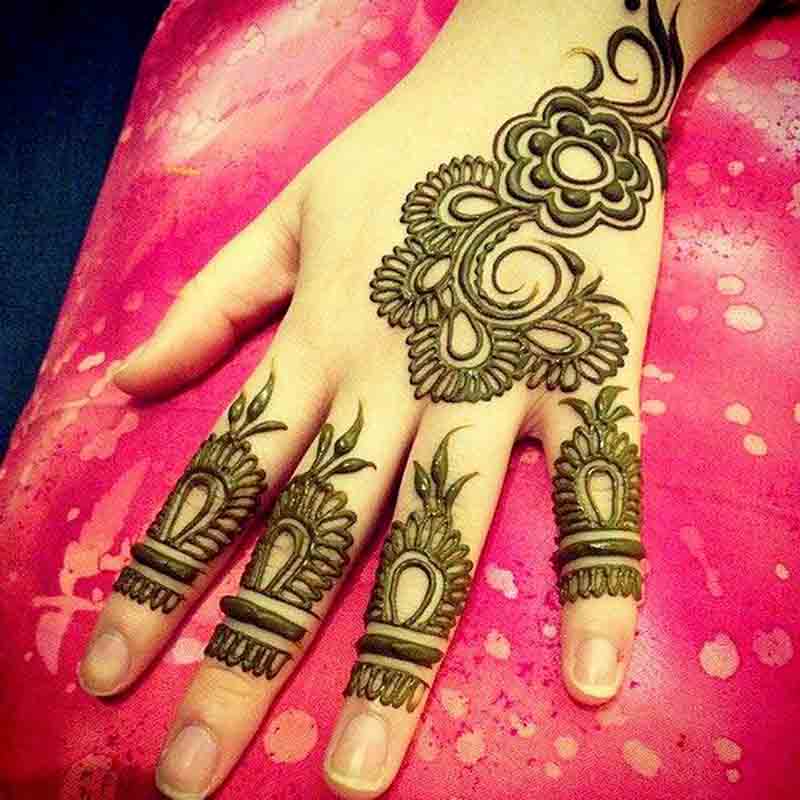 Sometimes, only finger mehndi designs can bring an impressive appearance to your hands. However, many of such finger mehndi patterns can be extended further to provide a complete henna design on the side. This particular design gives an immaculate look with its neat swirls and loops that have been weaved beautifully on the fingers as well as the back area of the hands.
Embellished Finger Look for Teenagers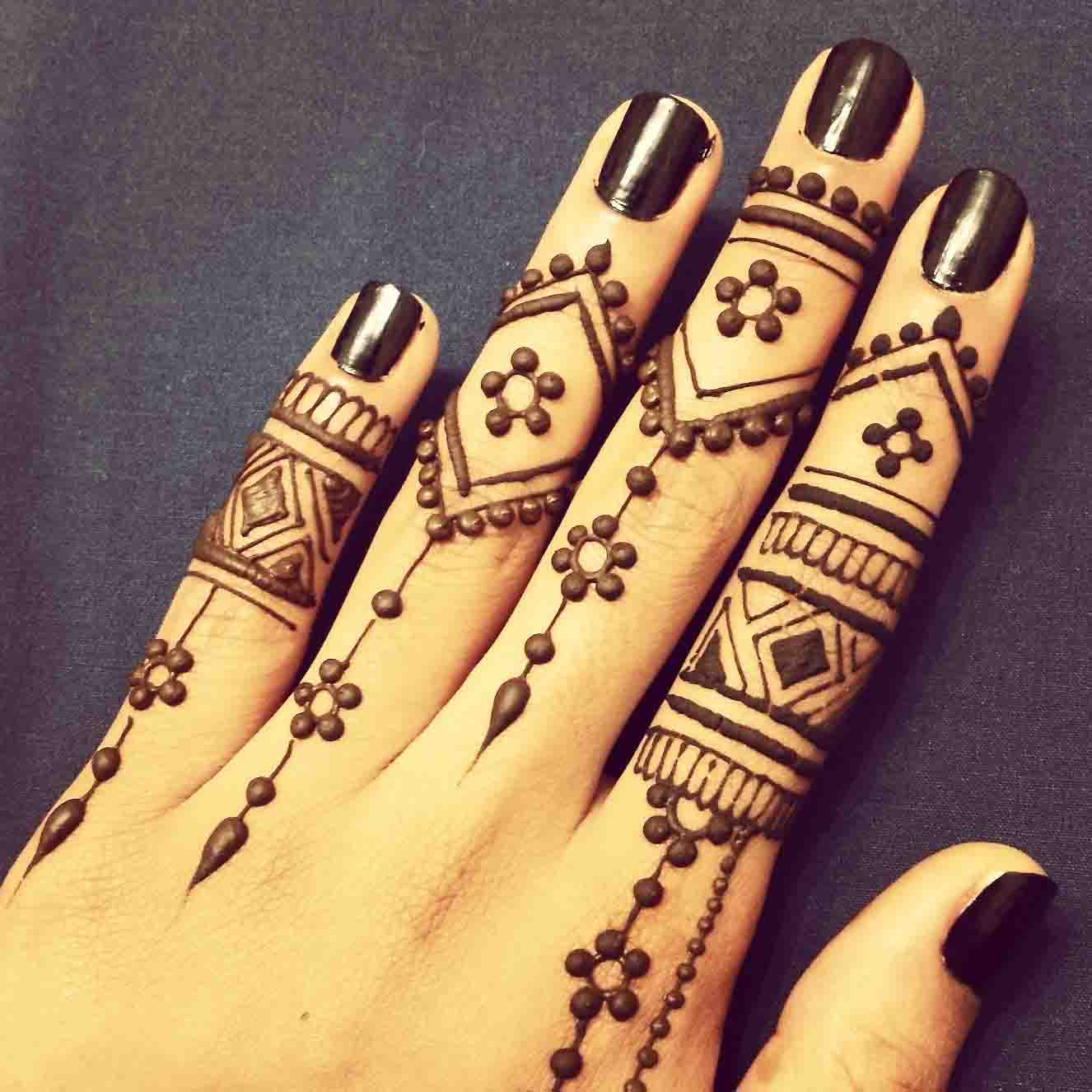 Fashion is wearing your attitude! So why not mix some bytes of glamor along with a traditional dose? Well, what we mean is that the teenage girls can try this cool classic pattern of latest finger mehndi designs with black nail paint. Stay trendy with your pair of denim and a funky top but make your hands look traditional with this beautiful henna!
Henna Finger Bands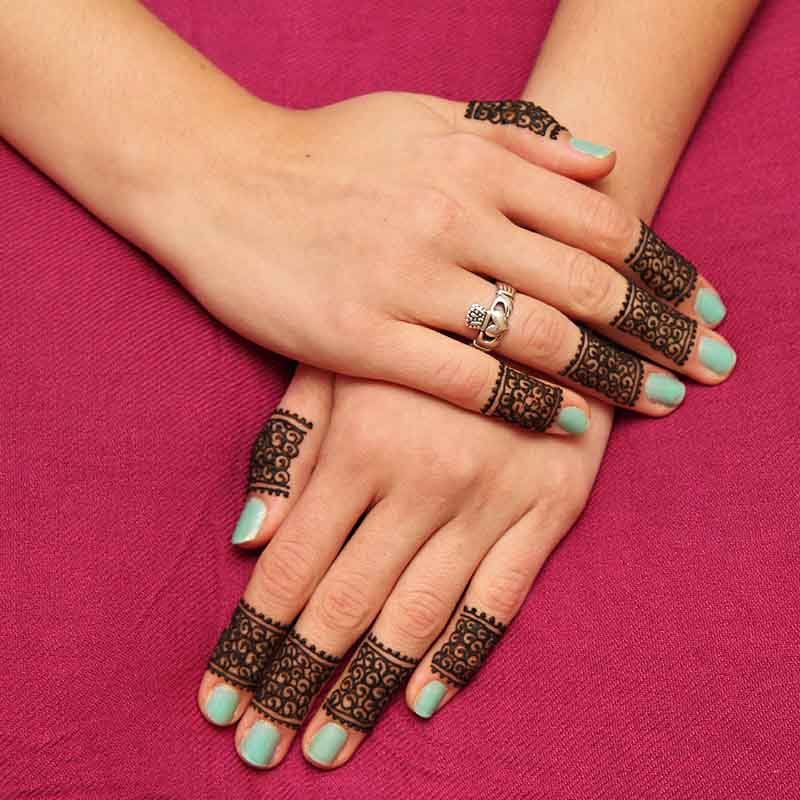 Creativity and imagination know no limits! If you believe in the same, try various mini patterns of henna bands on your fingers. You can take inspiration from this image which shows beautiful henna bands with intricate swirls.
Decide to stay simple with such patterns and you will see how simple henna designs can look so effective with the more exposed skin of your hands!
Finger Mehndi Designs Arabic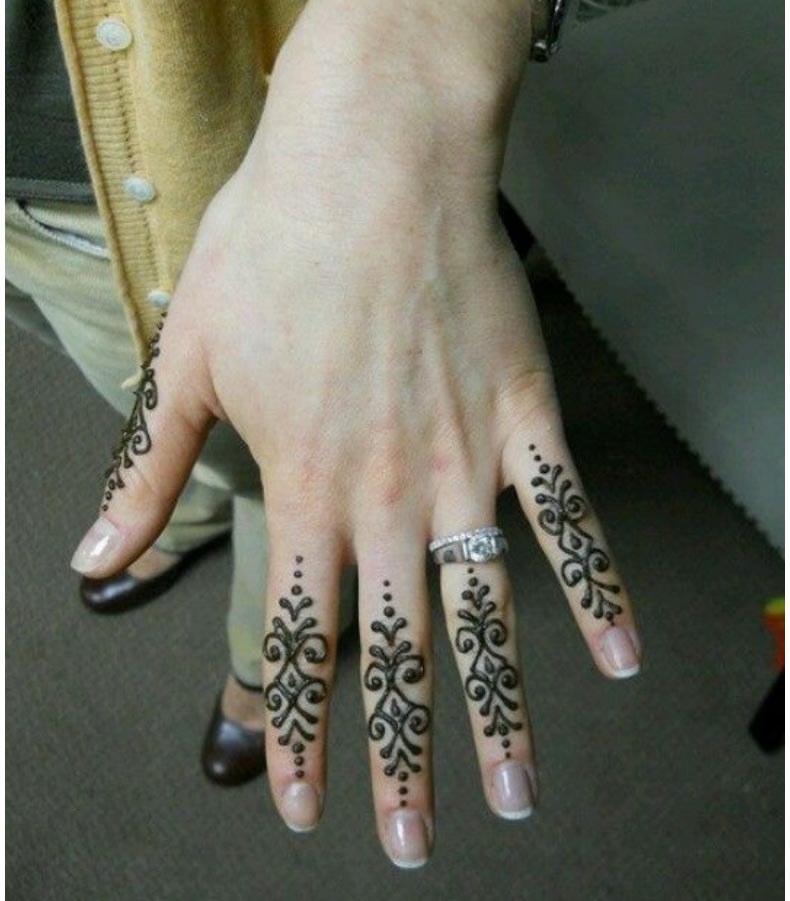 The henna design you see here is used in many modern Arabic bridal mehndi designs. The same flow of henna can be used in mehndi designs for legs also. Do not forget to get a good manicure and pedicure before applying henna on your hands and feet as these processes make your skin look flawless & soft.
Intricate Arabic Henna Pattern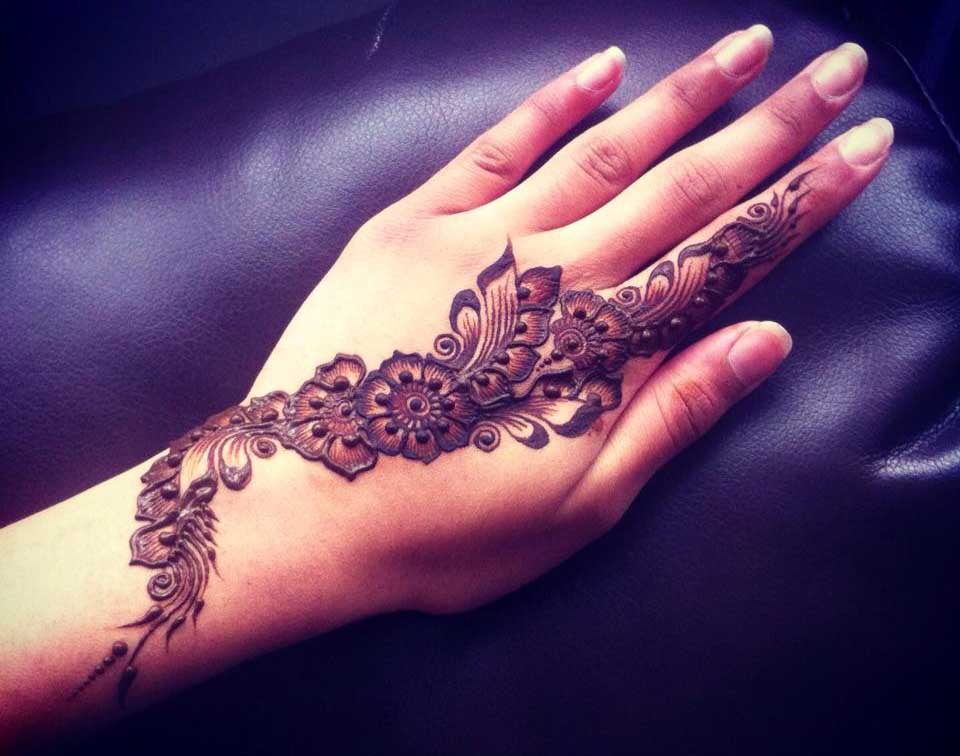 Mostly, the Arabic henna patterns follow the style of a stretched design that begins from the top of an index finger and ends at the wrist. These designs pursue a linear flow. You can observe the same in this sophisticated design of henna. It looks very delicate and even after being narrow; it shows a complete and luxurious look for a hand.
Semi-Circular Mehndi Designs for Fingers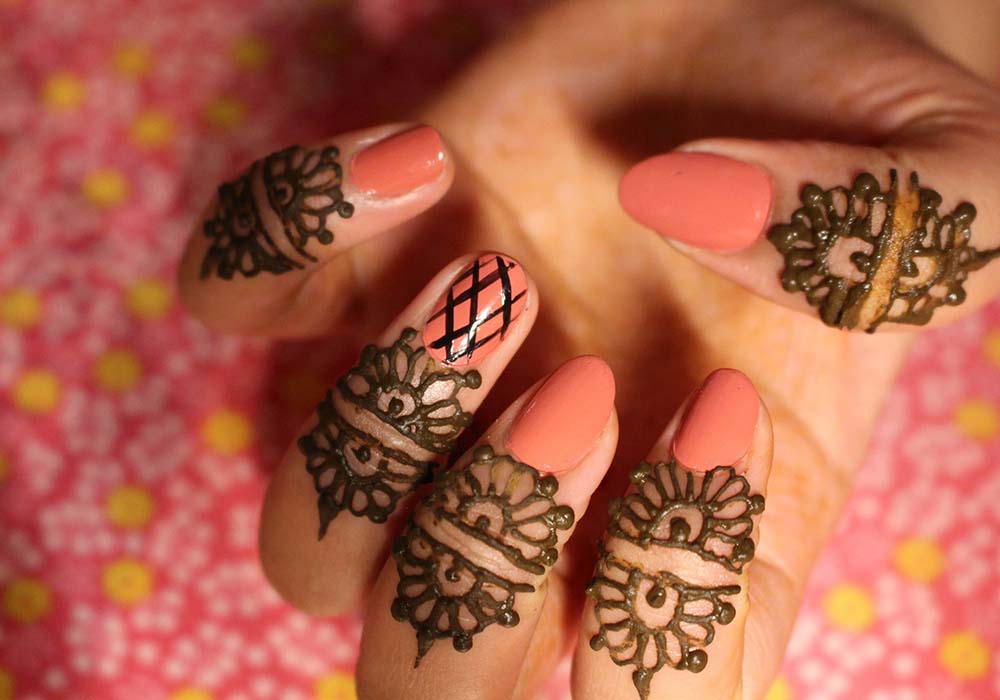 The semi-circular patterns with small loops look great in this finger mehndi design. You can also transform this design into many more interesting patterns by replacing the loops with mini leaves, dots, lines or star shapes. Also, you can combine it with small drops of glitter that will give a festive feeling and look to your hands.
Beautiful Bands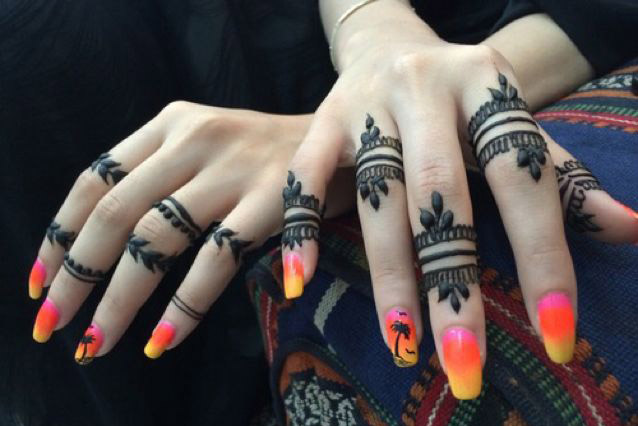 Try these cute and appealing mehndi designs for fingers on your fingers. You can apply a different pattern of the band on each of your fingers. Also, shown in the image, is a small piece of nail art on one of the nails. For an additional attraction, use shaded nail paint on your nails and look like a true fashion diva!
Inspired From Peacock Feather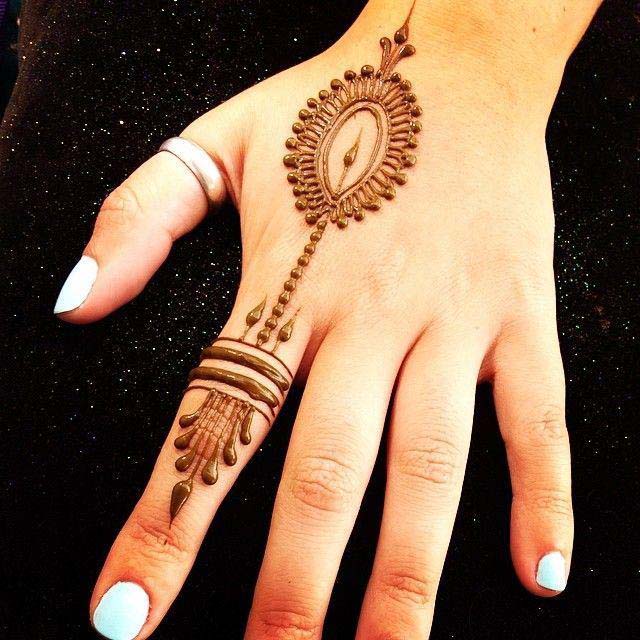 This Mehndi Designs for Fingers is inspired from a peacock feather. You can notice a beautifully embellished circle at the back of hand. The circle has been connected to an enthralling henna print on finger through a chain of dots. For more striking look, you can also apply peacock blue nail paint and can put some blue glitter in the henna design.
Get a good quality mehndi cone and try Mehndi Designs for Fingers today! You would not only love the look of your beautified hands but will also eventually fall in love with the art of applying mehndi!
Also Read : Top 20 Engrossing Pakistani Mehndi Designs