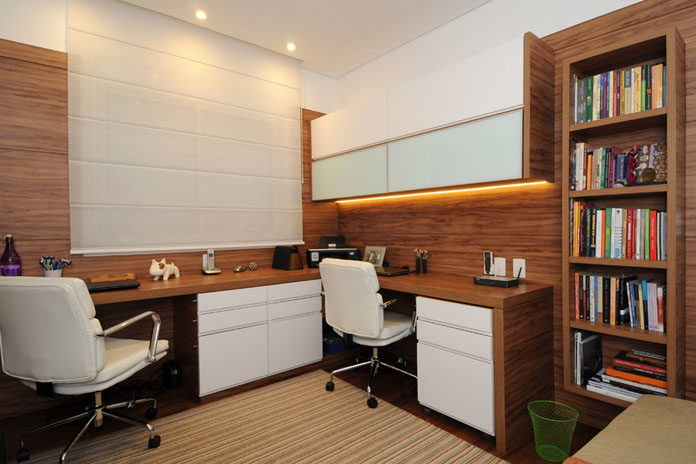 Home Office Decorating Ideas – It's time you ditch your regular office and embrace the power of a comfy home office! Home offices do not raise eyebrows anymore. In fact, they are considered a productive, inspiring and creative space. With these home office decorating ideas you can give an uplift to your office décor while creating a functional space where you can follow your passions, chase a dream and earn money.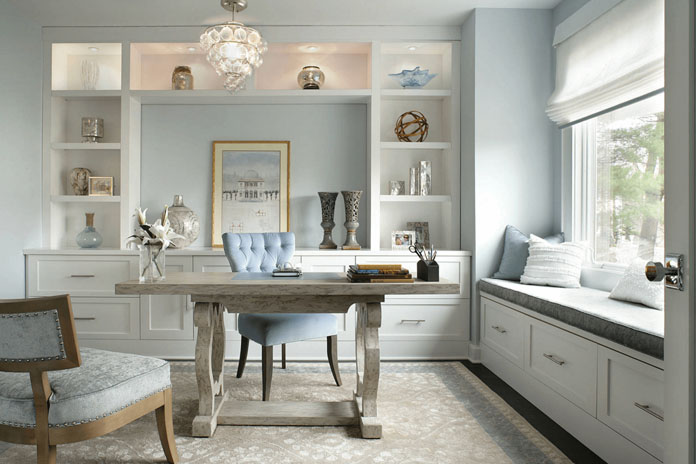 There is nothing better than to a great view right in front of your eyes to inspire you always. A simple Nordic style home office décor consisting of a Gustavian style chair with a simple Swedish desk will do the work. Set it up by a window looking out to a garden or a pool to boost productivity. Muted colors look stylish and don't distract you.
Double Your Space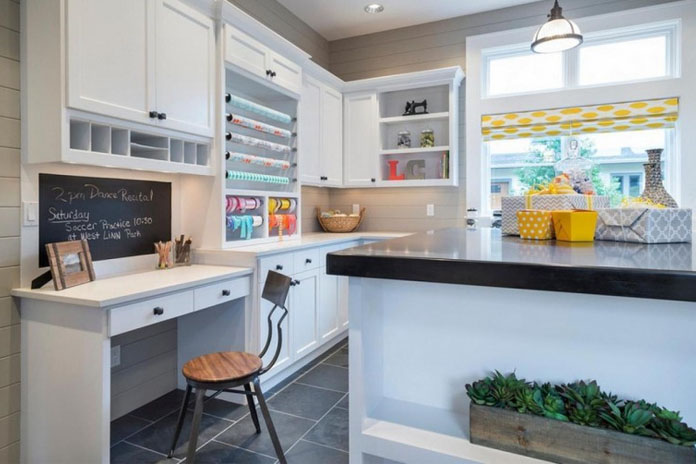 Create a setup where both the kitchen and your office exist side by side. This one is a very nice example of space management. The extra shelves and the cabinets of the kitchen have been used to accommodate the files and office supplies whereas an ample space to the left of the sink houses a large wooden office desk with a computer and other accessories on it.
Customize the home office's decor according to your preference. The split, with right kind of cabinets on top, gives this home office an uplifting, library-like feel.
Monochromatic Stripes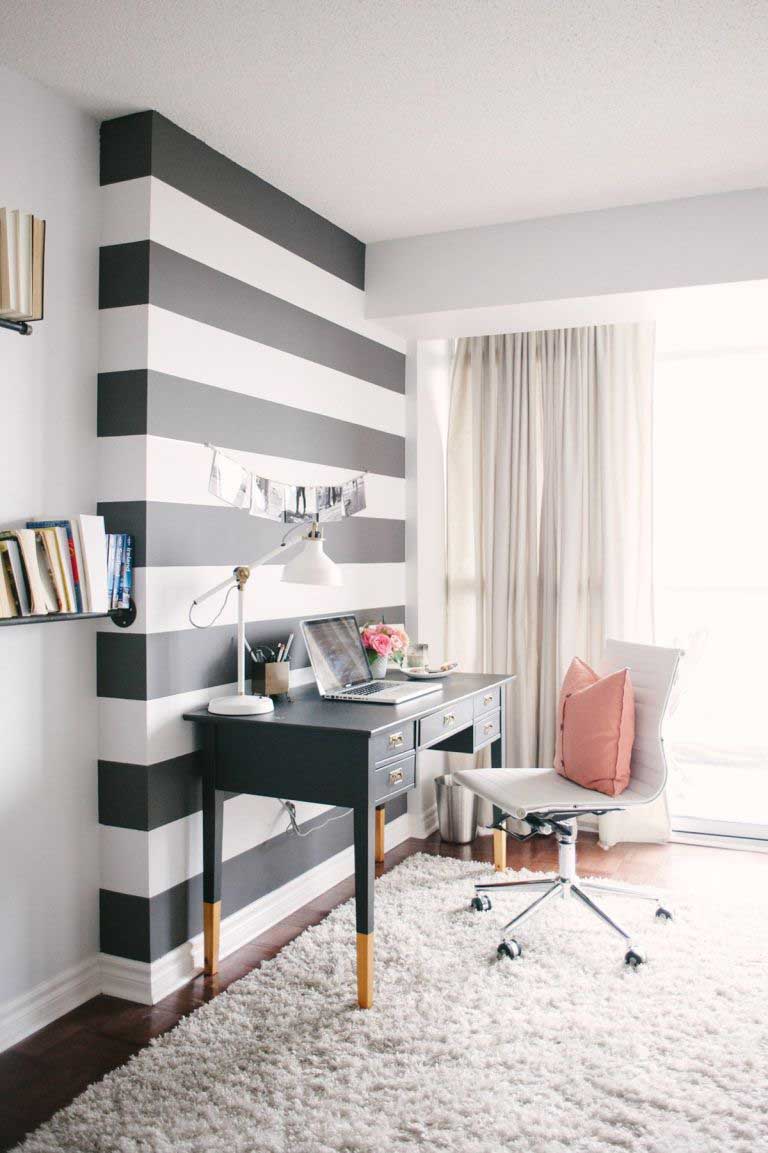 A long, clean desk is all you need to get started. Create your own, personal office corner to work. Add monochromatic, horizontal stripes to the corner for ethereal effect. Plus, it matches with the desk. In fact, this is one of the most easiest and cost efficient home office decorating ideas that you can have. Plus try some rugs ideas, that will enhance the productivity.
The Regal Look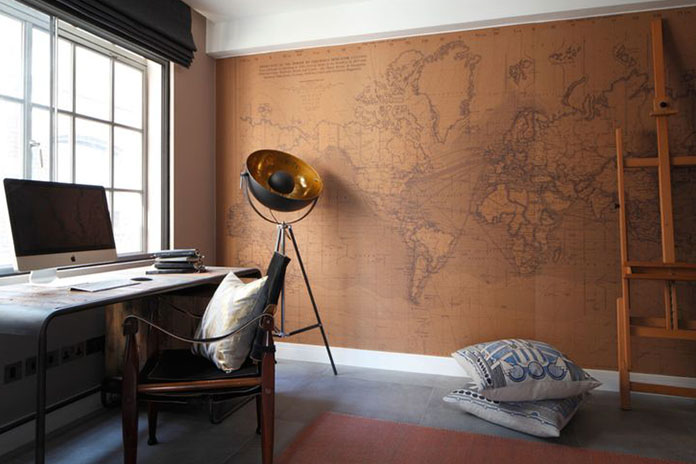 Well if you want an office like that of Sherlock Holmes, it is very simple to achieve. All you need is to have items with antique accents and some geeky stuff lying around. Decorate one of the walls of your home office with a world map wallpaper and have an antique styled desk and chair placed right next to it.
This will give it a regal look. Windows offering views straight from the desk will keep you upbeat. This will give your home office decoration a feel of the royal, bygone era. Plus it looks like rustic home decor.
Clean Desk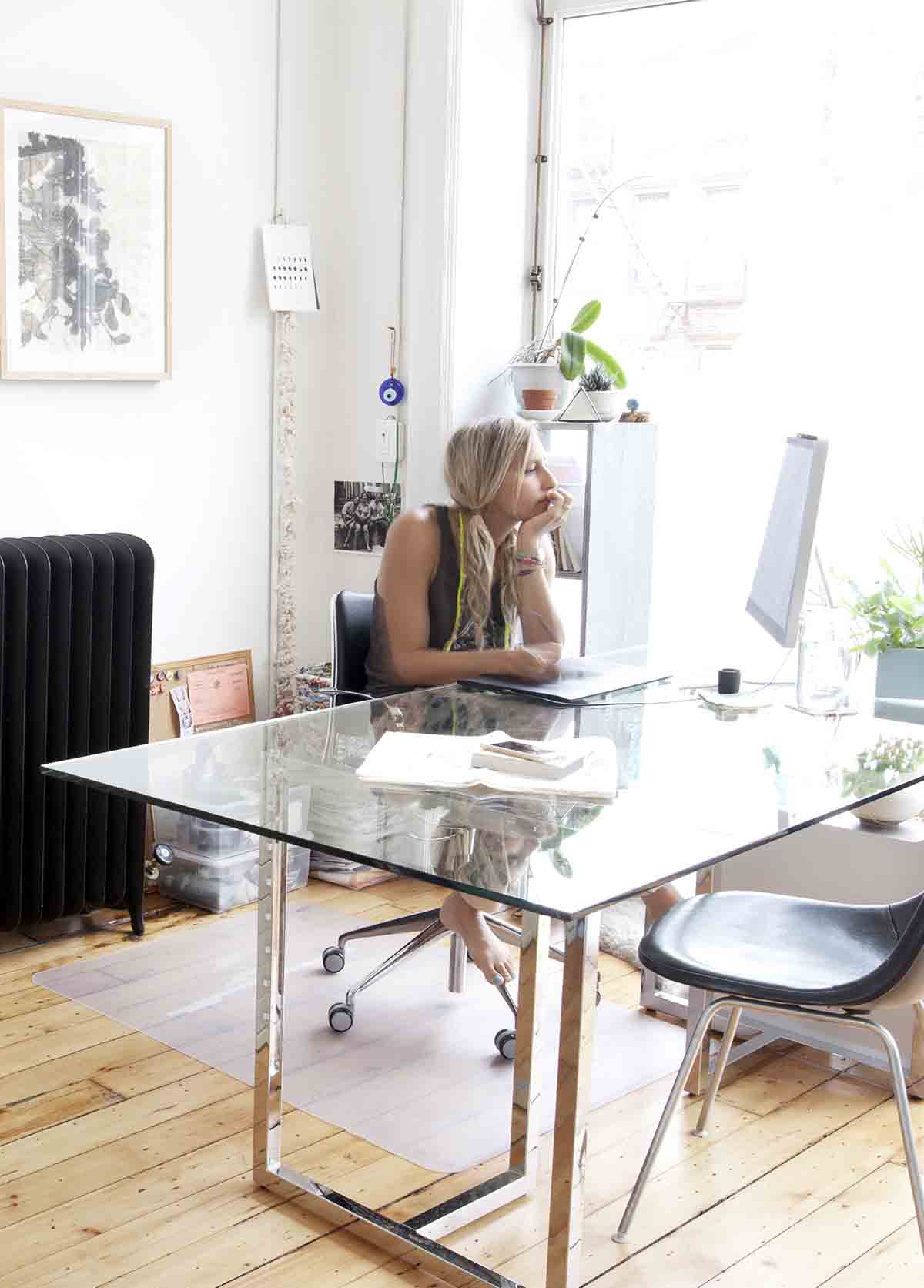 This home office interior design is clean and smart. The glass desk is clean and bright walls with minimalistic home office décor setting, makes this place look cozy and inviting. The desk and the chair too has been kept in accordance to the home office's décor setting to ensure that everything appears to be in sync with each other. Plus an artificial plant on the top of the table will make your space more green and adorable.
Corner Office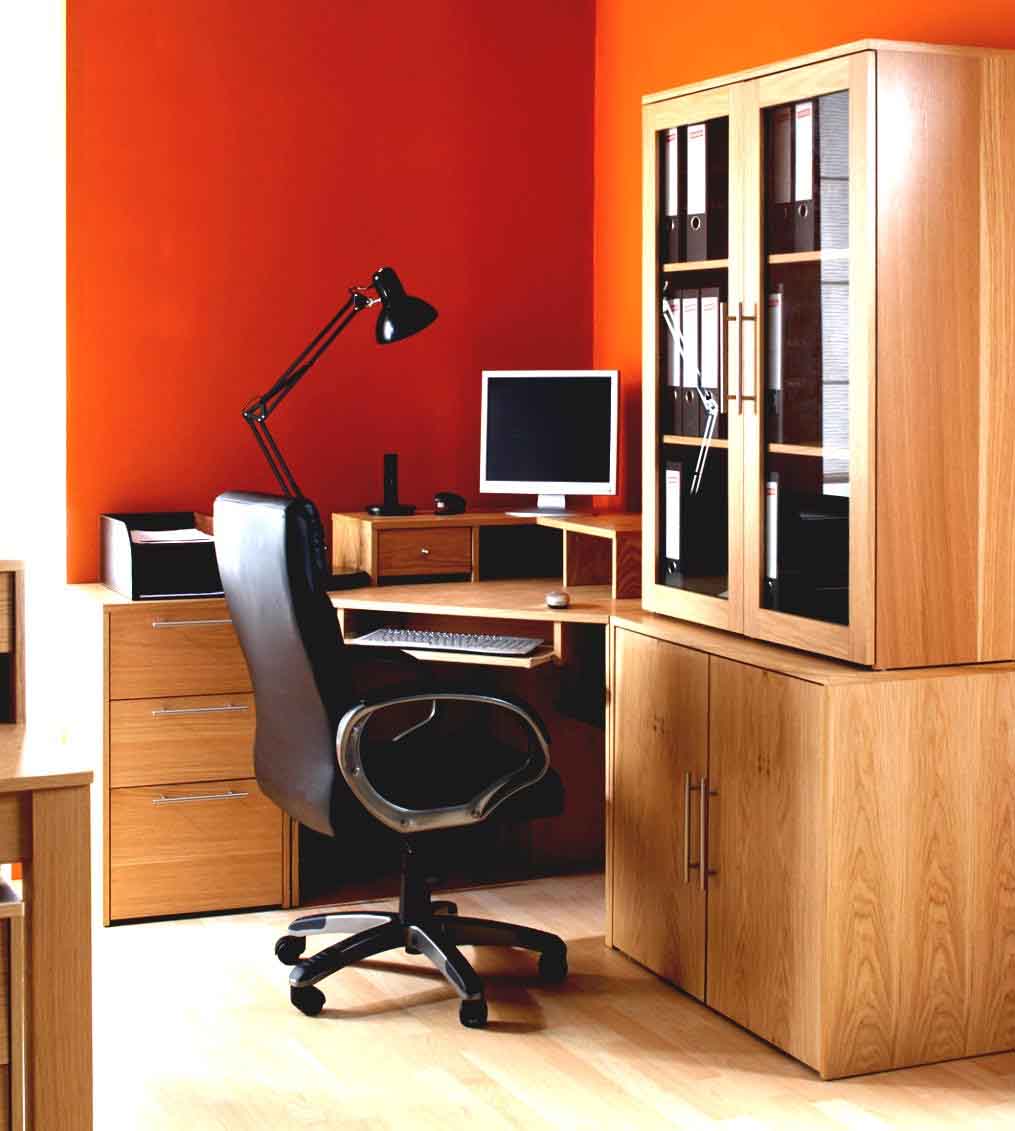 Don't have room for an office? Then grab a corner. Work it up by sneaking a compact table, chair, lamp, storage bins and shelves and voila your home office ready. This allows you to have a personal spot, which neither disturbs the usual setup of your home nor its daily activities. It is a perfect home office decorating idea for small homes and apartments.
Woody Touches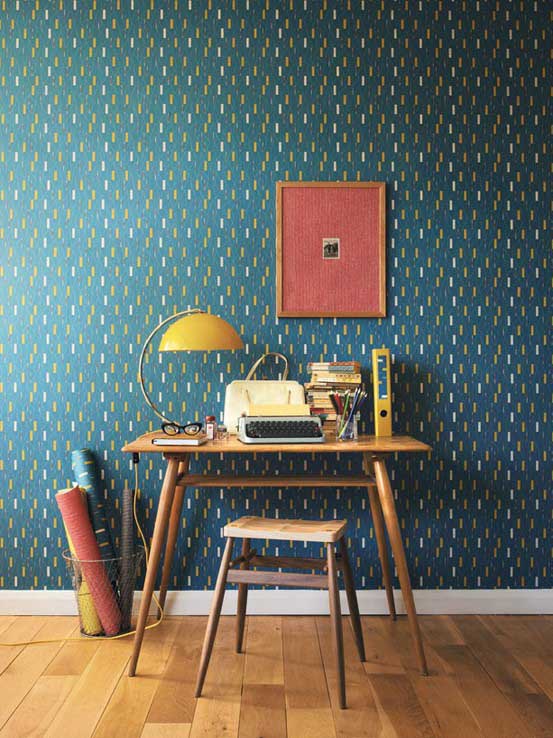 The woody touch in this home office décor lends it simplicity. A small desk and a neat stool ensure you have space to work, whereas the bright walls keep the area light and chirpy. Perfect for people who enjoy artistic pursuits, this woody décor surely adds style to the interiors.
Compact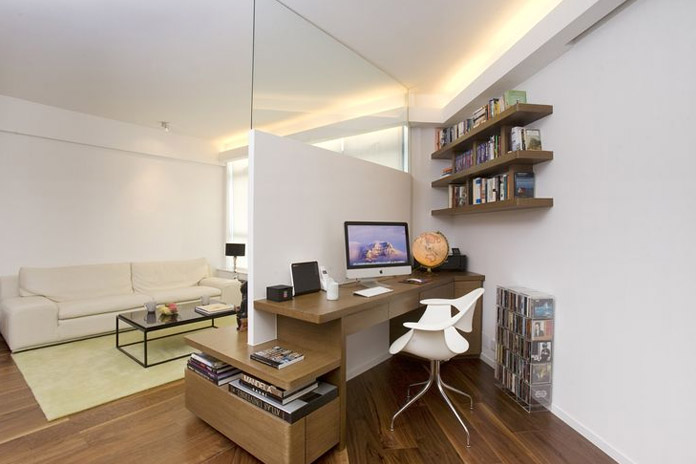 This is one of the best, smartly curated home office decorating ideas. It takes motivation from beds with storage spaces, as the desk has a storage space. White chair is industrial but complements the contemporary sofa opposite it.
In fact, it is quite interesting to see a small wall partition, which can differentiate the office from the waiting area (or a place where you can have some drinks with colleagues and friends)!
Bedside Office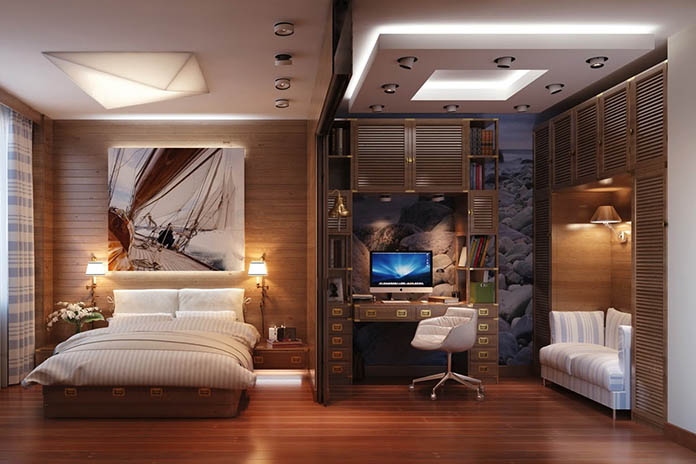 Gone are the days, when bedrooms were just used for sleeping and relaxing. In fact, one of the most common places to setup a home office these days is in bedrooms only. So, why hesitate! Get a decent chair, desk and other office essentials to setup your home office in your bedroom.
A small partition transforms a simple desk and chair into a home office that barely occupies any extra space. Plus this is a great idea to decorate your small bedroom.
So, go ahead! Start decorating a home office with these awesome ideas.
Also Read: 13 Ways To Be More Productive When Working From Home