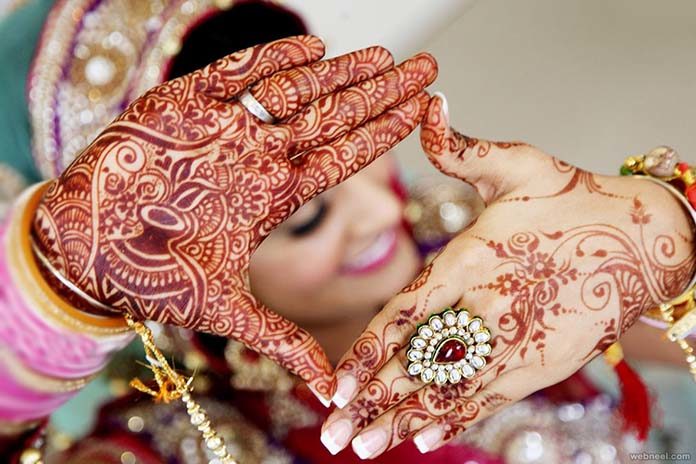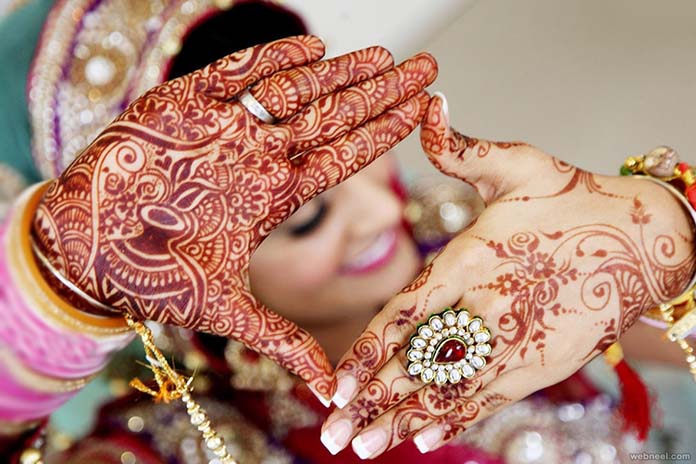 Bridal Mehndi Designs – In Hindu Weddings or Indian wedding occasions, Henna is vastly used as a source of artificial tattooing and coloring. Best bridal mehndi designs are popular among brides because they add cosmetic beauty with their level of detail.
At the same time, they are a reflection of love, passion, and togetherness. Here, we have the best bridal mehandi designs which you can try to make your day special.
Related: Indian Mehandi Designs.
Mirrored Design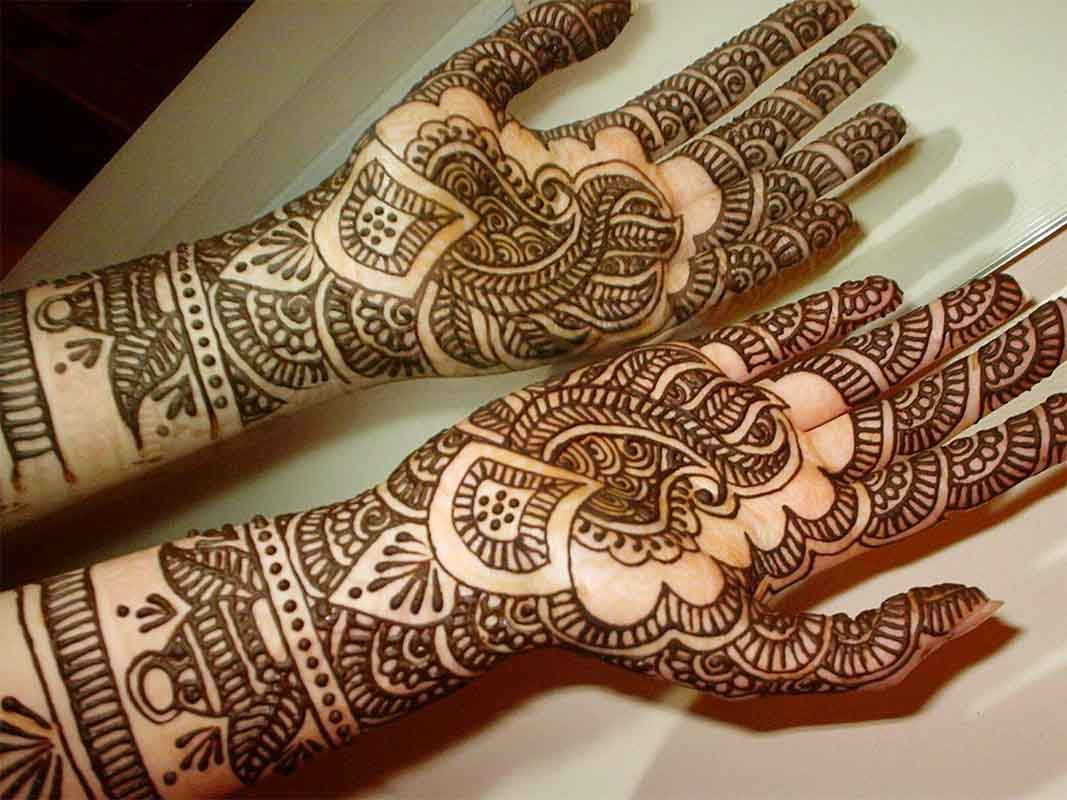 Symmetrical, mirrored designs are particularly loved by brides because they indicate a similar train of thought for both bride and the groom (hands reflect each of the partners). That's why these bridal mehndi designs are so popular.
Usually, paisley motifs are used in minimalistic patterns throughout the hand for a mirrored effect. Certain auspicious items in Indian culture, such as a pot or a peacock may be drawn as well.
Royal Look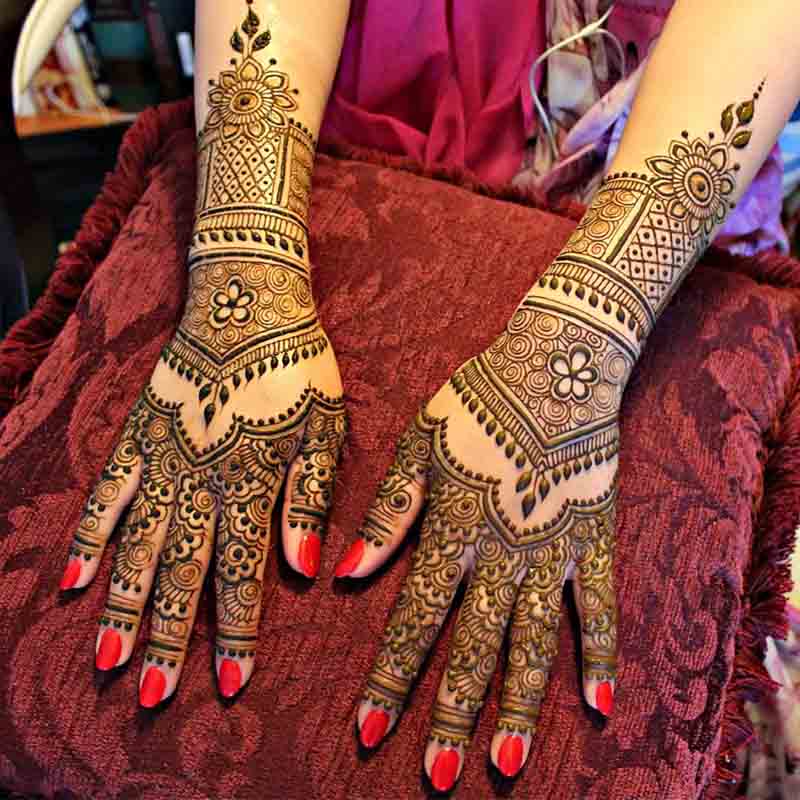 Weddings are all about extravagance, so why shouldn't your bridal mehndi design be like one? This is a perfect design showcasing a combination of complex patterns and intricate details exuding sheer extravagance.
Consisting of floral motifs, chakras and leafy patterns, this design looks outstanding. The Jharokas style detailing further gives a royal look to the mehandi as if a royal castle from the state of Rajasthan has been drawn on the hands! Its a royal mehndi design for hands.
Paisley Pattern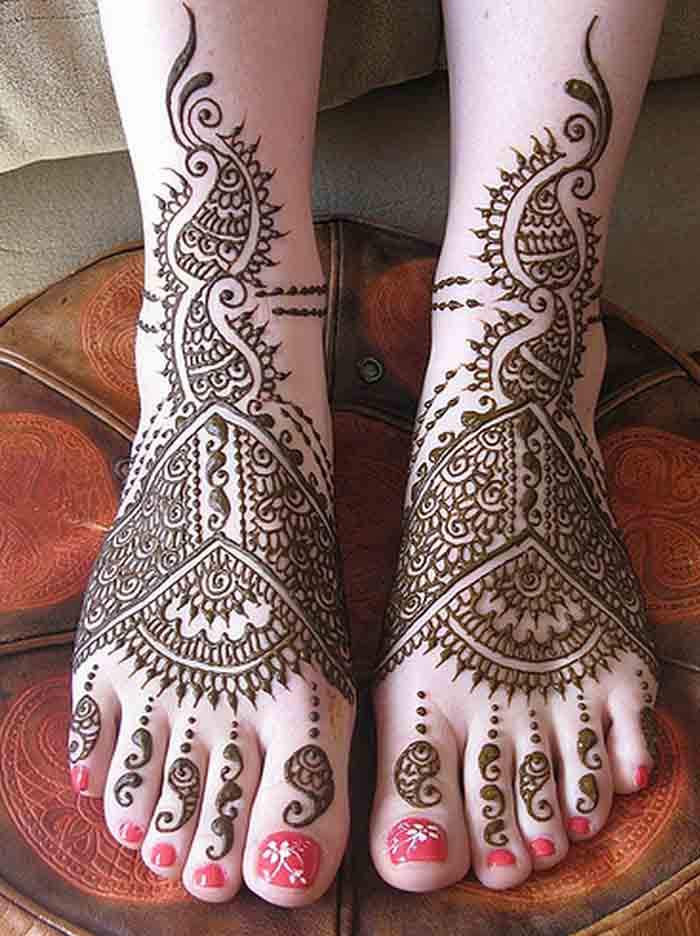 Bridal mehendi designs include both your hands and feet. This is beautiful bridal henna design depicts the sheer hard work and creativity that goes into designing one such beautiful artwork.
Simple yet attractive, this latest bridal mehandi design for feet has been created using paisley and floral patterns. Neat and compact construction, with special attention to details, gives it an edge.
Raja Rani Design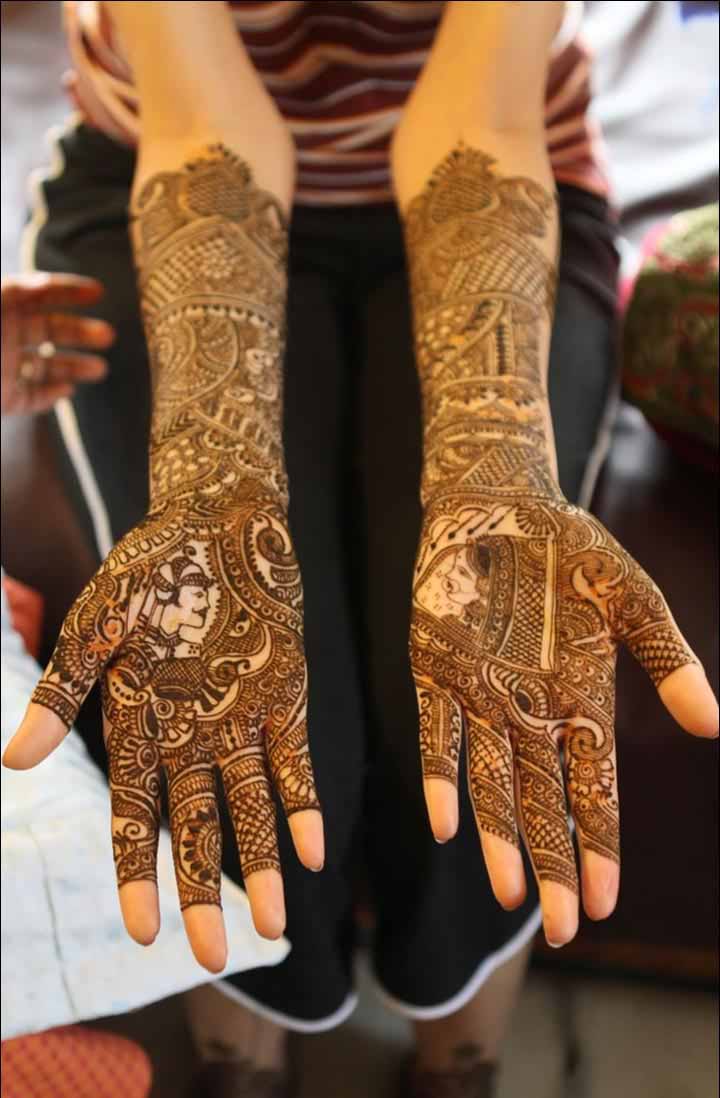 If you are looking for simple mehndi design then don't try this. Reflecting a royal couple, this is a design which depicts the 'Raja'(King) or the king on one hand and the 'Rani'(Queen) or the queen on the other.
The figurines of the king and queen are well supported with other intricate patterns to add details to the design that looks immensely attractive.
Usually, such a construction renders sophistication and opulence to the best mehndi design for bridal purposes. Raja and Rani are indicative of a couple and a life that they are supposed to live together.
Sophisticatedly Intricate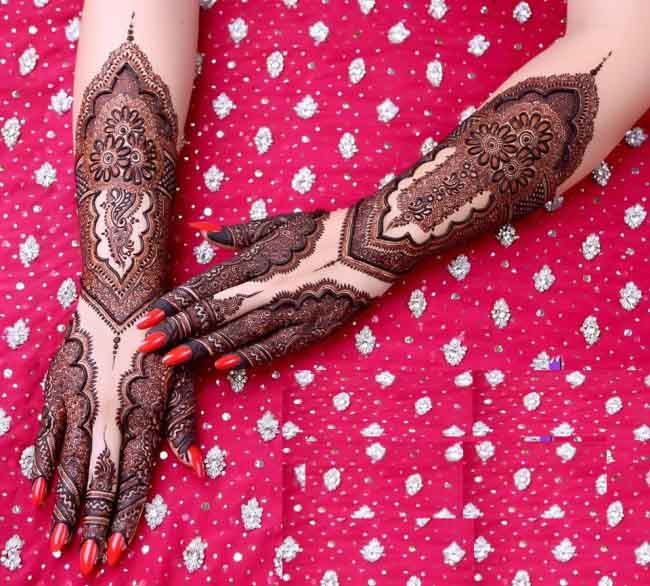 These type of bridal mehandi designs speaks of the sheer craftsmanship and exquisiteness that has gone into creating it. Designed intricately, many components are into play in this design. The floral textures, chakras, paisley patterns and the geometrical shapes, all of them have been smartly combined to create a design so beautiful and eye catching.
What we love about it the most is that the design hints at Rajasthan's Rajput architecture that was once used for the opulent castles.
Modern and Contemporary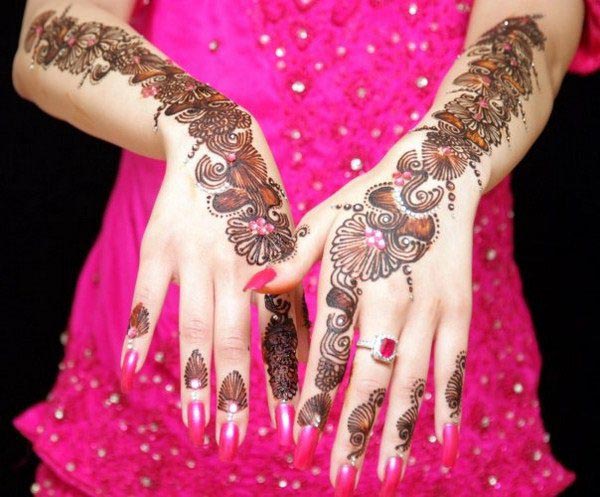 Simplistic but properly executed mehndi designs look lovely, especially if the use twin color schemes or gemstones as embellishments. Solely consisting of floral patterns, this latest bridal mehndi design is one such example. It smartly combines colorful shading with geometrical symmetry to create a fun looking attractive pattern.
Floral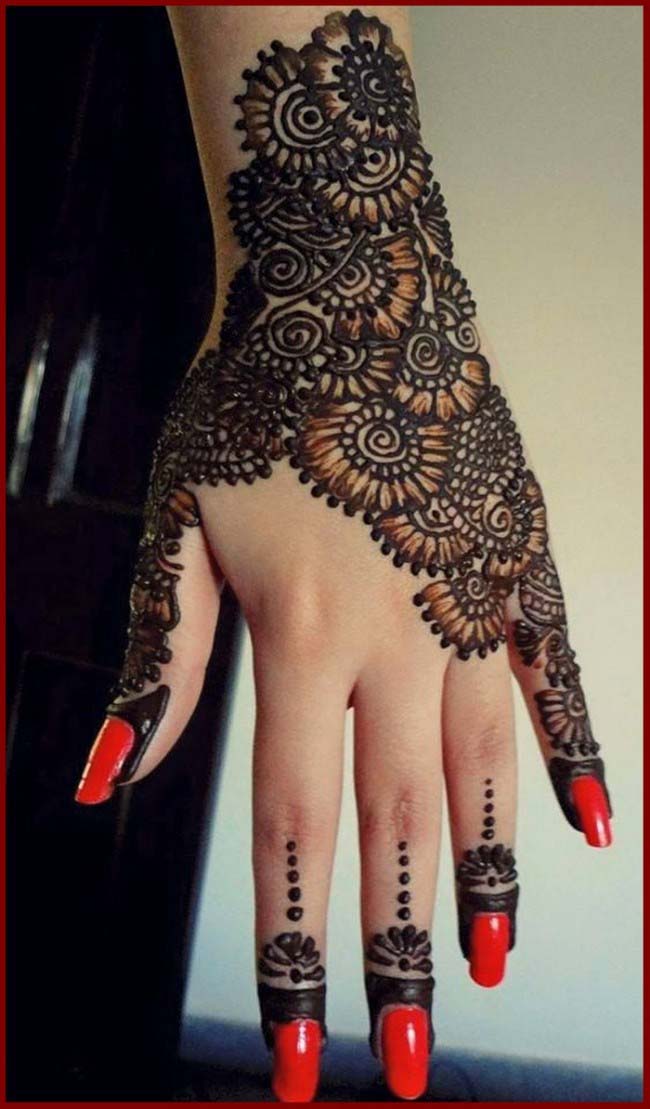 Floral motifs are peoples' favorite when it comes to bridal mehndi designs. If you are thinking, why? It's because flowers are associated with bringing good luck and joy. This design here is a fine example of floral motifs in various shapes and sizes creating a beautiful pattern, which is very attractive and well-defined. Plus the dotted mehandi design for finger gives a special attention.
Geometrical Patterns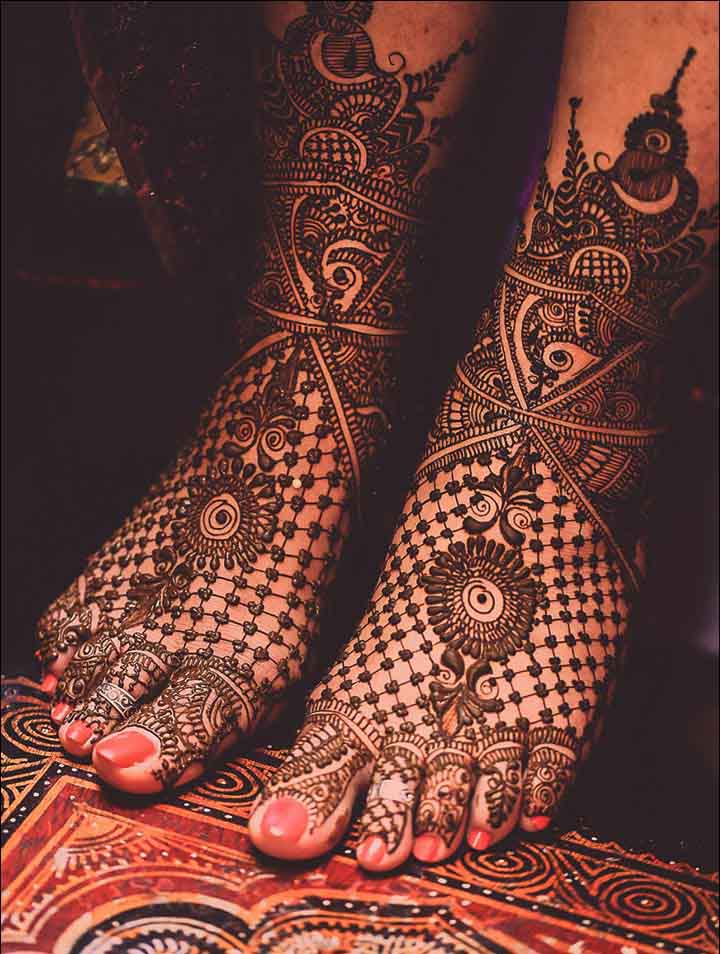 If you want to try geometrical designs, then checkered bridal mehndi designs is the best thing to try! This intricately done design consist of checkered prints, dots and paisley pattern which efficiently cover your entire feet without making it appear cluttered. Such bridal mehndi designs look sophisticated and classy as well.
Bride and Groom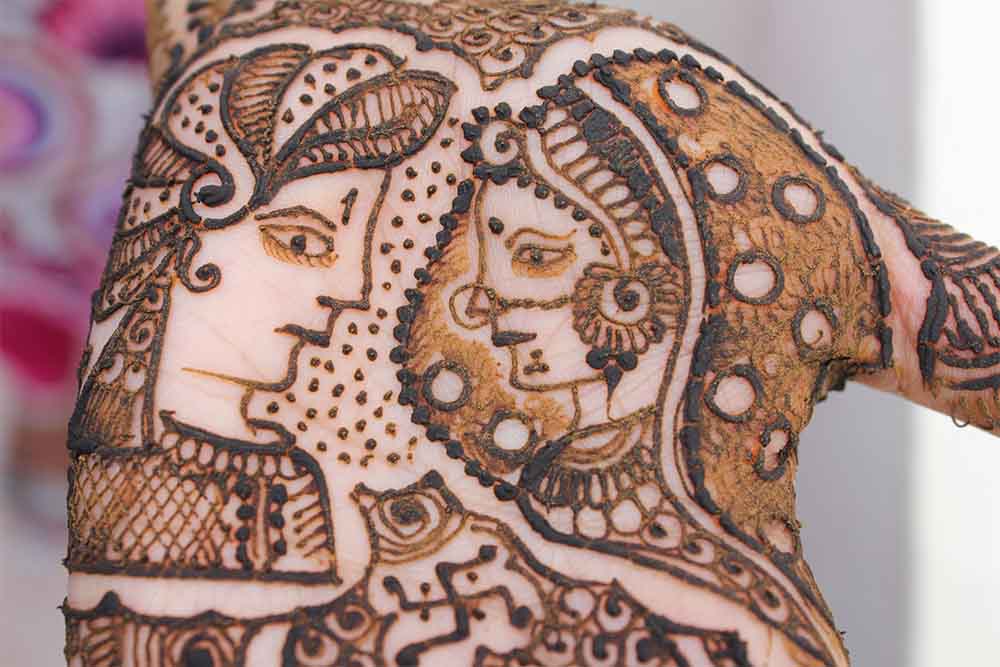 During the auspicious occasion of weddings, the bride and groom bridal mehndi design are recommended, as they represent the new phase of life. These mesmerizing designs are truly ethereal, and you can get all the artistic liberty that you want. Bride and groom designs work really well if you are having an Indian themed wedding.
Shoulder and Back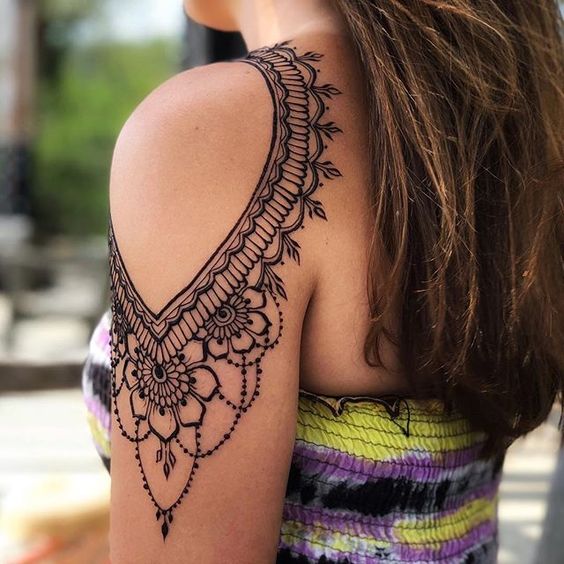 Bridal mehndi designs are not just limited to hands and feet. In fact, in modern times, it has evolved enough to be used as a form of body art for decorating other parts of your body such as the back and the shoulder.
Back bridal henna designs are vastly popular in brides wearing low-cut dresses. Usually, they are created by the shoulder blades on the back of the wearer, stretching till the elbow. This design mainly consists of floral patterns, dots and chakras in a straight line to elongate the spine.
Color Power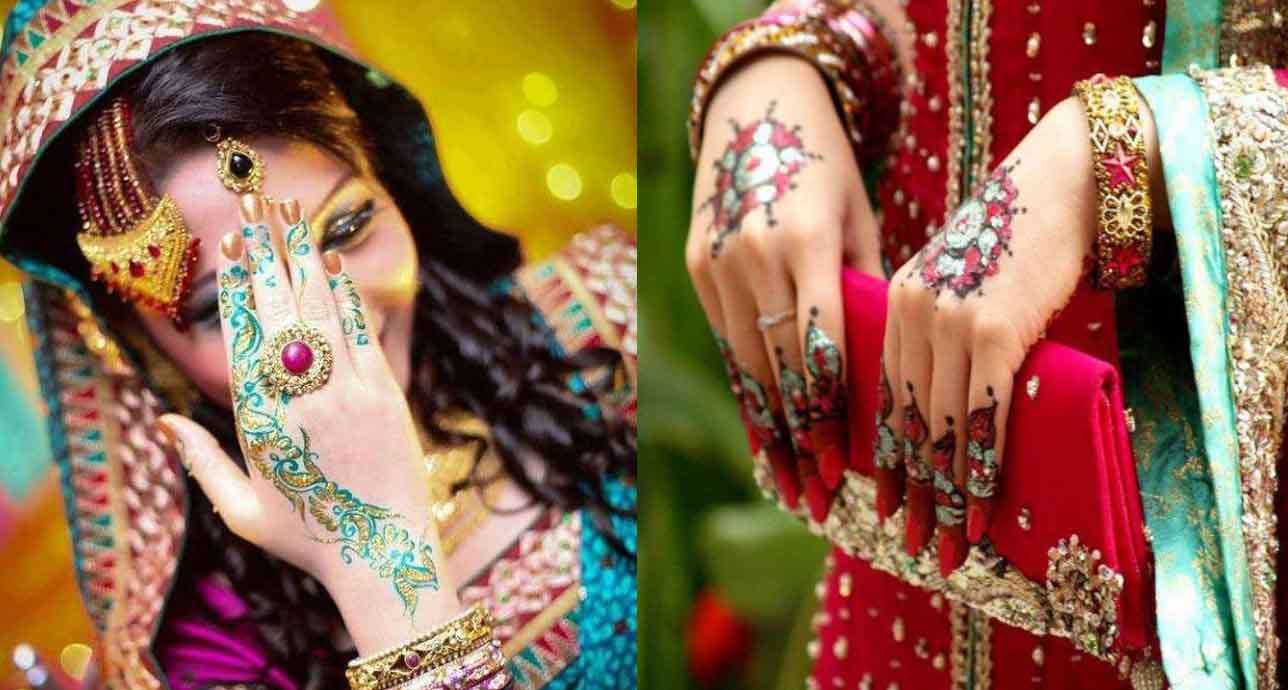 Colorful bridal mehndi designs have become quite popular in the recent times, as they look unique and more attractive than their regular counterparts. This design here is a fine example of what one such design looks like. Consisting of a floral pattern, this design incorporates other elements such as vines and stars to create a look that's simply outstanding. The use of colors in between the patterns uplifts the entire construction, whereas its minimalistic pattern makes it appear cleaner.
Chakras (Top of Bridal Mehndi Designs)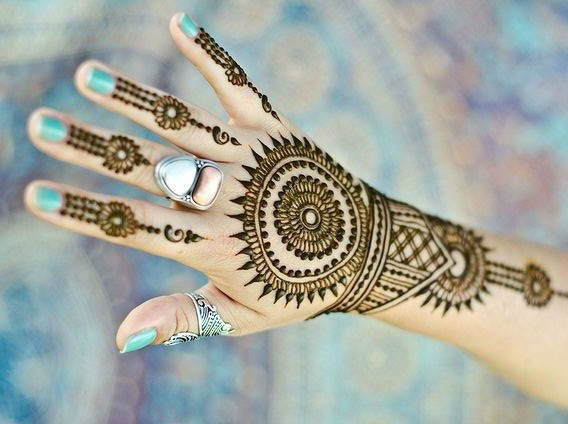 Chakras are standard when it comes to mehndi design for bridal. Why they are so famous is because they symbolize unity and harmony, which is synonymous with marriages. Also, this pattern is so versatile that it can easily be incorporated with other motifs and designs. Together, they create a multi-dimensional look, which is simply eye catching. Plus you can try this design as kids mehndi design.
So, which of these bridal mehandi designs do you like? Which one are you going to try?
Also Read: Arabic Mehndi Designs.