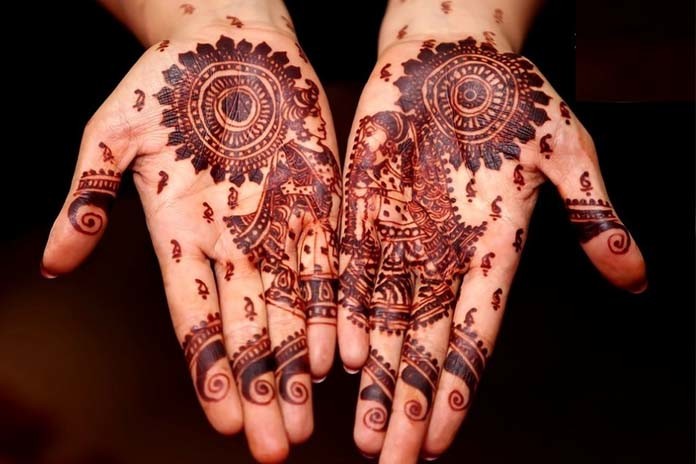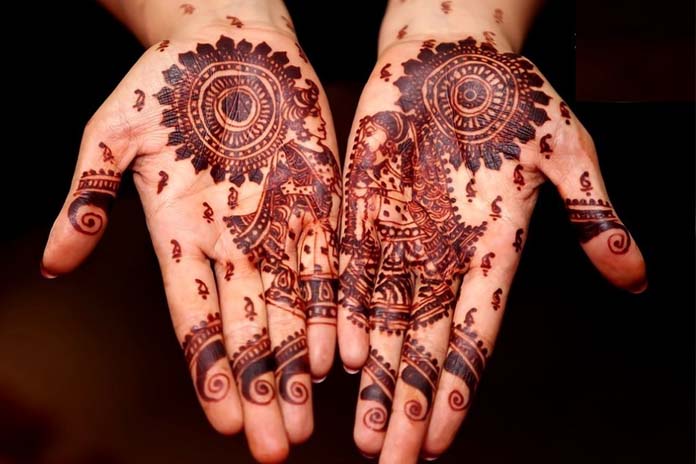 Indian Mehndi Designs – Doesn't mehendi looks beautiful? It has such important symbolism and meaning in Indian culture. Beautiful and bright, mehndi represents color, love, and life. Perhaps that's why we all consider of getting some mehndi patterns done one time or the other. And if you are interested in the same, check out these beautiful Indian mehndi designs.9
Also Try Awesome Mehndi Designs for Fingers.
In India, people believe that the dark color of mehndi represents the intensity of love. Meanwhile, the dark mehndi color looks beautiful too. This is why it is important to choose the right henna which can give a long-lasting dark color with shine.
Neeta mehndi cones and Prem Dulhan mehndi cones are the best henna cones of all time. They are chemical-free and made from 100% pure henna leaves. They give a rich dark color to your Indian mehndi design tattoo. They are easy to use as the mehndi smoothly comes out of the cone.
Floral Pattern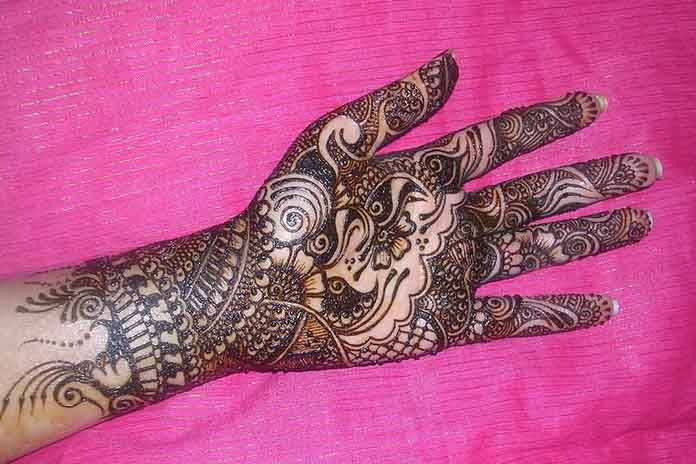 Floral motifs with stunning peacock imagery along with beautiful lines and paisley prints make this is one of those Indian mehndi designs that's elaborative, well detailed and so intricate.
Mango Artwork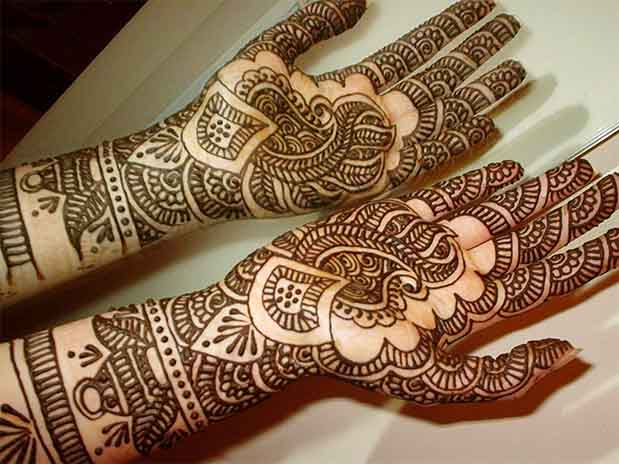 Mango designs are quite popular in India, as the mango season i.e. March to May is considered auspicious for marriages. In fact, most of the traditional bridal mehndi designs have this element in them. In general, mango design is characterized by paisley art at the center surrounded by loops, dots or shading, which adds depth to it.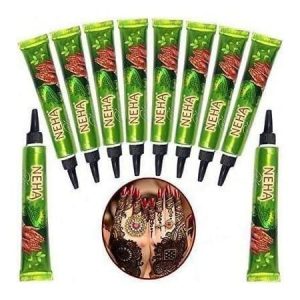 Bridal Indian Mehndi design can be time taking and if you are running short of time then try this Neha instant mehndi cones to get your work done fast. It also gives a dark maroon colour and dries instantly. It is affordable as well.
Paisley Print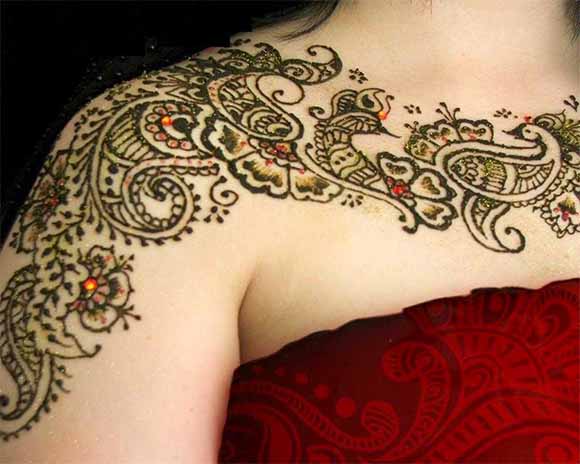 Interested in trying indian mehandi designs? Try the paisley print, which is an all-time classic. Similar to the popular mango design, curved motifs in the paisley prints are done several forms.
Usually, the formation in such a designs of mehndi consists of a large paisley motif on the palm surrounded by rich mesh work pattern. The curvy tips render a smooth flow to the design whereas elaborate strokes highlight the symmetry.
Royal Architecture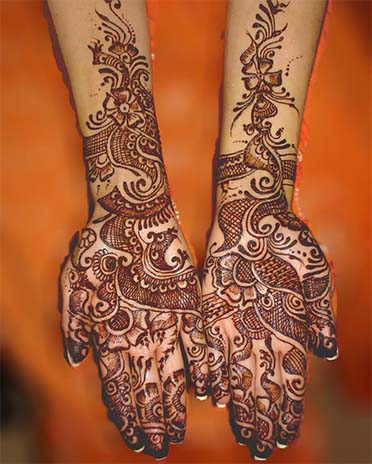 These royally themed indian mehandi designs are inspired by the gardens of Mughal palaces. Featuring checkered and split pattern, which is well supported by the eye-catching paisleys and petals on the wrist and fingers, this design captures attention.
King and Queen Motif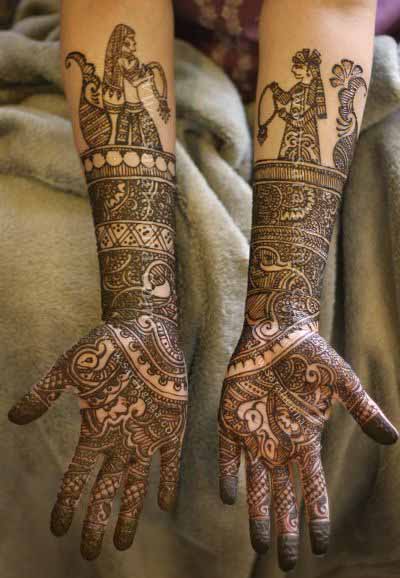 Also known as the Raja and Rani design, this pattern is quite popular amongst Indian mehndi designs. Consisting of intricate patterns all over the hands, the focal point of this design is the artwork of the king and the queen at the center. This design is a representation of a happy and loving marriage.
Elephant-Featuring Mehndi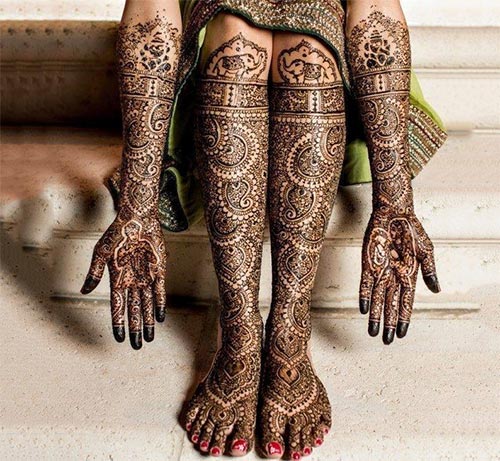 When looking for elaborate Indian mehandi designs, try elephant prints. Characterized by curvy and swirly patterns, this design is known for adding a distinct flair to your hands and feet. This requires more artwork than a mango or paisley design.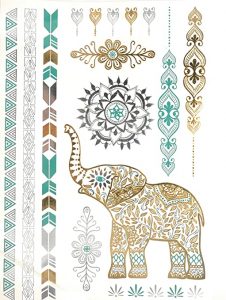 The elephant motif is an important element in Indian mehndi design when it comes to some special occasions. Applying elephant mehndi design is not easy. You can try using elephant design mehndi stickers. They look extraordinary and unique. They are really easy and take no time. They cause no infection and are waterproof. Many designs are available such as peacock design, laces.
Peacock Motif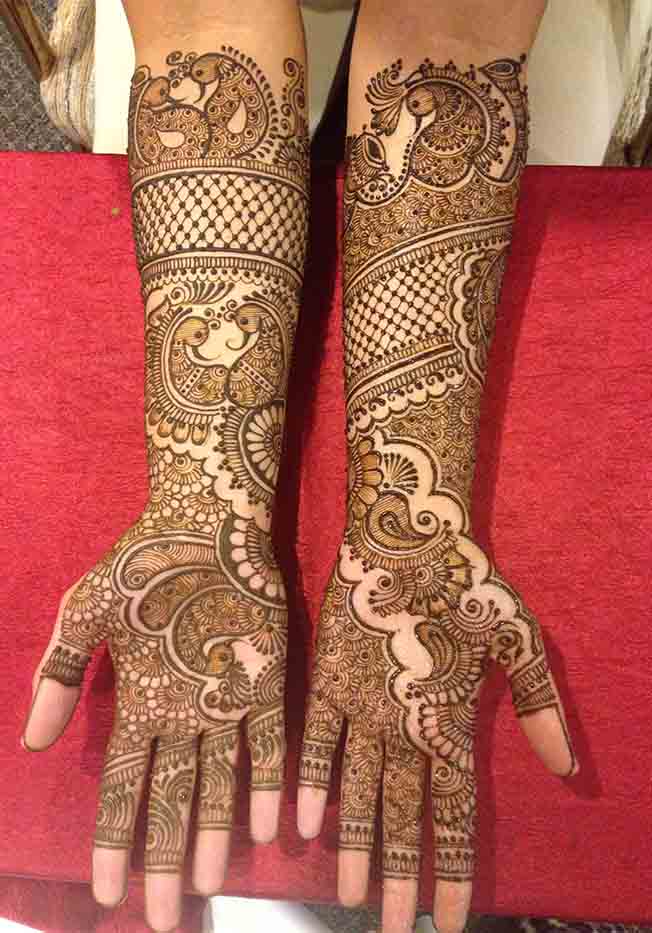 Peacock is the symbol of youth and happiness in India. The best part of this Indian henna design is that it can be easily incorporated with various other kinds of motifs and patterns. Besides, it is also quite versatile in terms of sizing, as it can be fitted to be drawn wide or long in any part of the body be it your hands, legs or back.
Minimalistic Arabic Pattern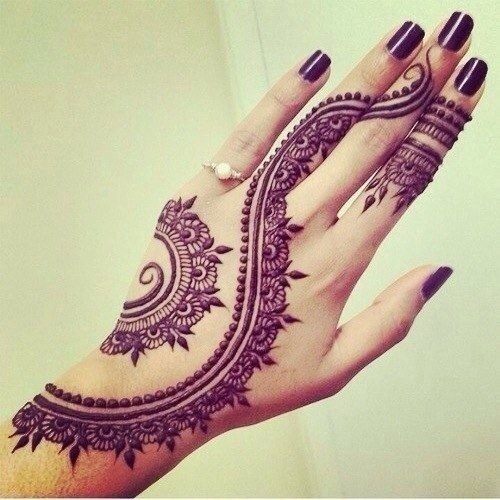 A beautiful adaptation of Arabic pattern, this Indian mehndi design consists of long minimalistic curves donned with very minute details that are repeated all long. Such a pattern looks refreshing and classy. The ring design on the index finger adds more character to the overall design.
Chic style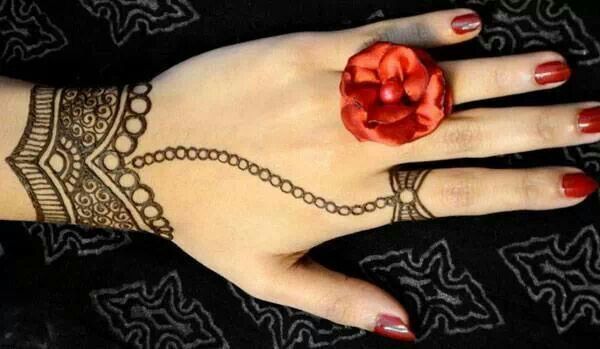 It is not necessary that only intricate and fuller mehandi designs look the prettiest. If you want something minimalistic, try this design that features geometric shapes and a beautiful, connected ring on the index finger. If you are looking for mehndi for kids, that its also a good option.
Summer Feet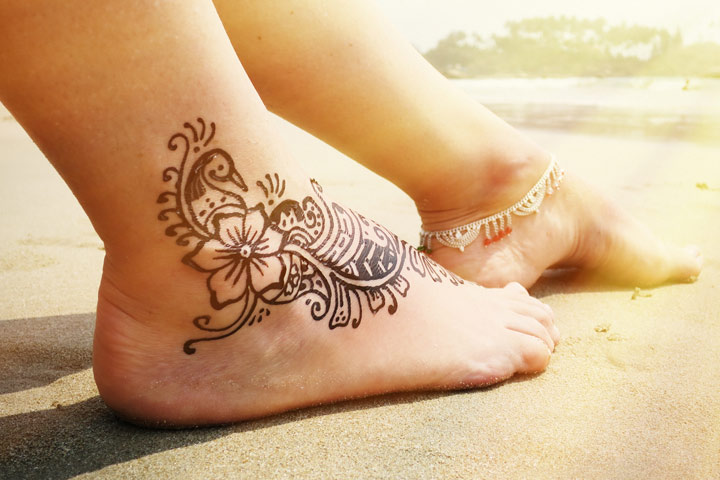 Over the years, the Indian mehndi designs have evolved from being something occasional to being an expression of artwork, attitude, personality and freedom. That's why this summer feet design with floral motifs is so popular. Even kids can wear it!
Lacework Design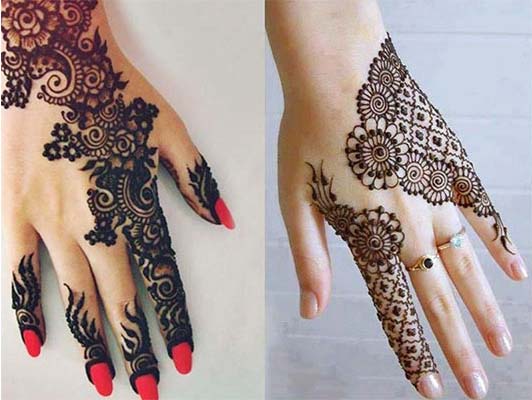 Combining intricate swirls and motifs with repetitive block art, this kind of lacework are one of the best Indian mehndi designs. They give the impression of a lace glove on your arms. Such a design looks unique and can be combined with intricate sleeves of your outfit.
Full Back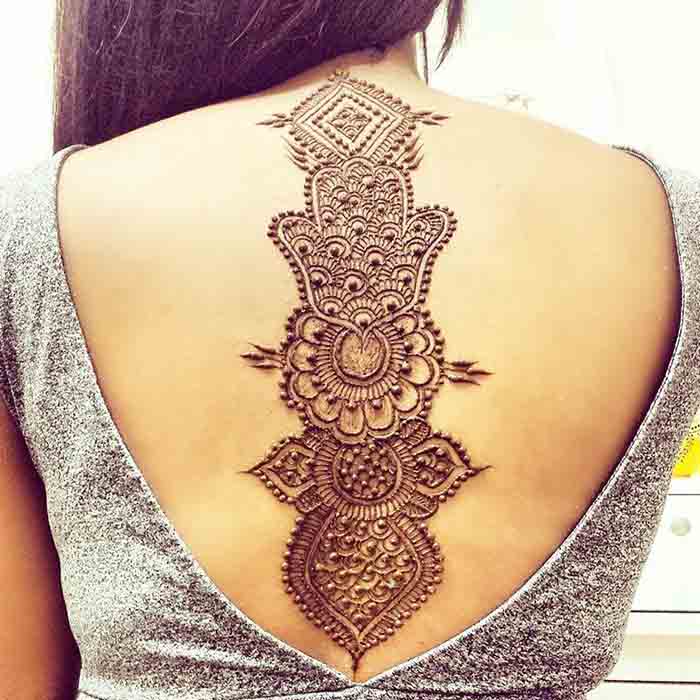 Who says that mehndi art is just restricted to the hands and legs? Mehndi is a style statement. So, be more adventurous and get one for your back as well. You could get your entire back ornamented with a classic and intricate mehndi design or maybe a simple line design that goes towards your hip. And then show it off with a backless outfit!
The Colored Concept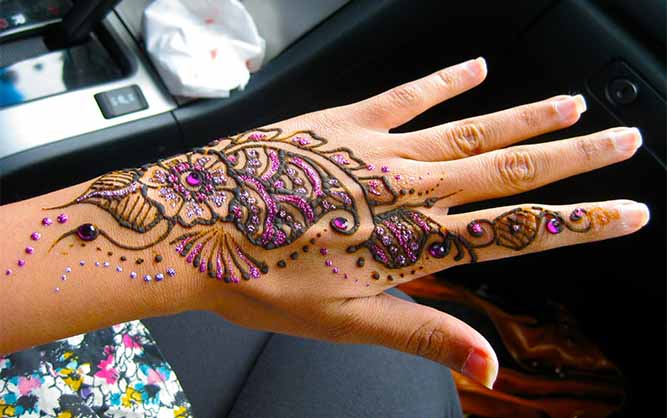 Although relatively new, the colored mehandi designs is an excellent way to experiment. Adding color provides detailed depth and reduces monotony. You can experiment with different textures as well.
You can also try this red and black coloured mehndi for adding more details to your Indian mehndi design. The best part of these cones is they are fast drying in nature and the colour last only for 3 to 4 days.
Single Mandala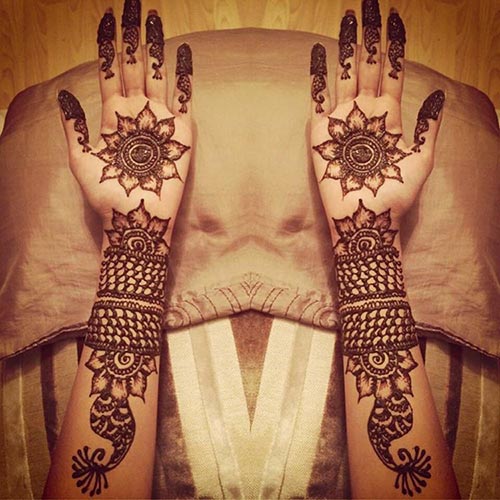 A common but one of the most beautiful Indian mehndi designs, this artwork usually consists of a large circle at the center, which is accentuated by various other patterns. Together, all these designs create a multi-dimensional look. In Hindu and Buddhist symbolism, the mandala represents the universe. It even symbolizes unity and harmony.
Mirrored Hands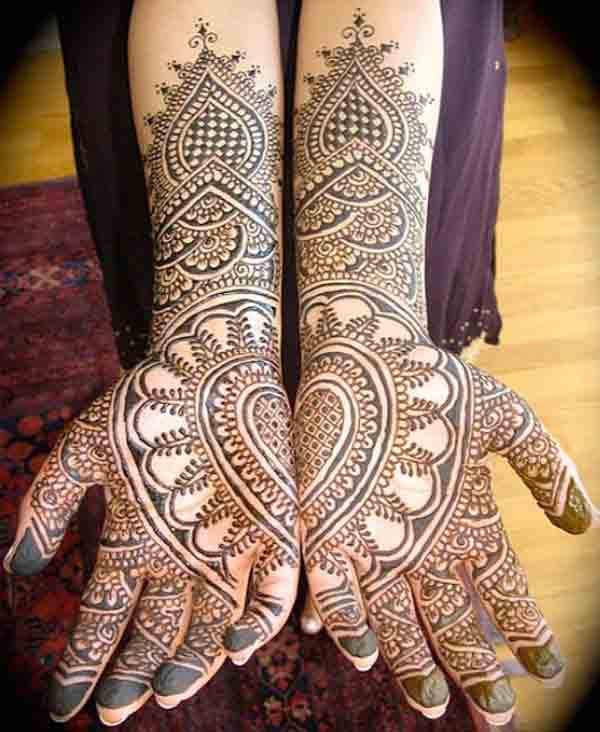 Usually such designs consist of a symmetric artwork that is done on both hands. The USP of this mehndi design is that when both the hands are placed together, the artwork on one hand looks like the mirror image of the other.
In general, intricate and filling geometric patterns are deemed fit for creating such designs. Its an ultimate and one of the best mehndi design for hands.
Arm Band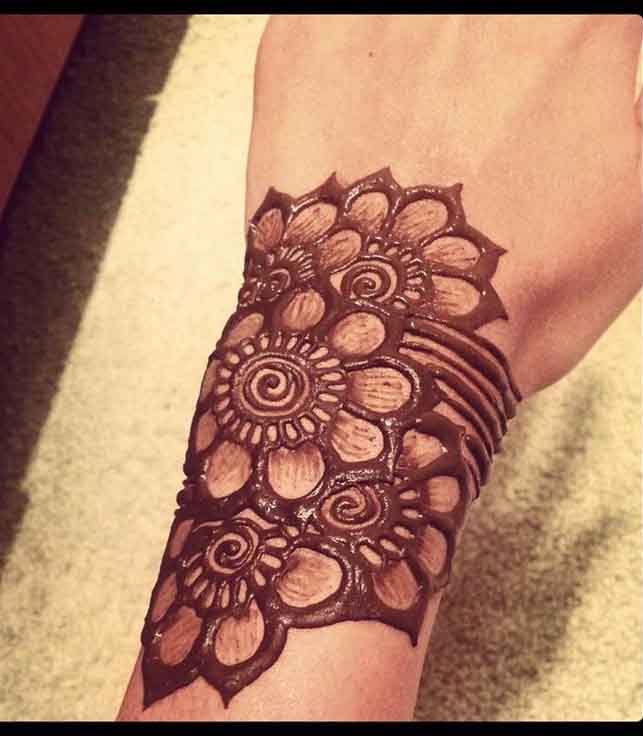 A modern rendition of traditional henna designs, this artwork, is done around your wrists to look like some kind of a lacey fashion jewelry. Such designs are ideal for those who like to keep things simple sophisticated. It comes one to be handy if you have to switch costumes in between events.
Less Is More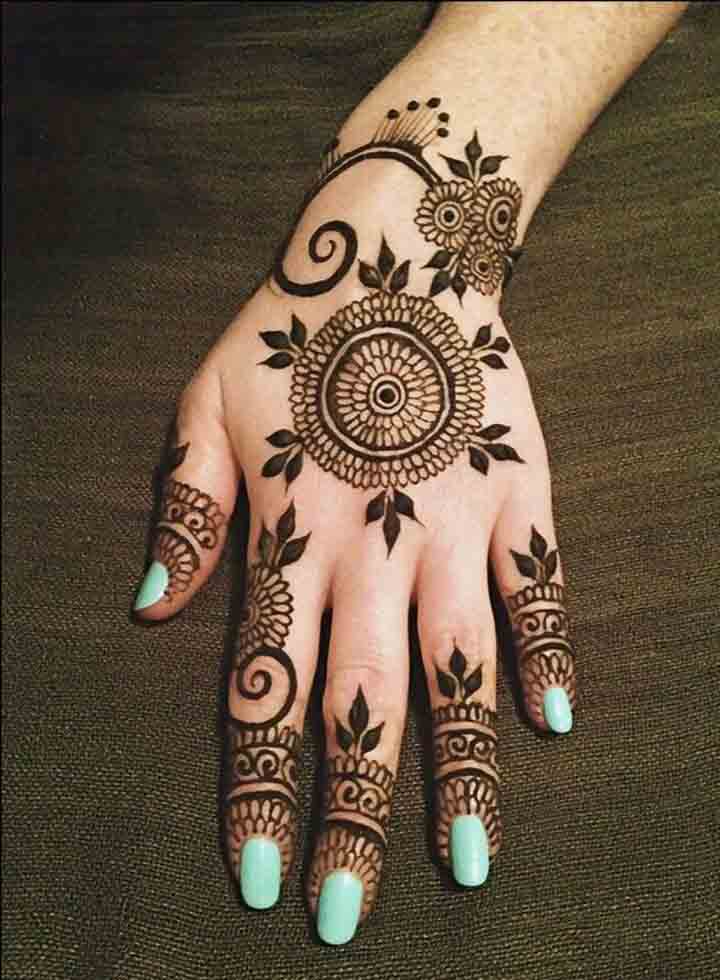 For all those who like things simple yet classy, this is the indian mehandi design is worth a try. Consisting of a beautifully done minimalistic central piece, the design uses floral patterns and leaf motifs in a unique way.
Ganesha Design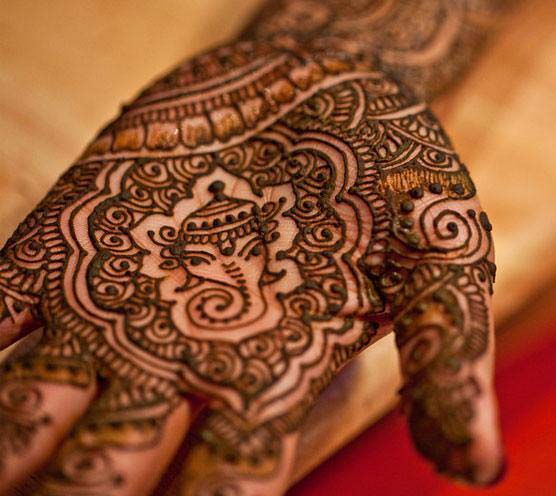 Being the God of good fortune and new beginnings, Lord Ganesha is worshiped during every festive occasion. And there is no better way to have his blessings than to have him drawn on your palms? Designs of mehndi focusing on Lord Ganesha are extremely popular, especially when used with paisley prints and floral motifs.
Feathers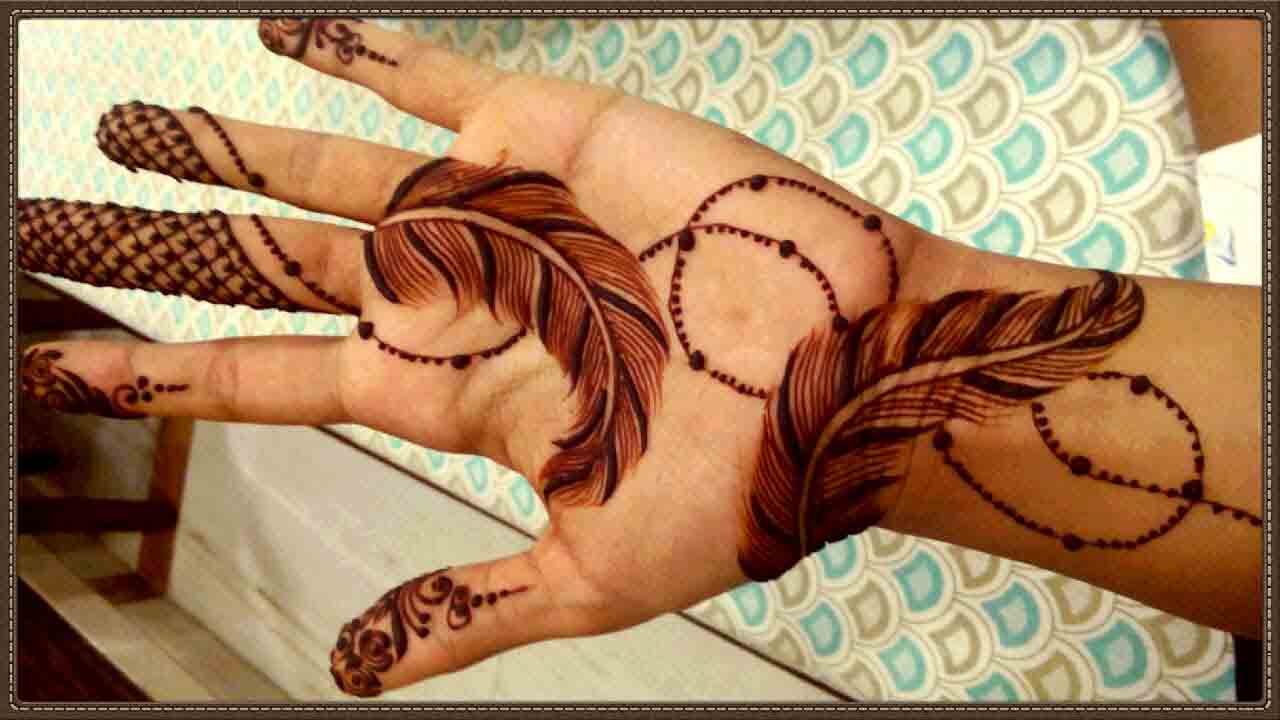 Symbolic of a writer's pen, feather designs are a perfect crossover between traditional and poetic patterns. They are versatile and can either be used as a whole or in cooperation with other designs. Combine it with geometric designs to add contrast to the feathers.
Creeping Vine Mehndi Designs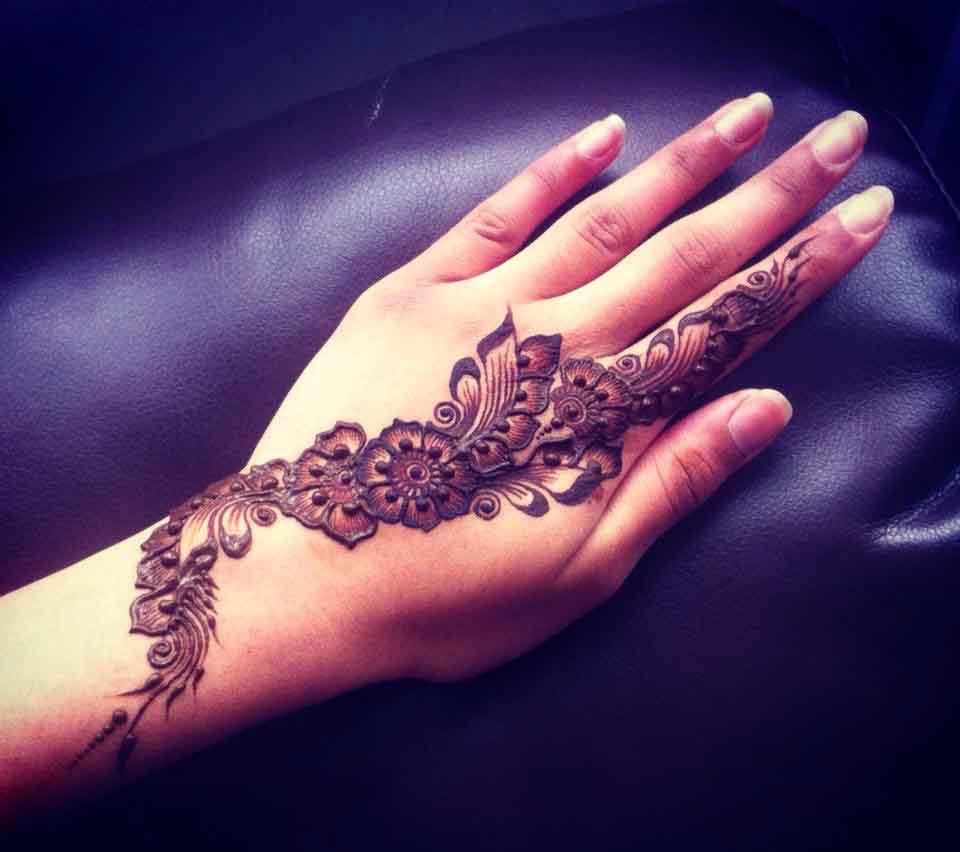 Make a style statement with the bold serpentine trail of this mehndi design, which is decorated with large blurbs of art at various intervals. The USP of this design is its three-dimensional look, which intricately stretches along the length of your arms while disappearing mysteriously inside your palms and then concisely wraps itself around one finger.
Asymmetrical Look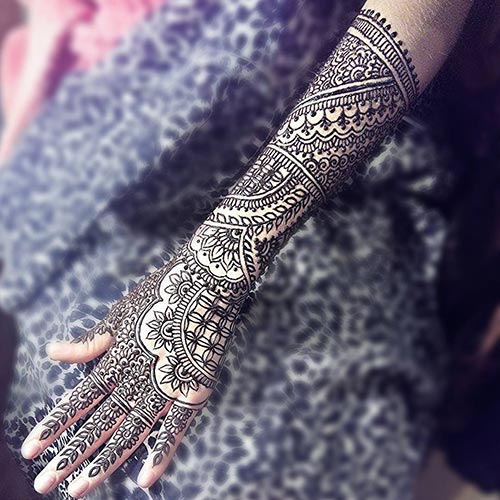 Mehndi designs do not require matching or symmetrical patterns, as the beauty of an asymmetric pattern has its own uniqueness. The formation in such designs consists of mismatching patterns on the wrists, palms, and fingers with repeated use of symbols all over. These types of designs give enough area for experimentation.
Tips and Cuffs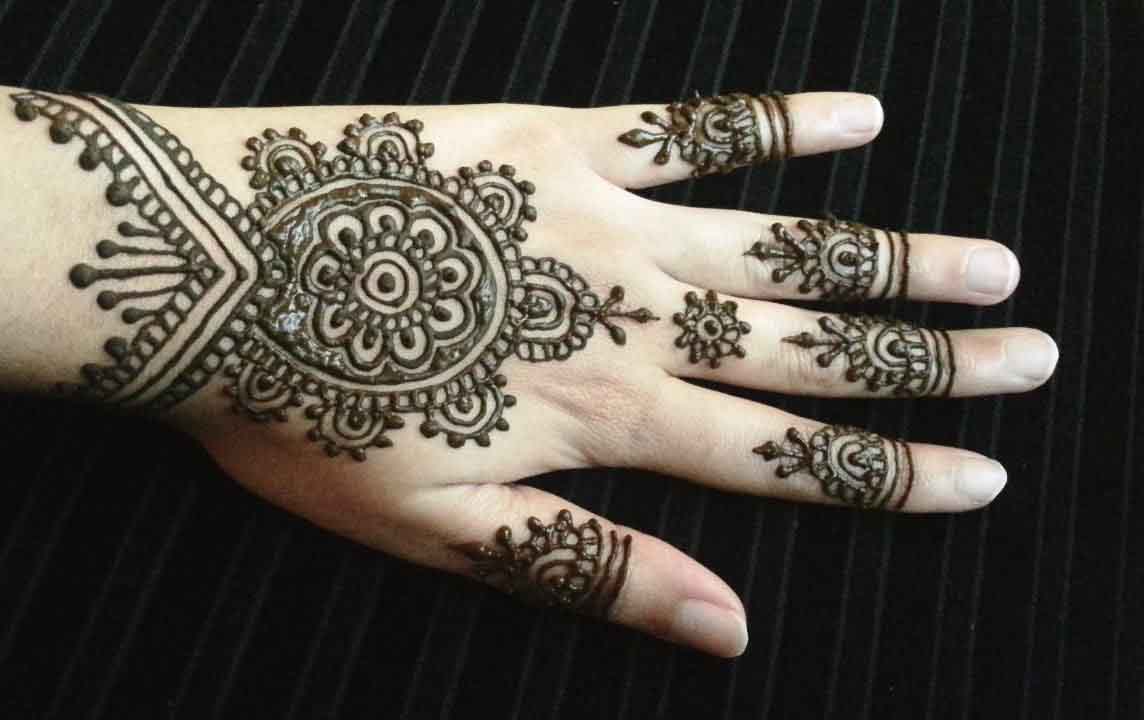 This simple mehndi design is characterized by elaborate details over the cuffs along with minimalistic designs on the fingertips. Usually, simple designs are drawn on the palms for keeping fingertips and cuffs in the focus. Such mehndi designs mostly consist of architectural and floral patterns.
Blank Fingertips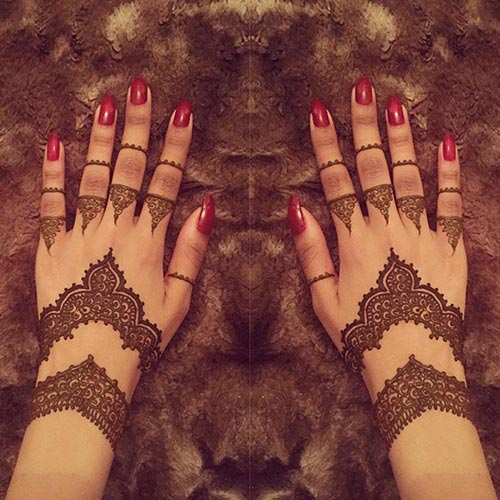 Taking inspiration from Arabic mehndi designs and artworks, this design calls for leaving the fingertips blank for simplifying the complexity of the overall design. Doing so creates a unique glove effect, which works well on hands that are elaborately manicured or have painted nails.
Checkered Pattern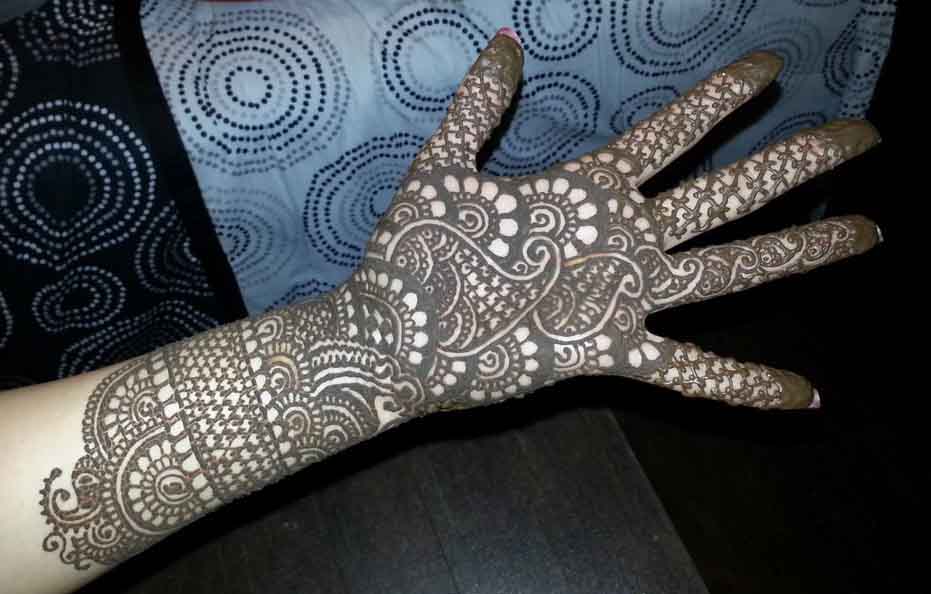 This is a popular mehndi pattern, which is used in conjunction with other patterns to make your mehndi design pop out and look unique. It is generally used to break the monotony of common intricate patterns. It is even used to fill up gaps in other types of mehndi designs as well.
Bride and Groom Design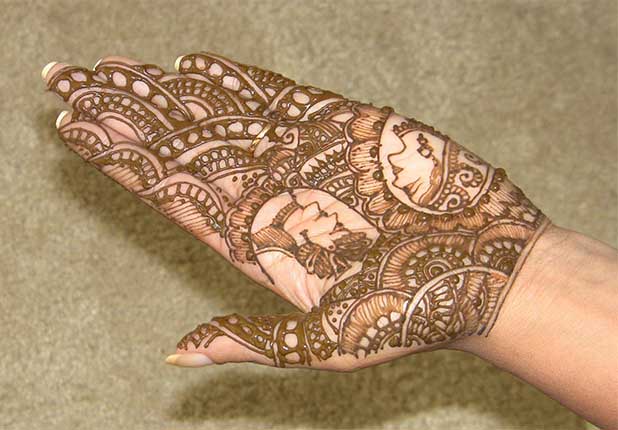 Yet another classic, the bride, and groom motifs are extensively used in Indian mehndi designs. Such a pattern celebrates the concord and harmony of marriage and the communion between two different individuals. This is consuming piece of art in the field of mehndi designs.
So, which of these indian henna design would you like to try? Let us know in the comments' section!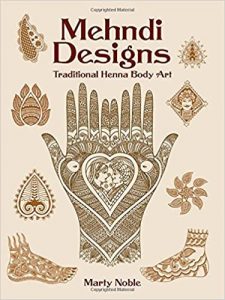 You can buy this most rated indian mehndi designs book for more amazing mehndi designs
Also Read: Pakistani Mehndi Designs.