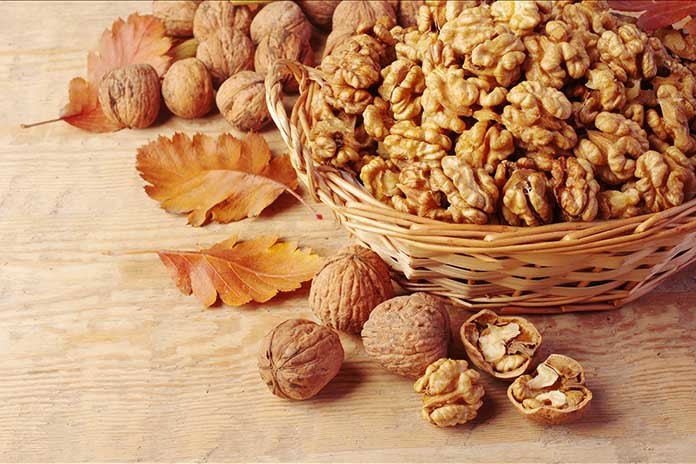 Benefits of Walnuts – Munching on nuts is healthy for you! That's something we all know. But did you know that walnuts are even better for your health? Rich in healthy fats, fiber, sterols, antioxidants, minerals and vitamins, walnuts are considered to be a health package crafted by Mother Nature. Researchers have studied them time and again.
Related: Top 11 Health Benefits of Pomegranate Seeds.
They are convinced that the health benefits of walnuts are matchless by other kinds of nuts.
When you crack open a walnut, you find omega-3 fatty acids, 90 percent of phenols found in the skin. At the same time, it also includes tannins and flavonoids. In fact, eating just a handful of walnuts will give you twice as many antioxidants as any other commonly consumed nut.
Let's check out the benefits of walnuts for the body, hair, and skin.
Benefits of Walnuts: For overall body health
Enhances Cognitive Function- It is often believed that foods resemble body parts. And the part that they resemble determines their effects. So, walnuts look like little brains, with the skull and the inner membrane.
Yes! They do effect your brain. Walnuts can help in treating brain injuries. It is also responsible for enhanced cognitive function. A brain food, walnut has omega-3s, structural fats and other minerals that can help in reducing hyperactivity, learning disorders and behavioral problems.
Heart Health- Walnut Health benefits tend to surpass other foods, especially when it comes to cardiovascular health and circulatory system. With high amounts of alpha-linolenic acid, they ensure that your chances of getting clots or heart attacks are reduced. Researchers suggest that its consumption can decrease LDL (low-density Lipoprotein) Cholesterol.
Related: 10 Wonderful Daily Health Tips For Family.
Great for Bones- Another Walnut Health Benefit is the fact that it is great for bones. Studies suggest that it can promote bone health. Diet consisting of high levels of Alpha Linolenic Acid, such as walnut will reduce bone breakdown. So, if you don't drink milk or need something to protect your bones, then walnut is the product for you!
Weight Reduction and Management- Earlier, people used to avoid eating walnuts fearing that it will cause them to gain weight. But the health benefits of walnuts surpass that theory.As a matter of fact, eating walnuts is an excellent way of managing weight.
Walnut consumption decreases LDL cholesterol and at the same time, it doesn't lead to weight gain. Eating a few of them as a snack will keep you fuller for longer, thereby helping in weight reduction. However, walnuts are high in calories so you should steer clear of eating them in large quantities.
Diabetes- People with Type-II diabetes can significantly help themselves by consuming walnuts. It increases blood vessel functioning and within eight weeks, it can improve your blood flow and endothelial function, both of which promote better health in diabetics while preventing cardiovascular issues that can happen as a secondary factor to the lifestyle disorder.
Cancer Prevention-With so many antioxidants, walnuts can provide protection from cancer. They have a Vitamin-E form called gamma-tocopherol, which can reduce the possibility of developing breast, prostate, and lung cancer.
It also reduces higher levels of endothelin, which is related to prostate cancer in men. When used with regular treatments, walnuts can also help in curbing the growth of breast cancer.
Promotes Better Immunity- Regular consumption of walnuts can help in increasing your immunity. With antioxidants in place, it can prevent the onset of diseases. Adding just a few of them to your diet will help you feel fitter and better. or add walnuts to your mango pie and have a Delicious Pie with the Benefits of mango and walnuts.
Induces Sleep- Walnuts have melatonin, which can help your body reset its circadian rhythm. So, if you have been experiencing insomnia or want to sleep better, start eating walnuts regularly. Eat them in the evening and it will slowly induce sleep.
Benefits of Walnuts: For Skin Health
Younger skin- One of the major benefits of eating walnuts regularly is that they promote healthier, younger-looking skin. While the antioxidants prevent free radicals from causing open pores and other signs of aging, it is the omega-3 fatty acids that promote supple, softer skin. So, if you have been feeling dry skin, then it is time to chomp up a few walnuts every day. For younger skin, you can use easy homemade face masks also.
Prevents Wrinkles- With its natural fats and other minerals, walnut can also help in reducing or delaying the appearance of wrinkles. The benefits of walnut oil for skin are endless. The oil can be easily absorbed into the skin, just like a moisturizer, and provides deep nourishment, healing those fine lines. Unlike chemical-laden moisturizers or cosmetics, it is free from side effects (make sure that you test yourself for any allergies first).
Walnut Oil Miracles- We already told you that walnut oil is great for skin. But if you don't know how to make it, then use this simple strategy.
Recipe- Remember, for one tablespoon of walnut oil, you will need approximately 7-8 walnuts. All you have to do is chop the walnuts roughly, place the chopped walnuts in the garlic press (don't put too many at once) and then squeeze them over the boil. You will get all its nutritious oils at once. You can store it in a glass jar for a few weeks if you want to apply it on your skin. However, if you are planning on eating it for better skin, then use it immediately.
Skin Repair- Have damaged, unhealthy-looking skin? If yes, then you should try the benefits of walnuts for skin. For instance, you can increase your intake of walnuts and use them for eating regularly to repair the skin. Walnuts have potassium that helps in skin repair. It also has other balancing minerals that can help in giving a smoother look to your skin. You can even use walnut oil for this purpose.
Reduces Eye Puffiness- Didn't sleep well last night? Feeling stressed and that's showing in your eyes? Then try walnut oil.
Recipe- Start massaging it near the eye area for about 2-3 minutes every day. You can wipe off excess oil. Remember, you don't need much quantity for this purpose. Walnuts have several minerals that can facilitate nerve function and control blood pressure. It also counteracts the effect of fluid retention that causes eye puffiness and makes the area look saggy.
Dark Circles' Remedy- Want to get rid of dark circles.
Recipe- Simply use powdered walnut with powdered oatmeal and use honey with lemon to make a thick paste. Apply it around the eyes (or your entire face) and leave it on for about 15-20 minutes. Wash it off with lukewarm water. You will see visible changes in a single application.
If you don't want to use walnuts then you can also try almond oil for dark circles.
Acne and Scar Control- Want to heal your skin? Experiencing acne scars that reduce your confidence? You should try this recipe. This recipe captures several benefits of walnuts for skin and allows you to reduce marks and scars.
Recipe- Simply mix some ground almonds with a teaspoon of walnut oil, lemon, and honey. Massage it onto your skin, particularly targeting the areas with scars. Then keep it on for a few minutes before washing off. Regular usage visibly reduces scars.
General Skin Health- For better skin health, use this exfoliating mask made using Walnut oil. You can use the recipe that's mentioned above or buy cold pressed organic walnut.
Recipe- For this purpose, simply mix a tablespoon of walnut oil with one drop of any essential oil.
Mix them together and add about 8-10 almonds, grounded to make a scrub. Add powdered sugar or salt if you don't want to use almonds. Apply it liberally all over your body and leave it on for 10 minutes. Before washing it, rub and massage the mask gently to create a scrubbing action. This will help you get rid of dead skin cells, moisturize the skin and even reduce cellulite.
Benefits of Walnuts: For Hair Health
Strengthening Hair Follicles- Walnuts contain biotin or Vitamin B7, which is exceptionally great for strengthening hair follicles. So, if you want thicker and stronger hair, consider eating walnuts on a regular basis. Or you can simply apply walnut oil to your hair twice a week, at least an hour before shampooing.
Reduces Hair Fall- Experiencing intense hair fall? You might find respite in walnut oil. The benefits of walnut oil for hair are endless.
Recipe- Mix a teaspoon of walnut hair with a teaspoon of almond oil and apply it to your hair roots. Massage gently. The protein and Vitamin E in these oils will help in restructuring your hair, reducing damage and hair fall. It can also improve hair growth when used twice a week for at least 8 weeks.
Hair Smoothening- If you have dull, lifeless hair or if you have been doing too many hair treatments like coloring or re-bonding for too long, then you need this hair smoothening recipe. Walnut oil for hair is nothing less than an elixir.You can use it to make a hair mask.
Recipe- Mix one tablespoon of walnut oil with a tablespoon of full-fat yogurt and egg. Apply it liberally on damp hair. Keep it on for at least 30 minutes, the maximum an hour. Wash it off with a mild shampoo. You will instantly notice the recipes. You can also try olive oil hair masks for beautiful locks
Silkier hair- For silkier hair, try this simply recipe.
Recipe- Mix 1 tablespoon of walnut oil with ½ a tablespoon of jojoba oil (use coconut oil if jojoba isn't available) with a drop of tea tree essential oil. Part your hair and apply the mixture on hair and scalp. Massage in circles till you feel that the scalp is slightly heated. Use a towel or a shower cap and wash off with a mild shampoo after an hour.
Dandruff treatment- A lot of people have been experiencing dandruff, and regular products don't help them. But walnut oil for hair is excellent for dandruff.
Recipe- Mix equal quantities of walnut oil and almond oil together. Their antibacterial properties will prevent dandruff in future while slowly reducing the flakes over regular application. Make sure that you use it twice a week and keep it on for an hour, or preferably overnight!
Truly, the health benefits of walnuts are undeniable. So, make sure that you include it in your diet, hair and skin care regime.