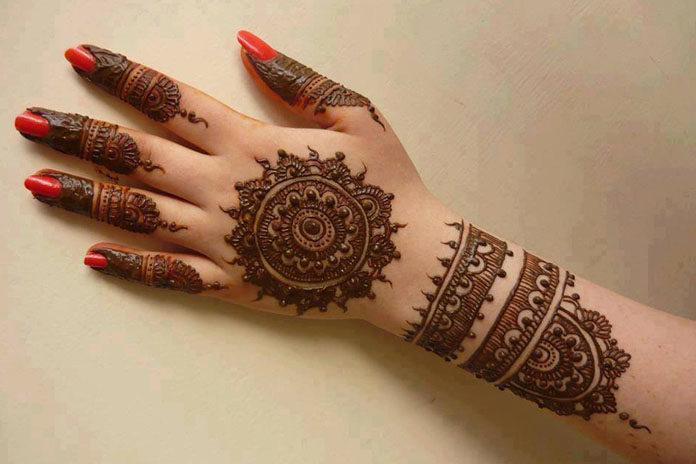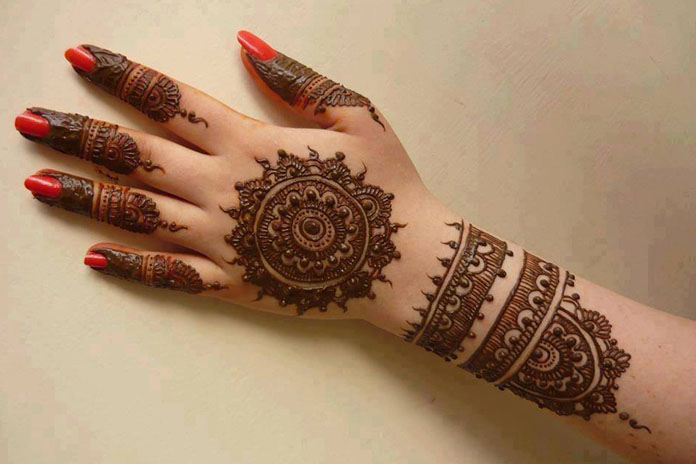 Mehndi Designs for Hands – These utterly gorgeous Indian Mehndi Designs for Hands are truly wonderful! While they are a part of the Indian culture, they represent the sun and the inner light. The mehndi art is not much tough there are many easy and simple mehndi designs that you can try anytime.
That's the reason why people love henna designs, as they bring positivity, look so bright and have such wondrous designs. You can check out these mehandi designs for hands and get it applied through the right process to get the best results.
Intricate Arabic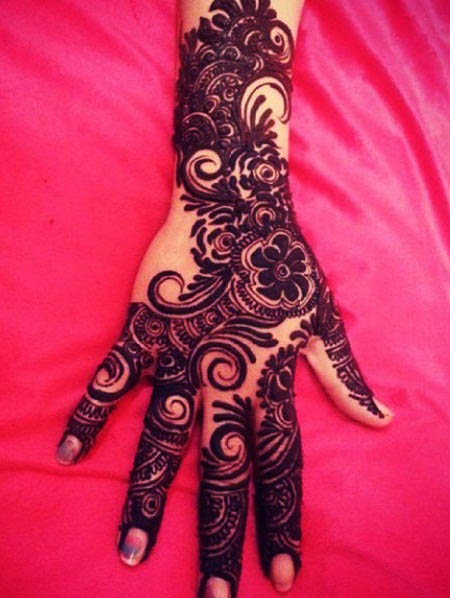 Arabic mehndi design for hands is all about intricacy and details. The designs are mostly complex and aimed at covering the hands. The above design is a fine example of a nicely done mehandi designs for hands, which consists of floral and vine motifs.
Glove-Like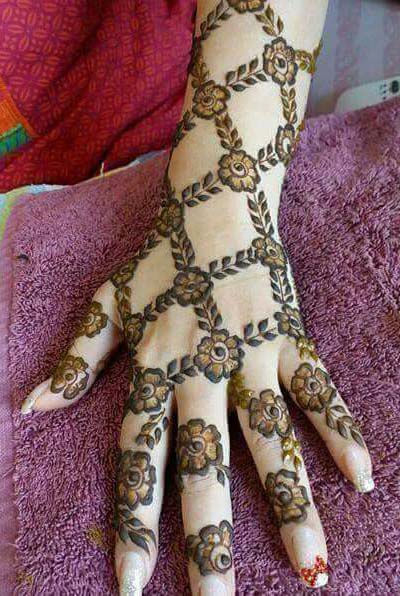 This glove-like hand mehndi design tattoo is chic, appears neat and seems quite bright! Such a pattern is minimalistic in nature and creates a clean appearance without cluttering the area. It looks stylish and sophisticated.
This checkered floral design has an addition of leaf motifs to add continuity to the overall design.
White Henna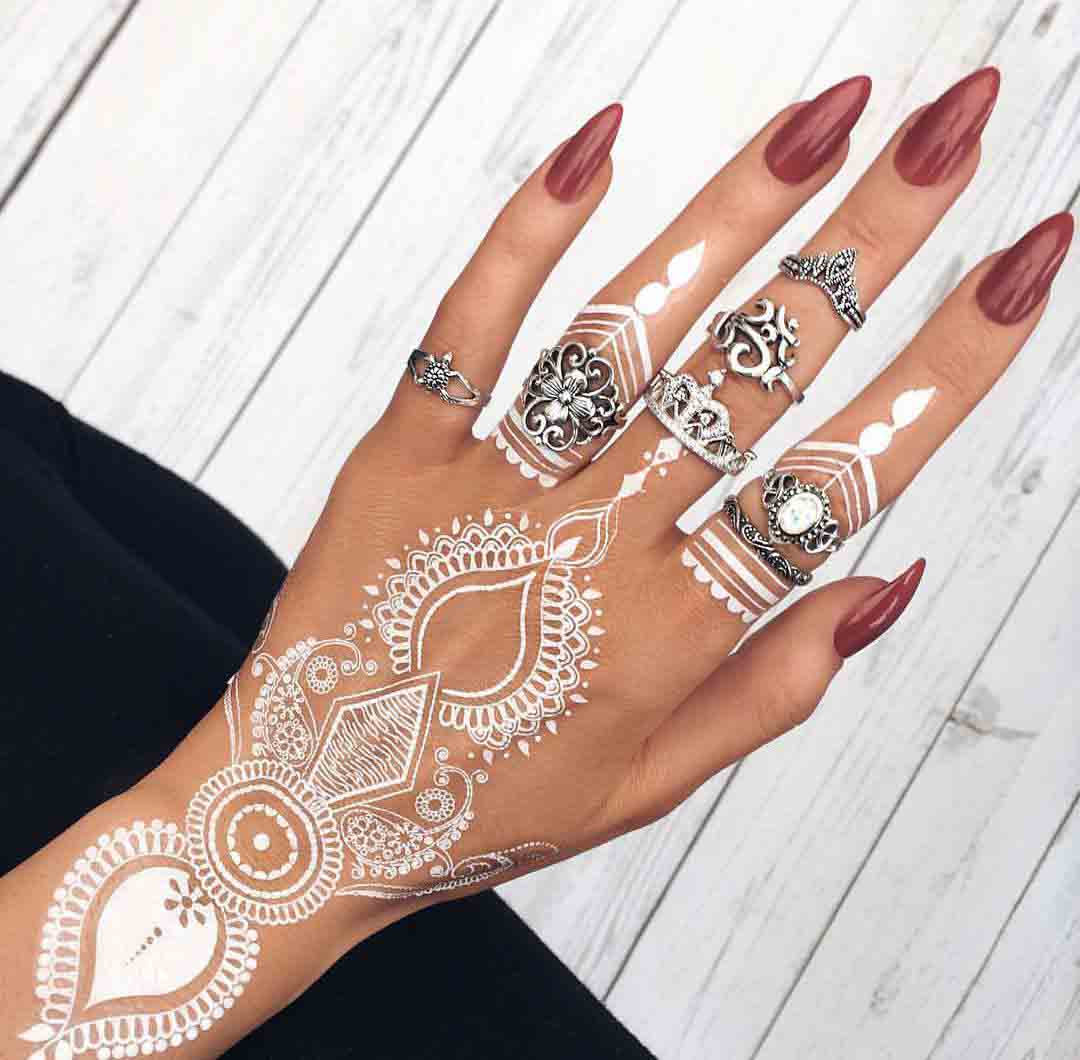 Although not truly henna, white henna mehndi designs for hands have become quite popular in recent times. Made from using body adhesive specifically created for henna art, this white paste is extensively used for creating individualistic designs while adding a shade of color to traditional henna mehendi designs for hands. Unique in nature, even the simplest designs made from white henna looks spectacular.
Half

Mehandi Designs for Hands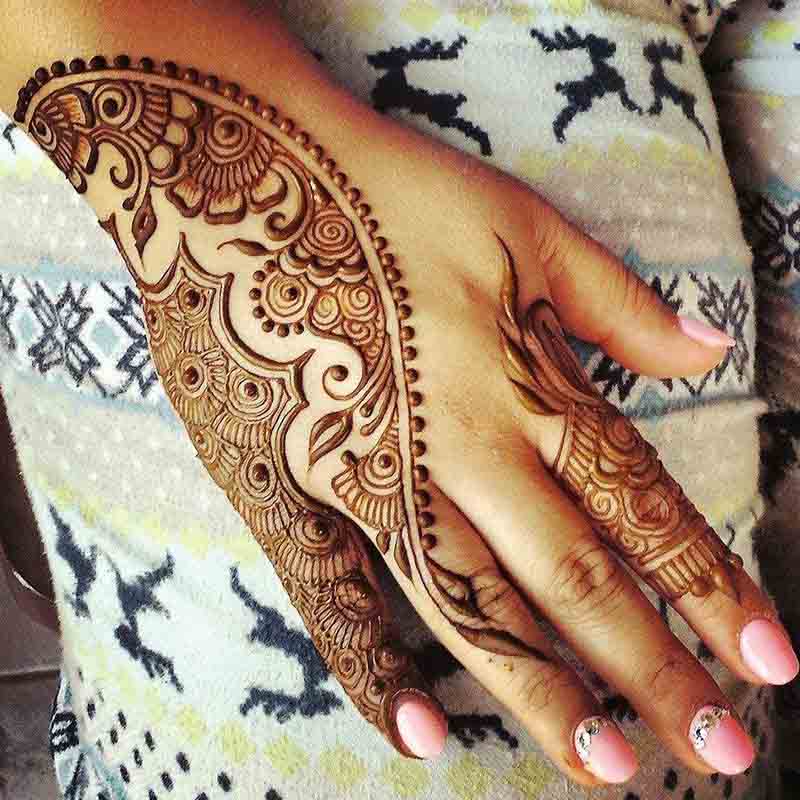 The Moorish design is chic and sassy. The half-moon on one side of the hand represents subtle beauty. Paisley motifs and addition of a border adds to the detail. The intricate layering in the middle ensures that this design captures attention.
Minimalistic Floral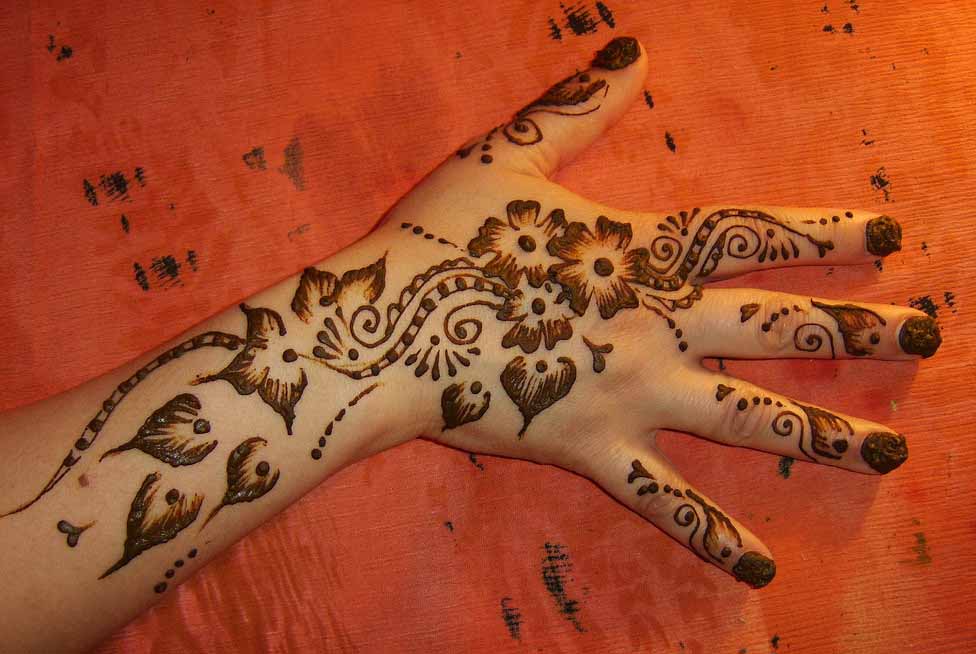 This design is a fine example of how floral motifs can be incorporated in a stylish manner to create neat and attractive henna mehndi designs for hands. This design consists of large floral motifs combined with vine and leafy patterns in a scattered formation to create a fuller look.
Just Fingers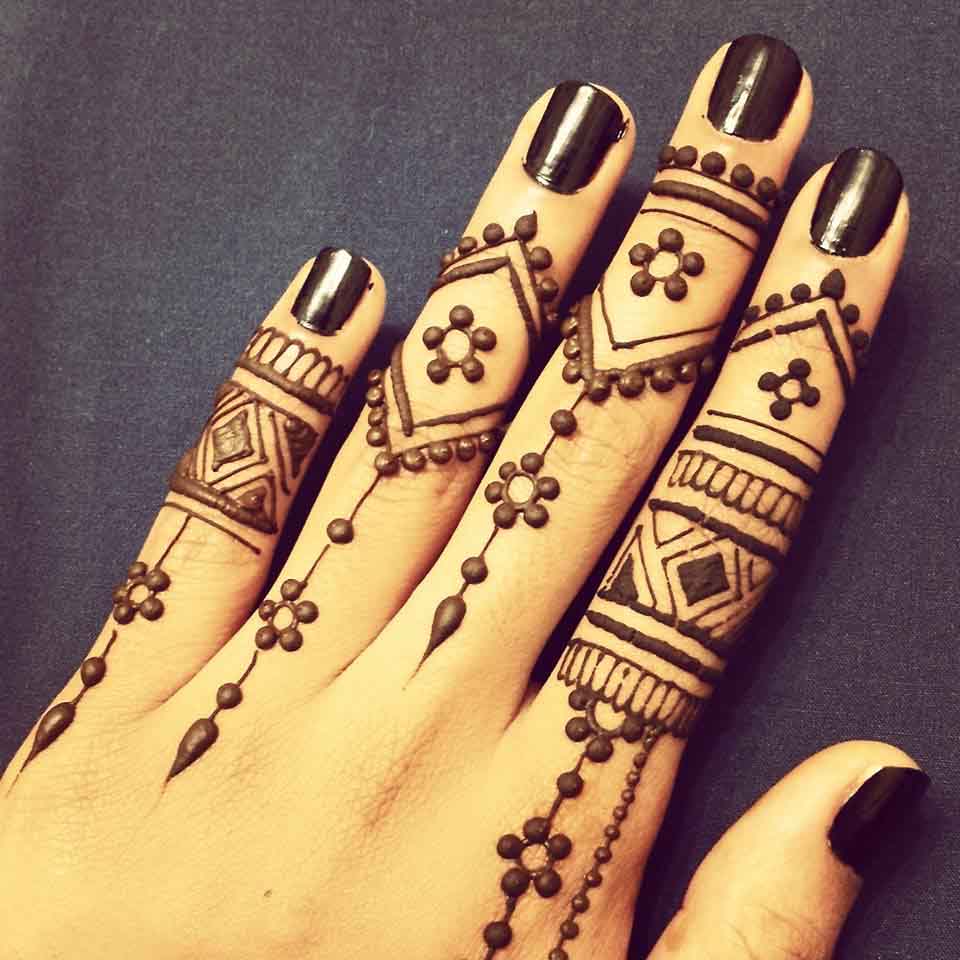 Don't want to clutter the entire hand? Getting a henna tattoo for the first time? Then a finger design is what you should try. This design appears to be straight from the walls of a traditional Rajasthan castle, featuring Jharokas style. The incorporation of simple dots and geometrical patterns creates a sophisticated and fancy mehndi design for hands.
Mirror Look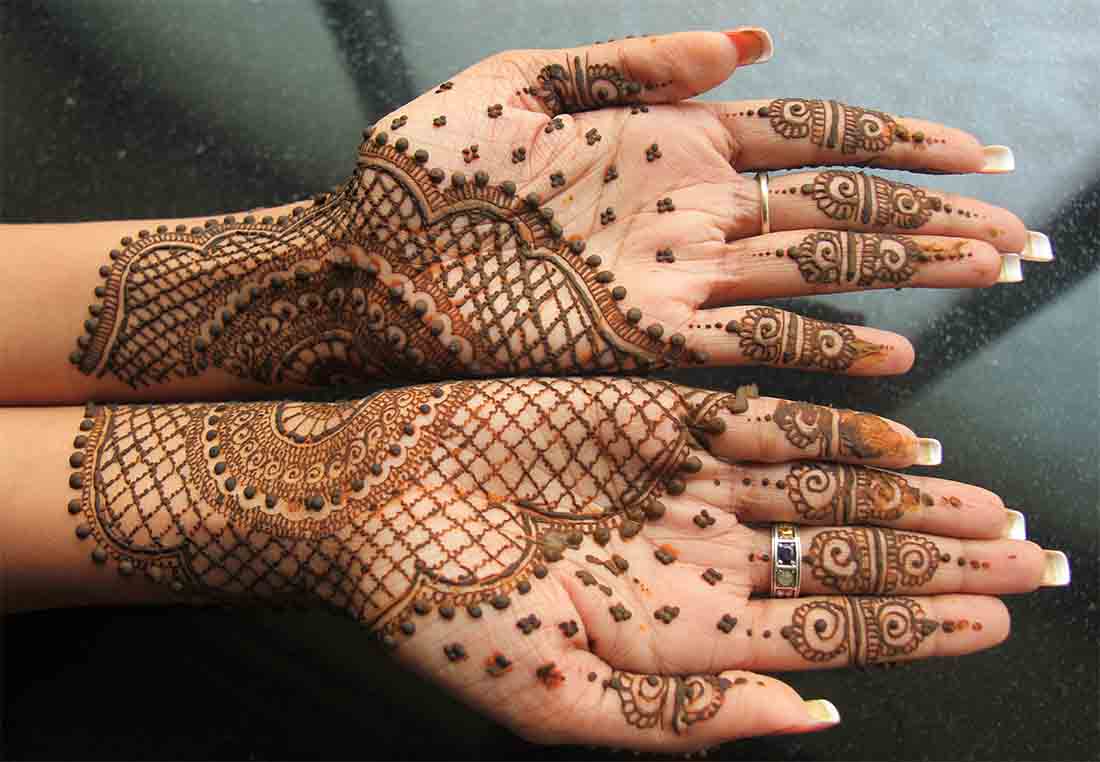 Owing to their symmetry, mirror patterns are one of the most popular mehndi design for hands. Those who want to keep things traditional and sophisticated go for such a construction for it give them ample opportunity to incorporate any motifs or patterns they may like and convert them into a mirror design.
Mandala Design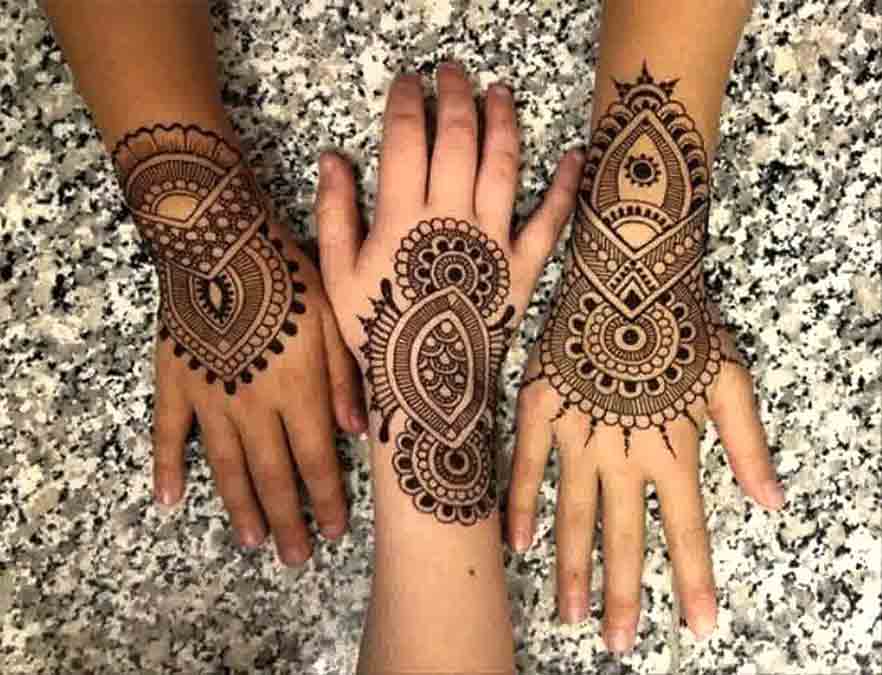 Known for their symbolic representation of a communion, Mandalas are one of the most famous motifs used in bridal mehndi design for hands. This design specially don't have the mehandi on fingers.
Similar to mirror patterns, the mandala motifs are very versatile, as they can be easily incorporated with any other patterns or designs to create a fuller appearance. Also, you can keep things simple by just intricately designing a single mandala and leave it as it is.
Sophisticatedly Royal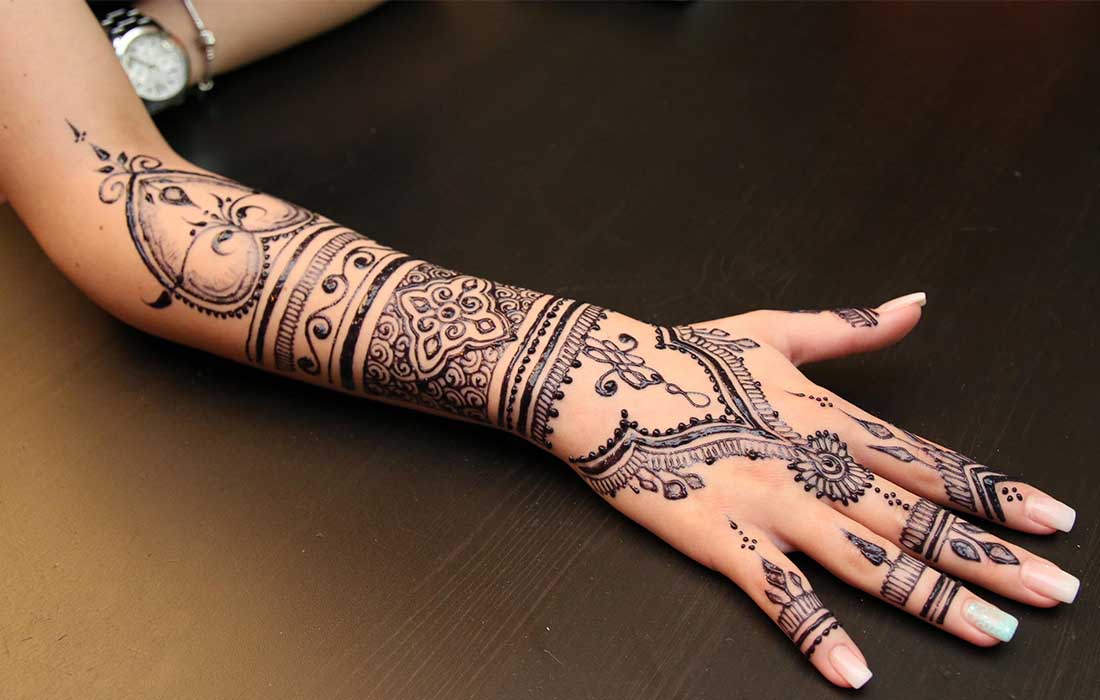 This hand mehndi design depicts a royal construction with clean and crisp patterns. Stretching from the elbows down till the fingers, this design comprises of floral and leafy motifs, vine and geometrical patterns and dots, which together create a harmonic conglomeration that appeases our eyes.
Also Read: Top Bridal Mehndi Designs
Traditionally Intricate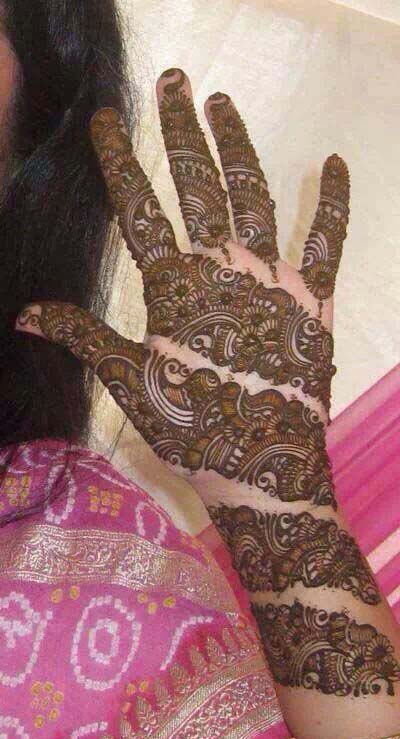 If you are looking for traditional and an extremely intricate henna designs for hands, this is the perfect one to go for. Complex yet beautiful, this design consists of the all popular motifs that are used for creating mehndi design for hands.
This design consists of five diagonal strands, each of them being completely different from the other. Fine lines and details have been dealt with quite nicely, and enough space has been left empty in between the strands to make the entire design look clean.
Color Design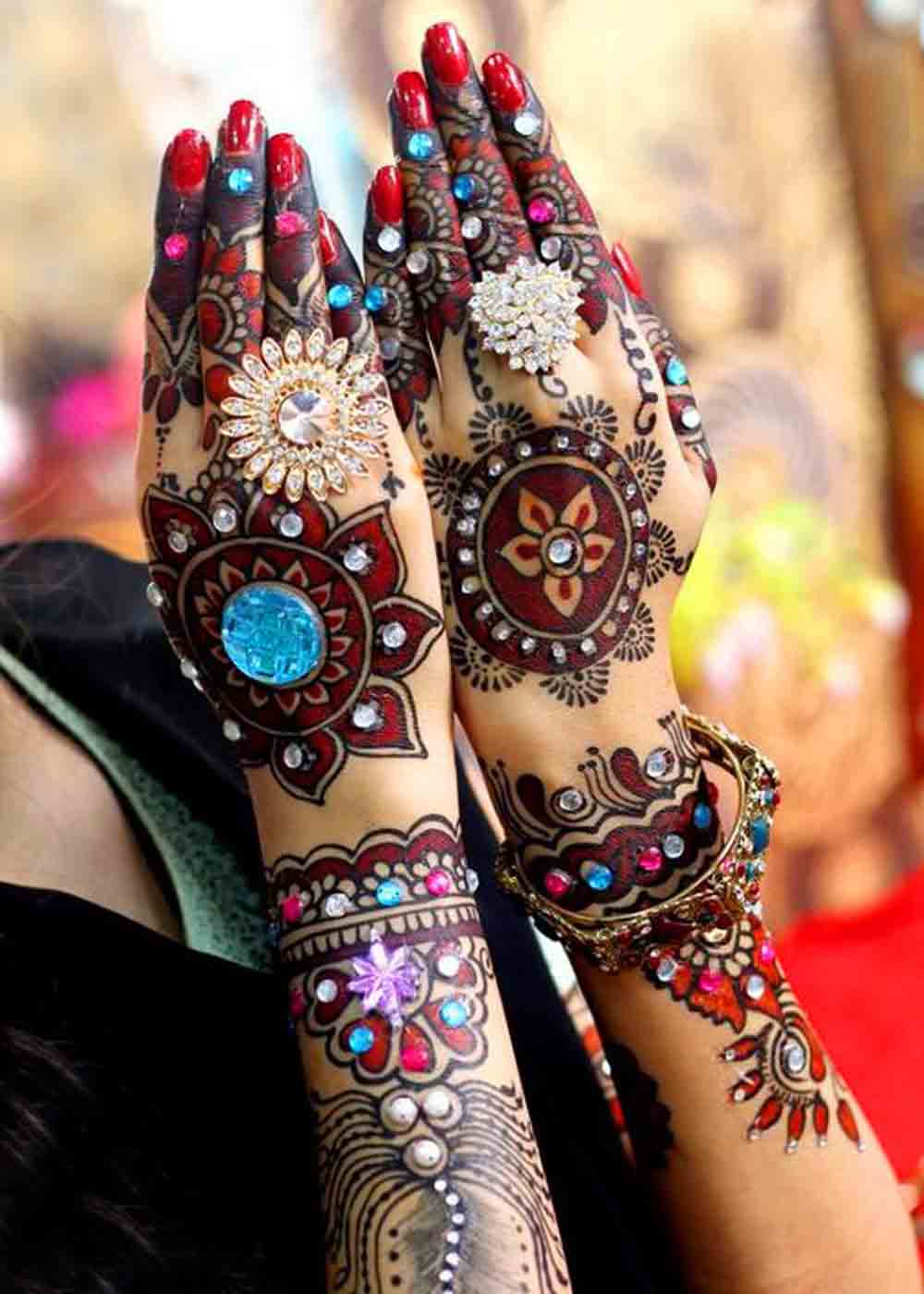 With the advent of time, great progress has been made in every field of creativity and fine art; this includes mehndi designs for hands as well.The use of colors and glitters is the fine example of a how a hand mehndi design can look chic and colorful.
The design here consists of basic mandala patterns with floral motifs, all of which has been amazingly decorated with red, blue and silver glitters while featuring rhinestones. Together, the designs and its add-on create a look so wonderful and attractive that it's hard to fault in anyways possible.
Which of these designs did you love? Share below!
Also Read: Kids Mehndi Designs.