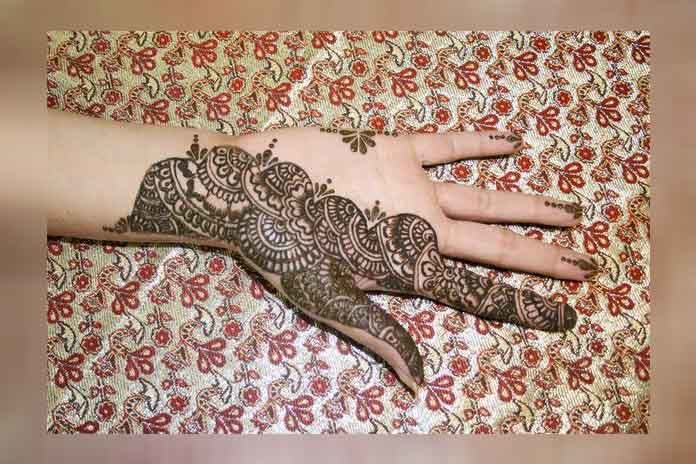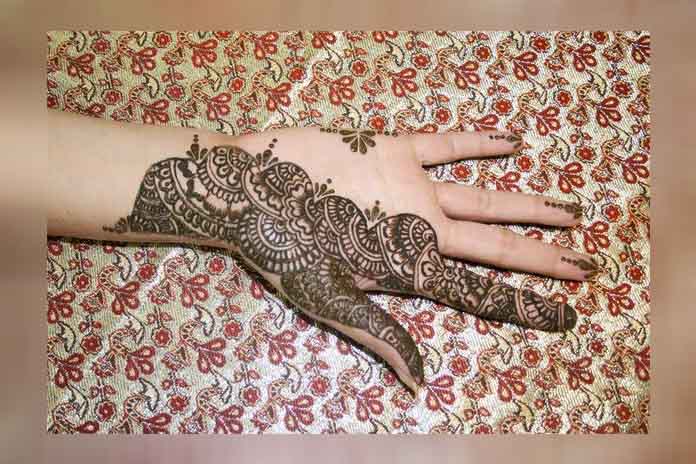 Arabic Mehndi Designs – The trend getting one's hands tattooed with henna is slowly seeping through the sensibilities of women all over. The elegance and beauty of Arabic mehndi is renowned all over. Quite different from the traditional Indian mehndi designs.
Modern and chic, riding right along with the likes of the current generation. So you can also try these arabic mehandi designs.

Gorgeous Detailing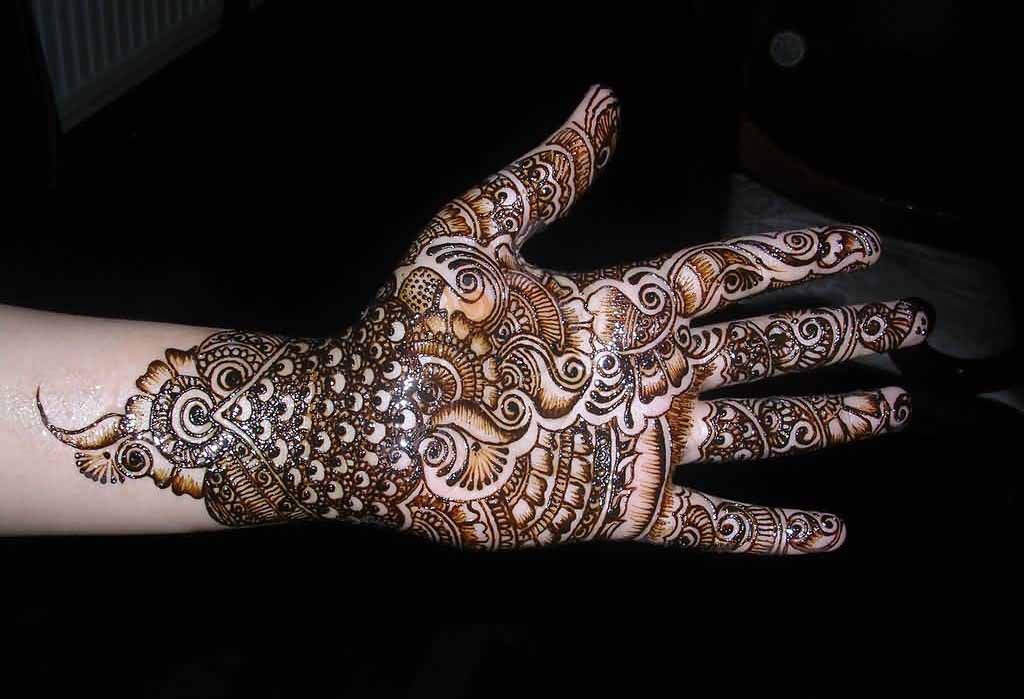 Beginning as an experiment Arabic henna designs has fast become an actual and viable option not only for wedding occasions and festivals but also tattoo art and designs. Arabic mehandi designs have the most elegant and beautiful look.
Summery Freshness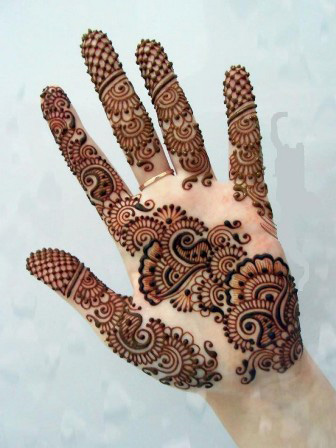 Ethereal and attractive Arabic henna can make quite an impression on the onlooker, be it any occasion.
Bride and Groom Playfulness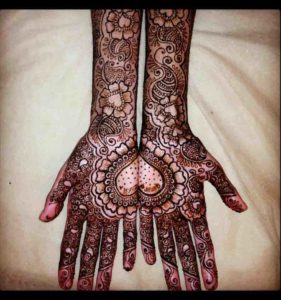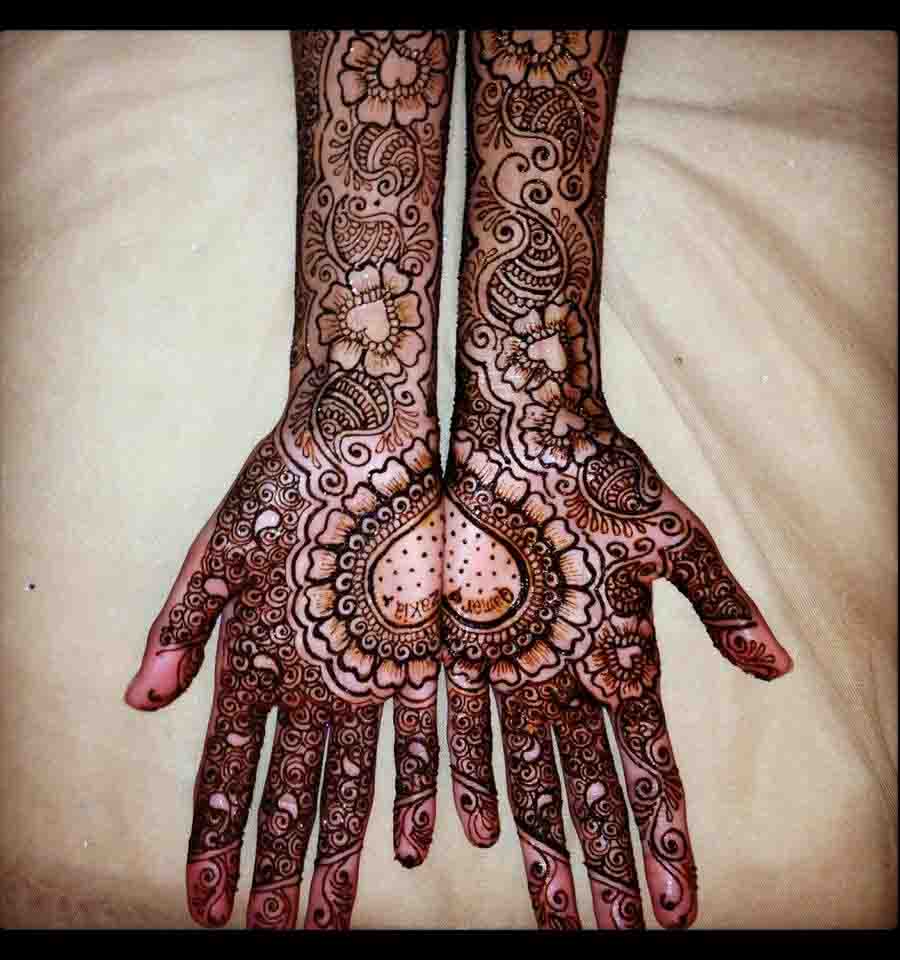 The designs of Arabic mehndi use a broad, fluid outline as base leaving enough space for the hand to breathe as well. The latest designs are becoming much more innovative than the original flowery ones. The technique involves decorating the rear of the hand with an ascending vine.
Blooming Enchantment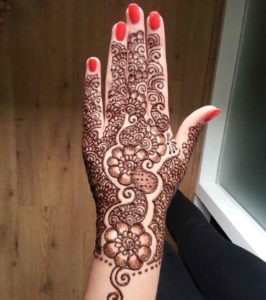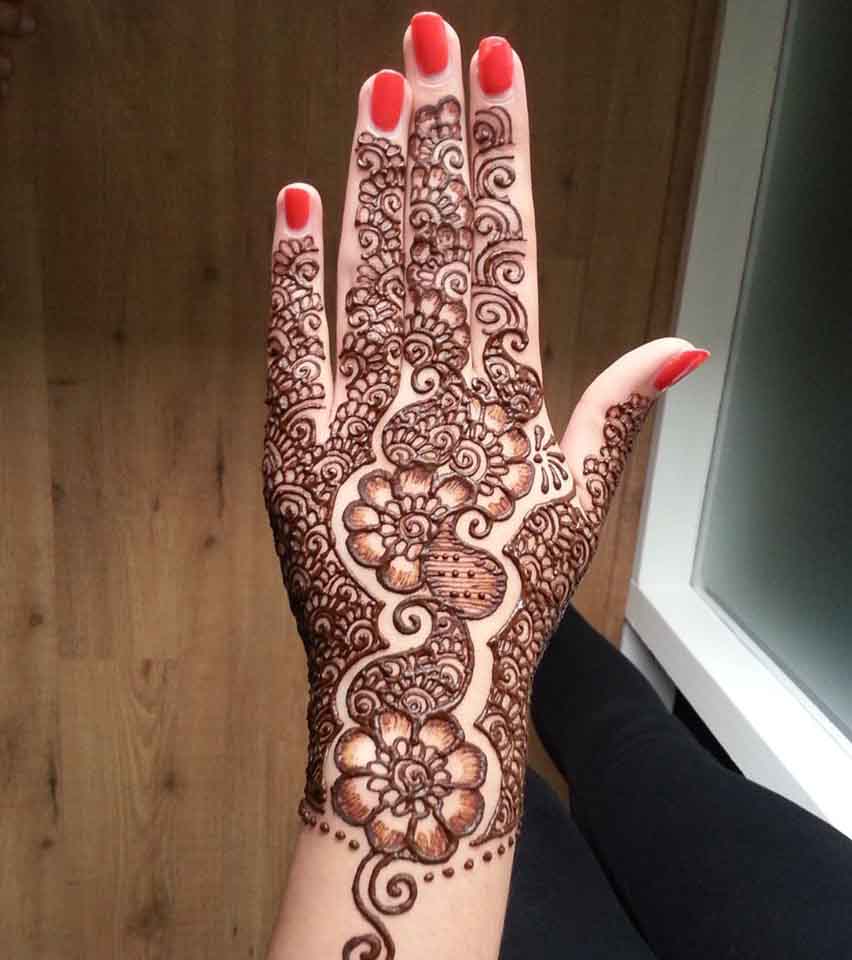 A fresh take on the simple mehndi. The technique further removes the monotony of regular designs. A flawless harmony of fashion and tradition, which would be a perfect fit if worn at a close one's wedding.
Leafy illusion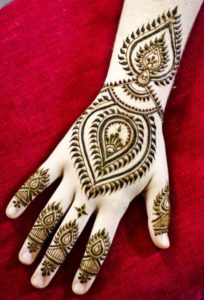 This new hybrid style is the result of combining the traditional and designs of arabic mehandi sketches. Traditional mehndi is complicated and baritone. This, when combined with Arabic styles, becomes free flowing and appearing as one.
So we see traditional elements along with Arabic style, making it a beautiful sight.
Mirrored Mania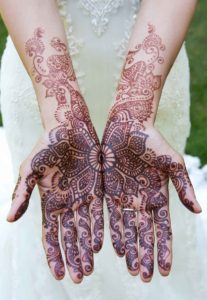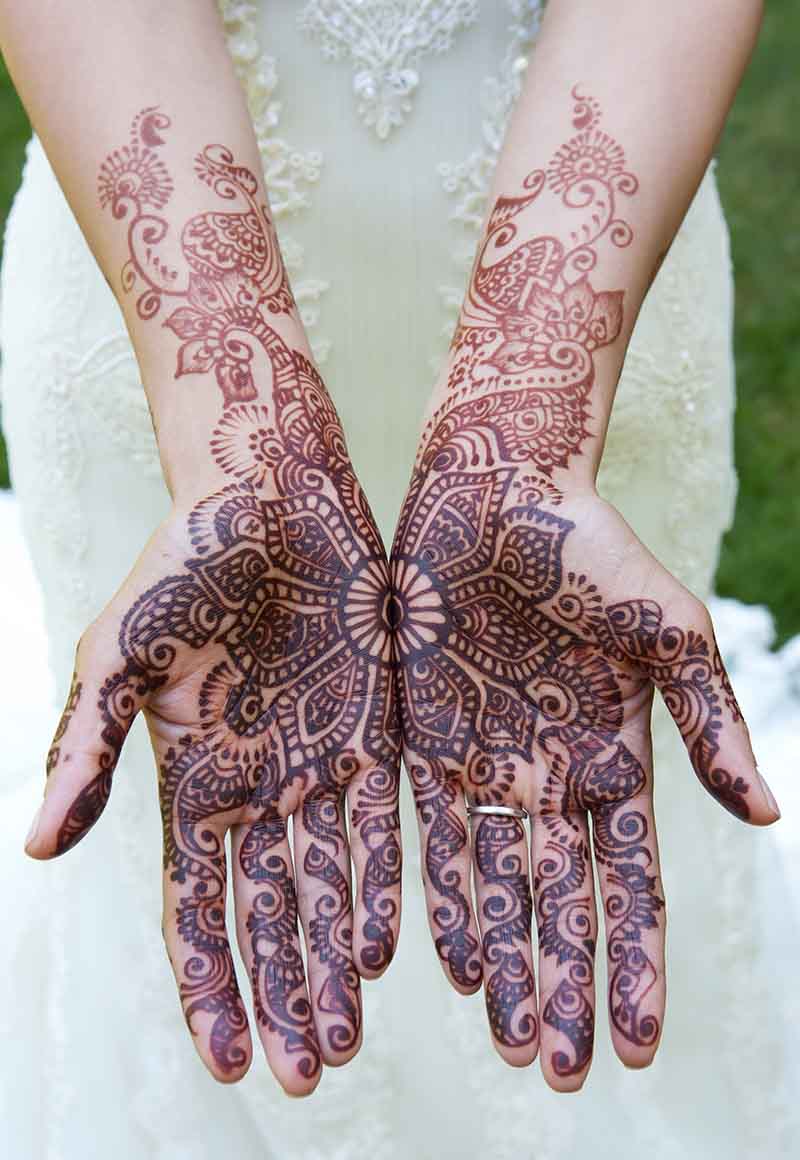 Along with familiar elements like mangoes and peacocks, there can be seen other details like curves, flowers, petals, cones, free spaces, shading and intricate details of mehndi designs in Arabic style. This mehandi design is quite similar to pakistani mehendi design.
Fingerwork with Armband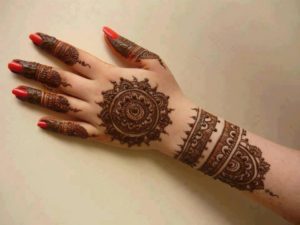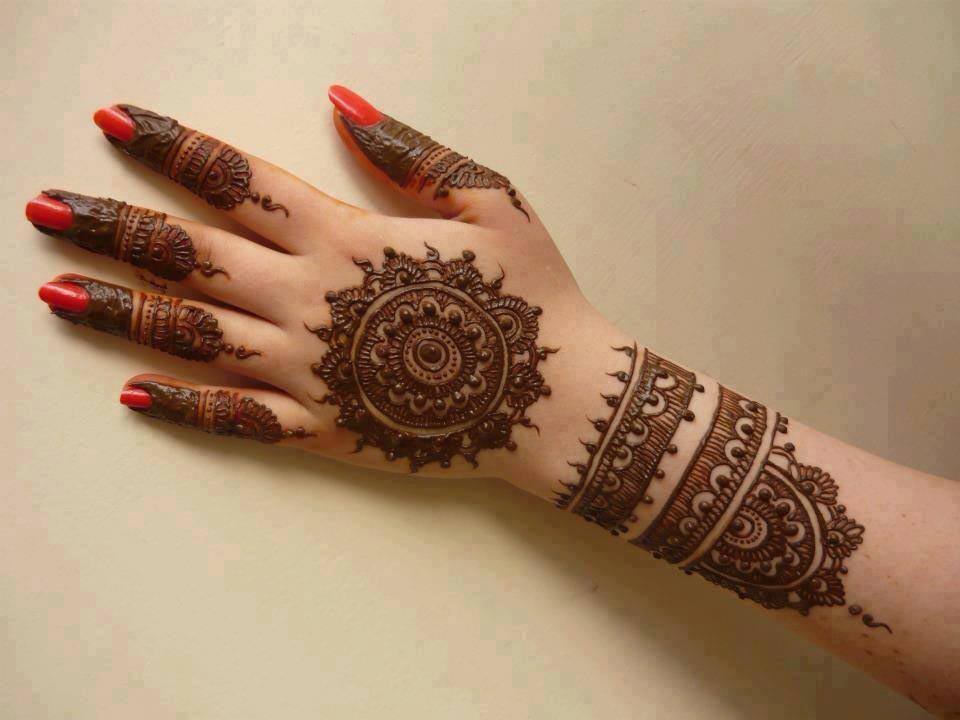 arabic mehendi designs are well known for its symbolic and illustrative floral designs and shading. It's allure lies in the cursive, relaxed design and clear exposed spaces. This royal look of the arabic mehendi design can be used on any occasion.
Girly Grandeur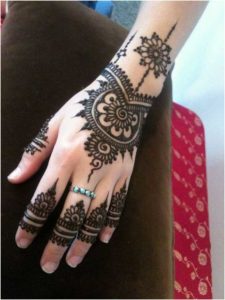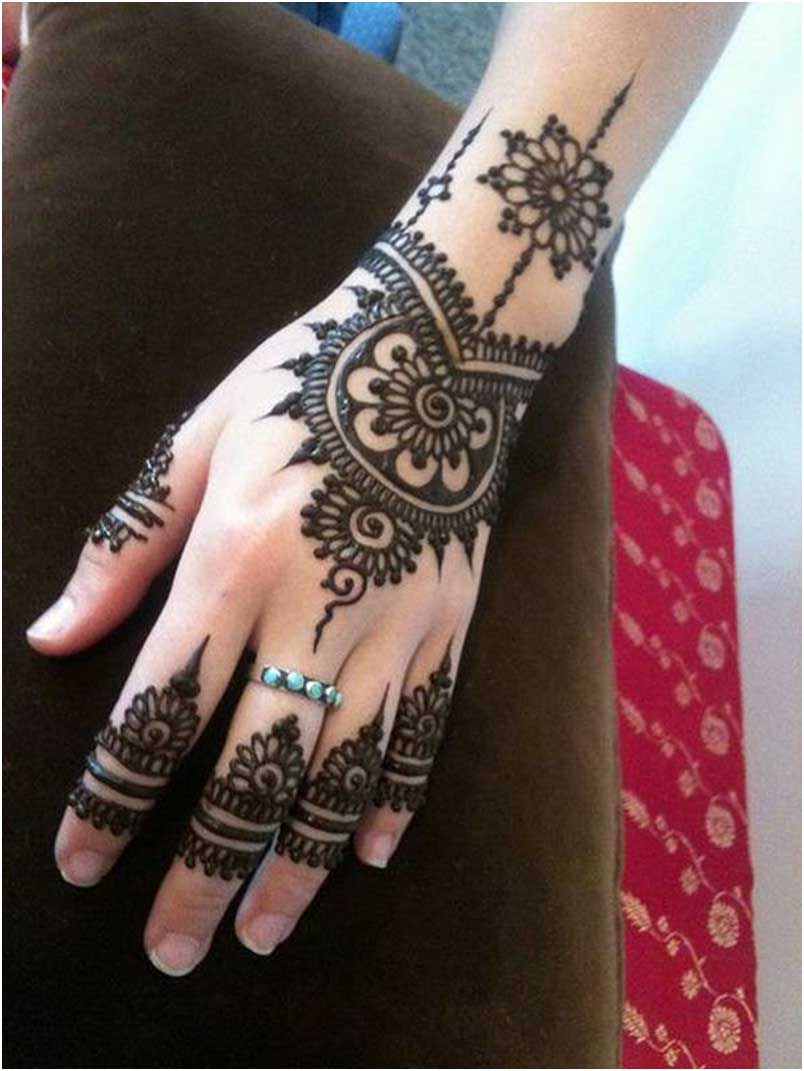 The style of mehndi in Arabic designs allows the design enough breathing space. Making it a viable option for nice quiet impression, to downplay it at certain events.
Peacock Season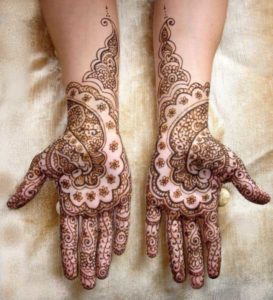 The unique quality of Arabic mehendi is it ability to innovate new designs and patterns. So, getting bored due to replication is out of the question. Details placed in the right manner, use varying unique layouts each time and experiment with the patterns on your fingers as well.
Magnificently Modern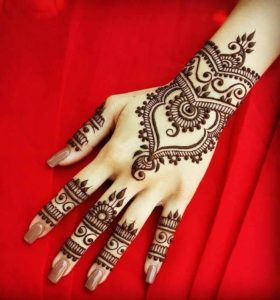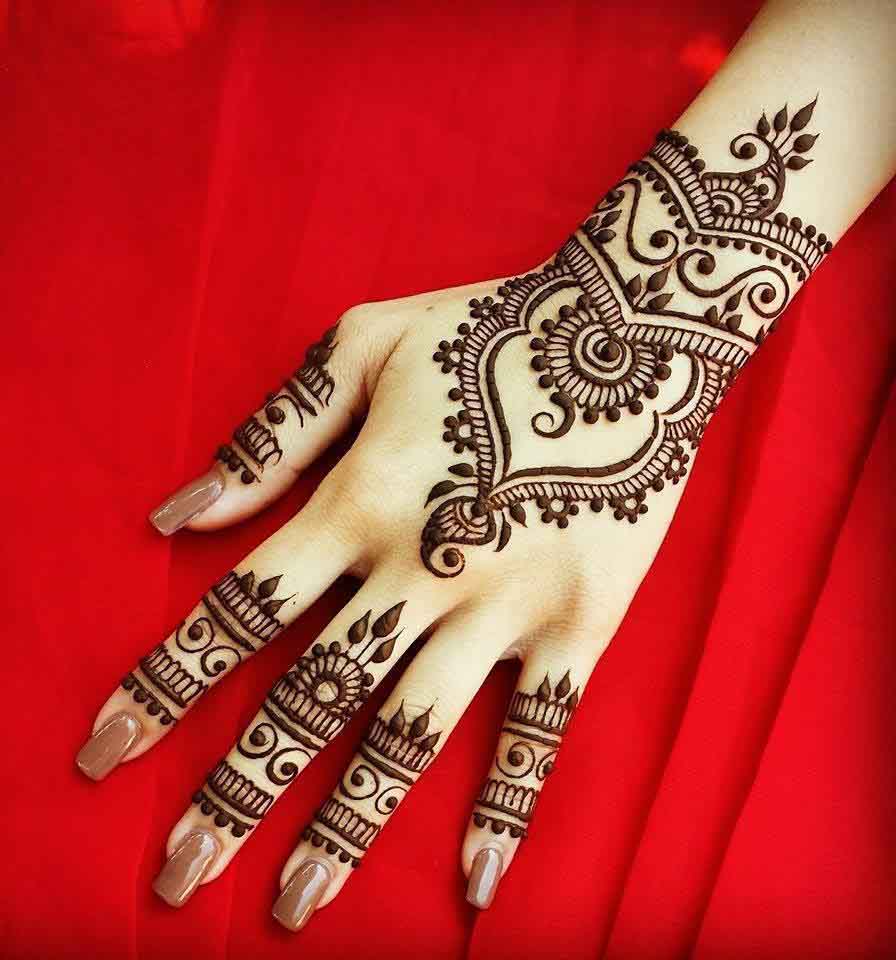 Brides find this style of henna application a very attractive one as well. While being apt for traditional events, Arabic mehndi blends in quite well with nontraditional events and cocktail parties too. The finger mehndi design is the most lovely part of this Arabic mehandi designs.
Intricate Paisley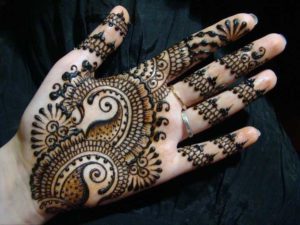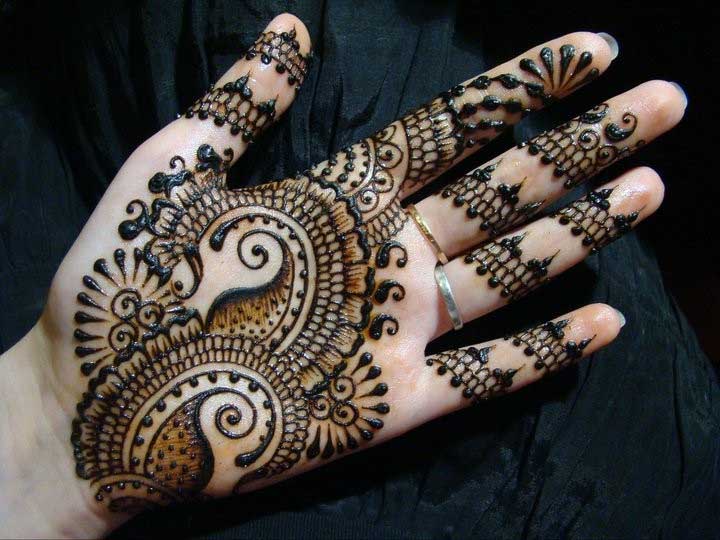 Moreover, who said only brides need look beautiful, her friends and family women can also definitely, try out these beautiful Arabic mehndi designs. It will bring out the beauty of designer lehengas and saris quite majestically.
The Full Bridal Hands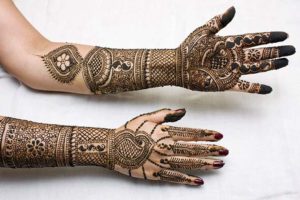 One major beauty hack to remember before applying mehndi in Arabic style is to get oneself a nice manicure. A French manicure works universally, but there is never a no to color. Do not forget to accessorize either. This is an awesome Bridal Mehndi Design. And best mehndi design for hand also.
The Creeping Trail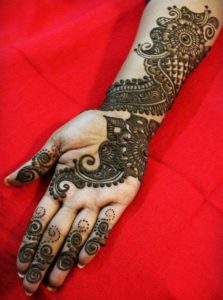 The practice and culture of henna application originated in the hot Thar desert. In the states of Rajasthan, Gujarat and Punjab. The dwellers of these regions applied henna leaf paste, to keep the heat at bay. Spreading it on exposed skin all over their bodies.
Floral Fascination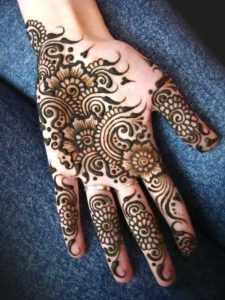 Women being true to their nature soon got bored with a simple patch of color. Thus experimenting with dots, meshes and designs taken from nature like mangoes and peacocks. The result is the complex Indian and Arabic mehndi designs of the present.
Minimalistic Artistry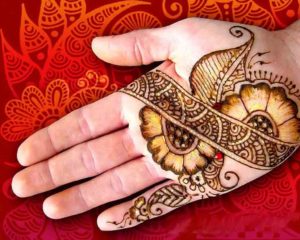 It was in the 12th century AD that Arabic mehndi designs made their way to India, along with the arrival of the Mughals. By the 16th century, during Akbar's rule, it had seeped into the common culture completely. You can try this look as Inspiring Mehndi Design for Kid.
Alluring Footwork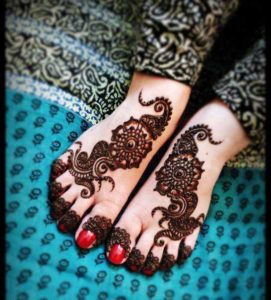 It is a fun, fancy and flashy thing to get your hands printed with Arabian mehndi designs. A modern method that gives a conventional edge to all celebrating an occasion. Stuff like stones and sparkles have increased the appeal of this particular art form.
So, have fun with Arabic mehndi designs the next time you have a family function or event.
Also Read: Small Tattoo Designs.