Mehndi Designs for Kids – Isn't Mehndi so wonderful? It is a delightful way to be artistic, to reflect and express oneself. Plus, henna tattoos are great for kids. Little ones love colors, glitters and just about anything that is artistic and fun to use.
Related: Pakistani Mehndi Designs.
That's why a mehndi design for kids can be such a great idea! With minimal supplies at hand, you can create designs of mehndi for kids, appease them, allow them to get creative and give them a multicultural perspective on life. There many easy mehndi designs you can try on any occasion.
Here, we are combining some of the best styles to try mehandi designs for kids.
A Delightful Chakra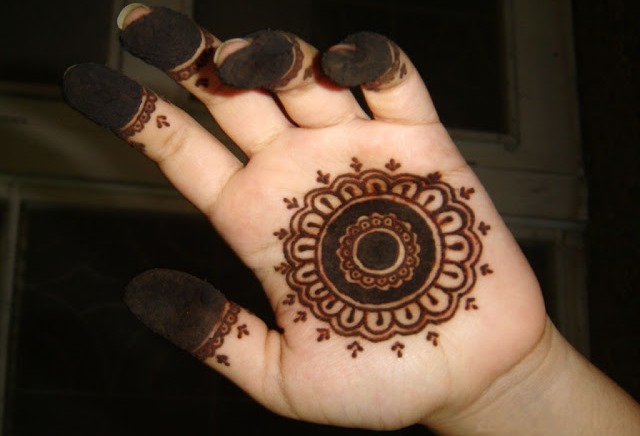 Your kids' hands could be a perfect canvas for an attractive, themed mehndi design for kids just like this one. With a circular pattern in the middle, floral motifs are used for decorating the space around it.
Some additional patterns are used to fill the fingertips for adding contrast to the overall design. The Chakra is reflective of Indian culture and represents energy, bringing positivity to life. It's also a traditional Indian mehendi design.
Floral Pattern With Leaf Motifs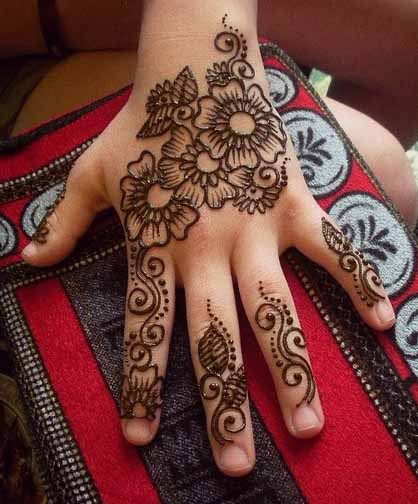 This is a must try kids' mehndi design. If your kid loves nature or exquisite craftsmanship, then they will love this design. It can be used on palms or top of their hand. The design reflects sophistication, leaves, and floral motifs are beautifully elaborate and lend such a wonderful color to their arms.
A Vibrant Bling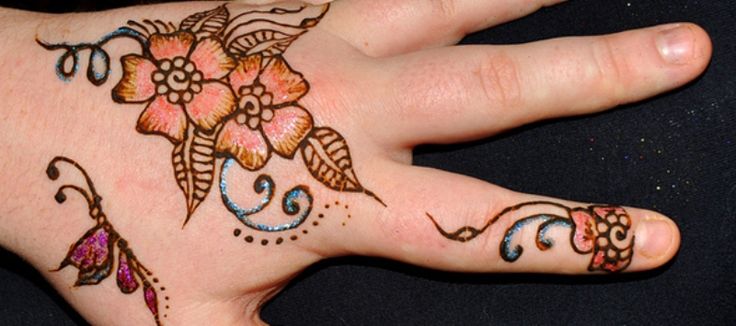 Kids love sparkle and glitter. They got excited by bright colors. So, why not give them a kids' mehndi design that includes it all? Glitter and colored mehndi art is the new fashion in town. The basic idea while creating kids mehndi designs is to keep things simple and sober, such as this one where a minimalistic floral and leafy pattern is beautifully decorated with blue and purple glitters.
But go experimental with colors and add a little bit of bling to the design to make it instantly attractive for your young one. This colorful mehandi designs for kids, Always loved by children.
The Mandala Ring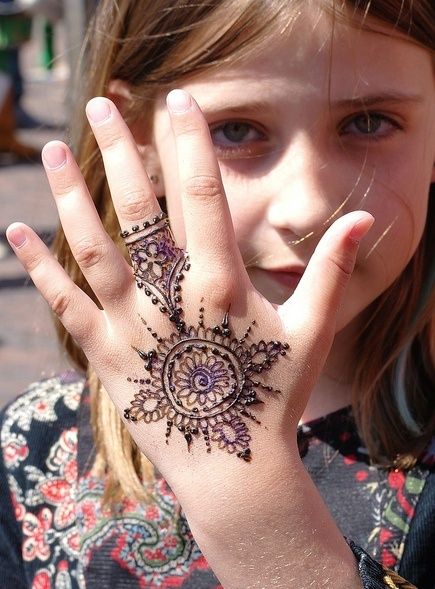 When using designs of mehndi for kids, parents are often concerned that the styles might look cluttered. But you can try this intricate and none cluttering design. This beautiful back hand mehndi design is a fine example of that. This is easy and simple mehndi design for hands.
The mandala at the center is decorated with intricate details, which subtly connect the design to the patterns drawn on the finger. Using simple geometric figures and a little bit of detailing, this design becomes an example of expression!
A Themed Floral Design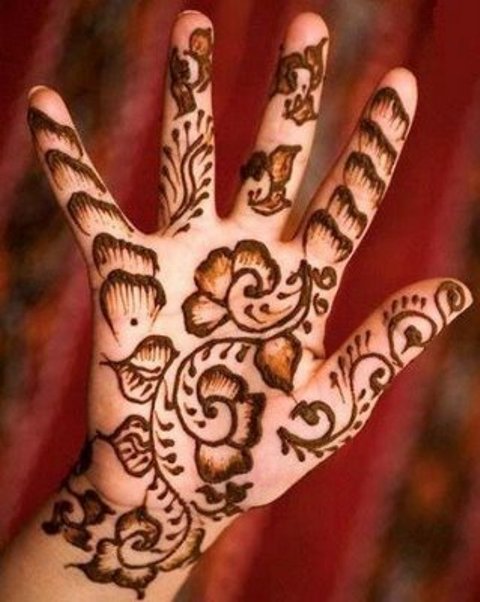 If your daughter wants to get mehndi on her hands, here is a perfect mehndi design for kids that she can try. Starting from the tip of her fingers and extending well past the wrist, this design mainly consists of floral motifs and paisley patterns, which look beautiful on your kids' little hands.
The broader borders on this design ensure that overall the style looks ethereal. At the same time, broader styling adds more depth to the color. Plus, the mehendi design on finger is awesome.
Minimalistic dots and lines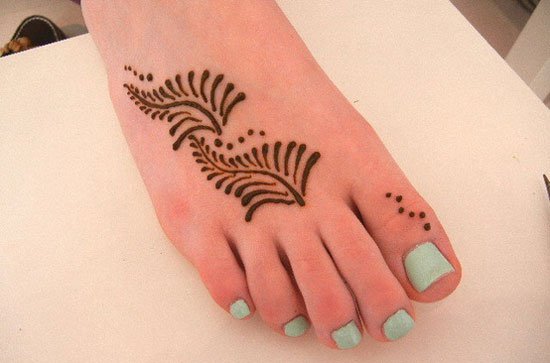 Here is simple and easy to do kids mehndi design for feet, which they would love to flaunt. Consisting of a few curvy lines and dots, this mehndi design looks clean and stylish. And the best part is that your kids can draw them on each other and get all creative.
Floral Arm Band Henna Designs for Kids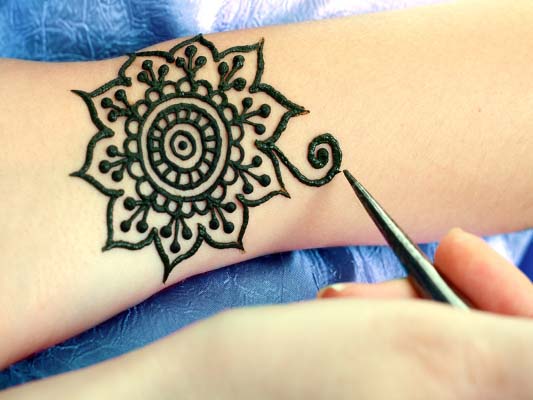 If you are a mom who would like to try an art project with her kid but don't have much time in your hands, then this henna designs for kids you should try. It doesn't take much time, is detailed and so easy to draw. A blooming flower is combined with little geometric shapes and figures to make it more elaborate in nature.
Starry Arms Mehendi Designs for Kids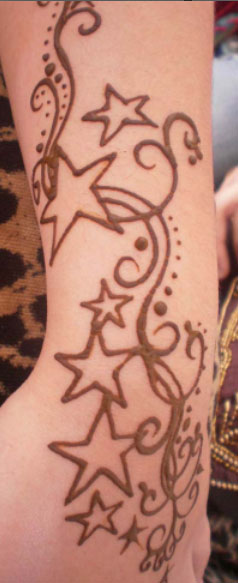 Every kid loves stars and moon, and that's what makes this mehndi design for kids so interesting. Consisting of simple patterns, stars, and dots, this kid's mehndi design will certainly entice your little one and make their hands look beautiful.
And to make things more interesting, you can have this as one the DIY projects that you and your kids can do together.
A Funky Design: One of Great Mehndi Designs For Kids.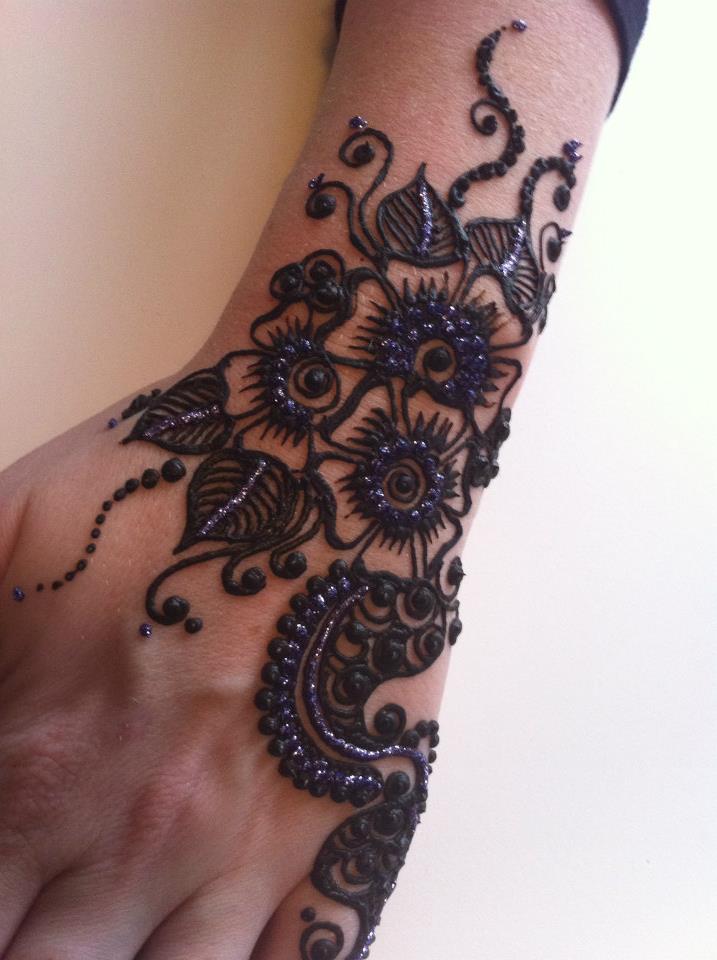 Why should your kid feel left out, when you are getting a funky mehendi design for your hands? Well, this intricate kids' mehndi design will solve the purpose. Suited for the hands of kids and adults alike, this design consists of an array of patterns ranging from floral and leaf motifs to paisley prints, dots, vines, and glitters.
Such a construction is best suited for some special occasions, like festive celebrations or a wedding. The broad design is perfect for kids who want more depth of colors on their hands. Also take a look on Arabic Mehndi Designs. If you are looking for mehandi designs for kids then this is a wonderful option for you.
Floral Vines (Awesome Mehndi Designs For Kids)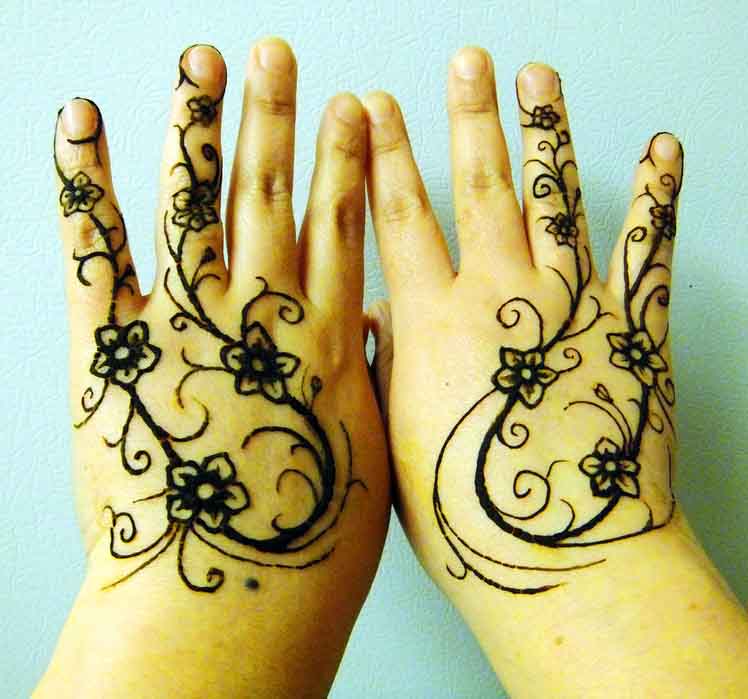 This pattern is a great example of how perfect Mehndi Designs For Kids should look like. Clean and well detailed, this artwork is created using floral motifs and vines, which just covers half of your kids' hands. This way, the design looks crisp and doesn't clutter the skin space.
So, when are you going to try these Mehndi Designs For Kids? They are so fun and chic, and you can draw them on your own!
Also Read: Bridal Mehndi Design.