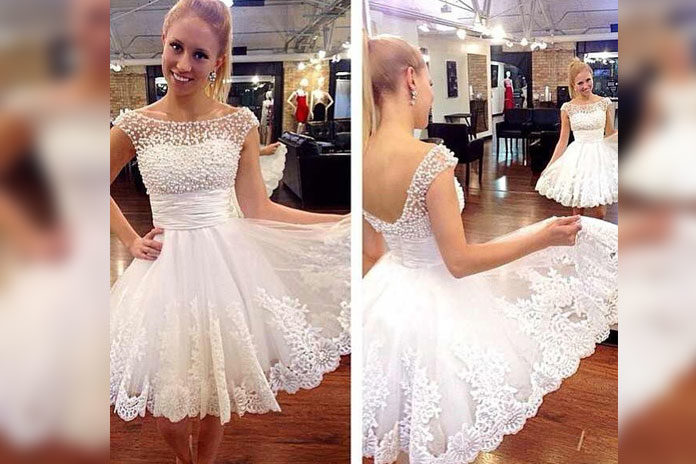 White Prom Dresses – Prom nights are special! So are the prom dresses! Much thought goes into selecting the perfect prom dress as it can make your evening memorable and delightful. Prom dresses are not worn every day and hence, they need to be selected carefully.
Thoughtfully picked prom dresses help you enhance your beauty and style and can be worn elegantly on special events and prom nights. The white prom dresses always adhere to the fashion scenario. 

The infinite beauty, glamor, and elegance associated with the white prom dresses are timeless. Whenever you wear a white prom dress, you can be sure of one thing. You will always look exceptionally alluring and graceful. Plus if you are looking for plus size prom dresses you can go with white too.
Now let us go through the seven beautiful white prom dresses that look quite feminine and charming.
1. Knee Length White Prom Dress with Intricate Silver & Blue Pattern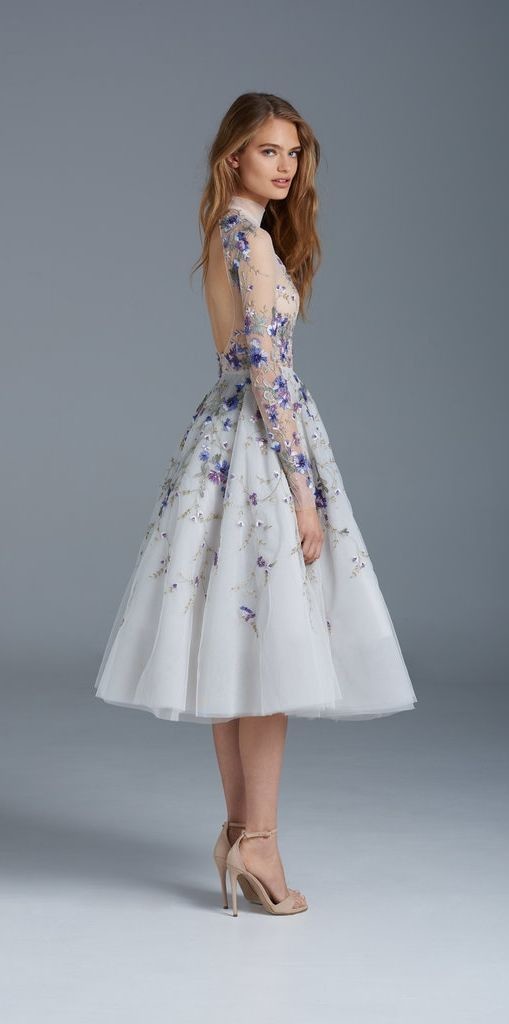 If you are looking for a cute knee-length prom dress that makes you look like a doll, this one is the perfect choice for you! The white umbrella-cut dress in net is ornate with silver and blue threads that make a captivating flower pattern. The plain high-neck collar along with an open oval shaped back adds the necessary sensual touch to the whole attire. If you love light color like pink then you can try pink prom dresses also.
2. White Prom Dress with Golden Work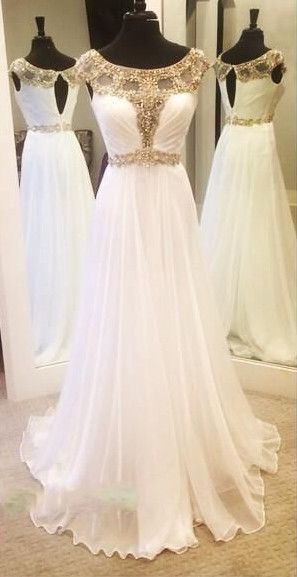 When white color gets combined with the scintillating golden, the attire gets a royal appearance. Also, this is what we can observe in this beautiful white prom dress. This dress embeds a floor-touching pattern which would make you walk like a queen on any prom night. The flow and fall of the fabric are awesome and makes you look delicate.
The golden thread work on the golden net gets enhanced with the contrasting white color. The boat-shaped neck and a sleek belt let you flaunt your perfect body shape.
3. Fish Cut Beige & White Prom Dress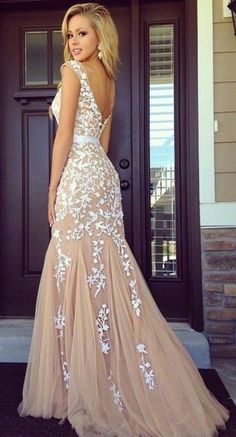 Dare to wear this dress if you have got a perfectly carved figure! This fish cut feminine prom dress has been made out of chiffon and highlights your body curves perfectly. The pure white embroidered part gives it a classic, elegant look. The open, sensual back speaks about your bold fashion statement. The prom nights demand you to look your best.
That's why; you should also concentrate on other essential factors like footwear, jewelry, and hairdo. Ask an expert hair stylist about which hairdo will look best with the prom dress that you have selected.
Also, always take care of your skin and hair so that you can retain your beauty. Olive oil hair treatments work wonders for hair. If used regularly, your hair can look amazingly beautiful with these treatments.
4. White Prom Dress with Silver Thread & Beads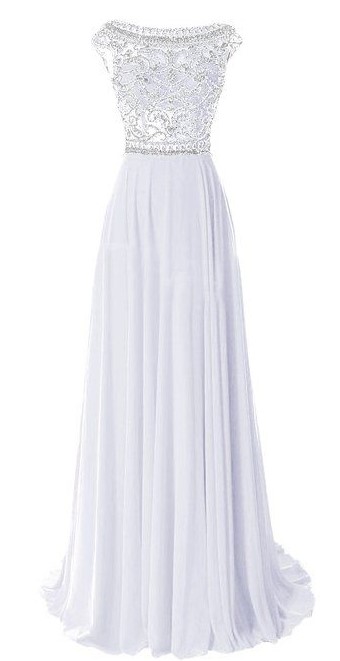 Get ready for the prom night in advance. That is, take care of your skin; especially the face. You can use homemade easy face masks to get the glowing and flawless skin. Also, select the dress in advance to avoid any stress in the last moments. If you wish, you can try a silver and white combination in your dress.
The blend of silver and white always looks awesome. Whereas the white color always remains in the fashion trends, the silver hue adds the necessary touch of glamor and shimmer that is surely needed on prom nights.
This dress comes with an amazing silver thread work that also involves beautiful beads. The cap sleeves in this dress let you flaunt your well toned delicate arms while the boat neck lets you show off your collar bones.
5. Short White Prom Dress with Beaded Lace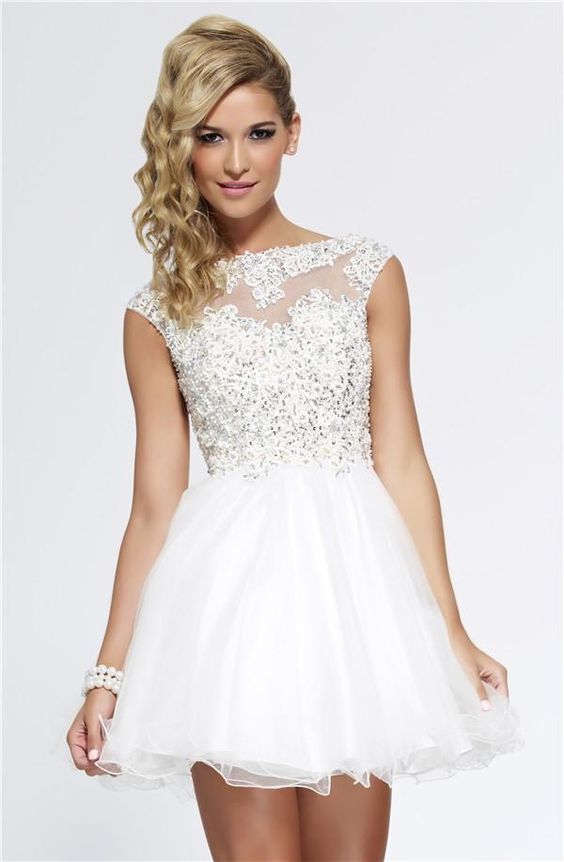 This one is especially for the teenage girls. The white lace pattern with beads has been creatively used to make the upper portion while plain white net has been given an umbrella cut with short above-the-knees length. Team up this dress with pure white pearl earrings and bracelet to accentuate the whole look.
6. White Prom Dresses in Off-Shoulder Style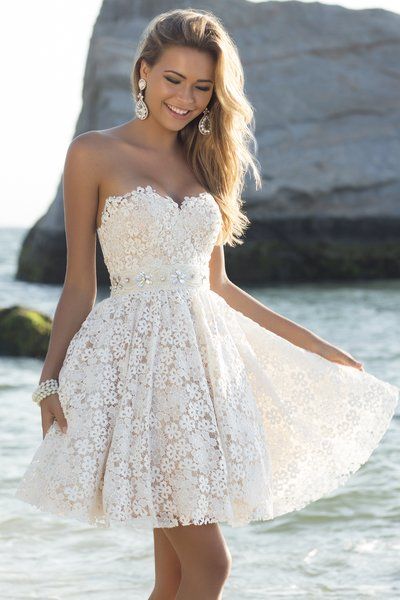 Get a pretty and attractive look with this amazingly beautiful off-shoulder white prom dress. The whole dress is adorned with beautiful crochet lace. The dress gets divided at the waist through a sleek silver belt that is embellished with small silver beads and flowers. Adding dangle earrings with this dress would highlight the off-shoulder style. Plus its perfect for teens party dresses.
7. White Prom Dress with Frills & Overlapping Pattern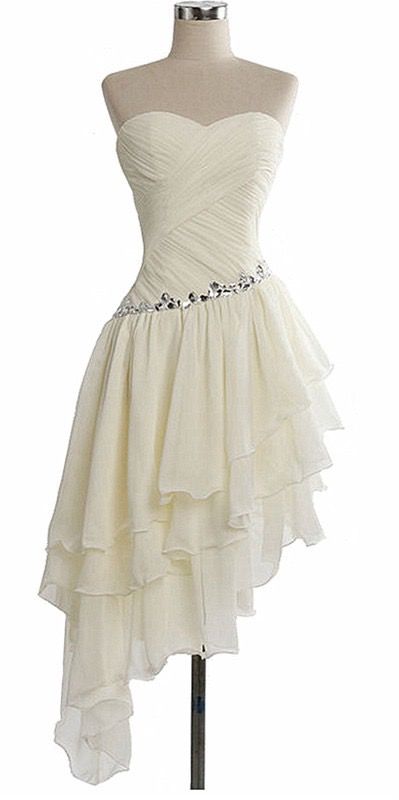 Do you love to have frills in your prom dress? If yes, try this captivating white prom dress that is decorated with the pattern of frills. All three frills have got a slanting cut that provides a unique look to the whole dress. Plus you can try red prom dresses.
Moreover, the torso of this dress has got a very graceful overlapping pattern. A delicate feminine looking silver belt enhances the whole beauty of this adorable attire. The white flat shoes with a little silver sparkling in their design would look best with this dress.
Use pure white diamond jewelry or pearl jewelry with this dress to accentuate your style and beauty.
We hope our collection of these enthralling prom dresses would help you choose the right prom dress. Also, while selecting any prom dress, do take care and make sure that the dress is comfortable too so that you look and feel fully confident.
Try wearing the dress once at home before actually using it on the prom night. This will save you from any wardrobe malfunction as well as with any last minute change.
Last but not the least; we would love to hear about your happy dressing experience on prom night. Do tell us what is your secret of looking beautiful and attractive on prom night. Look beautiful, feel beautiful and stay happy, always!
Also Read: 12 Black Prom Dresses You Should Steal!