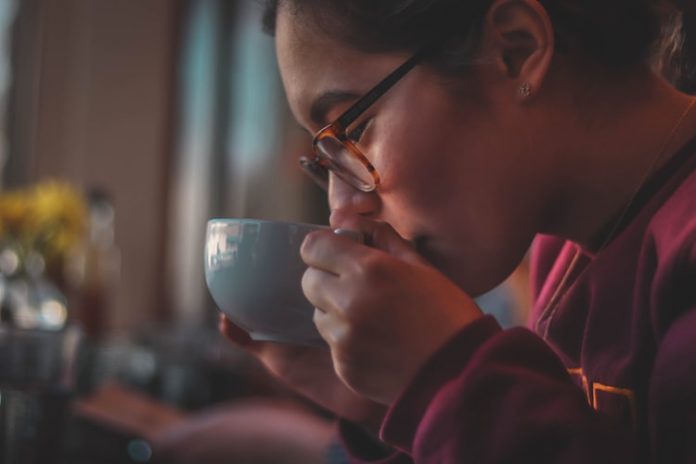 When we talk about tea, it is not just a drink. It's an emotion. We drink tea many times a day, so why not in the best tea cups. If you're looking for the tea cups online, then you might get what you want. Here we have reviewed many cups and listed the best tea cups for all your needs.
You'll also get to know about the buying guide for purchasing the tea cups. These cups are selected based on our opinions, product descriptions, and customer reviews. Let's go.
Before that, there is a small message. If you buy any of the tea cups below from the list, we'll receive a small commission. However, it will not affect the price for you. You'll only pay the price that is there on Amazon. Also, we have not selected the products on any inclination of the commission.
10 Best Tea Cups for All Your Needs
Best Selling Tea Cups: Sillio Glass Tea Cup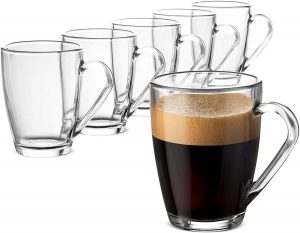 Key Specifications:
Capacity: 230 ml
Material: Glass
Included Components: Cup Set of 6
Item Dimensions LxWxH : 8 x 5 x 10 Centimeters

We all tea lovers like to drink tea in glass cups. You are among us, right? Based on the price, customer reviews, and our research, this Silio glass tea and coffee cup is on the top of the list. Also, it is the best-selling tea cup on Amazon. These cups are made from ultra-clear glass and are completely transparent.
As they are lead-free and non-toxic, they will not affect our health in any manner. Talking about health, you should know about these healthy drinks. Further, they are easy to hold, so you enjoy your hot tea in this transparent cup.
---
Best Glass Tea Cups in Durability: Femora Double Wall Glass Tea Cup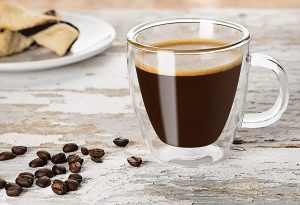 Key Specifications:
Capacity: 170 ml
Material: Borosilicate Glass
Included Components: Cup Set of 2
Item Dimensions LxWxH : 7.5 x 7.5 x 8.2 Centimeters
The major concern in glass tea cups is that they might break. After all, it's a glass. I got scolded by my mom for that reason so many times. But I got you covered. Try these Femora Double Wall Crystal Glass Tea and Coffee Cups. As they are handmade with borosilicate glass, they are stronger and more durable than common cups.
Whatnot, you can wash them in dishwashers, and also use them in the microwave. Most importantly, you can easily hold your hot tea without burning your hands due to its double walls. Now don't think much of durability and go for it.
---
Attractive Tea Cups: MARINER'S CREATION Ceramic Tea Cup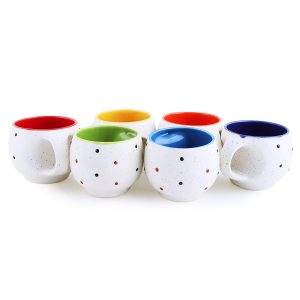 Key Specifications:
Material: Ceramic
Included Components: Cup Set of 6
Item Dimensions LxWxH : 7 x 7 x 8 Centimeters
Who says the best tea cups can not be attractive. Look at these beautiful and colourful ceramic tea cups. The cups are of high quality and microwave and dishwasher safe. You can serve tea to your guests in them. It can also be a nice gift for someone who loves tea. Based on some of the reviews, it is observed that these cups are smaller than they are portrayed to us. So if you're someone who is looking for designer tea cups and small size is fine, then buy them. This tea cup set is worth your money and your kitchen shelve.
---
Best Tea Cups for Use and Throw: EOS- BUILDING TRUST Disposable Paper Cup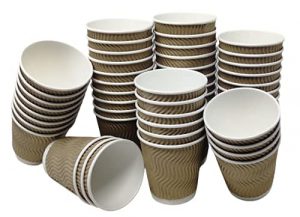 Key Specifications:
Capacity: 200 ml
Material: Paper
Item Package Quantity: 50/100/150
Item Dimensions LxWxH : 14 x 14 x 35 Centimeters
We don't generally use paper cups in our homes. But, paper tea cups are very helpful during occasions, parties, cafeterias, etc. You can buy these paper tea cups for these use and throw purposes. Their thickness and quality do not make them soft when hot tea is poured into them. As these cups are made up of 100% paper, so they can be recycled. Also, they are cut-resistant and easy to handle; therefore, you can hold them up for a longer time. It comes in brown colour. Buy them for travelling, small occasions, luncheons, etc.
---
Best Tea Cups for Parties and Get-together: PARICOTT Printed Disposable Paper Cup
For party and get-together purposes, we recommend you these Paricott Multi-colour Paper Cups. They look attractive and are of high quality. These are widely used designer tea cups for parties, get together and other special occasions. As they are 100% recyclable, you contribute to the betterment of the environment. Not only tea, but you can also serve coffee, cold drinks, lassi, and other hot and cold drinks in them. The upper part of the cup is strong; hence the drink will not spill from the cups. They are available in the pack of 100, 200, and 500.
---
Best Tea Cups in Square Shape: JK Roxx® Glass Tea Cup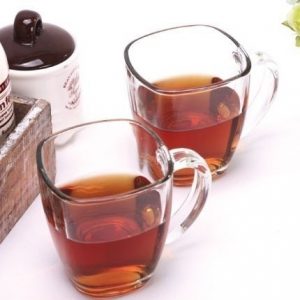 Key Specifications:
Capacity: 190 ml
Material: Glass
Included Components: Cup Set of 6
Item Dimensions LxWxH : 10 x 9 x 8 Centimeters
For people who love to drink tea in square tea cups, your product is here. We endorse these JK Roxx cups based on the amazing response they get from the customers. This tea cup set looks attractive and will definitely captivate you to buy. It is microwave and freezer safe, now no more cracks. The summary of all the reviews is this tea cup set is attractive, stylish, captivating, durable, high quality and easy to handle.
It has become the favourite green tea cup for many of its customers. if you are not drinking green tea, then you should try it. there are so many benefits of green tea that you might not know. Now, we don't think you need anything more to make the decision of buying. The cups are transparent and come in a set of 6.
---
Best Steel Tea Cups for Durability: Dharam Paul Traders Stainless Steel Tea Cup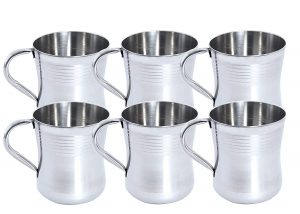 Key Specifications:
Capacity: 150 ml
Material: Stainless Steel
Included Components: Cup Set of 6
Item Dimensions LxWxH : 10 x 10 x 10 Centimeters
No matter how hard we try, these glass and ceramic tea cups can break. It's not our fault and neither of the manufacturers. But if you're looking for cups for durability and normal day-to-day use at home, you can try this steel tea cup. These are made up of stainless steel and are the best tea cups when it comes to durability. It has rounded handles that make it easier to handle. In addition, these cups have belly shaped design and have a capacity of 150 ml. This stainless steel tea cup set includes 6 cups.
---
Classic Tea Cup and Saucer: Femora Indian Ceramic White Tea Cups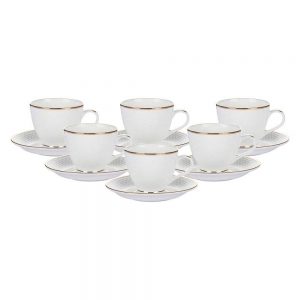 Key Specifications:
Capacity: 200 ml
Material: Indian Ceramic Fine Bone China
Included Components: 6 Cups, 6 Saucer
Item Dimensions LxWxH : 6.8 x 6.8 x 8 Centimeters
Saucer Diameter: 5.27 inch
Imagine you're drinking tea in the saucer during the morning sunlight. It feels good to imagine these things. So let's make it real. Here are the royal white tea cup and saucer with the golden boundaries. These cups are made up of Indian ceramic fine bone china.
It is dishwasher and microwave-safe, freezer-safe, chip resistant and does not affect the taste of the tea. This bone china tea set includes six cups and six saucers. You can serve tea to your guests or use them in get-togethers and occasions. One alert: the golden boundary line in these cups are not microwave-safe, so use it accordingly.
---
Kulhad Tea Cups for Street Tea Lovers: KSI Handcrafted Kullad Cups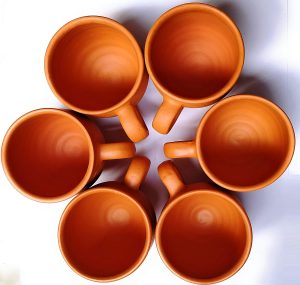 Key Specifications:
Capacity: 80 ml
Material: Earthenware
Included Components: Cup Set of 6
Item Dimensions LxWxH : 5 x 6.5 x 5 Centimeters
In India, especially, people love to drink tea at tea stalls in the market with their friends, colleagues, etc. So, we have got a kulhad tea cup to relive those beautiful memories. They are handmade by Indian potters with clay. As they are made up of pure clay with no paints and glazing, it will give you the real taste of that kulhad chai.
Their washing manual is a bit different. Just soak the cups in warm water and scrub them with non-abrasive scrubbers. They are also microwave safe. This handcrafted kulhad cup set includes six pieces. At last, I'll say that these cups have the taste that will make you nostalgic and relive those moments.
---
Best Laopala Tea Cups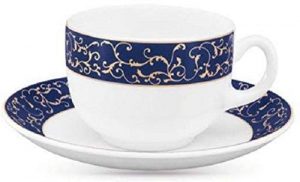 Key Specifications:
Capacity: 160 ml
Material: Opalware glass
Included Components: 6 Cups and 6 Saucers
Item Dimensions LxWxH : 46 x 19 x 12 Centimeters
Laopala is among the best tea cup brands in India. From Laopala, here are one of the most popular and illustrious tea cups with saucers. Their super white colour is enough to catch anyone's attention. Apart from having a royal look, these cups are also break-resistant and lightweight. These cups are toughened by thermal shocks that made them three times more resistant to breakages and chipping.
Also, microwave and dishwasher safe. As they are made up of opal glass, it prevents the micro-organisms to retain on its surface. Thus making it healthier. This laopala tea set includes six pieces of tea and six saucers.
---
Buying Guide
There are numerous types of tea cups available in the market. But, why should you need this buying guide for a tea cup? Firstly, the taste and flavour of the tea could be affected by the material of the cup, its shape and size. Secondly, you're a tea lover. For many people, it matters in what type of cup they are drinking tea. Therefore, we have made a buying guide for you so that you can make an informed decision.
Material of the Cup
Ceramic
The ceramic tea cups are made up of clay potteries and processed in a kiln. They are best known for their heat-retaining quality. It means that the tea in that ceramic cups will remain hotter for a longer time. Also, they are porous in nature. To make this cup non-porous, these are covered with a thin glaze. You'll get to know about porous and non-porous below.
Bone China
Bone china is a mixture of clay and bone ashed. That makes these cups non-porous and non-reactive. The bone china cups are very smooth and preserve the body of the tea.
Glass
When we were doing our research, we found that glass tea cups are one of the most popular and preferred. Some types of glass are more durable than bone china, like the borosilicate glasses. We have mentioned this in our best tea cups list. Also, you'll find a double-layered glass in the above list. This type of glass makes it easier to hold from outside while the tea is hot inside.
Steel
When it comes to durability, it is always on the top. But there is one reason because of which it is not preferred by many. As we all know that steel is a good conductor of heat. It makes it difficult to hold the steel tea cup full with the hot tea. The reason why we included a steel cup in the list of best tea cups is just because of its durability.
Porous and Non-porous
We have discussed about it above. The porous material has minute pores on its surface. One interesting thing about these cups are that on regular use its colour might change because of that pores. Also, it might take the flavour of the tea. Therefore, porous cups should not be used to drink multiple varieties of drinks; otherwise, it will affect the taste.
Now, the non-porous material is covered with a thin glaze. This glaze fills all the pores in the cup and makes it smooth. If you want to drink varieties of drinks in a cup, then always choose a non-porous cup.
Cup Handles
Some tea cups have handles, and some have not. Firstly, you need to decide if you want a handle or not. If you've gone for handles, then focus on their shape and size. Certain cups look beautiful, but their handles are not comfortable enough to hold. While purchasing, always check the handles. The best tea cups listed above have so many different types of handles; you can have some idea.
Stay Hot
Whether your tea will remain hot or cold faster depends upon the design and thickness. The cups that have narrow rims and are tall will retain the hotness of the tea. On the other hand, a cup having larger rims will make your tea cold faster. Also, thick cups are good for maintaining hot tea.
These are some of the points that you should keep in mind while buying the best tea cups for you.
Final Say on the Best Tea Cups
Here comes the end of this list of best tea cups for every occasion. We hope that you like our recommendations. We have listed almost all types of tea cup sets that you might feel the need to buy. You don't have to do a lot of research now; click the buy button and make a purchase. If you feel about buying on your own, you now know some important points to make a better decision.
Be ready to drink tea in these best tea cups. Also, tell us which tea cup you choose among them.