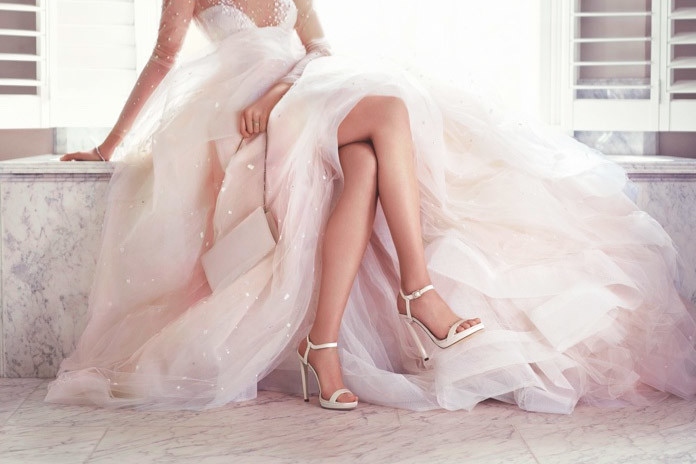 Bridal Shoes – The wedding is once in a lifetime experience. A bride expects and wishes to look her best on this very special day. While the wedding gowns and veils are chosen with much care and effort, the bridal shoes are also nonetheless one of an essential accessory for the brides and require equal attention and effort to selection.
If you are looking forward to your magnificent wedding day and are confused about the bridal shoes selection, we unveil the latest and the most glamorous wedding shoes for the bride. Just scroll below to discover the phenomenal beauty of bridal shoes that we have carefully selected, just for YOU!
Related: 11 Wedding Dresses For Girls You Can Gift Her.
1. Peep Toe Bridal Shoes with Embellished Heels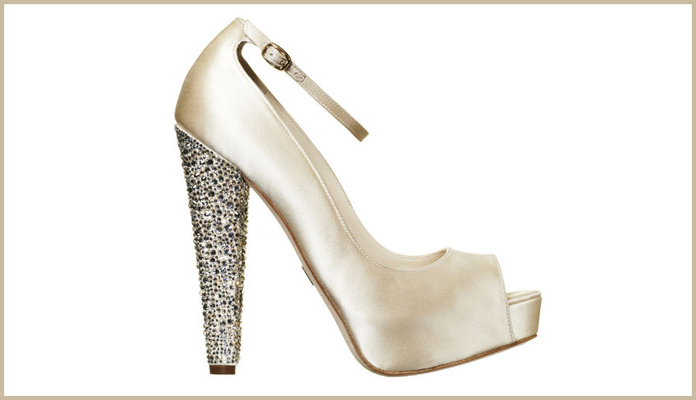 A little glitter and glamor are a must-have for your bridal shoes. Make your wedding day even more special with these unique shoes. The peep toe pattern in these shoes will help you flaunt your beautiful and delicate toes while the embellished block heels will make you look charming and glamorous.
The heel you see here is done with the rhinestones that add sparkle to your footwear. A sleek strap on ankles provides balance to the whole design and retains your feminine beauty too.
2. White & Golden Stilettos with Unique Floral Design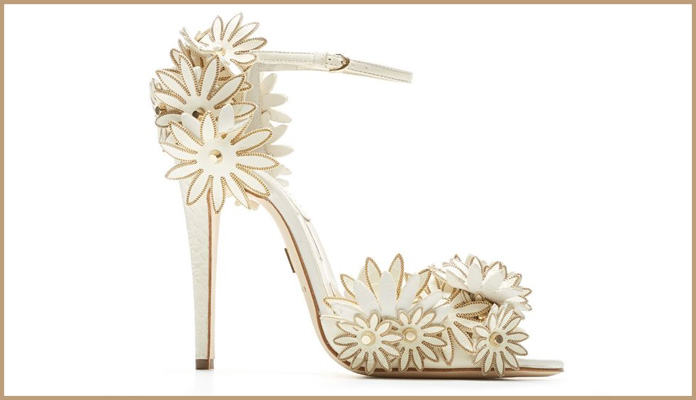 We are sure you must have tried stilettos with your beautiful white prom dresses on prom nights. That makes you confident and comfortable about wearing stylish stilettos on your wedding day. Moreover, when these blades possess the beautiful and outstanding floral pattern, you simply cannot resist wearing them!
3. Glamorous Glittering Golden Shoes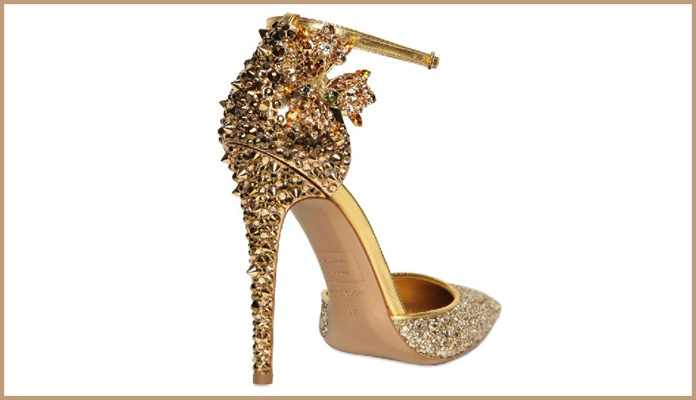 Stand tall and stylish with these festive glittering golden shoes. The golden color represents celebration and liveliness. So why not add golden to your bridal footwear! The shimmering rhinestones and sequins have been selected in golden color so that they gel well with the main golden color of the shoe.
If you think that these shoes look a little gaudy, think again and look at them again! When seen from a distance, these shoes will look awesome because of their unique and captivating look. With a closer view, they will look even richer!
4. White Pointed Toe Bridal Shoes with Pearls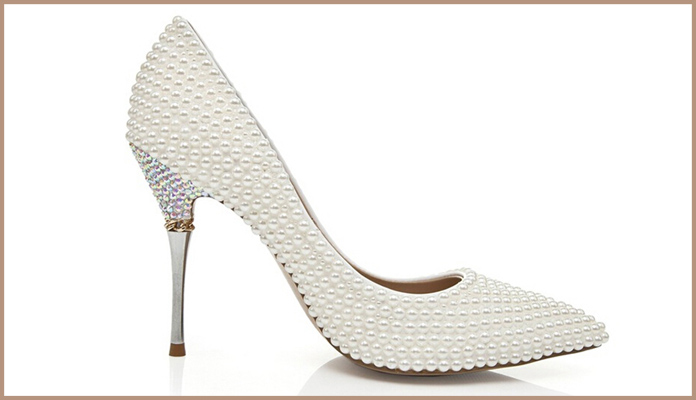 For brides, the wedding day is the day that has to be made memorable in some ways. Therefore, the 'would be' brides start making efforts for this big day much in advance. Search for the best wedding dresses, taking care of skin through easy face packs, following beauty regimes and many other tasks add up to contribute on the grand wedding day.
The bridal shoes can never be ignored and need a careful selection. The beauty and elegance of pearls can never be denied! The same style can be observed in these shoes which are decorated with pure white pearls on the surface and heels. These shoes will make you look very graceful and sophisticated.
5. Plain White Bridal Shoes with an Elegant Bow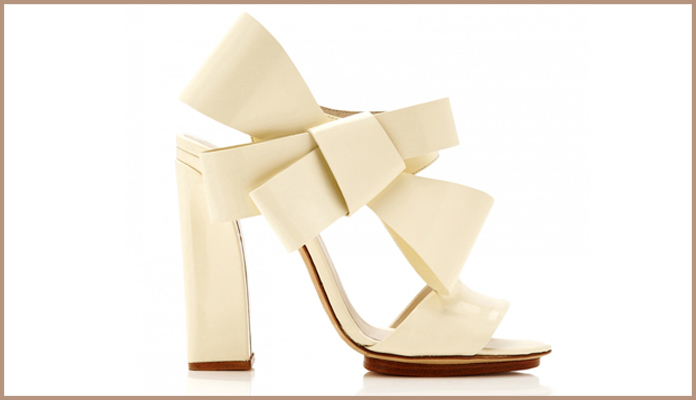 If selected carefully, the bridal shoes can surely help complement and accentuate your beautiful bridal look. We should be thankful that today we have a great tool called the internet that helps us explore a wide variety and designs in everything we wish to buy.
So why not take advantage of this amazing tool and get the best bridal shoes. Choose shoes with sparkle or go for simple yet impressive shoes like this one. These stylish, fashionable yet simple bridal shoes will add up to your grace on your grand wedding day. These fabulous plain white shoes with a block heel and a bow simply look stunning!
6. Bridal Sandals with Enthralling White Rose Pattern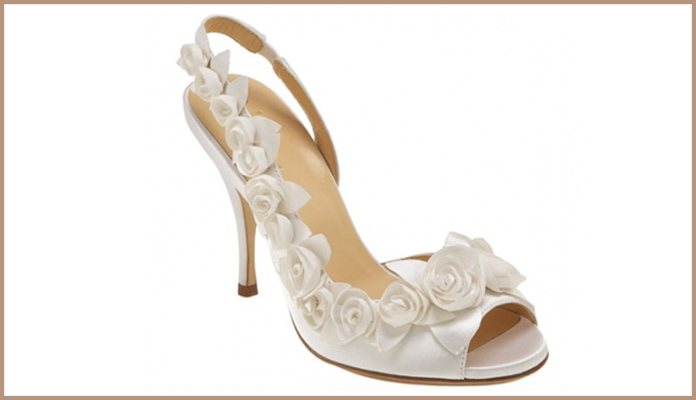 The addition of floral pattern to attires, shoes or other accessories makes them look delicate and delightful. These enchanting shoes are adorned with the pure white rose pattern on their outer one side. The sleek heel and easy slip-in strap make them a perfect choice for any bride who wants to look and feel confident.
7. Awesome Bronze Color Bridal Shoes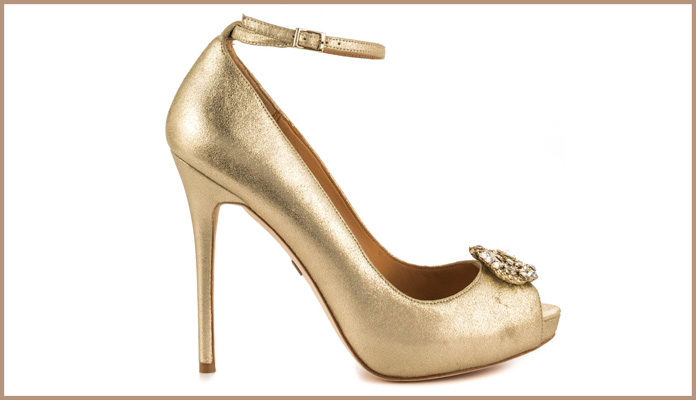 At the very first sight, anyone can fall in love with these pretty beautiful shoes! The bronze color and an elegant lustrous surface make these shoes look quite sensuous. A small diamond studded piece at the front, ornate these shoes with a dazzling effect which is, of course, a necessity for the overall look of any bride.
8. Strappy Pattern with Swarovski Crystals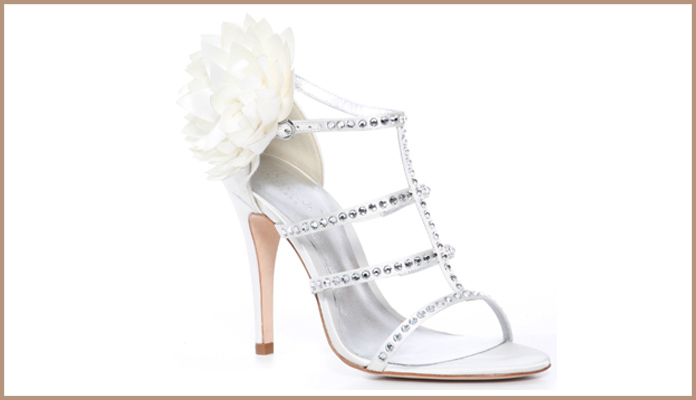 The beauty and uniqueness of these sandals lie in its amazing design. It consists of five delicate straps out of which four are joined together through the fifth strap that stretches from toes to ankle.
To further accentuate the style and beauty, this footwear has been decorated with the attractive Swarovski crystals on the straps. The overall design of these sandals is phenomenal and makes them a perfect choice for the brides.
Hope our lovely collection of these eight marvelous bridal shoes will help you take the right decision for bridal shoe selection. It is advisable to choose the shoes in advance to avoid any discomfort.
Also, while choosing the bridal shoes, it should not be avoided that how comfortable and confident the bride feels in her selected pair of shoes. After all, it's the question of her wedding day, her choice and her comfort!
Also Read: Teen Party Dresses.