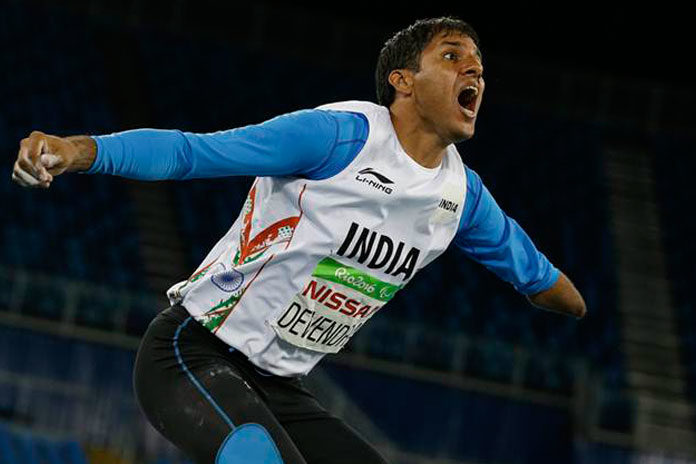 Devendra Jhajharia Two Times Gold Winner at Paralympic Games – Have you always thought that the stories of an unknown man overcoming all odds with sacrifice from his family members only happen in movies? Do you remember the sacrifice of her career by Arfa to support the career of her husband Sultan in the most successful movie of the year? The immensely inspirational story of javelin thrower Devendra Jhajharia is quite similar.
Related: Deepa Malik In Paralympics.
Hailing from Churu district in Rajasthan, Devendra recently broke his world record at the Rio Paralympic Games to win second Gold medal for India in the event. You will be surprised to know that the wife of Devendra Jhajharia; Manju Jhajharia was a National Level Kabaddi player herself.
After their marriage in 2007, Manju had an opportunity to appear in an international Kabaddi competition. However, one of the two parents had to stay at home to take care of their daughter Jia. In these circumstances, Manju gave up her career to look after their family while Devendra continued the hard work.
There were many tough moments during their journey in which Devendra wanted to quit the game as he had started experiencing pain in his shoulders and knees. However, Manju continued motivating him and inspiring him to bring back another Gold medal for India in 2016 Paralympic Games.
"It was my dream to win an Olympic Gold for India which is now completed through my husband. I left Kabaddi to assume the responsibility of the family and make him move ahead in the game."
-Manju Jhajharia
As a result of this never ending support from his wife as well as his mother and other family members, Devendra not only won the Gold medal in Javelin throw event but also bettered his world record by throwing at a distance of 63.97 meters. This time, he also had the support of her six-year-old daughter who motivated him over the phone before the main event to win the Gold.
Lost his Left Hand At The Age of Eight But Not The Spirit
Notably, Devendra had accidentally touched a live electric cable of 11000 volts. As a result of this accident, he lost his left hand when he was just eight years old. However, his parents fully supported him in getting an education, and he was able to complete his graduation.
Despite the disability, Devendra chose athletics as a career and used to practice with bamboo sticks in village fields for 8-10 hours a day. Right from his school days in 1995, Devendra used to take part in para-athletics although he was a shot putter at that time.
He switched to Javelin throw on the advice of his coach R.D. Singh who began training him in 1997 after seeing the incredible potential in him. His first professional success came when he won a Gold medal in the 8th FESPIC Games in South Korea.
In 2004, he made everyone proud by winning his first Gold medal at the Athens Paralympics by making a world record throw of 62.15m. At the Rio Paralympic Games, once again he has won the Gold medal by shattering his record and covering the distance of 63.97 meters.
Indian government awarded Arjuna Award to Devendra Jhajharia in 2005. He also became the first Paralympian to receive the fourth highest civilian honor of India, Padma Shri in 2012. He was named para-sportsperson of the year in 2014 by FICCI.
The story of Devendra Jhajharia is immensely inspirational to all para-athletes in the country and all over the world. What is even more laudable is the strong support of his family particularly his wife Manju which enabled Devendra to make India proud at the global level. Hats off to this man and his family!
You will also love to know another inspirational story of Deepa Malik- first Indian female athlete to win a medal at Paralympics.