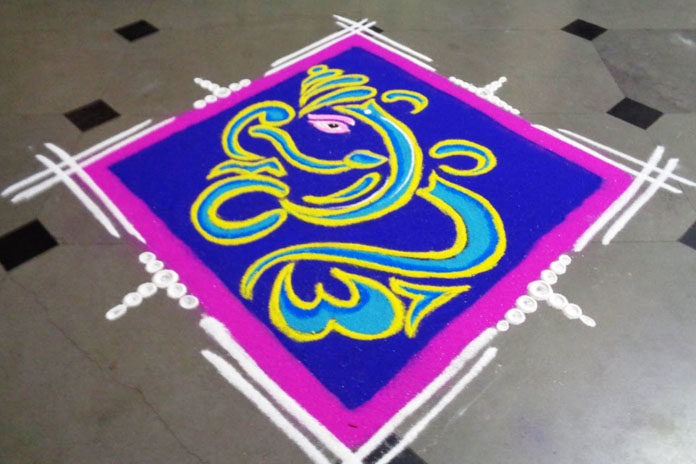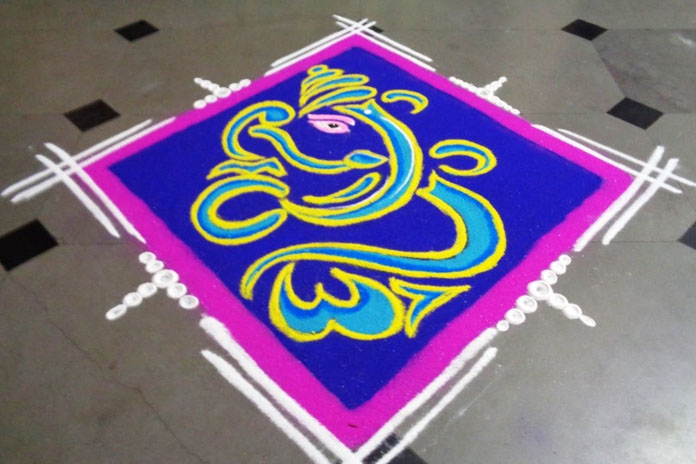 Ganesh Rangoli Designs – the Indian festival that celebrates the birthday of the God of new beginnings- Lord Ganesha is upon us. This year, Ganesh Chaturthi will be celebrated on September 5.
The 10-day long festival is celebrated all over India with enthusiasm and fervor, unlike any other festival. People usually decorate their homes to welcome Ganesh every year on the occasion of Ganesh Chaturthi.
You may also be planning to celebrate Ganesh Chaturthi in your own ways. Rangolis are one of the most widely used methods to decorate homes in India on the occasion of any festival or religious ceremony. There cannot be a better way to welcome Lord Ganesh to your home this year than making an attractive Ganesh Rangoli.
To help you in this, we have compiled a list of some of the most unusual and unique Ganesh Rangoli designs. We are sure that you are going to love these Ganesh Ji rangoli designs and use them in welcoming Lord Ganesh this year on Ganesh Chaturthi.
1. Colorful Ganesh Rangoli Pattern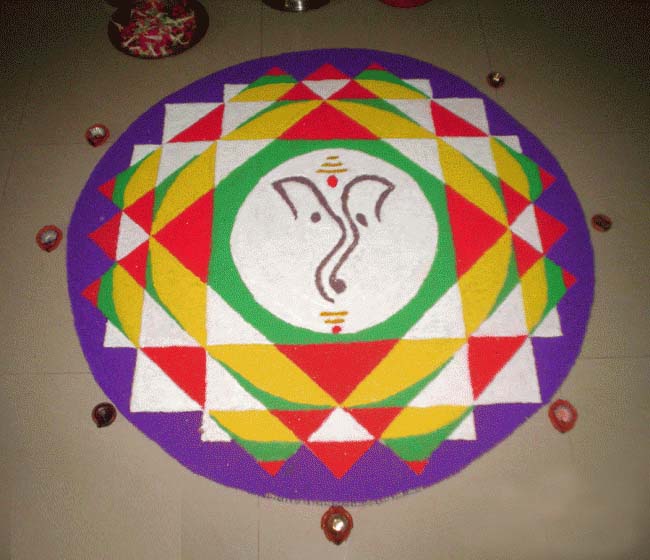 That is the beauty of Lord Ganesh that you can easily portray him using few strokes depicting an elephant trunk and a pair of eyes. This is one of the easiest Ganesh Rangoli designs which you can make even by modifying the existing traditional rangoli pattern.
You may already have a circular pattern of rangoli with layers of different colors. So, on the eve of Ganesh Chaturthi, you can easily modify that design and draw the symbol of Ganesh Ji in the center.
2. Cute Rangoli of Ganesh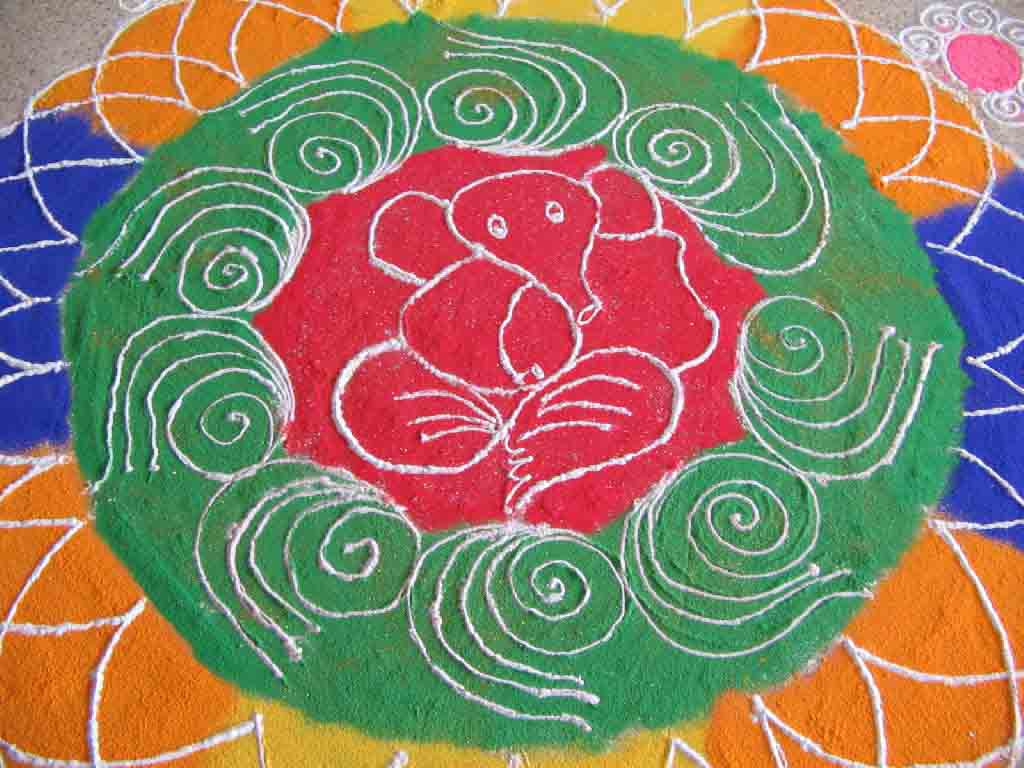 The personality and image of Lord Ganesh in childhood is one of the most endearing and lovable faces of numerous gods and goddesses in the country. You can make that early childhood portrait of Ganesh in your rangoli like this and decorate it further with traditional patterns of rangoli around the circumference.
3. Lightening Rangoli of Ganesh Ji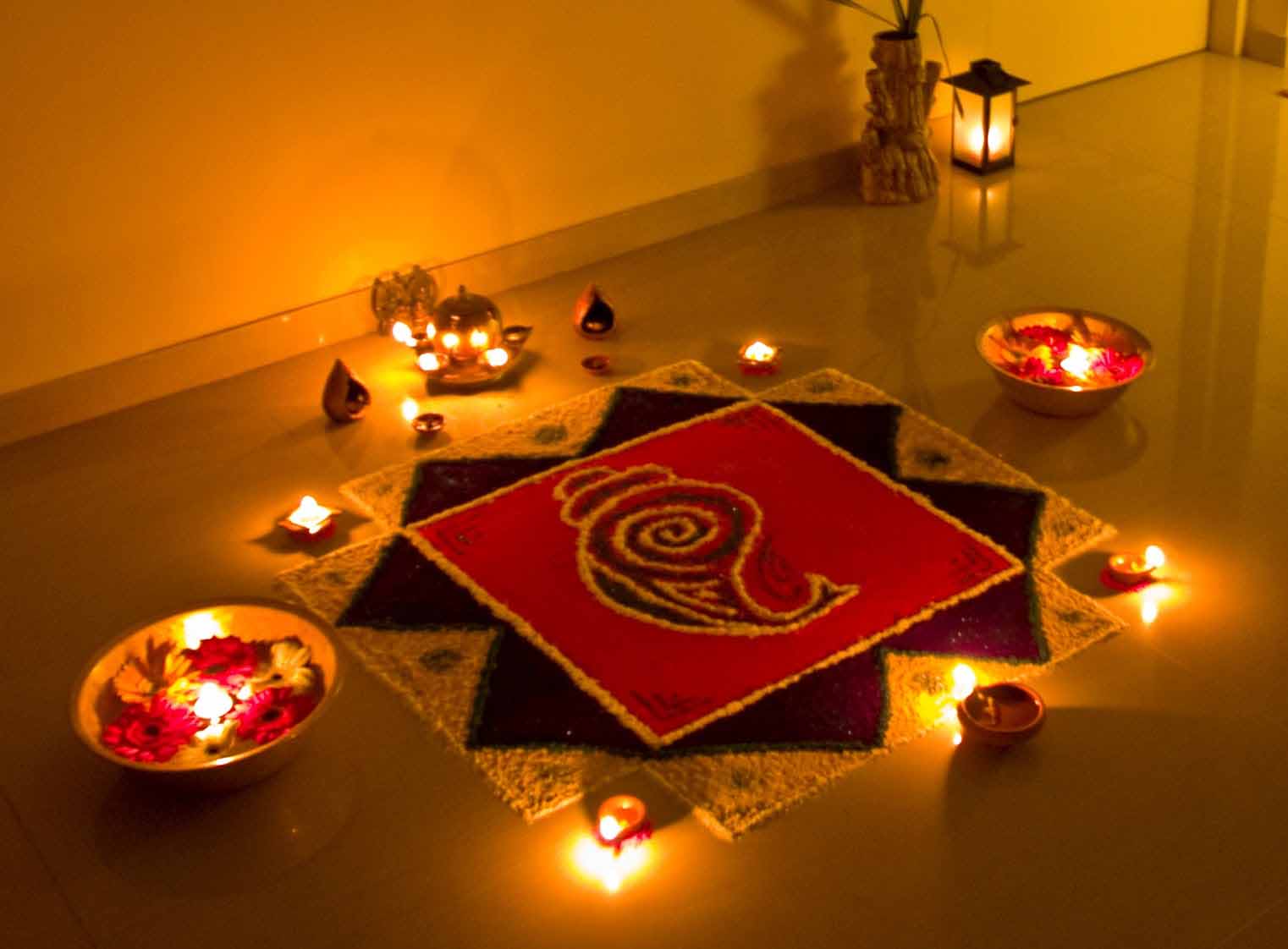 Light up your home on the occasion of Ganesh Chaturthi with this Ganesh Rangoli design complemented by an array of light lamps and traditional lamps (Diyas). You can use a bowl of fresh flowers along with rose water to enhance the fragrance of surroundings as well as give a divine touch to the setting of surroundings.
4. Freehand Ganesh Rangoli Design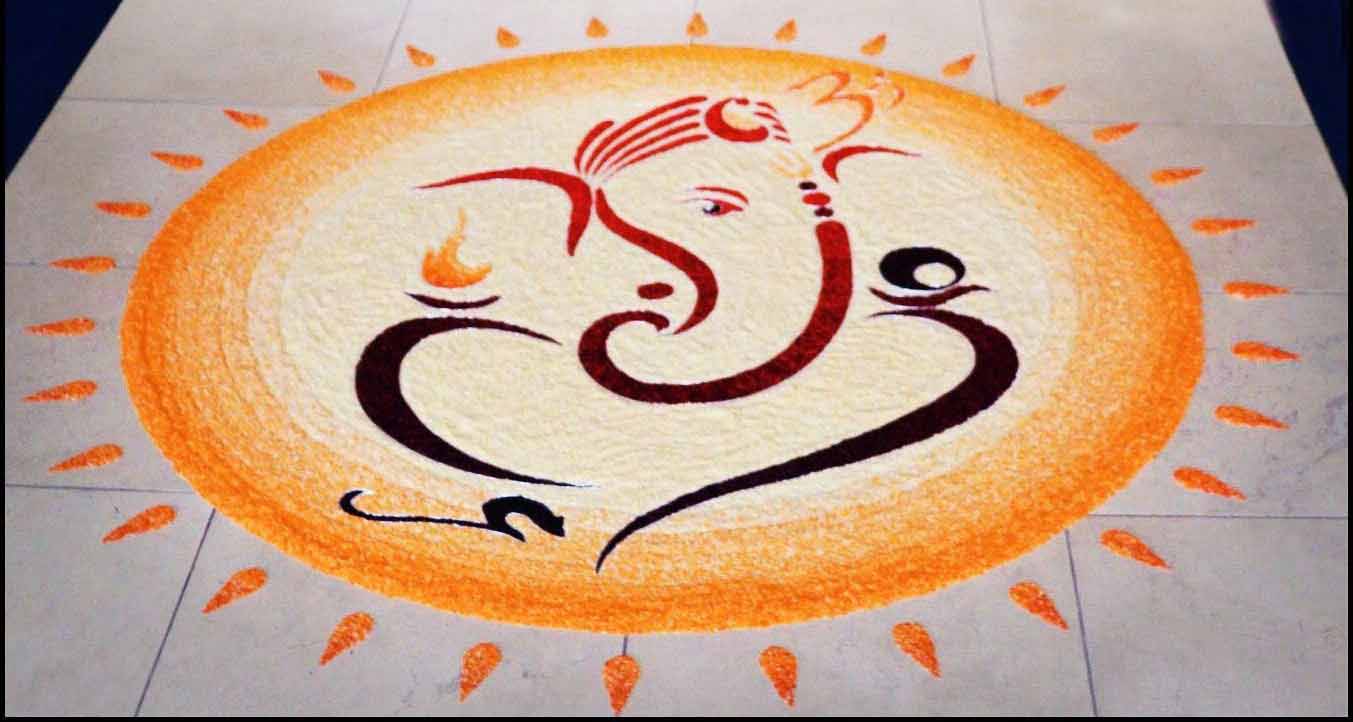 There is a full-size depiction of Lord Ganesh along with his famous mode of transport in the form of a mouse. You can make this Ganesh Rangoli design by using only a few range of colors and achieve a supremely eye pleasing rangoli design ideal for the festive season. The use of orange color around the circle perfectly captures the divinity of Lord Ganesh.
5. Stylish Ganesh Rangoli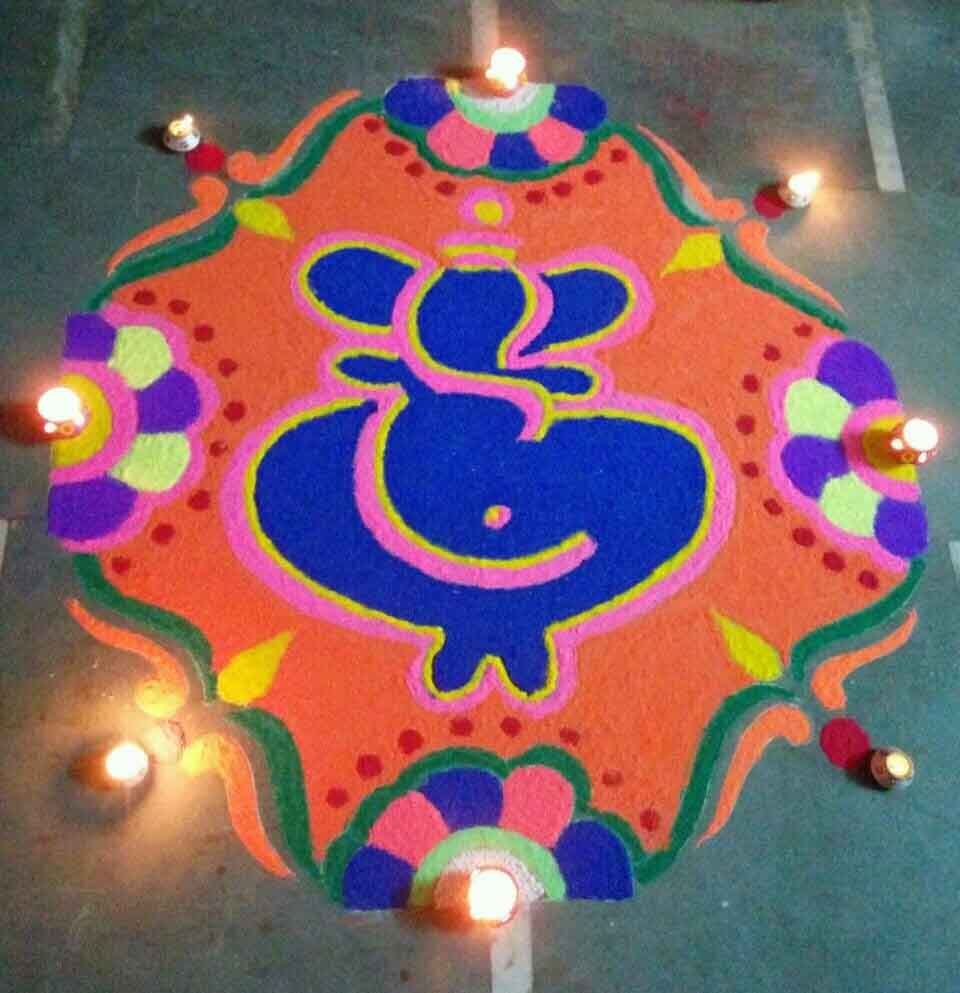 This Ganesh Rangoli is one of the most creative Ganesh Rangoli designs in the collection. Firstly, this is because of the deviation from the traditional circular pattern of rangoli to using a stylish shape like that. Secondly, the symbol of Lord Ganesh using blue color instead of using his usual portrait also makes this rangoli design different and ahead of others.
6. Simple Ganesh Rangoli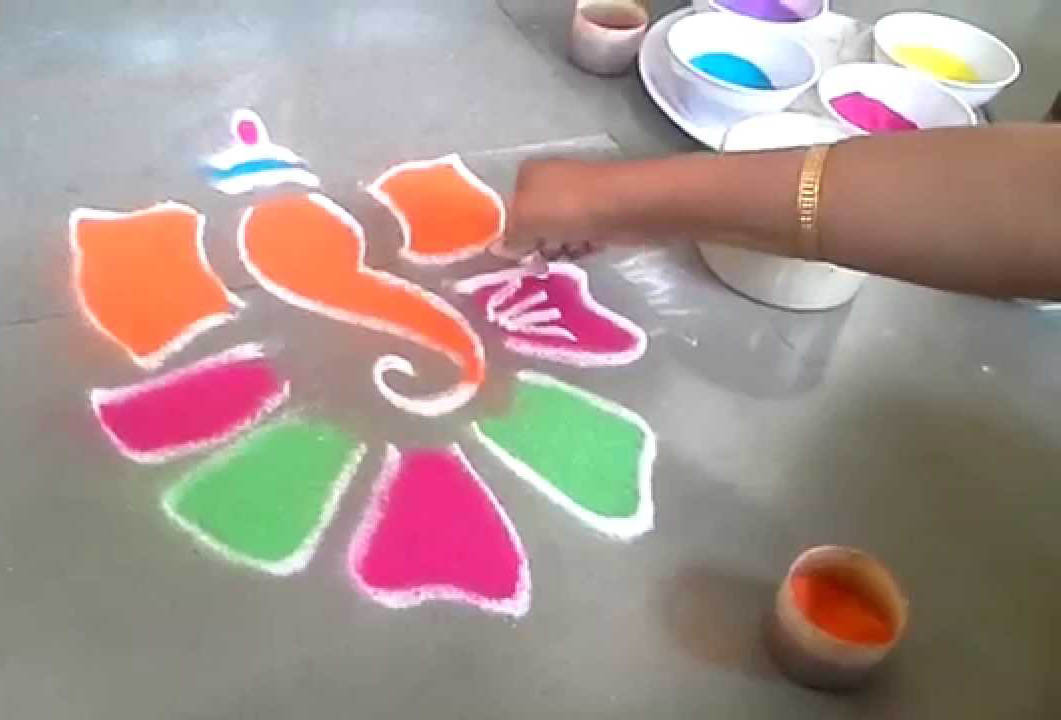 One of the easiest Ganesh Rangoli designs out there; this rangoli design is quick to make at home. However, simplicity in the design does not decrease the impression of this rangoli on a visitor. You only need a bunch of primary colors to make this rangoli. You can even inspire your kids to try and make this rangoli themselves to decorate your house.
7. Beautiful Ganesh Ji Rangoli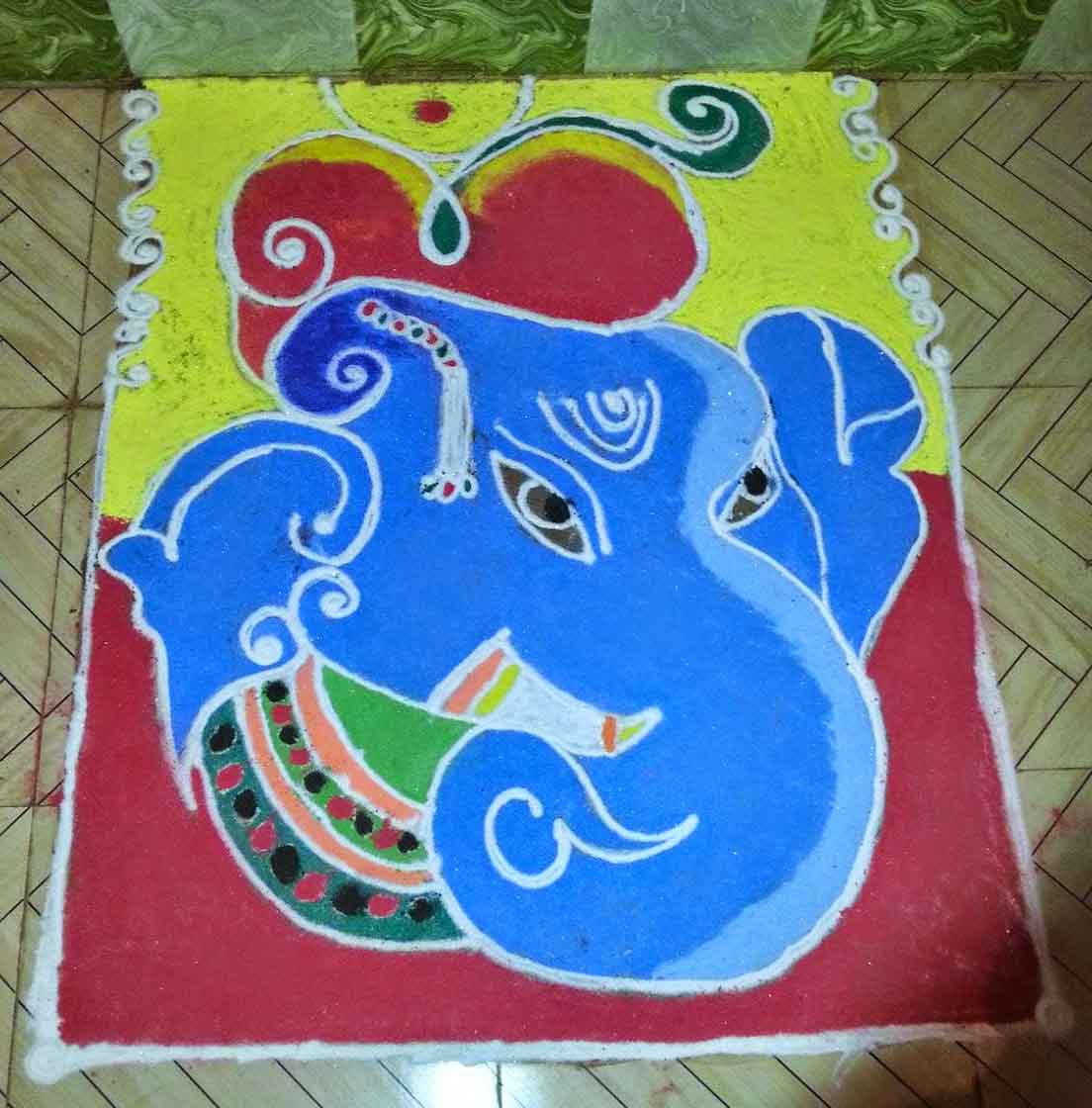 The head of Ganesh is prominently used to depict this Indian God of new beginnings and remover of obstacles. This Ganesh Rangoli design beautifully brings out the emotions of Ganesh in a bright blue color. The dual background made up of yellow and red further enhances the beauty of this rangoli of Ganesh.
8. Red and white Ganesh Rangoli design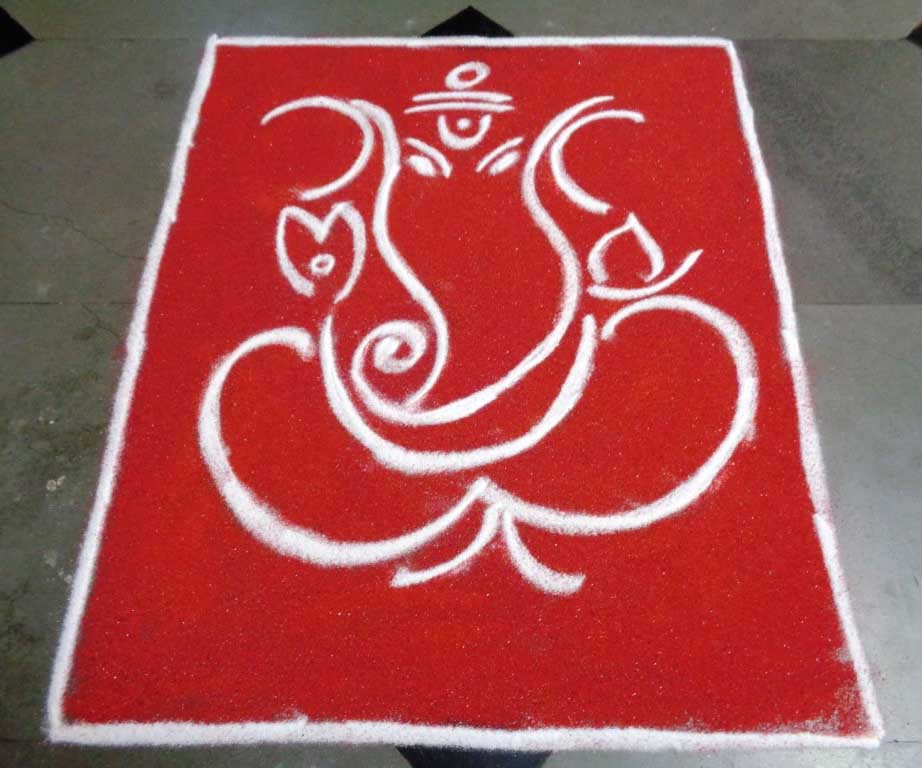 This Ganesh Rangoli design is the perfect epitome of simplicity and style. The major use of red color in this rangoli along with white boundary and outline of Ganesh is just outstanding. This rangoli design not only looks great but is also quite easy to make at home. Do try this design on this Ganesh Chaturthi 2016.
9. Bright Ganesh Rangoli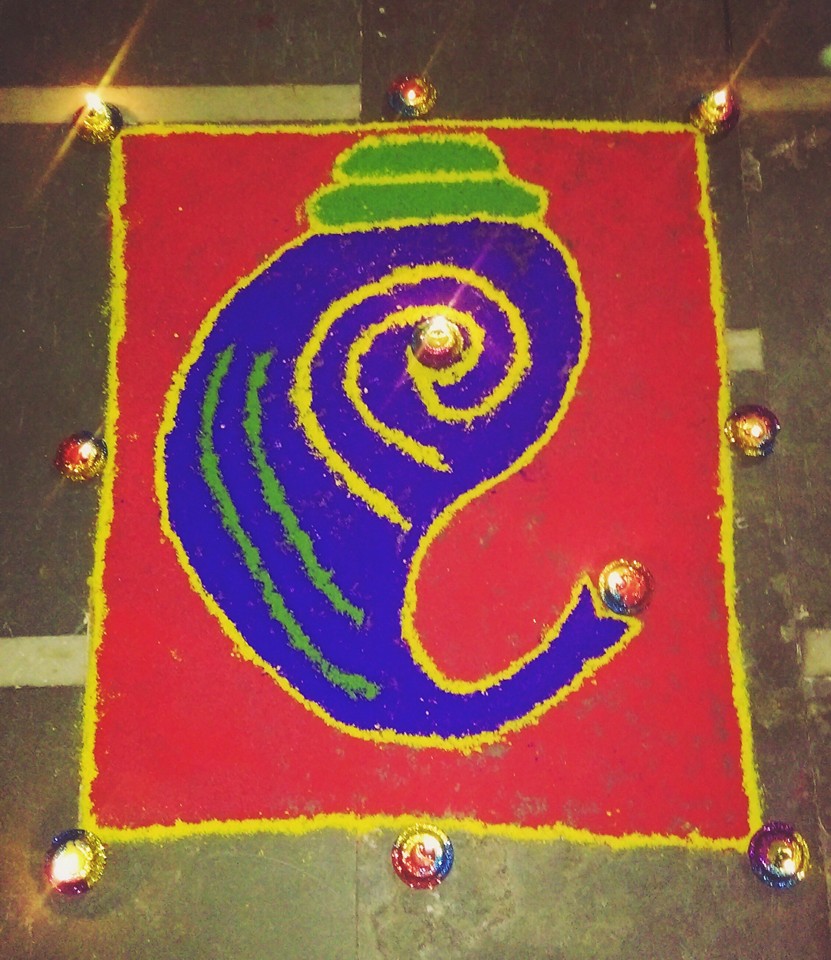 What a fabulous idea to use a lighting lamp in place of eyes and trunk end of Lord Ganesh! Two additional lighting lamps (Diyas) are utilized in the middle to complete the physical look of Ganesh, and the result is simply mind-blowing. You will undoubtedly receive a lot of applaud and appreciation for showing creativity in this manner.
10. Color spray Rangoli of Ganesh Ji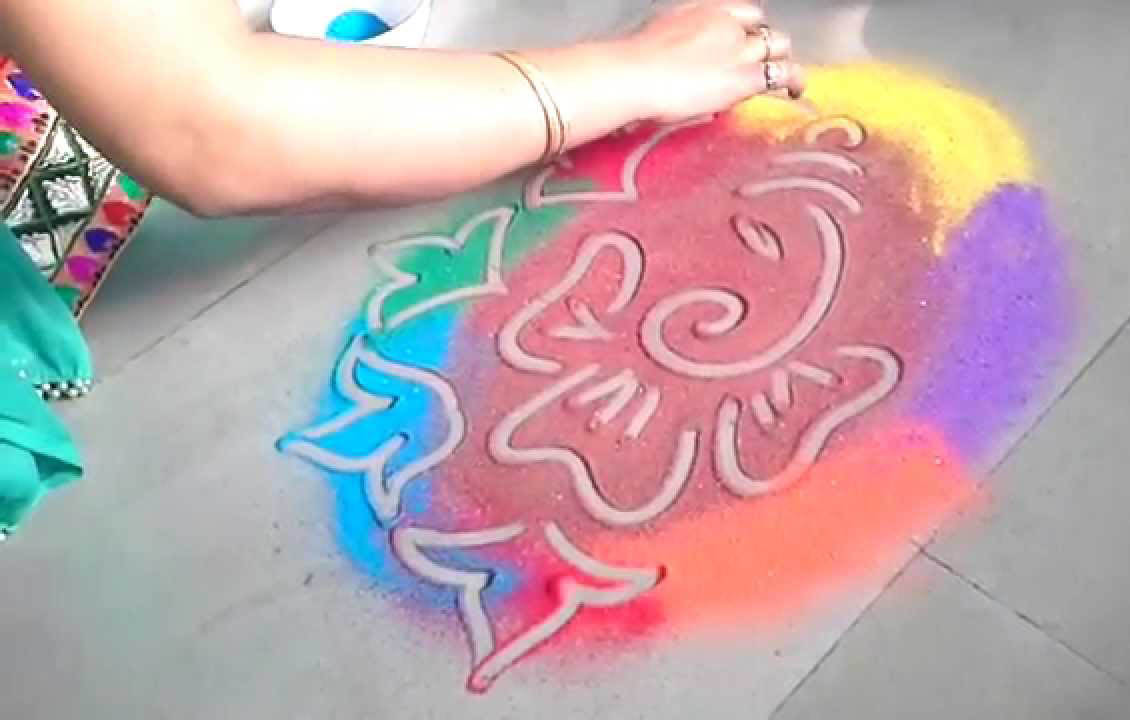 If you want to try something different as well as eye catching on Ganesh Chaturthi, try this unique rangoli of Ganesh using a different spray of colors. You can even try this design using your hands to carve out the shape of rangoli after spraying your favorite combination of colors on the ground.
11. Black and white Ganesh Rangoli with flowers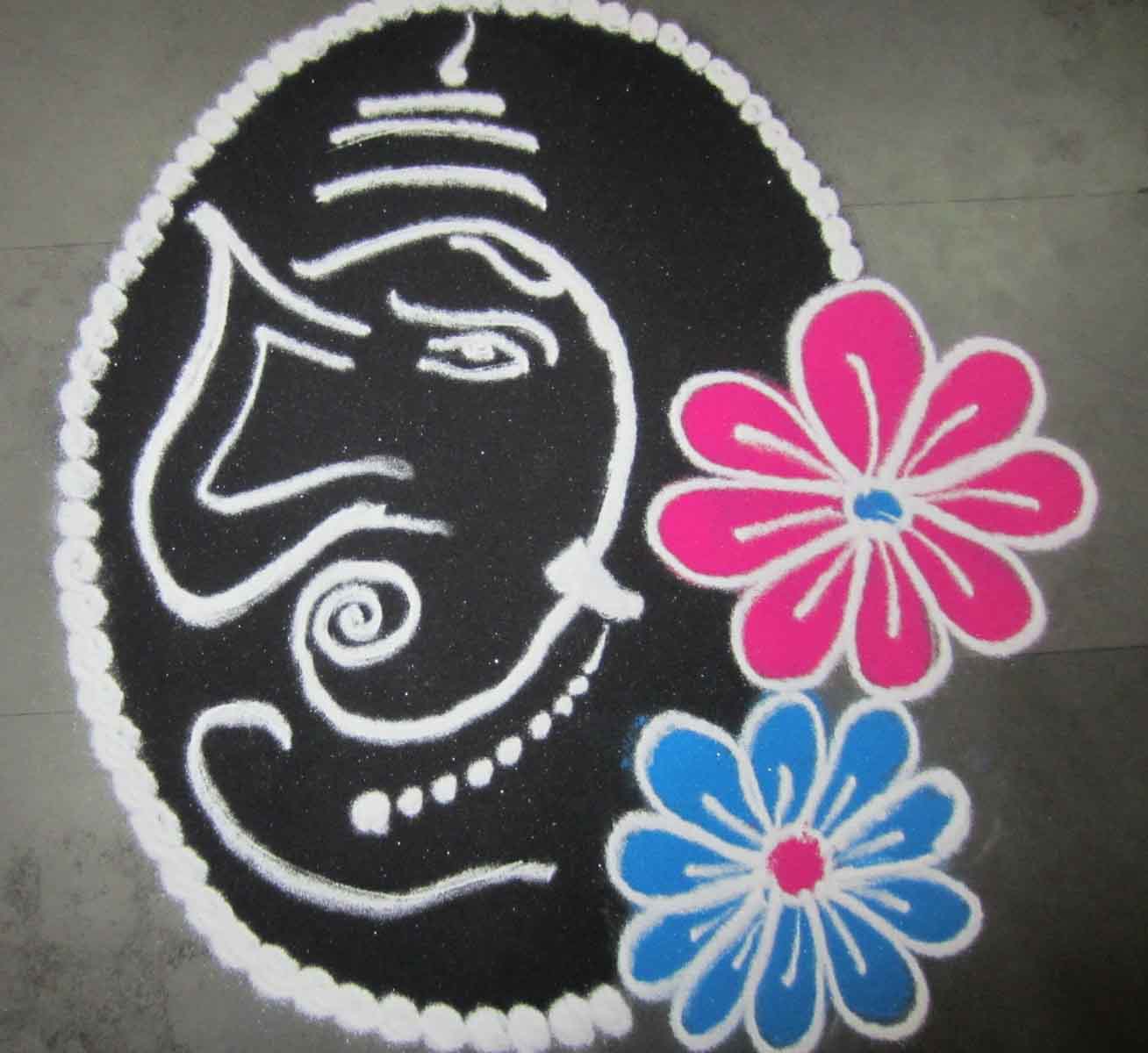 Have you ever thought that a colorful rangoli could also be made black and white?Well, this Ganesh Rangoli design certainly proves that it in indeed possible. By using two of the most unusual colors of Rangoli, you can make an incredibly beautiful Ganesh Rangoli. You can add two colorful flowers near this rangoli design to complement the festival look.
12. Creative Ganesh Rangoli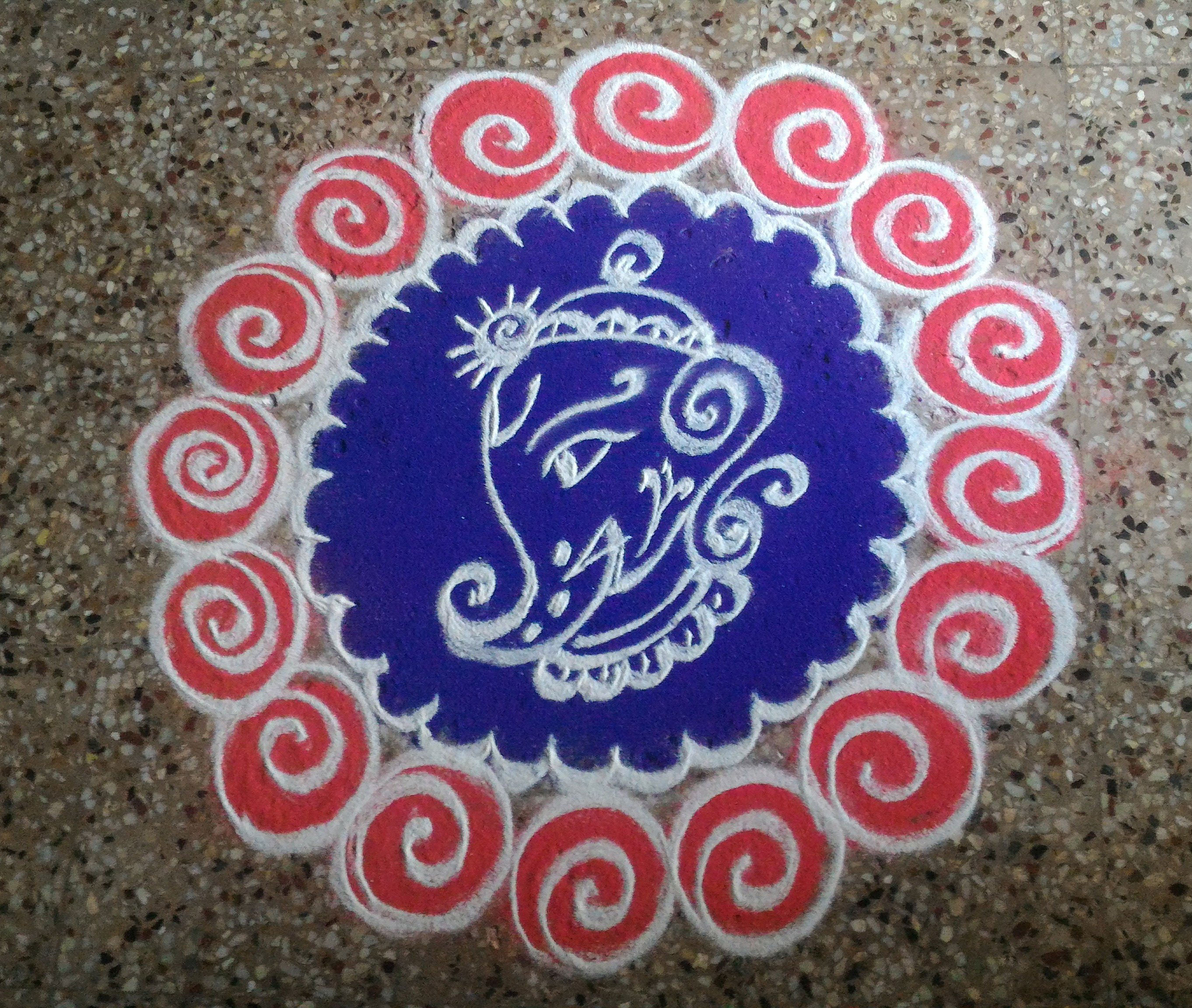 Bring out your creative designer side by making this rangoli design on the occasion of Ganesh Chaturthi. The triple combination of red, white and blue colors in this Ganesh Rangoli is simply fantastic. Apart from the outer design curves, even the drawing of Ganesh is entirely different and striking than its other general forms. You will have a blast making this rangoli at your home on Ganesh Chaturthi.
Which of the above Ganesh Rangoli designs is your favorite? Do you have any other inspiring Ganesh Rangoli designs in your mind? Share with us in the comments below.