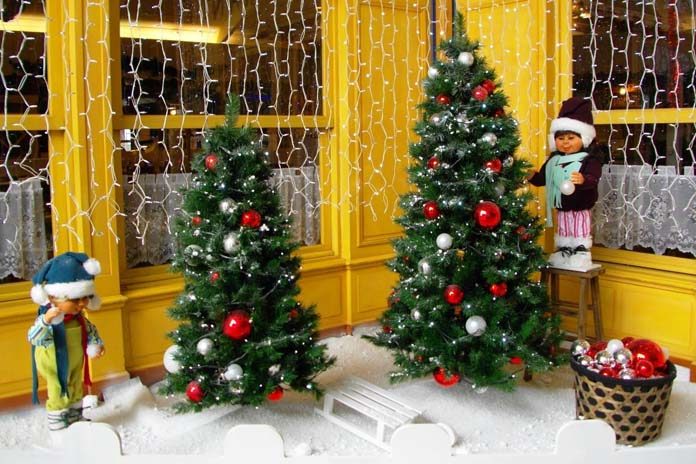 Indoor Christmas Decorations – Don't you agree that Holiday time is the best time to put on your designer cap and give a unique look to your homes? Your spirit of the holidays and the mood of guests depend a lot on your Christmas decorations. The merrier the decorations, more joyful is the celebration. Moreover, your indoor Christmas decorations are even more significant as you will be spending much time inside your warm, cozy house rather than roaming in chilly winter weather outside.
Related: Outdoor Christmas Decoration.
That is why we have brought you this superb collection of Indoor Christmas decorations. Here you will discover beautiful ideas for decorating tables, doors, stairs, walls, cakes, and other interior portions of your homes. Be it stunning Christmas door wreaths to welcome your guests or little yet unique Christmas ornaments for every place, you will find a variety of indoor decorating ideas in this collection.
So, without any further adieu, jump ahead to check out this awesome Christmas decoration ideas:
More On Christmas.
1. Christmas Table Decorations
Are you hosting a holiday dinner party on Christmas? Then you cannot ignore your Christmas table decorations which form a central portion of your overall theme of Christmas. You can use many items to give a festive touch to your table centerpiece as you place delicious Christmas food for your guests.
Be it an apothecary jar or small Christmas ornaments like Jingle Bell Balls, there are several ideas you can try for Christmas table decorations. That is why we have brought you fresh ideas to help you find the best look for your Xmas table. You will especially find different ideas for centerpiece such as floral centerpiece, glass apothecary jars, pine arrangements, and many more exciting themes!
2. Christmas Door Decorations
This holidays, welcome your guests with a heartwarming sight of your beautiful Christmas door decorations. You can experiment a lot with these decorations using various types of Christmas door wreaths. Be it a simple grass or flower garland wreath or a stunning round wreath made of Christmas tree ornaments, you can have unique Christmas door decorations.
You can also try wreaths made of your winter wardrobe accessories such as a scarf or you can make a Christmas star to hang on your door for an easy yet stunning festive theme! Discover such fantastic ideas for Christmas door decorations in this collection. Select the best decoration theme with fabulous Christmas door wreaths, and you are ready to go!
3. Christmas Cake Decorations
You have made a yummy Christmas cake that tastes heavenly but do you really want to serve it without any festive feel? Of course, you don't, and that is why we bring you simple Christmas cake decorations which will act as a cherry on pie for your Xmas cake. These cake decorating ideas will help you give a final look to the fruit of your hard labor. In this collection, you will discover traditional Christmas cake decorations like reindeer, bells, Santas, robins, edible cake decorations, non-edible decorations, and a lot more.
You can even find modern ideas of Xmas cake decorations such as using character toppers from movies like Frozen, Star Wars, and others as the topping of your cake. Just find the best cake decoration idea which will make your holiday dessert even more attractive to your kids and family!
4. Christmas Window Decorations
Amidst all indoor Christmas decorations, you must never forget individual parts of your rooms and inner home decor. One such corner is your windows which can completely transform the look of your house in holidays. Try these Christmas window decor ideas in which you can discover a fresh inspiration for both your inner and outer windows. You might generally be using led Christmas window decorations every year.
However, this year, you can try DIY window decorations for Xmas. Apart from indoor windows, you can also find several ideas for outdoor Christmas window decorations. These holiday indoor decorations are guaranteed to get you in the festive spirit and give your house a cheerful look!
5. Christmas Wall Decorations
Give a unique touch to your walls in these holidays by using these awesome Christmas wall decoration ideas. You will discover plenty of ideas for creating winter scenes, beautiful landscapes, and festive images on the walls of your rooms. Be it the quilted wall hanging or vintage Christmas wall art, you can decorate your walls with a variety of Christmas wall decorations.
You will also find a variety of homemade decorations and DIY Christmas wall decor in this collection to help you decorate your walls in the best way possible. So, do not wait any longer and pick the best wall decoration idea for holidays from this collection!
6. Christmas Party Decorations
Do not let your holiday party become a failure where your guests do not get excited about the festival. You must try these Christmas party decoration ideas where you will find inspiration for any party. Whether you want Christmas party table decorations or want stunning ideas about company Christmas party decor, you will discover a lot of exciting ideas that would go with most Xmas party themes.
Moreover, if you do not want to spend a hefty amount, you can still find few easy DIY party decorations for Christmas. These will help you stay within the limits of your budget without compromising on fun in your holiday party!
7. Office Christmas Decorations
Decorating your office may not be a fun activity for you depending on whether you love your work or not. Nevertheless, you can always go for funny Christmas cubicle decorating ideas for your own cabin! And if your boss permits, you can even think of organizing a competition with your colleagues by choosing some funny Christmas door decorating contest ideas!
This excellent collection of office Christmas decorating themes will inspire you to put up Christmas decorations for work no matter you love it or hate it. Your colleagues will love these simple office Christmas decoration ideas guaranteed to give a fun feeling to your workplace before holidays!
8. Christmas Mantel Decorations
Fireplace mantelpiece is one of the best places to showcase your creativity and enhance the look of your indoor Christmas decorations. You can discover plenty of Christmas mantel decorations in this collection for fresh ideas to decorate your fireplace in holidays. Make a beautiful Christmas mantel garland or try different Christmas wreaths made of leaves and flowers to give a stunning look to your fireplace. You can also see lovely Christmas fireplace pictures in this collection which will inspire you to try these Christmas fireplace decorations during holidays this year!
9. Modern Christmas Decorations
Although you love traditional Christmas decorations with bold red and green colors, going on a different path to decorations can be fun. For this purpose, we bring you these fantastic modern Christmas decoration ideas which will give an entirely different look to your homes in holidays.
You will discover unique contemporary Christmas trees, modern Christmas wreaths, and premium Xmas decor ideas. Do not be put off by the dominant silver, white and blue themes in these festive decorations because they can look equally good, even better than traditional decorations.
You just need to ensure a bright Christmas lighting to appreciate these modern Christmas decorations thoroughly. So, get ready to celebrate holidays in a different style this year by using these contemporary Christmas designs for your indoor Christmas decorations!
10. Christmas Stair Decorations
The staircase is an important part of your indoor Christmas decorations. This is because it is usually prominently visible to your guests of Christmas party. So you must pay attention to decorate stair railing during holidays.
You will find many holiday decoration ideas in this collection including traditional methods such as a simple Christmas staircase garland. Moreover, you can also try decorating banisters for Christmas with ribbon for an exquisite look. In addition to these, you can also discover several other Christmas banister decorations which will give the most lovely look to the staircase in your home!
11. Cheap Christmas Decorations
Let's admit it. Christmas decorations can be hugely expensive, and you may not be in a position to spend a large chunk of your bank balance on buying unique Christmas ornaments or premium decorations for just a few days! However, you do not have to do this as there can be several affordable Christmas decorations. These cheap Xmas decorations ideas can easily fit into your budget.
You can even make some of these items at home through DIY Christmas decorations. Moreover, such homemade holiday decorations look absolutely fantastic, and you would not be able to tell the difference between these inexpensive ideas and commercial, costly festive decorations.
So, which of the above indoor Christmas decorations you are going to try this year? We recommend you pick a few ideas from every category so that you can have unique holiday decoration ideas for every portion of your interiors.
It is time to make merry and welcome Santa like spirit to your homes with magical Xmas decorations. Merry Christmas 2016!