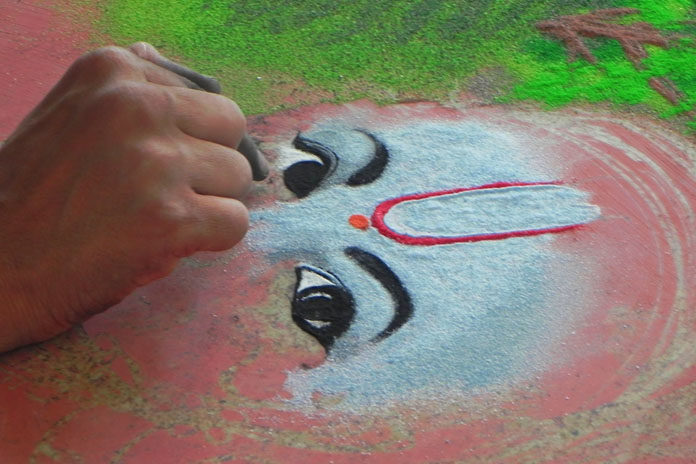 Krishna Rangoli Designs – Rangolis form an indispensable part of Indian culture in all the key festivals and celebrations. The intricate designs filled with vibrant colors look quite beautiful for decoration purposes. On the occasion of Krishna Janmashtami, many people decorate their homes and temples with splendid Krishna rangolis. If you are also looking to make a rangoli on Janmashtami, look no further than these amazing Krishna Rangoli designs:
Related: Discover All About Krishna Janmashtami & Lord Krishna
1. Flute of Krishna Rangoli Design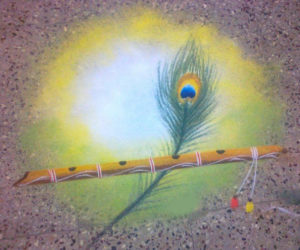 There cannot be a better way to decorate your home on Janmashtami with this rangoli design. The flute was the favorite musical instrument of Lord Krishna with which he used to enchant all living beings of Vrindavan and Mathura. The use of soft colors in this rangoli with a peacock feather looks stunning and ethereal.
2. Colorful Janmashtami Rangoli Design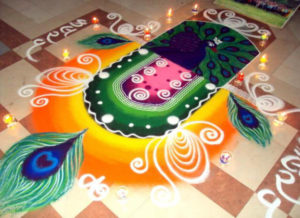 You cannot go wrong with this fantastic Janmashtami rangoli design. The dark blue-green peacock pattern in the center is complemented and contrasted by a light divine orange glow. The use of white color for patterns on boundary together with the use of clay lamps (diyas) adds a perfect festival fervor to this Krishna rangoli design.
3. Attractive Rangoli for Janmashtami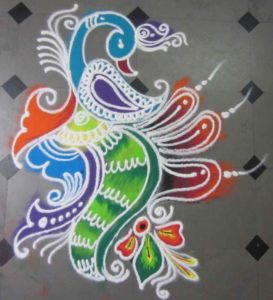 This rangoli pattern is an ingenious rangoli design with white border linings which give it a different look.The choice of light colors used for filling this design is just marvelous. You can use this rangoli design for any festival in fact, but it will look especially good on the occasion of a joyful festival like Krishna Janmashtami.
4. Radha Krishna Rangoli Design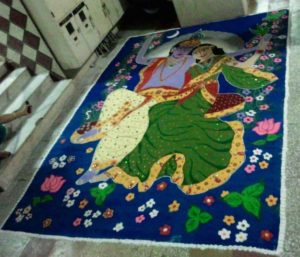 When we talk about Krishna, Radha cannot be missed. They both are inseparable, and this Krishna Rangoli design beautifully depicts the love between two who are peacefully enjoying each others company on a swing. The blue backdrop with flower petals and the moon on top forms a brilliant pattern for this rangoli design.
5. Crown of Krishna Rangoli Design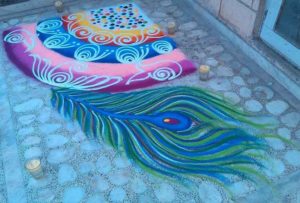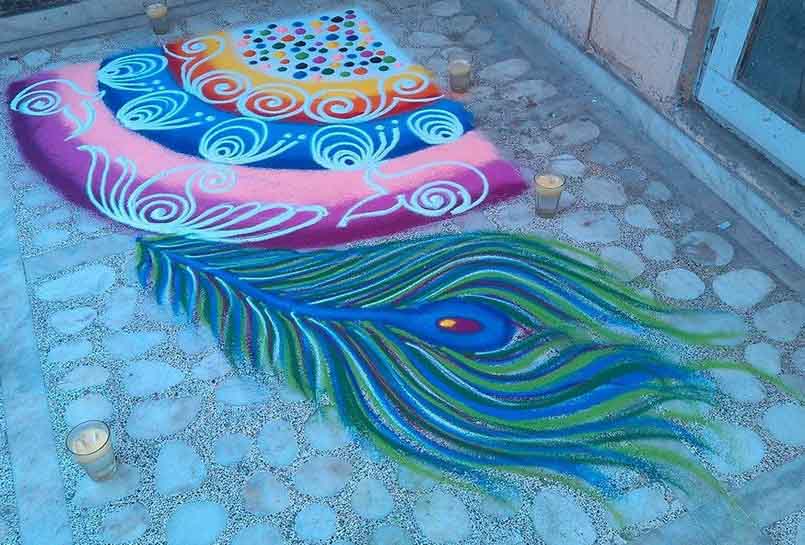 Krishna used to adore peacock and their feathers. He used to wear peacock feathers on his crown. This rangoli is an ideal way to decorate your home on the occasion of Krishna Janmashtami. If you do not have much space, you can easily draw this rangoli in any corner of your house to give it a different look.
6. Dahi handi Krishna Rangoli Designs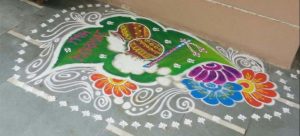 You do not have to be in Maharashtra to celebrate Dahi Handi festival on Krishna Janmashtami. This rangoli perfectly captures the spirit of overflowing matkis (earthen pots) and vibrant surroundings of Dahi Handi festival.
Krishna used to love buttermilk, curd (Dahi) and other milk products. He used to steal these products when he was a child, often breaking earthen pots during the process. Dahi Handi festival commemorates those naughty antics of baby Krishna.
7. Beautiful Peacock Rangoli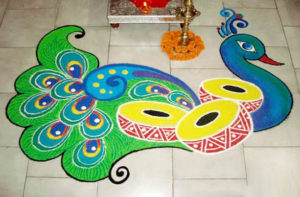 Celebrate this Janmashtami by drawing this lovely peacock pattern as rangoli. The feathers of a peacock occupy a prominent place on the head of Krishna. This rangoli design presents an ideal festival season by creatively placing using musical instruments as a part of the peacock. The effect, we must say is indeed fabulous!
So, which of the above Krishna Rangoli Designs you are going to use on the auspicious occasion of Krishna Janmashtami 2016?