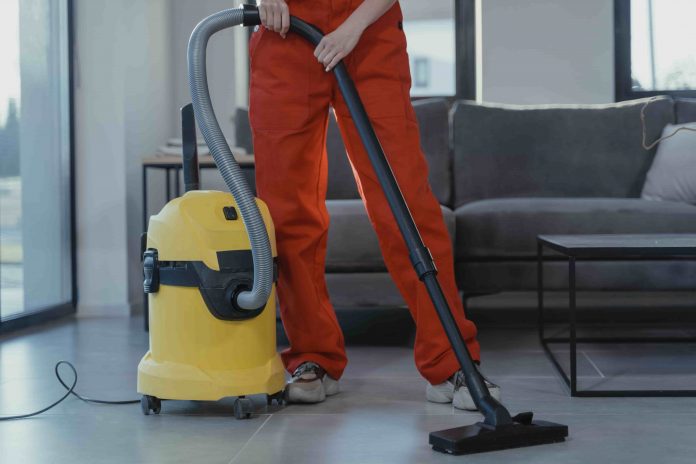 What are the best vacuum cleaners for me? How do I know this vacuum cleaner will be suitable for me? Don't worry, we are here to help you. We've curated the list of the 10 best vacuum cleaners that you can order right now.
You have to consider various factors such as your flooring type, price, noise levels, with a bag or bagless, with other factors. In the below list, choose the best suitable vacuum cleaner for you according to these factors.
However, how a vacuum cleaner can benefit you? Well, there are many benefits of vacuum cleaners that make your day-to-day life easier. Let's know some of the common reasons for which people buy vacuum cleaners:
It saves a lot of time of cleaning the home, office or some other place.
Vacuum cleaners are more efficient than sweeping. It'll absorb the dust particles more efficiently.
Some people buy them, especially for carpets and sofas. With the help of vacuum cleaners, you can clean them properly.
Cleaning the pet hairs from the house is also a major reason.
Before getting to the list, we have a small message for you. If you buy any of these products, then we might get a small commission. But this will not affect the price that you are going to pay.
10 Best Vacuum Cleaners
Philips PowerPro FC9352/01 Compact Bagless Vacuum Cleaners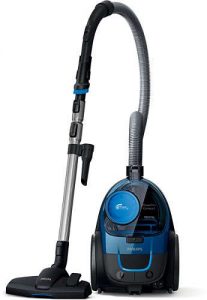 Key Specifications:
Cord Length: 6m
Suction Power: 370W
Capacity: 1.5 litres
Dimensions: 28.1 x 41 x 24.7 Centimeters
Weight: 4.5 Kgs
Price: ₹ 7,430.00
This Philips PowerPro is the best-selling canister vacuum cleaner on Amazon, so you can expect the quality and desired work. It has a suction power of up to 370 watts that can easily clean the dirt from your hard floor. It also comes with a multi-clean nozzle for proper cleaning of floors.
A special feature of this canister vacuum cleaner is its power cyclone 5 technology that separates the dust from the air. Its well-built swirling action maximizes the airflow resulting in amazing cleaning results. Its filtration system with integrated turbo brush traps even the minute dust particles like pollen, pet hair, etc. It is very important and beneficial for allergic patients. You can definitely go for it.
AmazonBasics Cylinder Bagless Vacuum Cleaner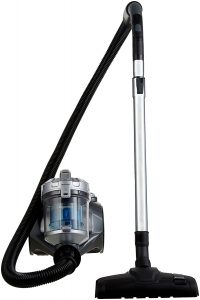 Key Specifications:
Cord Length: 5m
Suction Power: 700W
Capacity: 1.5 litres
Weight: 6.4 Kgs
Accessories: Crevice tool, an upholstery nozzle, a dusting brush, a parquet brush, and an accessory holder
Price: ₹ 3,889.00
Looking for the best vacuum cleaner for the home? Then you need to check out this AmazonBasics Cylinder Bagless Vacuum Cleaner. It has a dust cup that can be reused again and the dust can be tipped of easily. You can easily attach the dust cup again thus don't need to buy dust bags.
It has 700 watts of suction power with cyclonic technology that makes it even more efficient in trapping the dust, dirt, pet hair, etc. Also, it has a washable HEPA-12 filter that draws in 99.5% of dust mites, pet dander, and pollen from the air. So, you will get clean air around you.
This vacuum cleaner works at 78 decibels that is quite enough. If you purchase this vacuum cleaner, then you don't have to pay large energy bills as it has an energy-efficiency rating of A. Therefore, you are saving your money along with the environment. It is among the best vacuum cleaner for home. It has a 2-year warranty for any manufacturing defects.
Check out these best air purifiers in India to breathe clean and fresh air. These purifiers are very important for people having breathing-related problems like asthma.
Karcher WD 3 Multi-Purpose Vacuum Cleaner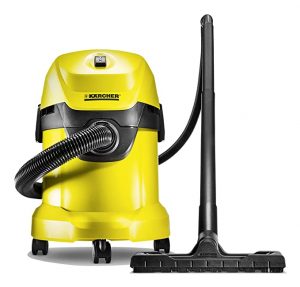 Key Specifications:
Cord Length: 4m
Suction Power: 1000W
Capacity: 17 litre / Plastic
Dimensions: 38.8 x 34 x 50.3 Centimeters
Weight: 5.8 Kgs
Price: ₹ 6,999.00
This Karcher WD 3 Multi-Purpose Vacuum Cleaner is a good choice for someone looking for a wet vacuum cleaner. It has a cartridge filter that makes it easier for cleaning dry and wet places without changing the filters. Be ready to get absolute cleanliness with its better suction hose and floor nozzle. You can easily attach different nozzles to the suction hose that helps in vacuuming the tightest places. You'll be getting a plastic container with a capacity of 17 liters, which is enough.
This vacuum cleaner with blower helps you in removing dust from the spaces where you can't reach. Just use the blower to blow away the dust. It is a highly durable product and easy to operate. It comes with a 1-year warranty, and it is easy to reach its customer care, so no issues about that.
ECOVACS Deebot 500 Robotic Vacuum Cleaner with App & Voice Control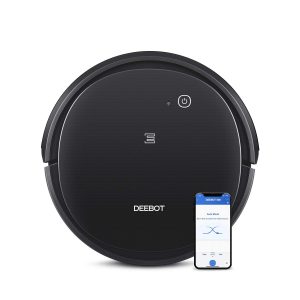 Key Specifications:
Dimensions: 33.2 x 33.2 x 7.9 Centimeters
Weight: 4.71 Kgs
Battery: 2600mAh/ 110 min
Price: ₹ 13,900.00
This is one of the best robot vacuums available in the market. Not to forget, it is also the best-selling vacuum cleaner on Amazon in the category of robots.
With its 3 different cleaning modes, you can easily clean your house properly with this small vacuum cleaner. These are the auto mode for general cleaning, edge mode for cleaning the specific edges, and spot mode for rigorous cleaning. It also has the feature of increasing the suction power to 2x times in any of the modes. You can select these modes and the suction power either with the remote or with the app. Apart from the app, you can also give voice commands through Alexa. In short, you can give all the instructions through the app or just through your voice.
This robot vacuum cleaner has anti-collision and anti-drop sensors to avoid any incoming obstacles and to protect your furniture. Importantly when the battery is low, it finds the charger by itself and can charge automatically. The cleaning is quiet enough and its high-efficiency filter cleans the air for you to breathe easily. Just schedule the cleaning time with this robot vacuum cleaner and get a clean home.
ShopHere Multi-Functional Portable Vacuum Cleaners
If you are considering a vacuum cleaner for your home, then have a look at this Shophere vacuum cleaner with a blower. Its suction power is good and helps in cleaning the house/office properly. It has different types of nozzles that enable the cleaning of even the hard-to-go spaces.
The blower function is also available on the opposite side of the vacuum cleaner. We have read many comments that customers are not getting the blower. We recommend checking properly as it is on the opposite side. Another genuine problem with this vacuum cleaner we found is that of its fast heating. It can be caused by using the cleaner for a long time. You can use it for a shorter period.
The price is reasonable and a good option for day-to-day purposes. Based on many customer reviews, it is a handy vacuum cleaner and also lightweight. Hence you can go for it.
Eureka Forbes Quick Clean DX 1200-Watt Vacuum Cleaner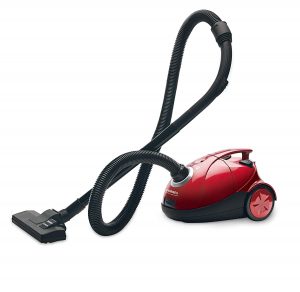 Key Specifications:
Suction Power: 1200W
Capacity: 1.5 litres
Dimensions: 33 x 21 x 23 Centimeters
Weight: 3.6 Kgs
Price: ₹ 3,875.00
One of the best sofa vacuum cleaners, you can find on Amazon. This Forbes vacuum cleaner has a 1200 watt suction power for an amazing and deep cleaning of your furniture. It comes with a wide range of accessories for the perfect and versatile cleaning of your house. It has swivel wheels which makes it easier to move around the house.
The special feature of this Forbes vacuum cleaner is its dust bag full indicator. It will inform you when the dust bag is full and now you've to dump it. It has an automatic cable winder that helps in storing the cleaner's cord. The vacuum cleaner can be parked in two ways vertically and horizontally.
Some drawbacks are: it heats up fast and makes noise. But if we consider all the points and also the price, then we can say that it is a good product to buy. In case you're looking for a sofa vacuum cleaner, then it is recommended by our side.
RNG EKO Green RNG-2001 Car Handheld Vacuum Cleaner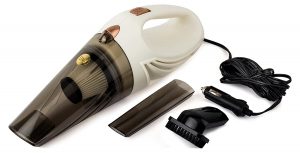 Key Specifications:
Cord Length: 5m
Suction Power: 150W
Dimensions: 34.3 x 8.9 x 8.9 Centimeters
Weight: 449 Grams
Price: ₹ 1,752.00
The best car vacuum cleaner that you are searching for online. This handheld vacuum cleaner comes with a suction power of 150 watts for better cleaning. Its fan is made up of metal which can generate a suction force of 5.5 kpa. It is better in comparison to plastic fans. This small vacuum cleaner can easily suck the minute debris from your car, thus decreasing the cleaning time for you.
This RNG EKO Green generates 72db noise that is quite low and does not affect your ears and mood. The 5-meter long wire can make your work possible even in the big cars, and you can easily reach the dicky. You'll also receive a brush for extra and thorough cleaning of your car.
It also plays a role of a wet vacuum cleaner helping you to absorb the liquid spilled in the car. This handy vacuum cleaner has a stainless steel HEPA filter, that is durable, easily removable, and washable. In all, this is the best car vacuum cleaner you need.
Eureka Forbes Trendy Zip 1000-Watt Vacuum Cleaners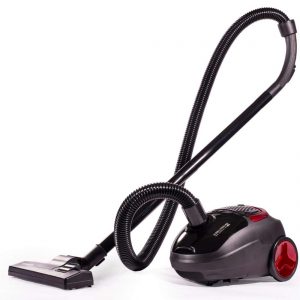 Key Specifications:
Cord Length: 2m
Suction Power: 1000W
Capacity: 1.5 litres
Dimensions: 30 x 21 x 18.5 Centimeters
Weight: 2.5 Kgs
Price: ₹ 3,299.00
Apart from being attractive and stylish, this eureka Forbes vacuum cleaner is also filled with many features. Let's start with its suction power. It has a 1000-watt powerful suction power for tapping rooted dust and dirt from the floor. You can control the suction power with its suction control feature for variable airflow.
It has a wide range of accessories for cleaning even the tightened spaces in your home. With its dust bag full indicator, you'll get notified when you've to dump the collected dust. It has reusable dust bags so you don't have to buy from outside.
This Forbes vacuum cleaner comes with an automatic thermal load cut-out that prevents the overheating of the machine. But in our examination, it still gets heated when used for a longer time. So, don't use it for a longer time. The power button is placed in such a place so that it can be operated easily by the foot. In all, it is one of the best vacuum cleaners for homes that are medium-sized like 2-3 Bhks.
American Micronic Stainless Steel Wet & Dry Vacuum Cleaner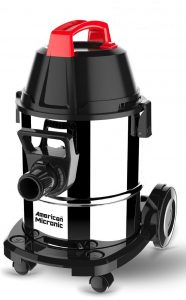 Key Specifications:
Suction Power: 1600W
Capacity: 21 litres
Dimensions: 57.6 x 38.1 x 40.6 Centimeters
Weight: 9 Kgs
Price: ₹ 8,886.00
No doubt, this is one of the best and strongest on this list of best vacuum cleaners. Having the suction power of 1600-watts, it can do its job with perfection and traps the deep-rooted dust and dirt from the surface. It comes with a HEPA filter for higher efficiency and better dust filtering. The dust bags are easily washable and durable for reusable purposes.
Along with dry surroundings, it is also a wet vacuum cleaner. That means you can eliminate both dry dust and fluids easily from your home. This vacuum cleaner also has a blower, so you'll be getting even the small spaces cleaned.
One major and common problem that is faced by its customers is the electric current from this steel vacuum cleaner. The seller in its defense said that it is the static charge that is caused by rubbing and not the electric shock. But, from our side, we just want to recommend you to be careful and if you also feel any such issue, call customer care. This product has a 1-year warranty. At last, while seeing the better and negative side, it is simply the best vacuum cleaner for home.
AmazonBasics Vacuum Cleaner with Power Suction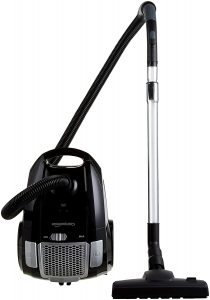 Key Specifications:
Cord Length: 6m
Suction Power: 700W
Capacity: 1.5 litres
Dimensions: 23.9 x 42.9 x 31 Centimeters
Weight: 8.3 Kgs
Price: ₹ 4,299.00
Based on the prices and its features, this AmazonBasics Vacuum Cleaner can be a good option. It has 700-watts suction power for effective cleaning of your house. With its suction control, you can minimize or maximize it according to the surface. Its triple-action nozzle makes it even better for sucking the dust particles.
Its transition from the surface like carpets to hard tiles is also very seamless. You just need to press the footswitch for better and desired performance. This vacuum cleaner is energy efficient and it also got an AAA grade for that. It also comes with washable HEPA filters for filtered air and captures 99.5% of the dust in the air.
The dust bag full indicator is present for timely cleaning of the dust bag. Further, you'll also get 3 dustbags with a capacity of 3.0 L. One of which is fabric and the other 2 is plastic. Other features include low noise, easy to carry & operate, rewindable cord, lightweight, and compact.
---
Here comes the end of our list of best vacuum cleaners for you. You can also check out the Best Air Conditioners in India for a perfect cooling and better relief.
Conclusion
We hope you like this list of the best vacuum cleaners. As you might have noticed, we covered all the types of vacuum cleaners in terms of their use. Let it be wet vacuum cleaners, vacuum cleaners for cars, best vacuum cleaners for homes, sofa vacuum cleaners, a vacuum cleaner with blower, etc. So we are sure that there is something on this list for you. As they are properly researched, best-selling and highly rated products, you now don't have to do much of the research and findings.
Buy the best vacuum cleaner and say goodbye to the dirt and dust. Happy cleaning!!