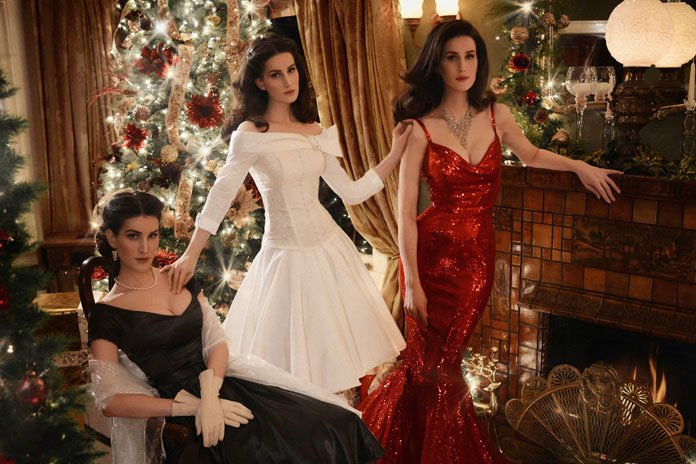 Christmas Party Dresses – What to wear to a casual Christmas party? If you have ever asked this question to yourself or anybody, you already know there is no right answer. It depends on your personal preference as well as general body structure which will affect your look with a particular outfit.
Related: Christmas DIY Decoration Ideas On A Budget.
There are plenty of choices in front of you for holiday party outfits, yet you are unable to decide what kind of Christmas party dress you should wear.
That is why we have brought you this fantastic collection of Christmas party outfits which are guaranteed to give you plenty of ideas for your holiday cocktail party. Just choose the attire which attracts you in an instant, and you can never go wrong with your selection.
So, what are you waiting for? It is time for a great Christmas party. You have to look your best, and these superb Christmas party dresses will help you in that:
More On Christmas.
1. Fabulous Plus Size Christmas Party Dresses
We know how hard it is to find beautiful party dresses if you have a bigger body structure than most other people. That is why we bring you these fantastic ideas of plus size Christmas party dresses. Here you will find fabulous party outfit ideas which you can wear for any cocktail party during holidays.
These trendy plus size cocktail dresses will help you amaze the people in any holiday party and immediately become the center of attraction.You will find a variety of fresh ideas such as plus size cocktail dresses with sleeves or plus size formal dresses if you are going to a holiday party. You can easily wear these attires and attain a breathtaking look for the evening!
2. Women's Christmas Party Dresses
Christmas holiday time is the best time for you to flaunt your gorgeous looks in front of people. You will surely love these holiday party dresses for women which will make you the star of any cocktail party. Whether you want the sexy backless look or an elegant evening gown, you will get plenty of Christmas outfit ideas in this collection.
Choose the best attire for your Christmas party and get ready to enthrall your guests with your stunning appearance. Since it is a festive season, you will predominantly find a mixture of black and red party dresses. However, you can also discover few mind-blowing holiday cocktail dresses in purple and gray tones.
3. Elegant Work Christmas Party Dresses
You would not want your office Christmas party dress to be too flashy or eccentric. However, that does not mean you cannot have that party look as you can experiment with several outfits.
In this collection, you will discover a lot of cool Christmas party outfits for work. You can choose from many long sleeve dresses or shoulder dresses if it is a party at the workplace.
If it is an office cocktail party, you can go for slightly bolder outfits in black or similar colors. Complement these dresses with beautiful Christmas accessories and be sure to make a long-lasting impression in front of your colleagues.
4. Cute Christmas Party Dresses for Girls
Don't you want your little girl to look like an angel on a Christmas Party? Of course, you do. Christmas is the best time for not just adults but also for kids and teenagers. Apart from the excitement of Santa Clause, children, particularly girls love to wear cute red and pink dresses on the occasion of holidays.
If you are planning to take you daughter to a holiday party, then these Christmas party dresses for girls are perfect for you to find a unique dress for her.
You will also discover party outfits for teenagers, such as long trendy gowns and knee-length skirts in this collection which will help them rock any party with their friends! Your girl or teenage daughter will absolutely adore this beautiful collection of Christmas party dresses exclusively for them!
5. Men's Christmas Party Outfits
Men often do not find several party outfit ideas for them like women who have so many choices before them that sometimes they cannot even decide. When it comes to males, they usually have to go with a dapper black suit along with bow tie for any holiday cocktail party.
Related: 11 Men's Party Wear You Should Have In Your Wardrobe
However, that does not mean you cannot experiment with your look. Here you will find stylish Men's Christmas Party Outfit ideas which will change your perception of male fashion forever.
You can discover latest fashion inspiration from this collection and look a sexy and handsome gentlemen on the Christmas Eve as well as any cocktail party. Just explore these Christmas party attire for guys and get ready to have all ladies swooning over you during the party.
You can never go wrong with these Christmas party dresses to have that dreamy look in a holiday cocktail gathering. People will just love your attire and will shower you with loads of compliments! Who would not like that on Christmas? Right? So, choose the best outfit for your cocktail party in holidays and see the magic of these dresses!
Also Read: Outdoor Christmas Decoration.