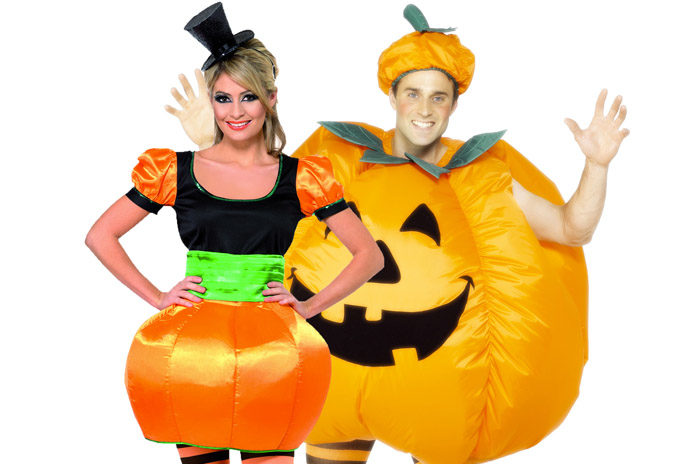 Couple Halloween Costumes – Are you excited about the upcoming Halloween night celebrations as you are going with a special someone this year? However, you may find it difficult to choose an ideal Halloween dress as you are surrounded by a huge number of couple Halloween costumes.
Related: Cute Halloween Makeup Ideas.
Isn't it confusing to go through such a large number of Halloween costumes for couples and still not to be able to find the perfect outfit? Let us help you in choosing the best couple Halloween costume so that you can have a memorable Halloween night with your partner this year.
These are the carefully chosen 27 coolest ideas of costumes for couples which you will ever find anywhere:
1. Pirate Couple Halloween Costume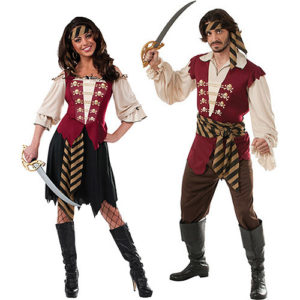 When you talk about Halloween costumes for couples, nothing can beat the outfit of pirates. This Pirate couple costume may be a bit old-fashioned, but it is actually a classic!
2. Trendy Couple Pirates Costume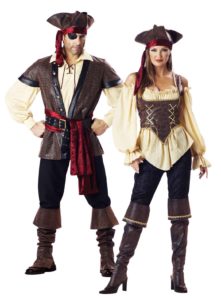 This one is more stylish and fashionable than the previous couple pirates costume. One eye mask of male along with long boots on both look definitely amazing.
3. Joker and Harley Halloween Wedding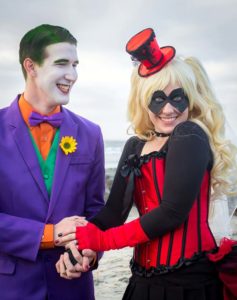 If you are planning to have a Halloween wedding, this Joker and Harley costume is perfect for the day. The eccentric love story of Harley Quinn and Joker is apt for your unique bond.
4. Mr. and Mrs. Incredible Halloween Costume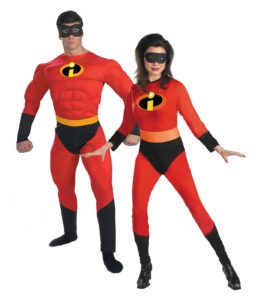 Turn on the family superhero theme for this Halloween as you and your partner can dress up as cool Mr. and Mrs. Incredible for the party. If you have children, dress them up as other members of this superhero family!
5. Superhero and Villain Couple Costume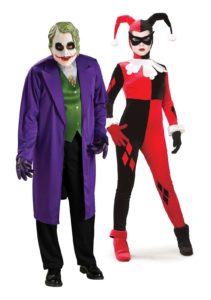 The evergreen theme of superhero and villain can also be used as an idea for Couples Halloween costumes. Try on this Joker outfit and Catwoman dress with your partner to dress up for this year's Halloween.
6. Gypsy Couple Costume for Halloween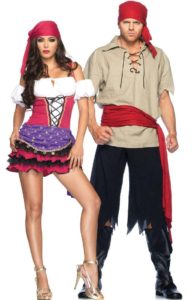 Turn up the heat with your partner by appearing in this smoking looks of gypsies at the Halloween party. You can be sure of giving a tough competition to other couples with this super cool couple costume.
7. Thor and Black Widow Halloween Dress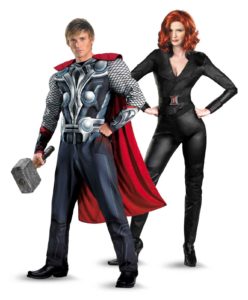 Live your fantasy of superheroes on Halloween. The combination of ultra sexy Black Widow and mighty God Thor is too irresistible to ignore!
8. Ninja Turtles Couple Costume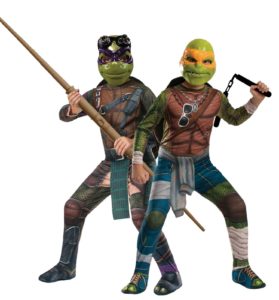 Travel into your childhood by convincing your partner to dress up as Ninja Turtles couples at the Halloween party this year. You are sure to look different from rest of the other couples with this unique couple Halloween costume.
9. Angel and Devil Couple Halloween Dress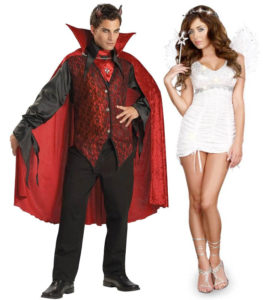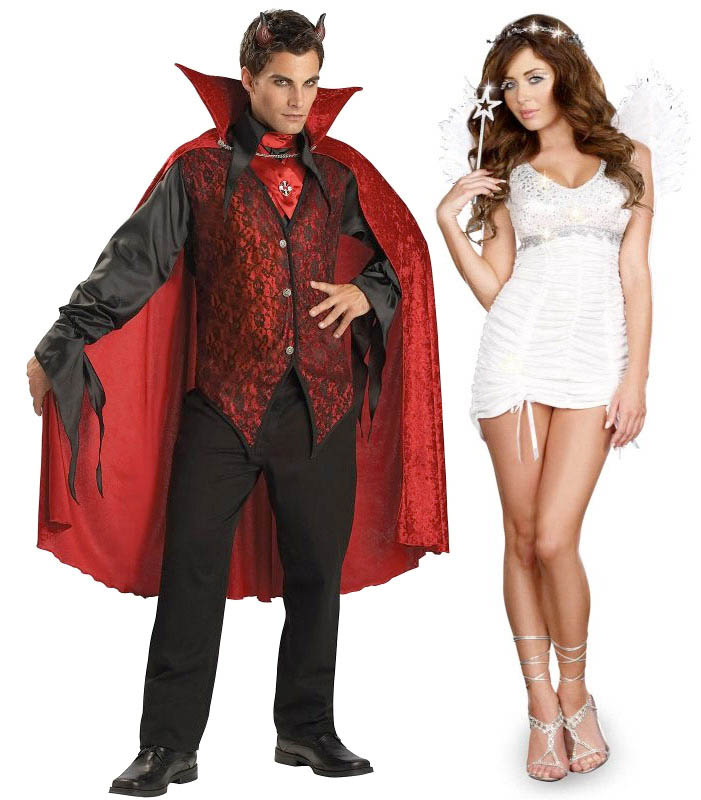 Pair up with your partner by dressing up as opposites- angel and devil on the occasion of Halloween night. It may look a bit cliche' but this look never fails to leave an impression.
10. Disney Couple Halloween Costume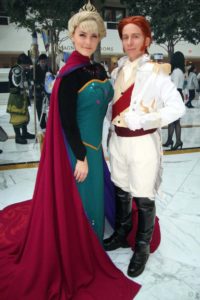 Couple Halloween Costumes do not have to be limited to adult ideas only. For a change, try this cute Disney couple costume and look adorable together on Halloween night.
11. Cool Batman and BatGirl Costume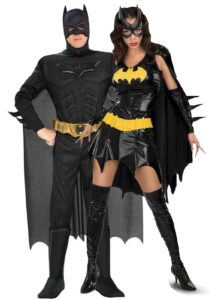 Have a blast this Halloween with your boyfriend by dressing up as Batman and his girl, Bat Girl. Surely you will make his ultimate fantasy come true!
12. Captain America Black Widow Halloween Costume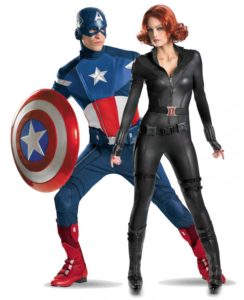 Among all couple Halloween costumes, superhero costume from DC and Marvel Universe are the fan favorite. Show up as suave Captain America with smoldering Black Widow on Halloween this year.
13. Superhero Halloween Couple Costume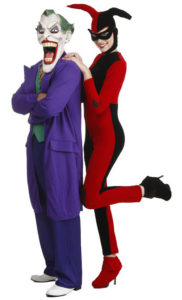 Crazy Joker and his equally crazy sidekick Harley are the best couple among all superheroes and super villains. This one is for all quirky couples out there!
14. Edward Scissorhands Couple Costume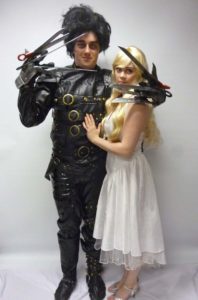 What can be a better couple Halloween costume than from the iconic movie of Johnny Depp, Edward Scissorhands? This wonderful romance between two is just perfect for Halloween couple costume!
15. Optimus Prime Transformers Couple Costume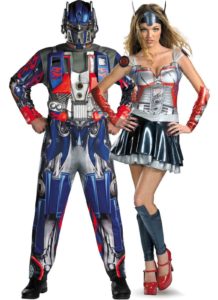 Show off your inner nerd side by dressing up as the Optimus Prime from Transformers. You might have to imagine your female counterpart though as it was absent from movies.
16. Funny Halloween Couple Costume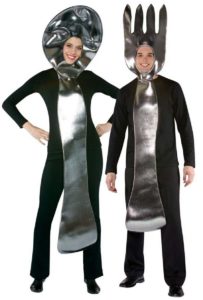 Wear this Halloween costume with your better half showing your inseparability as fork and spoon. Rest assured, all eyes in the Halloween party will be on you only.
17. Suicide Squad Halloween Costume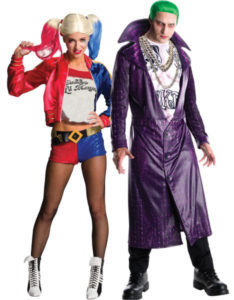 Suicide Squad movie might have turned out to be a disaster. However, Joker and Harley still managed to charm the viewers. Ride on the hype and play these iconic characters on Halloween.
18. Harley Quinn Joker Halloween Couple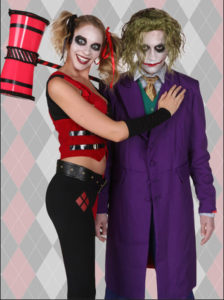 This is one of the most popular Halloween costumes for couples this year. Joker and Quinn, after all, are the weirdest couple and inspiration for many to keep the spark in their relationship alive with quirkiness and being crazy together!
19. John Legend and Chrissy Teigen Celebrity Halloween Costume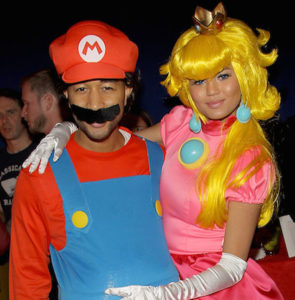 Celebrity Halloween costumes always manage to grab the attention of public. This couple costume of John Legend and Chrissy Teigen became quite popular among their fans and will surely turn a few heads in your direction if you manage to pull it off in style like this.
20. Joker and Harley Cosplay Halloween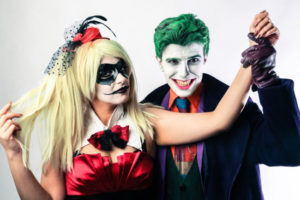 Mad Joker and crazy Harley are the most awesome couple ever, don't you think? So, what are you waiting for? Grab this couple costume and unleash your craziness over the world on Halloween night.
21. Super Couple Halloween Costume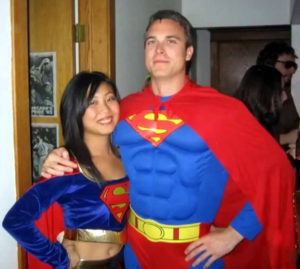 Dress up as the ultimate powerful superhero couple as Superman and Supergirl on this Halloween. Although it is quite a common one still, always lives up to its expectations.
22. Quirky Joker Couple Halloween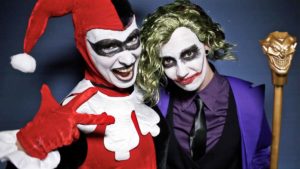 Bring a touch to the evergreen Joker and Harley costume. Make the male partner as Harley and female as Joker for unique and weird results.
23. Egyptian Mummy Couple Halloween Costume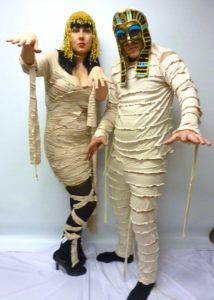 Look vastly different from rest of guests in the Halloween party through this bold experiment of dressing up like Egyptian mummies. Carry of this look with swag and style which people will never forget!
24. Stylish Couple Halloween Costume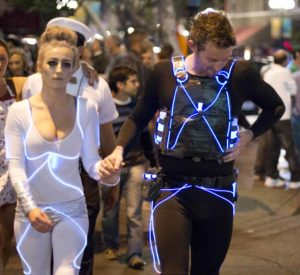 If you want to go beyond the tried and tested superhero genre, you can try this stylish couple Halloween costume for this year. This costume might be inspired from Tron but looks extremely attractive.
25. Super-villain Couple Costume for Halloween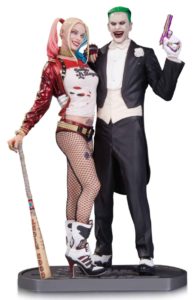 The exact look of Joker and Harley Quinn from Suicide Squad is the way to go this Halloween. Even if you notice a similar look this Halloween multiple times, the charm of this couple costume is simply irresistible.
26. Vampire Halloween Couple Costume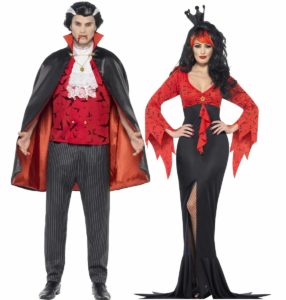 The tried and tested Vampire look for Halloween is evergreen among party goers. If you are short of time, then go for this great Halloween couple costume.
27. Zombie Couple Costume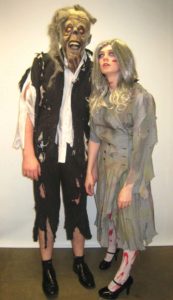 Be the scariest couple on the Halloween night by looking like zombies in love together! You do not even need to invest much in this couple costume as it can be easily made at home.
The above couple Halloween costumes are guaranteed to make your Halloween night special with your partner. No matter which outfit you choose from the above selection, you are going to look amazingly unique from any other couple in the party.
So, start preparing for Halloween right now! Do not forget to tell us your favorite choice of Couple Halloween Costumes from the above list.
Also Read: Halloween Kids Activities.