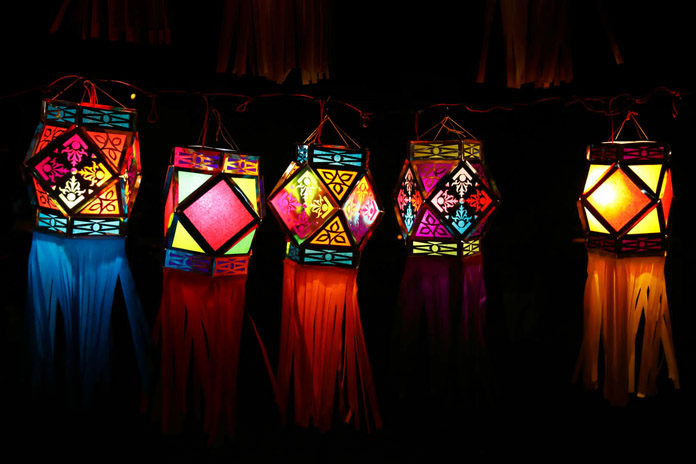 Diwali Lanterns – Do you want your house to look the best than other houses on the Diwali night? Have you grown tired of using old Diwali lights which look all the same?
Then it is time to take things in your hands and make your own Diwali lanterns this year. Today we bring to you exclusive homemade Diwali lanterns which will take the beauty of your house to an altogether different level.
Related: Diwali Decoration.

If you think you may not have time to do so, do not worry as these Diwali lantern designs won't take much of your time. Moreover, any extra time you devote to making these Diwali lanterns will be totally worth it once you see the astonishing results of your work on Diwali.
More On Diwali.
So, without over-thinking any further, let's have a look at these simple yet stunning Diwali lanterns for your home:
1. Thread Lantern Using Balloon

Lanterns are commonly used for lighting purposes during Diwali festival. Although there are plenty of plastic and commercial lights in the market they cannot match the beauty of homemade lanterns. You can make these cute thread lights using balloons in a simple process at your home itself. Diwali lights gleaming from inside of these lanterns look simply stunning on Diwali night.
2. Paper Lantern

These DIY paper lanterns are round and look awesome with Diwali lights shining through them. Out of all other paper lanterns, these beautiful round lights hanging from the ceiling make your home look nothing less than a royal palace. You can choose to make different color lights of this pattern and use them together for a great look.
3. Cubical Lightbox

Did you know you can use ice cream pop sticks to make a light box? This cubical lightbox is an excellent example of handmade home decor items which you can make at home easily. You can place these light boxes in your living room in the corner for a superb glow on Diwali night.
4. Cardboard Lightbox

If you do not have any extra pop sticks to make a lightbox like above, do not worry as you can make another different lightbox. This one is made of cardboard which has intricate star patterns through which lamps can shine beautifully lighting up the new moon night of Diwali.
5. Paper Lantern Frills Yellow

This paper lantern is perfect for Diwali this year as Halloween is also falling near Diwali. The pumpkin shaped paper lantern made of yellow paper frills is ideal to decorate your home on Halloween and Diwali. Moreover, you only need to do this easy DIY activity to make these cute Diwali lanterns.
6. Popsticks Spiral Hanging Lantern

Make this stylish spiral Diwali lanterns using waste pop sticks. This is one of the most creative and breathtaking DIY crafting activities which you can do before Diwali. The results in the form of beautiful Diwali lanterns will not only amaze you but also dazzle your house on Diwali night.
7. Corner Light Decoration Paper Lantern

If you want to try a unique design of Diwali lantern, this rectangular design is ideal for you! The beautiful blue theme will look simply stunning at night when you place it in your living room. You can make these paper lanterns at home without any fuss with help from your kids and other family members.
8. Origami Diwali Lanterns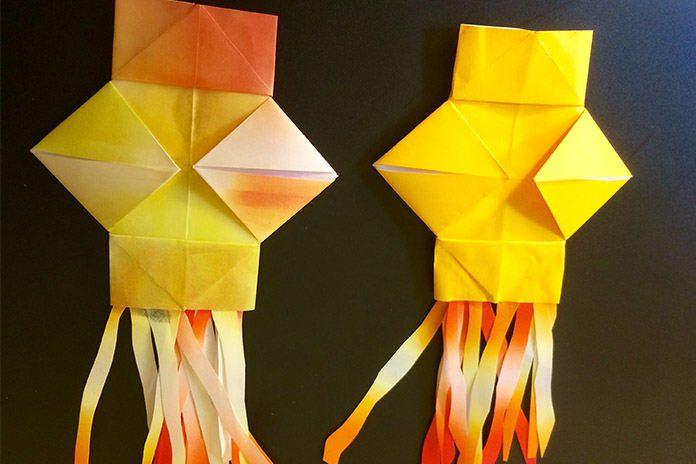 Make beautiful Diwali lanterns for Diwali using the paper folding technique called Origami. You just need to fold the colored paper sheet in precise ways to make these Origami Diwali lanterns. Cut some paper strips and attach them to the bottom to complete the look.
9. Pretty Paper Lantern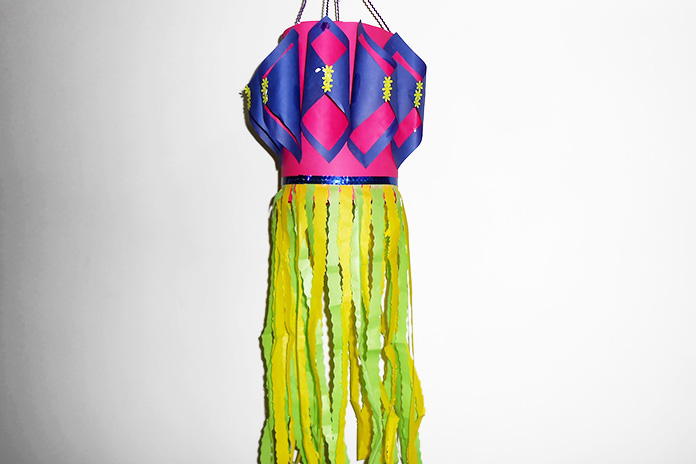 Hang these paper lanterns near the front entrance of your homes on Diwali night to give a different touch to your Diwali decorations this year.
10. Golden Blue Diwali Lantern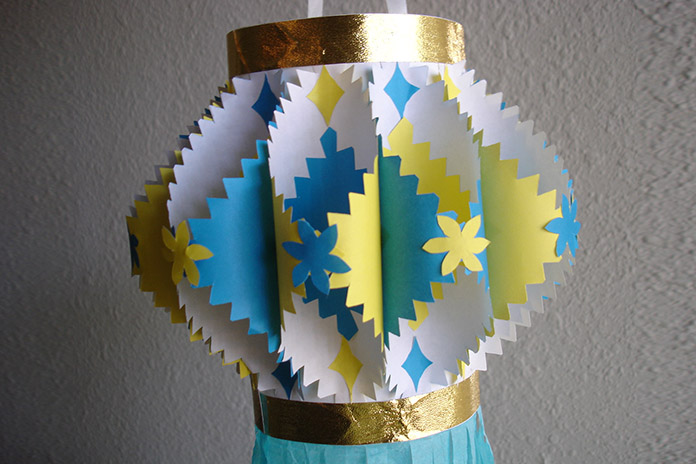 You are guaranteed to leave your neighbors in awe and jealousy with these Golden Blue Diwali lanterns. Make these stunning lights at your home and celebrate Diwali like never before.
11. DIY Diwali Lantern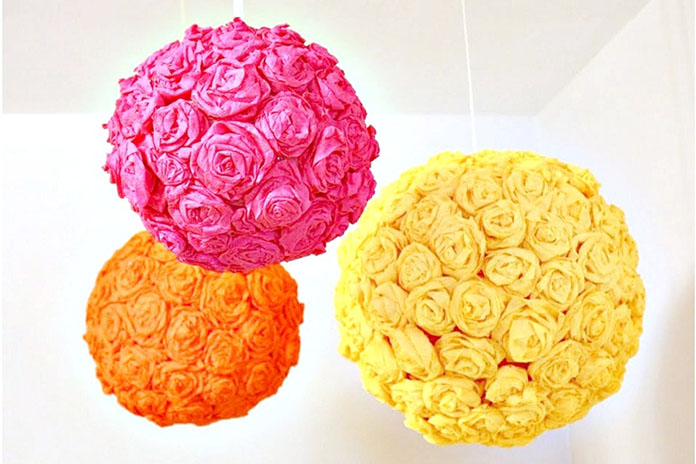 There is nothing better than making Diwali lanterns yourself. These DIY Diwali lanterns will enhance the look of your house like never before.
12. Special Ganesh Lantern for Diwali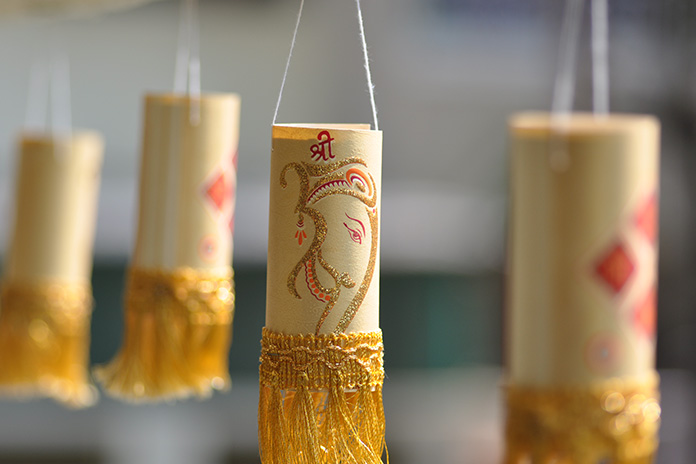 This is one of the best Diwali lanterns you can ever find. You will love to use this Ganesh lantern for lighting up your homes this Diwali.
Also Watch: Ganesh Rangoli Designs.
13. Colorful Diwali Lanterns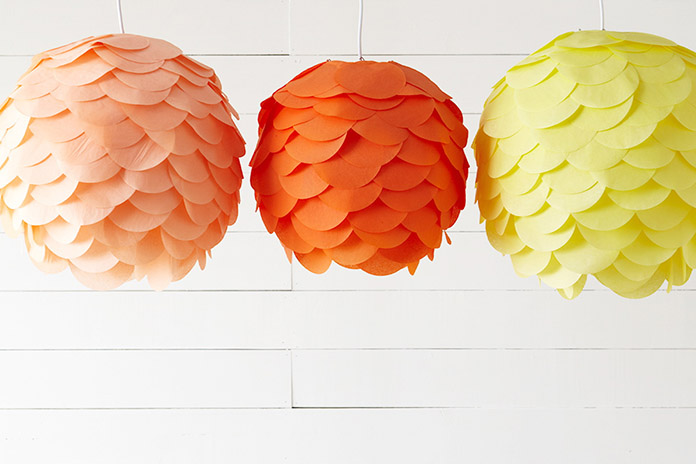 The triple combination of colors in these Diwali lanterns will work wonders to transform your lighting on the night of this particular festival.
14. Akash Kandil for Diwali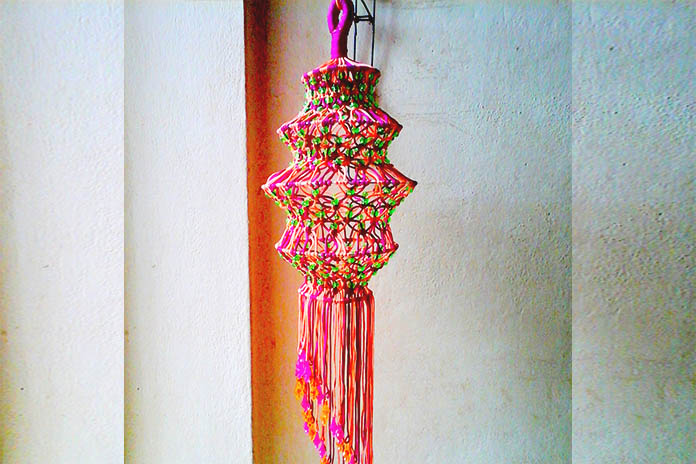 Wooden lanterns are quite popular in many regions of India to hang in front of homes on Diwali night. These exquisite Diwali lanterns look just stunning and give a traditional touch to your decorations.
15. DIY Paper Lantern For Diwali.

Your guests will fall in love with this lovely blue Diwali lantern made of paper. You must try this unique lighting idea to decorate your homes on the occasion of this special festival. You can even experiment with other festive colors such as red, yellow or orange to make this lantern!
The above homemade Diwali lanterns will magically enhance the beauty and decoration of your home on Diwali night. You can easily make many of these items at home without spending huge money on commercial Diwali decoration items.
Also Read: Diwali Celebration All Over The Globe.