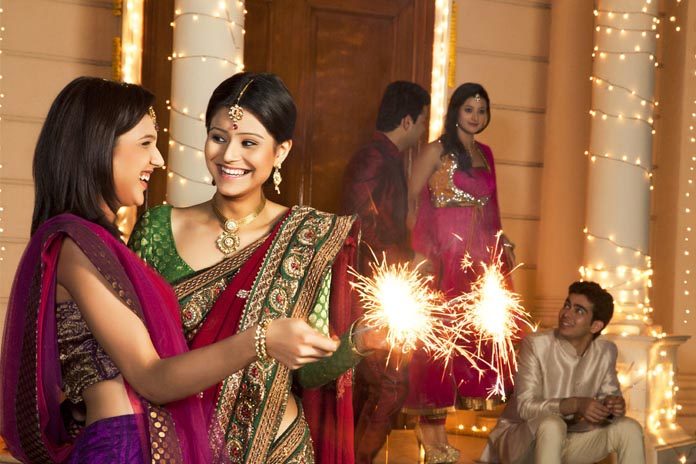 Where Is Diwali Celebrated In The World? – Diwali celebration in India is a well-known occasion which attracts thousands of tourists from all over the world. Rows of lightning lamps, bursting fire crackers, decorated homes, and eating delicious food items form the major highlight of Diwali celebration in the country.
Related: Diwali Decoration.
However, you will be surprised to know that there are many countries outside India where people celebrate Diwali with equal vigor and enthusiasm. In fact, there is a National Holiday on the day of Diwali in many of these places. Don't you believe us?
Check out these surprising places outside India where people know how to celebrate Diwali in style:
1. Terrific Diwali In Trinidad and Tobago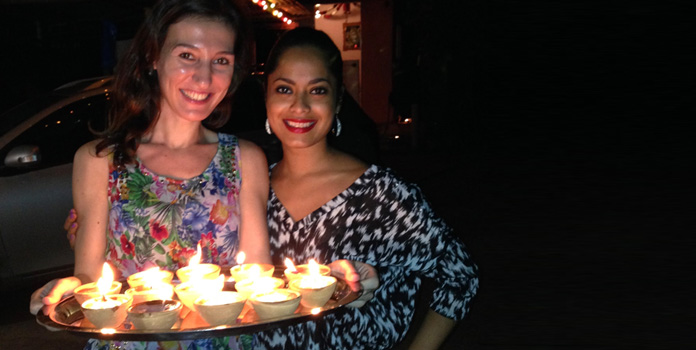 Trinidad and Tobago is a small Caribbean island to the south and boasts of a rich culture and heritage. The island has a majority population of ethnic Indians which comprise 43% of the total 1.3 million population. Due to this, Diwali celebration holds a prominent importance in this island nation.
Even the remaining population consisting of Muslims, Christians, Afro-Trinidadians, and Indo-Trinidadians take part in merrymaking during Diwali celebration.
In fact, Diwali celebrations last for nine days in Trinidad and Tobago. During these days, you can see people celebrating Diwali through classical Indian dance shows, musical performances, and singing devotional songs. Like in India, there is a national holiday on the main Diwali in Trinidad and Tobago as well.
2. Lovely Little India Diwali Celebration In Singapore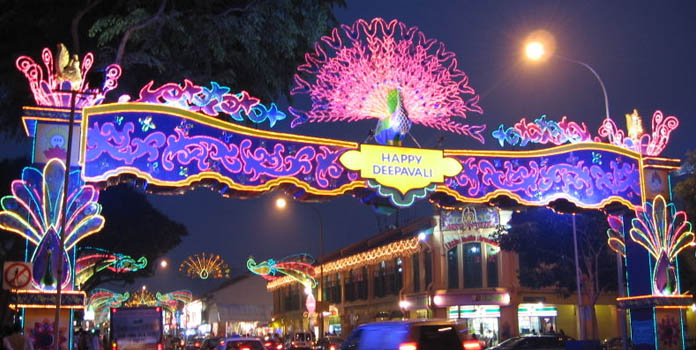 Singapore is one of the popular places outside India where Diwali is a popular festival. There is a place called Little India in Singapore which holds the central attraction for Diwali celebration in Singapore. You can see a dazzling display of lights, fireworks, and decorative arches throughout the streets.
Similar to India, Hindu families decorate their homes with Rangolis and earthen lamps. Later, they visit temples and worship Goddess Laxmi on this day. People then flock to markets and shops especially in Little India on Diwali for shopping and eating delicacies in the streets. There are open air concerts as well in the region to celebrate Diwali.
There is a ban on crackers in Singapore and people can light only sparklers. Despite this fact, there is no loss of enthusiasm and happiness among people in Singapore. The stunning decoration of markets and streets in Little India make Indians feel closer to their homes.
3. Magical Motorcade Show in Guyana on Diwali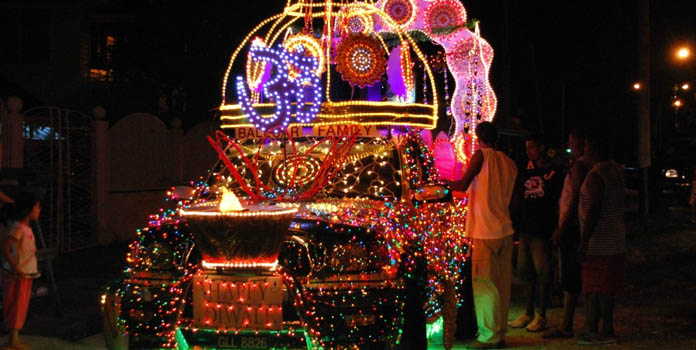 You will be surprised to know that people in Guyana have been celebrating Diwali since 1853. It is a small country in South America located on its northeast coast. Out of total population of about eight lakhs in Guyana. 33% of people are Hindus who celebrate Diwali according to the Hindu calendar.
One of the major attractions in Guyana on Diwali is the motorcade show (float parade). Guyana Hindu Dharmic Sabha organizes a competition in this parade in which temples take part in it.
People use steel and wood materials to make huge floats. They decorate these floats with jewelry, fabrics, and lights and drive them in streets in the presence of thousands of people.
The Co-operative Republic of Guyana in Southern America observes a national holiday on this day. The other Diwali celebrations are almost similar to India involving sharing of sweets, wearing new clothes, and customary cleaning of houses.
4. Lighting Festival on Golden Mile Road in Leicester, England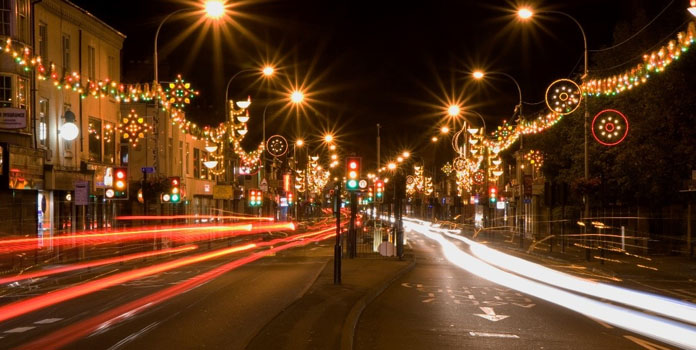 The United Kingdom has Indians as the second largest ethnic minority. Consequently, all the main festivals are celebrated by Indians. On the occasion of Diwali, people from Indian communities visit local temples to worship Goddess Laxmi and light up their homes just like in India.
However, no Diwali celebration outside India can match with the festival in Leicester city of England's East Midlands. In this town, as many as 35000 people gather to celebrate the festival of lights on the Belgrave Road.
There is a stretch of the road known as Golden Mile where people witness the light show on Diwali. Many more people attend festivities in the Asian community of the city where live cultural programs and firework display take place.
5. Diwali Celebration in Beautiful Mauritius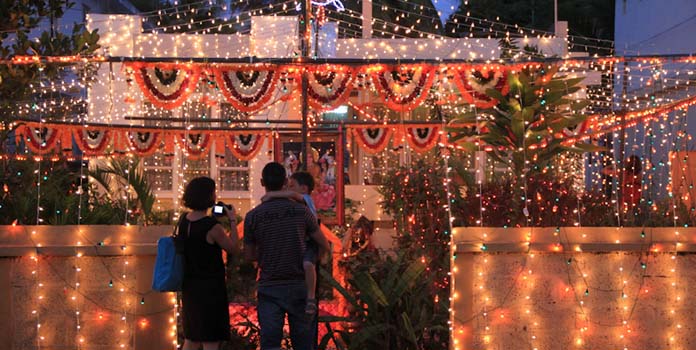 Diwali celebration in Mauritius is as beautiful as the island itself. The picturesque island, often known as Mini India, boasts of 63% of Indian majority out of which 80% are Hindus. It is due to this reason people celebrate Diwali on a large scale with all traditions like bursting crackers, lighting up homes, and visiting family and friends.
However, if you want to experience the magic of Diwali celebrations in Mauritius truly, you will never regret visiting Triolet Village during Diwali. The small village celebrates Diwali in real spirit with all houses, villas, shops, and restaurants alongside road sparkling with lights. People usually come out in streets to sing and dance to Indian songs and wish each other Happy Diwali.
In Mauritius also, people start preparations of Diwali well before in advance during which they clean their houses and decorate them to welcome Goddess Laxmi on the night of Diwali to their homes.
6. Hari Diwali in Malaysia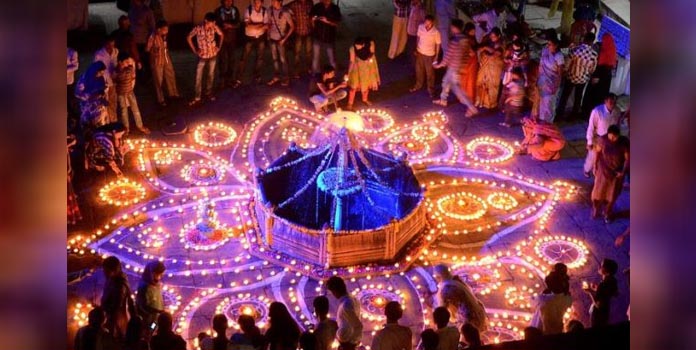 The neighboring country of Singapore, Malaysia celebrates Diwali in a much more elaborate and joyous manner than Little India. In Malaysia, Diwali is called as Hari Diwali and takes place in the 7th month of the Hindu calendar. People in Malaysia take an oil bath before the festivities just like the tradition in South India.
Although Hindus constitute just 8% of the Malaysian population, the Diwali celebrations are a treat to watch. People light up fireworks in the street where celebrations last throughout the night. There are shadow puppet shows on scenes of Ramayana to educate and entertain children.
People also visit temples and offer prayers at household altars. The light up small earthen lamps filled with coconut oil and wicks to celebrate the homecoming of Lord Rama after he defeated the demon king Ravana. Except for Sarawak & Federal Territory of Labuan, people in all regions of Malaysia celebrate Diwali.
7. Tihar Diwali of Nepal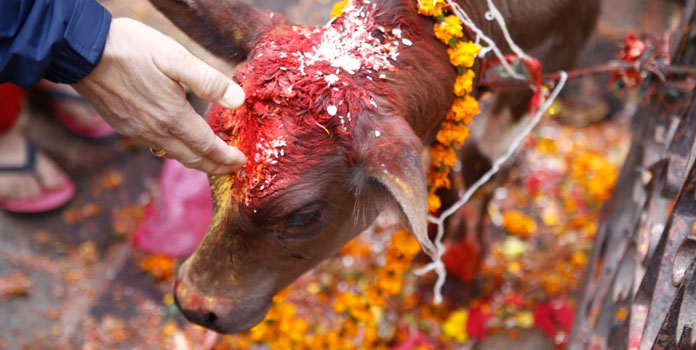 Nepal has the maximum resemblance to India when it comes to Diwali celebration. Here the festival is known as Tihar, and it goes on for five days. During each day, people worship different Gods who may assume the form of an animal or nature.
They worship cows on the first day and feed them with rice believing that cows are a form of Goddess Laxmi. On the second day, they prepare delicacies for dogs as they are a vehicle of Bhairava- a manifestation of Lord Shiva. The third day is dedicated towards lighting of lamps and decoration of surroundings. Like in India, people in Nepal light crackers and fireworks on this day.
One of the most striking features of Diwali celebration in Nepal is the worship of the Hindu God of Death, Yama. People offer their prayers to him for long life. On the fifth day, they celebrate the festival of Bhai Dooj. This is the day of brothers and sisters when girls bless their brothers for prosperity and happiness in life.
Diwali is the main Hindu festival which symbolizes the win of good over evil. This essential spirit of Diwali is shared among various cultures and societies who celebrate this theme in the form of Diwali every year. Diwali celebration all over the world perfectly captures this spirit and celebrate the Festival of Lights in their unique ways. How do you celebrate Diwali in your country? Share with us in the comments below.