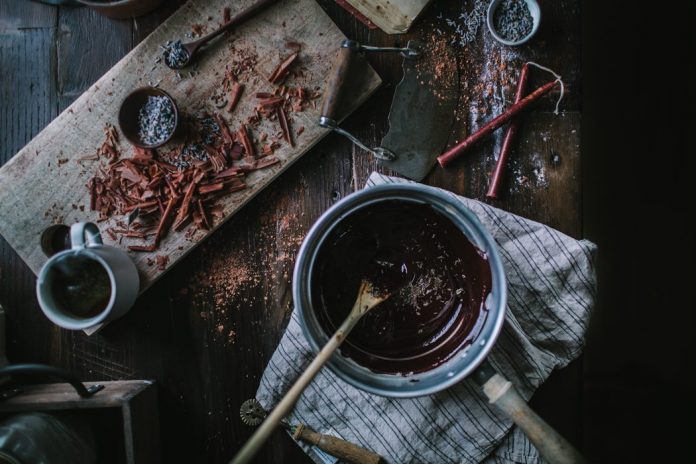 Dark chocolate recipes made with cocoa powder, sugar, and cocoa butter. We should add dark chocolate into our diet, because of its high cocoa content dark chocolate has so many health benefits. Raw cocoa beans have essential antioxidants and flavanoids – which help in mood swings, weight, diabetes, and blood pressure.
There is an old saying about dark chocolate – not too bitter, better for your health. So always try to find dark chocolate, which contains 70% cocoa ingredients.
Here we have some healthy and homemade dark chocolate recipes which you can make easily at home.
Dark Chocolate Mousse Quenelle
Dark Chocolate Oats Mousse
Chocolate Milkshake
Ragi Dark Chocolate Cake
Hot chocolate
Dark Chocolate Mousse Quenelle
This dark chocolate recipe is pretty simple and won't take long to cook. Quenelle is smooth and instantly enhances your plating and adds a refined touch to the desserts. Berries at the top It's a perfect after-dinner dessert.
Ingredients Of Dark Chocolate Mousse Quenelle
10 Egg yolk,
120 Gram Castor sugar,
800 Gram Dark chocolate (melted),
10 Pieces Egg white,
100 Ml Rum,
1500 Gram Fresh cream whipped,
Berries and crumble Cookies
How to Make Dark Chocolate Mousse Quenelle
Whisk the egg yolk and 50 g of castor sugar until it forms a sabyon. Fold it into the chocolate. Whisk the egg white and the remaining castor sugar into one meringue and mix through the sabyon chocolate. Stir in cream and rums. Refrigerate. Plating with berries, cream and crumble. Grab a spoon and warm water and put a chocolate quenelle on the plate.
Dark Chocolate Oats Mousse
This dark chocolate recipe is easy and made for dessert lovers. It has wholesome ingredients such as oats, maple syrup, cacao powder, chia seeds and honey. The nutritional of honey and maple syrup will be nowhere near that of cocoa powder.
Ingredients Of Dark Chocolate Oats Mousse
1 1/2 Tbsp oats
1 tbsp cocoa powder
1/4 cup milk
1 1/2 tbsp honey
1 tsp chia seeds (optional)
for garnishing berries (optional)
4-5 for garnishing crushed almonds
How to Make Dark Chocolate Oats Mousse

Mix cocoa powder and oats in a bowl. Now add milk and honey and whisk it well until the mixture smooth. You can also add Chia seeds. Make sure there are no lumps in the mixture. Garnish with crushed almonds and Let it set in the fridge overnight. Layer with berries before serving (optional).
Dark Chocolate Milkshake
A Dark Chocolate Milkshake can be a typical comfort food option. A chocolate milkshake reminds images of childhood treats and lazy summer days. This dark Chocolate recipe is loaded with calcium and antioxidants. This recipe is the perfect beverage for a post-workout.
Ingredients of Dark Chocolate Milkshake
1 Overripe banana
½ cup Almond milk
5 to 6 Ice cube
1 Tbps Peanut butter
Dark chocolate Syrup
How To Make Dark Chocolate Milk Shake.
Add all the ingredients in a blender until well mixed. Pour in the glass and garnish with some banana slice.
Ragi Dark Chocolate Cake
This Dark chocolate recipes is very heavy, nutritious and healthy. Ragi meal will keep you full longer and you will eat less later. Other ingredients such as dark chocolate, eggs and brown sugar make it a satisfying treat for everyone who cares about their health. The chocolate cake gets a healthy spin in this recipe with the Ragi flour. The result is a soft and moist cake that will make it difficult to resist another slice.
Ingredients of Ragi Dark Chocolate Cake
1/2 cup castor sugar or brown sugar
2 eggs
1/2 cup melted butter
100 gm compound dark chocolate
1/2 cup ragi flour
1/2 tsp baking powder
How to Make Ragi Dark Chocolate Cake
Preheat the oven to 100 degrees C. Now break the chocolate into smaller chunks and melt them in a double boiler.
Once the chocolate melt Keep it aside and let it cool completely. In a mixing bowl, whisk the eggs till light and fluffy, Add a teaspoon of sugar at a time, and continue whisking until completely mix.
Now add the melted chocolate with melted butter and mix well. Pour this mixture into the egg and sugar mixture, and whisk well.
Mix the ragi flour and baking powder and add it, a teaspoon at a time to the above mixture while you continue to whisk.
Make sure that no lumps are left in the mixture and do not over mix. Fold it one last time, and transfer it to a small baking tin. Bake in the oven at 150 degrees C for 15 minutes to 20 minutes. Garnished with strawberries and your Healthy dark chocolate recipe is ready to serve.
Hot chocolate
This Hot chocolate is the drink of choice which we all will cherish from our childhood! It is the perfect Dark Chocolate recipes for winter. Then why not add it to our healthy beverage list?
This is a perfect drink for Christmas and winters, so enjoy this while reading your favorite books.
Ingredients Of Hot Chocolate
1 cup milk
1 cup chocolate
2-3 tbsp cocoa powder
1/2 cup powdered sugar
Cinnamon (optional) Vanilla (optional)
How to Make Hot Chocolate.
Boil milk in a deep pan and add chocolate to it. Stir well until smooth. Now add cinnamon and vanilla sticks. Now mix powdered sugar with cocoa powder. Stir well to mix and pour hot into a cup. Garnish with a heavy topping of whipped cream and chocolate powder.
We can enjoy cold winters with these lovely dark chocolate recipes. Ragi dark chocolate cake can be served at Christmas and Easter parties. For more Christmas party ideas read our article "Christmas Party Ideas To Have A Great Xmas Eve!".
If you liked these recipes make sure to spread happiness by sharing them with your friends and family. We have also curated a list of the 25 tastiest Easter Cakes for easter.
Conclusion
These Dark Chocolate Recipes are not only healthy, but are also very delicious. These are very easy to make and you can enjoy them at any time. Make your Special occasions more special with our dark chocolate recipes. Surprise your love ones with these recipes on occasions like Birthday parties, anniversaries, etc. Because these recipes will make them even more special.