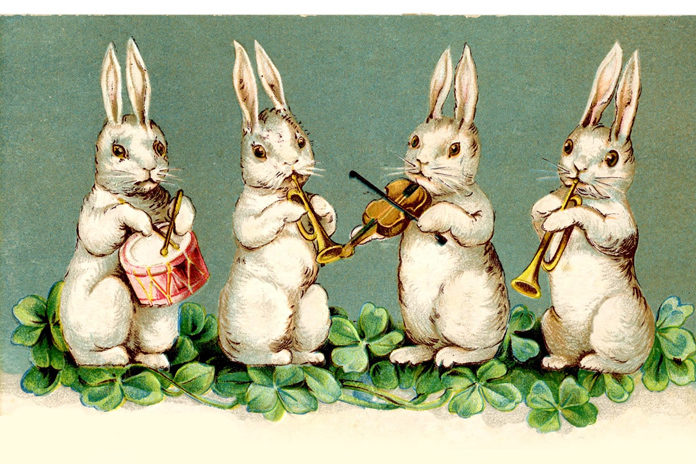 "Music is an agreeable harmony for the honor of God and the permissible delights of the soul."
― Johann Sebastian Bach
Easter Songs – Yes, there is no denying the fact that man can experience the divine with the power of music. And when one talks about the sacrifice and resurrection of Jesus Christ, nothing beats the magic of Easter songs. The right Easter song can lift your spirits, fill your heart with gratitude, and overwhelm your senses with love of Jesus Christ.
Related: Easter Movies You Must Watch Once in Lifetime.
As the spring approaches, it is time to get rid of old and welcome the new season. It is time to celebrate the victory of life over death, good over evil, and love over hatred when Jesus Christ resurrected after the crucifixion. It is time for some heart-touching Easter songs to be thankful to the Lord for teaching us the power of love and sacrifice. Check out these 16 Easter songs for musical celebrations of Easter 2017:
More on Easter:
1. This is Amazing Grace by Phil Wickham
This classic Easter song slowly grows over you reminding you of the sacrifice Jesus made for our sins. You cannot help but bow your head gratefully as you rejoice in the resurrection of Jesus while listening to this song.
2. I Will Rise by Chris Tomlin
This is one of those contemporary Easter songs that will give you goosebumps whenever you hear it. It is definitely among the best easter songs for church.
3. Because He Lives (Amen) by Matt Maher
If you are looking for new songs for Easter 2017, this modern Easter worship song should be on your playlist. Released in 2015, this was already a hit in Easter Sunday celebrations last year and expected to stay so this year as well.
4. Amazing Grace (My Chains Are Gone) by Chris Tomlin
You may already know this Easter hymn as it goes back to 1779. However, Chris Tomlin beautifully revived this song and made it a part of Church celebrations. It is truly one of the best Easter songs ever! Plus don't forget to eat these delicious Easter foods when you are listening this song.
5. He's Alive by Don Francisco
Don Francisco renders a soulful touch and makes you imagine in vivid details how Peter must have reacted on realizing that Jesus is alive! If this would not touch your heart, we do not know what will?
6. Forever (We Sing Hallelujah)
If you want to truly feel the power of resurrection, do not forget this epic Easter song. You cannot stop the goosebumps when you hear this line, "Now death where is your sting, our resurrected King has rendered you defeated"! A masterpiece!
7. The Old Rugged Cross
This is one of the best Easter hymns which have stood the test of time. Many singers have given their voice to this classic. If we have to pick a version, that would be definitely by country singer Alan Jackson.
8. The Sound That Saved Us All by Anthony Skinner
If you want different Easter songs, do check out this modern classic by Anthony Skinner. This draws its lyrics from several traditional Easter hymns to give a unique experience to listeners.
9. Here I Am To Worship by Tim Hughes
This is of those Easter worship songs you cannot grow tired of listening. You will love how verses tell the story of Jesus and how choruses respond echoing the gratitude felt by people towards Jesus Christ!
10. Easter Song by Keith Green
Keith Green may have died in the tragic plane crash of 1982 yet his voice lives on in many churches during the Sunday service. This is among most loved Easter songs of all time! Just play this beautiful song and go to your garden to grow beautiful Easter lily.
11. In Christ Alone
This is among the most popular Easter songs in congregations all over the world. It is not a surprise given the rich melody and powerful lyrics of this Easter hymn.
12. Was It A Morning Like This by Sandi Patty
You may have known Sandi Patty for many classic songs yet this Easter ballad stands above all depicting the reaction of Jesus's followers to His resurrection.
13. Love Broke Through by Ellie Holcomb
Dove Award winner Ellie Holcomb has given a number of soulful melodies on the Easter theme over the years. However, this song along with Marvellous Light from her album 'As Sure As The Sun' shine on the top of rest of her Easter songs.
14. Man of Sorrows by Hillsong Live
This song by the popular church group from Australia, Hillsong is one of the lesser known Easter songs for church that is guaranteed to bring lots of cheers from people attending the prayer service!
15. At the Cross (Love Ran Red) by Chris Tomlin
Chris Tomlin once again delivers a powerful Easter song focusing on the power of the cross and the sacrifice of Jesus Christ. You can even transition to the Easter hymn, "At the Cross" after singing this melody on the Easter Sunday.
16. The Champion by Carman
The Champion is one of the most famous Easter songs dramatically chronicling the crucifixion of Jesus, the reaction of his enemies, and the subsequent resurrection of the Christ. You cannot help but feel a rush of excitement at these lines from the song: 'He has won, He has won/ He's alive forever more/ He is risen, He is Lord.'
Although anytime is a great time to listen to the above Easter songs and hymns, you should not skip them from your playlist particularly during Easter. After all, just like the relevance of Christmas songs lie in the season Christmas, the value of Easter songs also increases during Easter! So, while you are busy with Easter decorations or decorating Easter baskets, do not forget to play these songs in the background!
Also Read: Easter Flower to Get This Year.