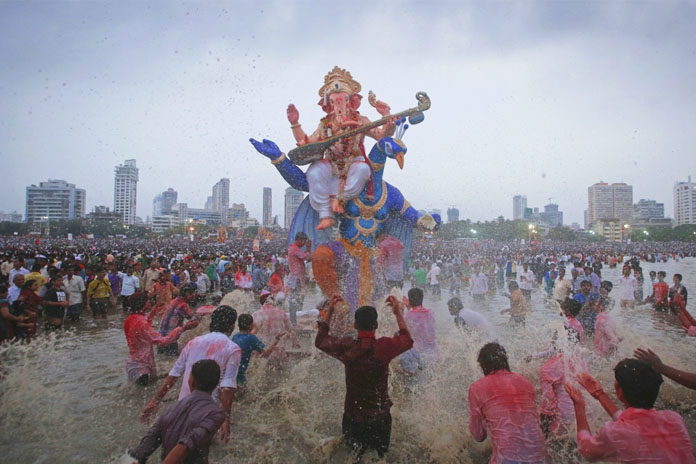 Ganpati Bappa Moriya!! Very soon you will hear similar shouts and chants in various temples of India and streets of Mumbai and other Indian cities. It is time for another famous festival of India after recent Krishna Janmashtami. Ganesh Chaturthi marks the birthday of the God of beginnings- Lord Ganesh in Hindu mythology.
Related Event: Teachers Day.
Lord Ganesh is an elephant faced God also known as Vinayak. That is why the day is also known as Vinayak Chaturthi. People from India celebrate Ganesh Chaturthi on a grand scale.
The celebrations of Ganesh Chaturthi lasts for 10 days during which people install statues and idols of Lord Ganesh in their homes and temporary shrines. They carry on various ceremonies and pay their offerings to Lord Ganesha in the form of sweets for 10 days.
On the 11th day, devotees immerse the various statues and idols of Ganesh into water bodies and bid farewell to the God. Although Ganesh Chaturthi is celebrated all over India, you cannot imagine the scale of celebrations in the states of Maharashtra and nearby states until you see it with your own eyes.
Before we tell you about the epic proportions of Ganesh Chaturthi celebrations, let's have a look at the story behind Ganesh Chaturthi.
Story of Ganesh Chaturthi
So, how did Lord Ganesh come into existence? What is the story behind Ganesh Chaturthi? It is said that Goddess Parvati created a statue of Ganesh from the dirt of her body using a sandalwood paste. She breathed life into the statue giving birth to Ganesh. She asked him to guard the entrance till she took a bath.
Ganesh was guarding the entrance when the husband of Parvati, Lord Shiva came to the place. He wanted to go inside, but Ganesh did not allow him as his mother had ordered him to prevent anyone from entering till she had her bath. This enraged Lord Shiva who severed the head of Ganesha from his body.
When Parvati came out and saw this, she was devastated and furious with Lord Shiva for killing her son. Shiva promised his wife that Ganesh would live again. He ordered other demigods (Devas) and his followers to find the head of Ganesha and look for it in the north direction.
However, they were unable to find the severed head of Ganpati and instead found the head of a dead elephant. Shiva fixed the head of the elephant on the body of Ganesh and instilled life into it. Hence, the elephant faced god Ganesha was born marking the beginning of Ganesh Chaturthi.
However, there is another, lesser-known story behind the birth of Lord Ganesha. It is said that both Shiva and Parvati created Ganesha in response to pleas by Devas. They wanted relief from demons (asuras), so Shiva and Parvati made Ganesha as a vighnakartaa (obstacle-creator) in the path of demons as well as a vighnahartaa (obstacle-averter) for Devas.
When is Ganesh Chaturthi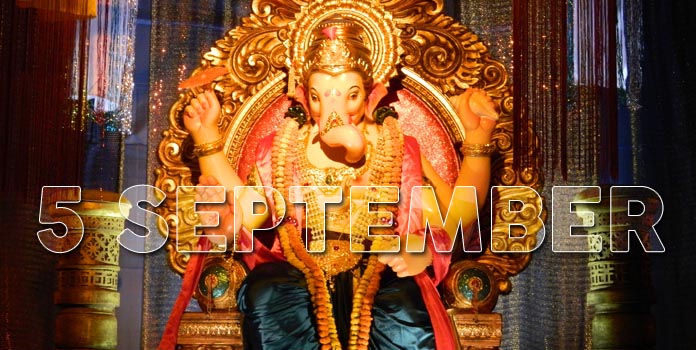 Ganesh Chaturthi usually falls in the months of August or September as per Gregorian calendar. According to Hindu Calendar, the festival starts on Shukla Chaturthi which is the fourth day of waxing moon during Bhaadrapada month.
The festival continues for ten days and ends on the fourteenth day of the waxing moon period. The final day is called Anant Chaturdashi when people immerse Ganpati idols into the sea and rivers. These days sometimes people at home also dissolve the clay made statues in the water buckets to save the environment.
This year, Ganesh Chaturthi will be celebrated on September 5 which also marks another important day of India- Teachers Day. This is quite an auspicious occasion as Lord Ganesha is also considered as the God of wisdom and intelligence.
Ganesh Chaturthi Decoration and Celebrations
The preparations of Ganesh Chaturthi start months in advance especially in southern states of India like Maharashtra, Karnataka, Tamil Nadu, and Andhra Pradesh. People in these states start making idols of clay of varying sizes and proportions. You will be surprised to know that these idols can range from a tiny 0.75 inch to well over 25 feet.
In addition to idols, devotees also prepare temporary shrines (pandals) which are raised platforms where the idols of Ganesha are kept for worshiping. Some of those big platforms are kept inside huge outdoor tents which are lavishly decorated. Many people also take smaller pandals and platforms to their homes along with mini sized idols of Ganesh during the festival.
There are four stages of celebrations of Ganesh Chaturthi: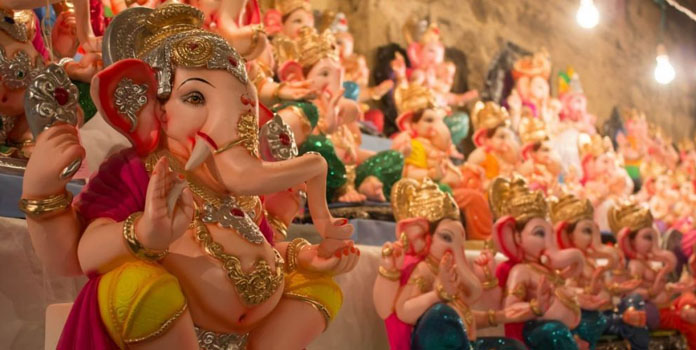 1. Pranapratishhtha
This is the first stage of Ganesh Chaturthi which involves the infusion of Lord Ganesha into the idols. In large temples and big pandals, priests wearing red silk dhoti and shawl (Indian devotional attire) chants religious mantras and shlokas (hymns) to infuse Lord into the idol.
2. Shhodashopachara
Shhodashopachara is the ritual where people pay tributes and pray to Ganesh in 16 different ways. During this process, people prepare the favorite dish of Ganesh called Modakas ( a sweet dish made of coconut, jaggery, rice flour) and offer it to Ganesh. There are over 21 varieties of Modakas which are offered to the elephant deity. In addition to it, people also offer 21 types of 'durva' (trefoil) blades and red hibiscus flowers to Lord Ganesha.
The clay idol of Ganesh is decorated with sandal paste or red unguent for the ceremony. Priests and devotees sing Ganesh Chaturthi songs and hymns from the ancient texts of Rig Veda, Ganpati Atharva, and Narada Purana.
3. Uttarpuja
Uttarpuja is performed just before the Ganpati Visarjan on the final 11th day. It involves people offering five items to the idol of Ganesh in homes as well as temporary shrines. Before immersing idols into the river, people make a final offering of coconuts, camphor and flowers to Lord Ganesha The idol is then lifted from its place and taken outside for Ganpati Visarjan.
4. Ganpati Visarjan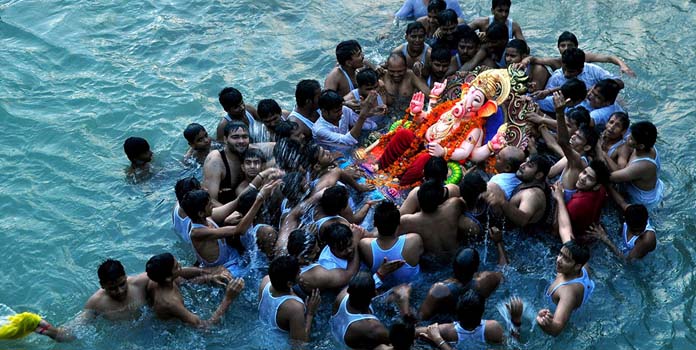 This is the final day of Ganesh festival in India where people come out in streets in large numbers carrying idols of Ganesh. Throughout the procession, people dance and sing Ganesh Chaturthi songs while they take idols for immersion into the river and sea.
People shout slogans and mantras like "Ganapathi Bappa Morya, Purchya Varshi Laukariya." This means "O father Ganesha, come again early next year". These days people also immerse these idols in their homes in buckets to save environmental pollution caused by immersion of idols in natural water bodies.
Significance of Ganesh Chaturthi
The whole ritual symbolizes that Lord Ganesha takes birth on the day of Ganesh Chaturthi and comes to heal sorrows of people and take their misfortunes away. After the end of 10 days, He goes back to his resting place in Kailash with his parents Shiva and Parvati while carrying all troubles and sorrows of His devotees with him.
Throughout the period of 10 days, ordinary people come out in large numbers in streets and visit lavishly decorated shrines and temples. In some venues, people also organize blood donation camps, free medical checkups, devotional songs, dramatic performances, etc. hence making the festival beneficial to the community as a whole.
In addition to India, Ganesh Chaturthi is also celebrated outside India where there is a significant number of Hindu residents. These countries include Mauritius, UK, Trinidad and Tobago, Philadelphia, Malaysia, and Singapore.
Ganesh Chaturthi Wishes
1. I heartily wish Lord Ganesha filled your home with prosperity and fortune. Best wishes on Ganesh Chaturthi.
2. Wishing you happiness as big as Ganesh's appetite life is long as his trunk trouble as small as his mouse and moments as sweet as his laddus Sending you wishes on Ganesh Chaturthi!
3. May Lord Ganesha shower Abundant good luck on you And may He always bestow You with His blessings! Happy Ganesh Chaturthi!
4. Celebrate Ganesha Chaturthi the Festival of Lord Ganesha. Spread the message of honesty and love through this world on this day when Lord Ganesha ascended on this earth to kill evil.
5. Meaning of Lord GANESHA
G- Get
A- Always
N- New
E- Energy
S- Spirit &
H- Happiness
A- At all times! Happy Ganesh Chaturthi 2016!
6. Lord Ganesha is our mentor and protector. May He enrich your life by always giving you great beginnings and removing obstacles from your life! Happy Ganesh Chaturthi 2016!
7. May the power of Deva Shree Ganesha: Destroy your sorrows; Enhance your happiness, And create goodness all around you! Happy Ganesh Chaturthi 2016!
8. May Lord Ganesha
Uproot the Obstacles of your life;
Give you favorable Beginnings;
Motivate you with inventiveness;
Also, favor you with judgment and intelligence!
Happy Ganesh Chaturthi 2016!
9. Master Ganesha is our guide and defender. Might He enhance your life by continually giving you awesome beginnings and expelling snags from your life!
Happy Ganesh Chaturthi 2016!
10. May Lord Ganesha gives you
A rainbow for every storm
A smile for every tear
A promise for every care
And an answer to every prayer!
Happy Ganesh Chaturthi 2016!
Ganesh Chaturthi is a festival of praying to Lord Ganesh to heal our sorrows and misfortunes and start afresh with new vigor and enthusiasm.
It is a time of spiritual new beginnings and leaving the past behind. How do you celebrate Ganesh Chaturthi? We are sure you will also love these Ganesh Rangoli designs to decorate your homes and welcome Lord Ganesha on the occasion of Ganesh Chaturthi 2016.
Also Read : Krishna Janmashtami & Lord Krishna