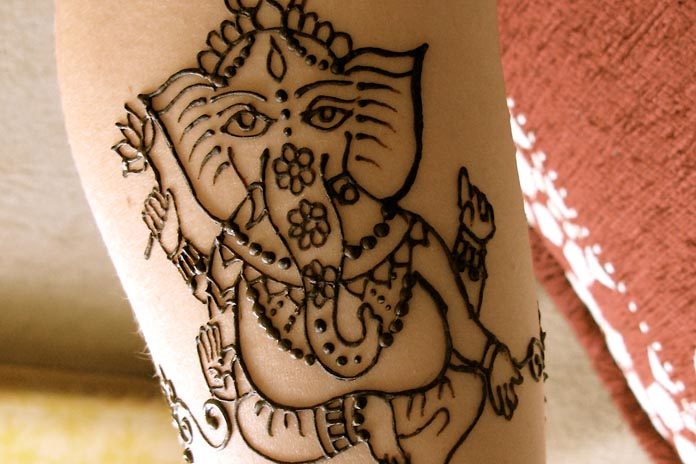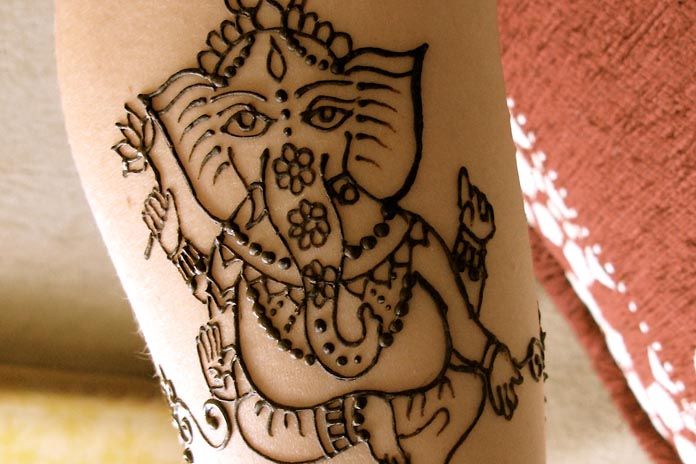 Ganesh Mehndi Designs –  is an integral part of personal style statement and decoration of body during festivals and religious ceremonies in India. You can never go wrong with the natural look of Henna and some splendid mehndi designs if you want to look different on the occasion of festivals.
One of the most vibrant festivals of India, Ganesh Chaturthi, is coming up, and we have brought some exclusive Ganesh Mehndi designs for you to try out new festival mehndi designs on this occasion.
Some of these Ganesh Mehndi designs are simple while some are just breathtaking. We are sure that you are going to find these mehndi designs very inspiring for this festive occasion.
Also Read: Simple Mehndi Design.
Check out these 10 exclusive Ganesh Mehndi designs and flaunt your festive look in front of everybody:
1. Designer Ganesh Mehndi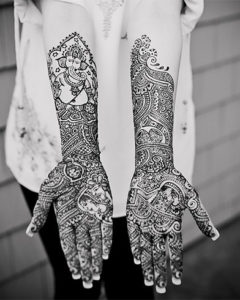 If you love intricate designs, you will simply become speechless by this excellent design of Ganesh Mehndi. The intricate drawing of patterns coupled with two different pictures of Lord Ganesh in two positions makes this mehndi design a splendid design to have on the auspicious occasion of Ganesh Chaturthi.
2. Pretty Palm Ganesh Mehndi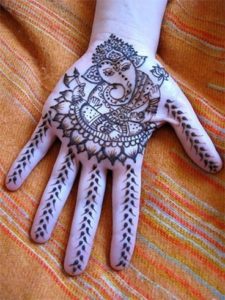 Nothing is more beautiful than the miniature version of Lord Ganesh depicted on your palms. This one is a highly detailed version of Lord Ganesh similar to the one described in scriptures as He is found sitting on flower petals carrying a Lotus flower in one hand and his weapon in the other. Since it is only on palms, it will be very easy to make amidst busy preparations of the festival.
3. Traditional Ganesh Mehndi Design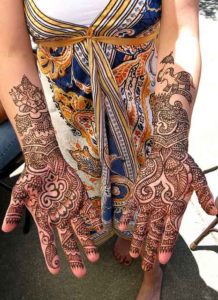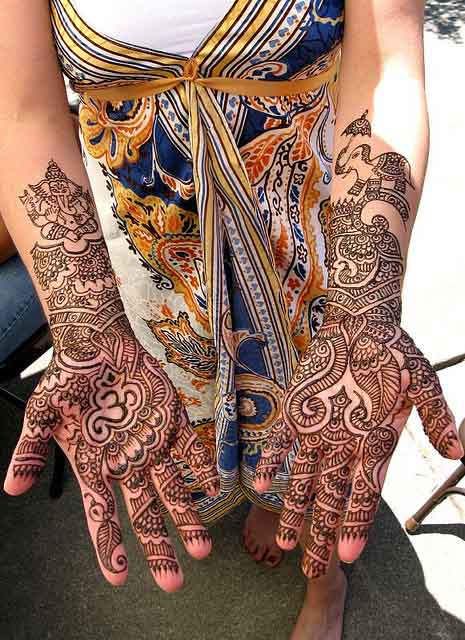 This one carries an entirely traditional look and feel ideal for the festive occasion. The middle of the palm bears the ancient Hindu symbol of Om which supposedly gives vibrations of the Universe. On top of the design, you have Lord Ganesh on one hand and an elephant on the other which is also a symbol of Ganesh.
4. Miniature mehndi design of Ganesh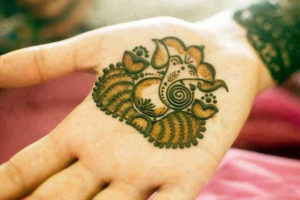 Small yet stylish, miniature yet magical- this mehndi design is beyond words if you think about it. After all, when most mehndi designs involve complex strokes and intricate designs, this mehndi design is simply perfect for the occasion of Ganesh Chaturthi with the fabulous representation of Ganesh Ji through mehndi.
5. Double Ganesh Mehndi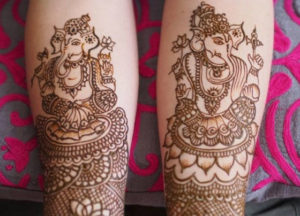 This is one of the most beautiful Ganesh mehndi designs which you can sport on the occasion of Ganesh Chaturthi. The dual depiction of Lord Ganesh on both hands looks just stunning. Plus, the lovely lotus flowers presented amidst the sophisticated design look fantastic. You have to try this superb mehndi design on this festival.
6. Full Hand Ganesh Mehndi Design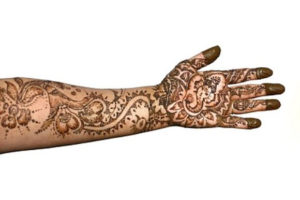 There is an entirely different charm to a full hand mehndi design. Moreover, when the occasion is of Ganesh Chaturthi, you can never go wrong with a complete mehndi look. With a picture of Lord Ganesh at the center of palm and an intricate depiction of design on top, this design looks splendid for the festive occasion.
7. Mini Ganesh Mehndi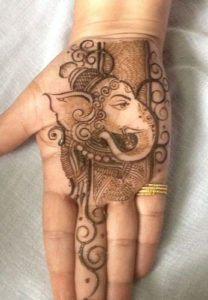 Try this mini Ganesh Mehndi if you are short on time amidst the preparations of Ganesh Chaturthi. Incredibly easy to make with an impressive design limited to a portion of your hands, this mehndi design is unique in look. You can also add a bit of your creativity in decorating your fingers as well to enhance the beauty of this design further.
8. Magnificent mehndi of Ganesh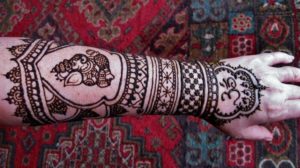 Give your mehndi a different touch on this Ganesh Chaturthi with this striking Ganesh mehndi pattern on your forearms. The traditional Om symbol near the wrist and the image of Lord Ganesha at the top make this a fantastic representation of ancient Indian culture and tradition.
9. Cool Ganesh mehndi design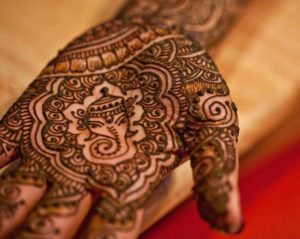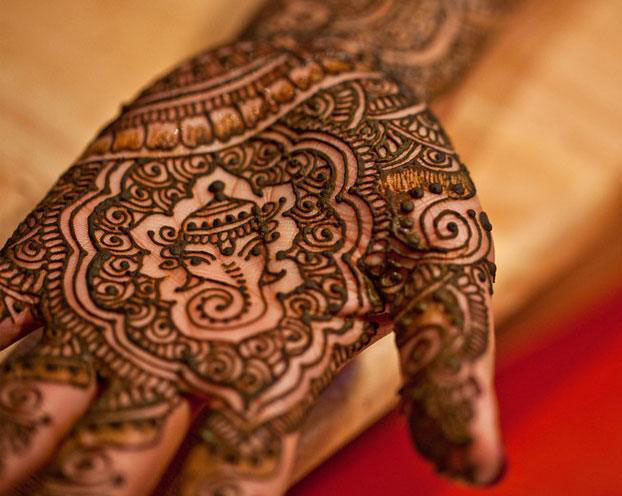 This one just has a small depiction of the head of Lord Ganesh at the center of a typical mehndi design. You will find it very easy to make this pattern, and it will look incredibly cool as well. The artistic design around the image of Lord Ganesh in the center further enhances the beauty of this Ganesh Mehndi design.
10. Lovely Ganesh Mehndi Designs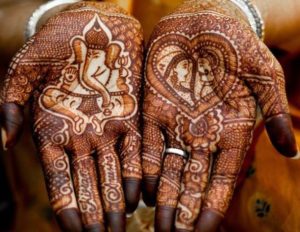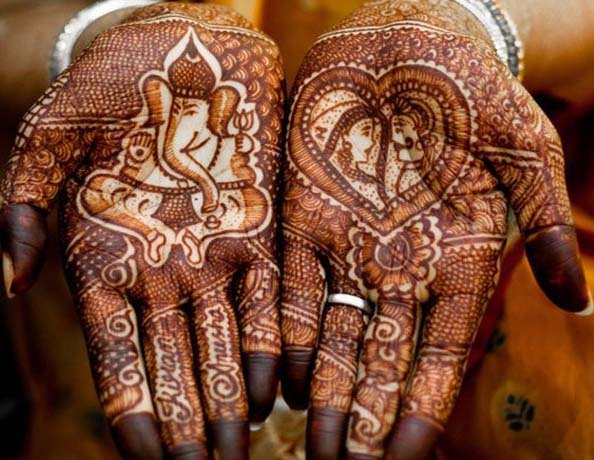 One of the most traditional and intricate mehndi designs, you will adore this lovely Ganesh Mehndi design. The primary mehndi design involving deep, dark finger corners with a heart shape on one palm and the image of Ganesh on the other, it perfectly symbolizes the presence of Lord Ganesh in your heart.
So, what are you waiting for? Get yourself a beautiful Ganesh Mehndi out of these amazing mehndi designs on the occasion of Ganesh Chaturthi. Do share with us your favorite mehndi design in the comments below.
Also Read : The Best Mehndi Designs for Hands