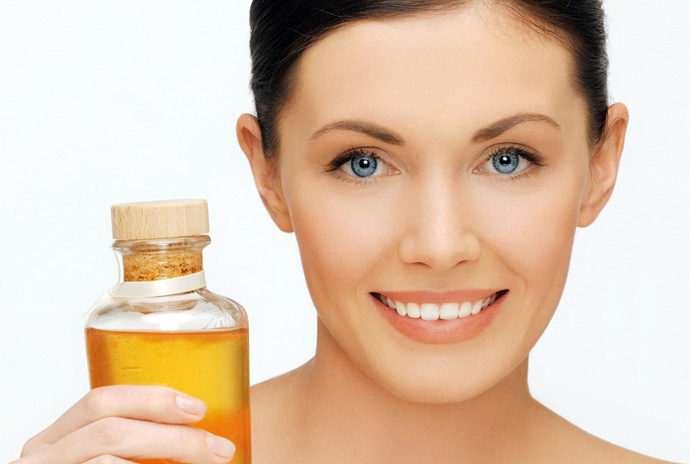 Almond Oil For Face – You must have used almond oil many times to get healthy and shiny hairs. After all, it is one of the most popular hair oils used by people all over the world. However, did you know that you can even use almond oil for face with as many benefits?
Related: Almond Oil For Hairs.
Yes, that is right! The amazing almond oil has many uses for the face as well. It is, particularly, a boon for those having dry skin. Almond oil not only acts as an effective moisturizing agent but also prevents wrinkles and age linings on the skin by fighting free radicals. Using almond oil for the face is among the most common and effective beauty tips for face that people use.
Discover how you can exclusively use almond oil for face below:
1. How to Use Almond Oil For Face
Almond oil can easily beat a majority of commercial face packs and scrubs to clean the facial skin and achieve that beautiful glow on the face. You can use almond oil for face glow in a variety of ways.
One of the most significant benefits of using almond oil on face is that it not only provides moisture and nourishment to facial skin but also fights wrinkles, linings and other signs of aging. The presence of antioxidants in almond oil makes sure that you do not lose that young, radiant skin rapidly as you age.
There can be many ways in which you can use almond oil on face. Some of the tips of using pure almond oil for face are:
a) The ALH (Almond Oil, Lemon, Honey) Face Pack
This face pack contains the triple benefits of Almond oil, honey, and lemon juice together. Both honey and lemon juice are very common items used for a daily beauty care routine. When you add almond oil to this combination, they together make an excellent face pack.
Related Articles: Organic Face Masks.
How to Make Face Masks? Complete Guide.
To prepare this face pack, mix equal quantities of lemon juice and almond oil and add them to raw honey. Use an amount of honey that can enable a thick, liquid based paste. Apply this face pack and leave it for 20-30 minutes. Wash this with lukewarm water and gently dry your face.
b) FAST (Fine Salt, Almond Oil, Sandalwood, Turmeric) Facial Scrub
Since almond oil is an excellent exfoliate, it can act as an effective scrubbing agent. Similarly, fine salt also imparts scrubbing properties. On top of it, sandalwood and turmeric powders are well known Indian herbs often used in natural face packs in many households for skin whitening. This facial scrub is indeed a fast way to get rid of all those dead skin cells and cleanse your facial skin from inside.
To prepare this facial scrub, you need to use sandalwood and turmeric powders and mix them together. Add a sprinkle of salt in this mixture. Now, add few drops of pure almond oil to form a thick paste. Apply this paste on your face by gently rubbing the skin in a circular motion. Keep it for 15-20 minutes and then wash it with regular water without using any soap or face wash.
c) Sweet Facial Scrub
This is one of the simplest facial scrubs you can make at home by using almond oil and sugar. Just add 2-3 teaspoons of sugar to almond oil and mix it thoroughly. Apply this facial scrub on your face to remove the dead skin cells and open the pours of skin to nourish it from inside. Keep your face still in the open air for 12-15 minutes and then wash your face with lukewarm water to get that face glow from almond oil.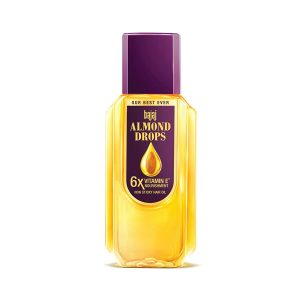 Known as the "King of Nuts" because of their high nutritional value, Almonds are very
nourishing and beneficial for health and so is the oil derived from them! It is rich in healthy fats,
vitamins, and minerals and has immense benefits for the face and hair. Almond oil can be used for
the face as it is light and gives a soothing feel, moisturizes, and heals minor cuts. Almond oil is
being increasingly used in face application and in skin care products owing to its numerous
benefits.
Almond oil should be used for the face and other areas of the skin as it is rich in vitamin A, vitamin E,
omega 3 fatty acids, and zinc which boost cell regeneration, prevent premature aging, provide
antioxidant properties, and heals scars.
Almond oil can be used on the face under the eyes to
reduce puffiness as it has anti-inflammatory properties. Also, it moisturizes dry skin and helps
improve skin tone.
It has the ability to carry with itself, other oils (lavender, rosehip, etc.) into the
deeper layers of skin and hence can be used as a cleanser. It is known to soothe out irritation
and heal the skin naturally.
We highly recommend getting rid of chemical-loaded products and going natural by using
almond oil on your face. You can use the link given above to order it from Amazon for just Rs.
168.00.
2. Almond Oil As Lip Balm
Lips form an integral part of the facial beauty. It is common to have chapped lips in winter season which do not seem to go away entirely
even if you keep yourself hydrated. Almond oil is a simple solution in this scenario as it can provide the much-needed moisturisation and nourishment to treat those dry lips.
You can mix pure almond oil with a small quantity of honey and store it in a small container. This can be used as a natural lip balm which will never fail to give you those luscious lips.
3. Almond Oil For Dark Circles
Your facial beauty can be made or broken by the region under your eyes. Yes, we are talking about those dreaded dark circles which play a perfect spoilsport in your daily beauty care routine. The situation becomes dangerous when dark circles are accompanied by puffy eyes.
This usually happens because of the accumulation of toxins in dark circles, as blood circulation becomes weak in that area. So using almond oil for dark circles can give you miraculous results in few days of use. It can also reduce inflammation by using almond oil under the eyes.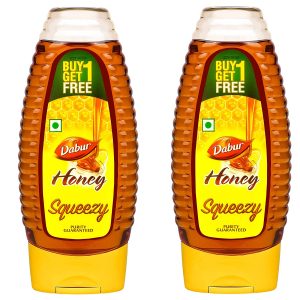 Honey is considered as nature at its purest. With its ever-increasing use in medical treatments
and as a kitchen ingredient, it has proven time and time again to be the best healer for skin and
body. It is full of antioxidants, antibacterial, and antiseptic properties and helps us stay fit by
acting as an energy booster. Honey can be mixed with warm milk or water, or may even be
consumed directly.
It fights various microbes that enter the body and builds a strong immune
system. Consuming honey can make us all stay healthy in our busy and hectic schedules.
The benefits of honey are numerous from reducing the risk of cardiac diseases to improving
blood circulation to removing harmful toxins from the body, honey does it all. It relieves sore
throat and helps with indigestion by removing acidity from the stomach. Apart from that, it also
promotes weight loss and cures eye inflammation.
It also acts as a natural moisturizer to
prevent dryness and it stops bacterial growth to cure acne and helps keep skin allergies away. It
cleanses the scalp and keeps it moisturized and thus, can also be used as an alternative to
chemical-rich shampoos which harm the hair and scalp.
Overall, it is the best healer and protector against many unwanted problems. We urge you to try
this amazing natural remedy for your skin and health problems. Get it now from Amazon using
the link given above for just Rs. 264.00.
4. Almond Oil For Eyelashes
Want to have thick, healthy eyelashes? Apply a little almond oil on your eyelashes by using an old mascara wand or a cotton tip. Do this at night before you go to bed regularly. You can also use it at other times of the day if you are comfortable with it. Just like hairs on your scalp, almond oil also nourishes the hairs of eyelashes and give them a natural shine.
5. Almond Oil For Removing Makeup
Makeup adds to the beauty of your face and charm of your personality. However, for removing it, you may have to use different products in addition to the chemicals in makeup items themselves. Almond oil is a highly effective option in such cases it can gently remove the makeup particles. It will also clean and nourish the skin from inside.
These are some of the best almond oil benefits for face. For achieving best results, you can try a maximum of these methods before you go to sleep at the night. Especially, if you have dry skin, you can easily use almond oil for face at night for achieving the best face glow in the morning.
Which of the above tips are your favorites for using almond oil for face? Share with us in the comments below.
Also Read: Bedtime Beauty Tips.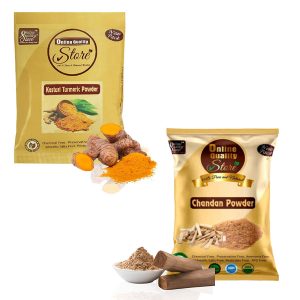 Sandalwood, commonly known as Chandan in India, is a natural healer and is even considered holy in Hindu rituals and rites. Turmeric is a savory spice that contains a yellow-colored chemical called curcumin. It is a widely used kitchen ingredient loaded with immense medicinal properties. Both these naturally powerful substances are antioxidants and have anti-inflammatory and antiseptic properties.
We can use turmeric with almond oil by mixing 5 to 6 drops in turmeric and make a pack of it for your face which removes wrinkles and extra oil from the skin.
Use almond oil with sandalwood powder is also beneficial for your skin like it prevents sweating on your face and protect your skin from sunburn.