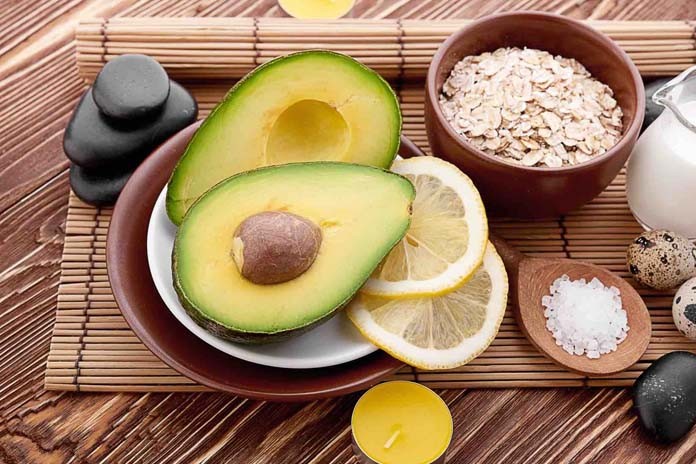 How To Make Face Masks – Are you fed of using face washes that give you more pimples? Are you irritated that your skin creams do not get rid of the acne marks? Do you find those chemical laden moisturizers drying your skin instead of nourishing it? These homemade face masks are very easy to make.
Then it is high time that you ditch them! Natural facial masks are an excellent way to rejuvenate your skin. In case this concept is new to you and you are wondering how to make a face mask, then don't worry! We will help you.
Make your own face mask with these DIY procedures, and get a perfect answer of how to make face masks.

Also, we've many more beauty tips for face that you must know. These are practical and easy to implement, just like making these face masks.
Avocado And Honey Face Mask For Dry Skin:
Suffering from dry and scaling skin? Then this is an excellent face mask to relieve your troubles. Rich with the goodness of honey, avocado, and coconut oil, this face mask provides replenishing moisture to your skin and aids in skin nourishment. It also protects against skin damage. However avocado health benefits are also undeniable, but for skin its benefits are awesome.
Ingredients:
½ very ripe avocado (pitted and scooped out)
2 tablespoons of honey
½ teaspoon of coconut oil
Preparation:
Make a smooth puree of the avocado until it's creamy.
Blend in the rest of the ingredients with the avocado puree, avoiding lumps.
Application: Apply the mask on your face (avoid eyes). Leave it to dry for 10-15 minutes. Wash face with cold or lukewarm water.
Oatmeal and Yogurt Mask
If you don't have much idea about how to make face mask and need help, then this is what you should do. Simply take oatmeal, yogurt, and honey- you will have a smoothening, exfoliating face mask that prevents acne breakouts, nourishes the skin and helps in healing eczema. The rejuvenating mask has honey and yogurt for moisturizing and skin lightening with oatmeal for exfoliation.
Ingredients:
½ cup hot water
1 tablespoon honey
1/3 cup instant oatmeal
1-2 tablespoon plain yoghurt
Preparation:
Mix hot water with oatmeal. Let the oatmeal soak water for about 10 minutes.
Add honey and yoghurt to it and blend the mixture to form a smooth paste.
Application: Apply the mask on your face. Leave it on for about 15 minutes. Gently scrub it before washing with cold water.
Papaya Antioxidant Mask
You don't have to buy expensive, non-functional cosmetics when you can make your own face mask at home! Papaya is an antioxidant fruit, which deeply nourishes the skin. Honey is perfect for those with oily or dry skin because it gently moisturizes without the oily feeling. The benefits of Lemon are perfect for drying pimples and reducing acne marks.
Ingredients:
½ ripe papaya (Peeled, seeded and sliced)
½ teaspoon honey
¼ teaspoon lemon juice
Preparation:
Use a food blender and puree the papaya smoothly.
Blend in other ingredients with the paste.
Application: Damp your face. Apply the mask avoiding your eyes. Leave it on for about half an hour. Gently scrub and wash it off.
Detoxifying Mocha Mask
If pollution, lack of sleep and tiring job showing signs on your face? Are you wondering how to make a homemade face mask? Then all you need is some coffee and cocoa powder. Coffee will help brighten your skin, take off the dry, dead skin through exfoliation. Cocoa powder will tighten the pores, reduce dark circles while yogurt/sour cream and honey moisturizes.
Ingredients:
2 tablespoons pure cocoa powder
2 tablespoons grounded coffee
3 tablespoons sour cream or plain yoghurt
1 tablespoon honey
Preparation: Blend all the ingredients together to form a smooth mixture.
Application: Apply the mask in a circular motion. Use it around the eyes without getting the mixture inside the eyes. Massage gently for a minute before washing it off.
Skin Brightening Strawberry and Apple Cider Vinegar Mask
Have acne prone, dull skin? This brightening face mask is for you. With the goodness of strawberries, this face mask reduces acne and ensures that the skin's pH balance is maintained, avoiding further breakouts.
Apple Cider Vinegar reduces redness and tanning. Add some green tea to the mix and you will have a hydrating, exfoliating face mask. In fact, you can apply it all over your body.
Ingredients:
¼ cup mashed strawberries
1 tablespoon apple cider vinegar
2 tablespoons plain yoghurt
2 tablespoon lemon juice
1 teaspoon honey
3 tablespoons hot strong brewed green tea
Preparation:
Brew a strong green tea.
Add all the remaining ingredients together with green tea and blend nicely to form a lump free paste.
Application: Apply the mask. Let it sit for at least 10 minutes. Massage gently in a circular motion before washing off. Avoid using soap for at least 10 hours after using this mask.
So, which one of these masks are you going to try? Have any other ideas? Share here!

Also Read: Top Ten Face Masks for Glowing Skin