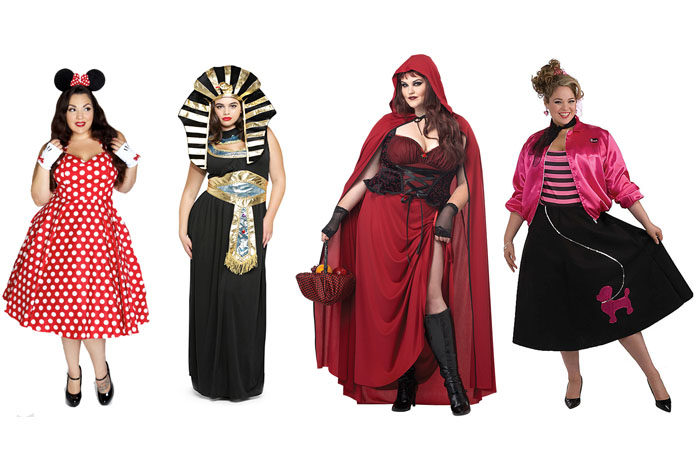 Plus Size Halloween Costumes – Has it ever happened to you that you loved a Halloween costume, but it was not available in your size? Isn't it so heartbreaking? Sometimes out of a number of adult Halloween costumes, you may not find an ideal dress of your size. Other times you may simply not like the costumes themselves even if you have access to many Plus Size Halloween costumes.
More On Halloween
Today Living Hours will end your confusion at once as it brings you an exclusive collection of plus size adult costumes. You will not only love the ideas of these Halloween costumes but also can find it easily in your nearby Halloween costume store.
Related: Kids Activities For Halloween 2017.
So, do not wait any longer and check out this list of 21 fabulous plus size Halloween costumes:
1. Sexy Sorceress Costume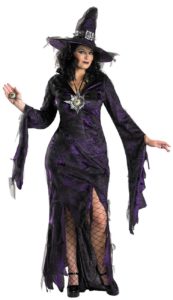 Show off the magic of your beauty with this plus sized Halloween costume of a sorceress. The velvety texture of this Halloween dress complete with a witch hat will make you nothing less than graduate from Hogwarts School of Witchcraft and Wizardry.
2. Menacing Vampire Costume for Halloween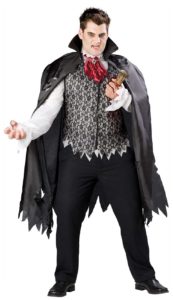 Vampires are the hottest Halloween trend this season. Do not hesitate to dress up as a big, menacing vampire in this special large Halloween dress perfectly suited to your frame!
3. Medieval Plus Size Costume for Women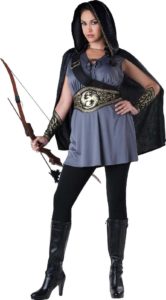 Be the woman warrior from medieval times in this Halloween Costume specially designed for women with medium to large body structures.This one is a truly elegant Halloween costume for females!
4. Plus Size Voodoo Doll Halloween Costume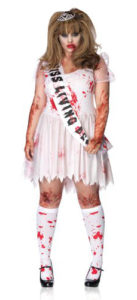 Voodoo dolls have a particular fascination among common public due to their spooky and supernatural stories. Turn on your scary look with this plus size adult costume for Halloween!
5. Vampire Halloween Costume for Men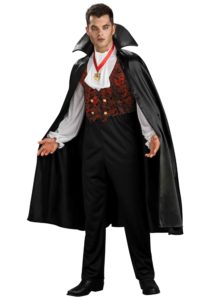 Do not let your extra large size come in between your desire of dressing up as a cool vampire. Wear this suave looking vampire costume for Halloween party this season!
6. Greek Goddess Plus Size Costume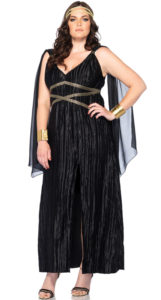 Flaunt this beautiful Greek Goddess look in this plus size costume for women. You will be the center of attraction of any Halloween party with this unique Halloween costume.
7. Plus Size Pirate Costume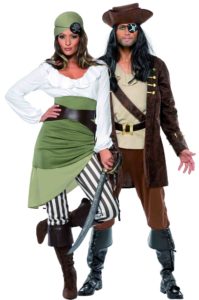 Pirates are super cool, and when you decide to dress like them with your partner, the attraction is unlike any other Halloween costumes. Try out this plus size Halloween costume with your spouse.
8. Batgirl Halloween Costume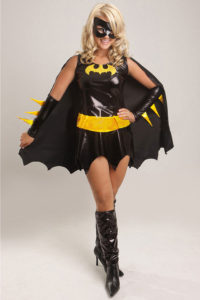 The female counterpart of the Dark Knight, Batgirl is equally impressive and exciting as the Batman himself. Wear this unique Batgirl Halloween costume on the night of Halloween this year and watch all Batman guys come towards you!
9. Zombie Woman Plus Size Halloween Dress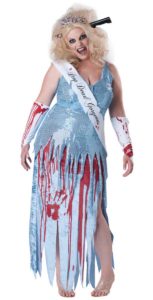 On the evening of Halloween, zombies are the favorite of many as nothing conveys the horror and spooky better than these dead-alive creatures. This plus size Halloween costume will make you like a scary zombie woman this Halloween.
10. Morticia Addams Halloween Costume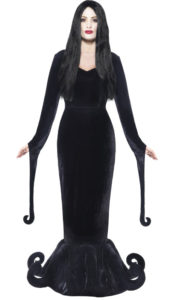 The character of Morticia Addams from the famous TV show, The Addams Family, is quite popular as Halloween character. You will love to wear this costume and play her character if you are invited to a theme based Halloween party.
11. Plus Size Villain Costume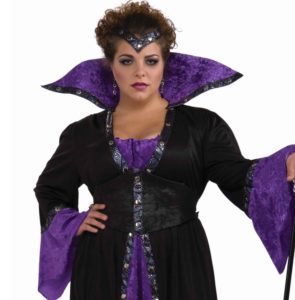 Who says you cannot look dangerous in a plus sized Halloween costume? You must try this fantastic purple-black plus sized costume on the Halloween night and show your terrifying, spooky side.
12. Zombie Bride Halloween Costume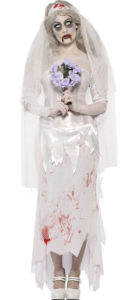 Dress up as a zombie bride in this superb Halloween costume. Do not forget to put on a dark black eye makeup to complement this look for the upcoming Halloween party.
13. Adult Plus Size Halloween Costume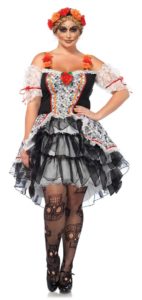 This is one of the best plus size Halloween costumes for women. You will have to spend some time on getting the makeup right to carry off this look, but it will be worth the effort.
14. Ghost Face Scream Costume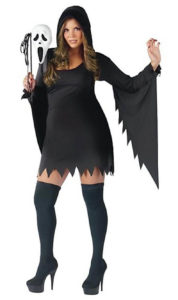 If you cannot find a suitable costume out of traditional plus size Halloween costumes, you can go for the classic black Halloween look along with a screaming ghost mask. You will look gorgeous in this black plus size outfit.
15. Plus Size Male Vampire Costume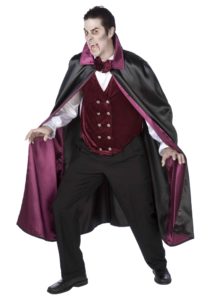 You do not have to be skinny like Edward to look like a hot vampire. This plus size vampire costume will give you that required scary edge on the night of Halloween.
16. Men's Large Size Halloween Costume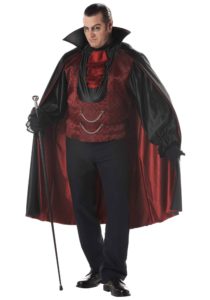 When vampire costume is not sufficient on its own, you can transform your look with an accessory resembling a magic wand. This maroon and black velvety vampire costume is just perfect for the Halloween party!
17. Plus Size Renaissance Lady Costume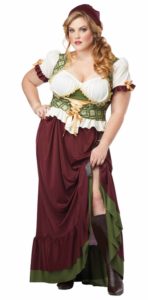 Flaunt your curves in this beautiful Halloween costume of a lady from Medieval or Renaissance era. One of the most gorgeous plus size Halloween costumes, this one is perfect for a pirate or medieval themed Halloween party.
18. Wicked Queen Halloween Costume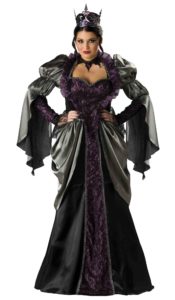 Show your evil side by dressing up as a menacing queen on Halloween. This plus size Halloween costume carries a certain elegance as well as spooky aura ideal for Halloween night!
19. Plus Size Harley Quinn Costume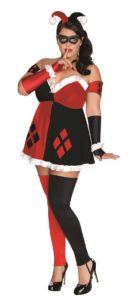 Harley Quinn of Suicide Squad may look great in a skinny look, but you do not have to be skinny to become the crazy, psychotic super villain and girlfriend of Joker in the DC Universe.
20. Lovely Plus Size Witch Halloween Dress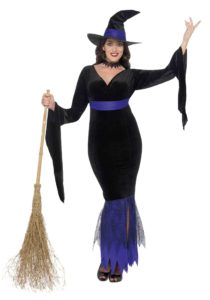 You will love this Halloween dress especially if you are a fan of Harry Potter universe. The cute witch along with a flying broomstick will attract the attention of many in any Halloween costume party.
21. Pirate Beauty Plus Size Halloween Costume for Women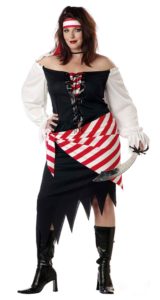 Plus size Halloween costumes cannot get any better than this sexy pirate costume for women. Show off your inner diva with this attractive pirate costume.
How do you like the above collection of plus size Halloween costumes for adults? Isn't it amazing? Tell us your favorite costume in the comments below. Do you have any more ideas about such costumes?
Feel free to share with us. You will also love to look at these couple Halloween costumes if you are celebrating this Halloween with a special someone. Happy Halloween 2016!