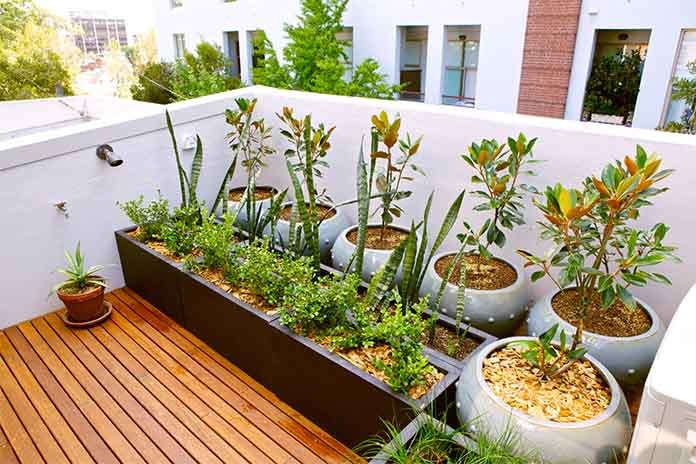 Roof Top Gardening – If you do not have much outdoor space, enjoying roof top gardening can be an ideal alternative for you. Urban roof gardens are recommended for all homeowners and property builders as they promote an easy and effective way of beautifying homes, increase eco-friendliness and adds a relaxing, peaceful factor to a place.
Related: A Beginner's Guide To Container Gardening
Aesthetic improvement is one of the main reasons why people try roof top gardening. However, research shows that the benefits of rooftop garden go beyond that. For instance, they cool your home and increase its energy efficiency.
These gardens reduce pollutants and ensure better air quality. At the same time, you can grow container plants that can instantly provide you fresh produce to eat. You can make a garden with a theme to promote socialization and a better living area for your guests. Gardening on its own can keep you fit and active.
That is why you should try exploring the idea for a garden on the roof, especially if your ground space is limited. This guide will help you get started.
Find out whether it is possible to design and structure a rooftop garden at your place
First of all consult with your property manager or home owner association whether or not their regulations allow you to create a roof garden at your home. Alternatively, in case you have a freeholder, ensure that they allow you to build one.
You would not want to spend tons of money preparing for a rooftop garden and then finding out that it is prohibited for your property. If it is possible for you to create a garden roof, then start studying its structural abilities.
Is Your Rooftop Fit to Have One?
You would need to ensure that your roof is fit for having a garden, as the majority of the houses have flat roofs that aren't strong enough to support the weight of a roof garden. Consult a structural engineer to figure it out and help you in dealing with it.
If your roof is not supportive enough, discuss your issues with an architect who can provide you the right kind of solutions for creating rooftop gardens. When ever you start gardening you should know some tips and tricks related to gardening.
You Should Have A Comfortable Access Path to The Roof
Having a comfortable access way to your roof garden is essential so that things for creating and maintaining it can be easily moved up and down without disturbing the peacefulness of your property.
Get in touch with an architect or a rooftop garden specialist to help you with the same. You should also consider having a right kind of opening or entrance for the garden.
Don't Go lax on the Layout
A perfect layout is a key to having a winner garden rooftop. If you have a knack for creating one yourself, well and good. Or else hire a designer to help you design it. At this point of time, you should even consider different options for rooftop flooring and materials. Think about the kind of theme you will have for your garden. Also if you have some small space in your home then you should try container gardening.
Have a Proper Planting Scheme
Roof gardens are all about creating a style statement. And having a proper layout and a planting scheme helps you move in that direction with quite some ease.
After all, you would not want to have an improperly planned rooftop garden, which looks like a wild grassland. Use a planting expert or a landscape designer to assist you in figuring out a workable planting scheme.
Get appropriate furniture, containers/planters and other accessories
Depending on the size and theme of your roof garden or the type of plants you are planning to grow, get necessary items such as containers, planters, furniture, etc. Just make sure, all these items are lightweight and stable for proper rooftop gardening.
Decide on the Watering System of Roof Top Gardening
Your plants will require frequent watering and of course, you would not want to carry heavy buckets of water to the roof each day since that is not practical. Therefore, it is important that you come up with a proper solution beforehand.
You can either build a water storage system on your rooftop or have an automatic irrigation system installed. A stormwater solution or a rainwater harvester is an excellent way for ensuring better water utility for the roof garden.
What About Windbreaks?
Since roof gardens are wider than normal ones, you will need to have windbreaks incorporated into its design. Avoid using solid windbreaks as aren't very effective, and they get easily knocked down by high winds. Instead, trellises or latticed windbreaks are ideal for this purpose, since they disrupt the flow of wind instead of stopping it completely.
Consulting a Specialist is Always Better
No matter how well equipped, you are technical, mentally or physically, having an expert by your side is always beneficial. There are various details that need to be considered when building a roof garden, and you may not know about them. Therefore, consulting a specialist before starting the project is quite essential.
Don't wait! Make your home a peaceful place by practicing roof top gardening!
Also Read: Top 10 Indoor Gardening Tips You Must Try
5 Step Beginner's Guide to Grow Indoor Vegetable Garden