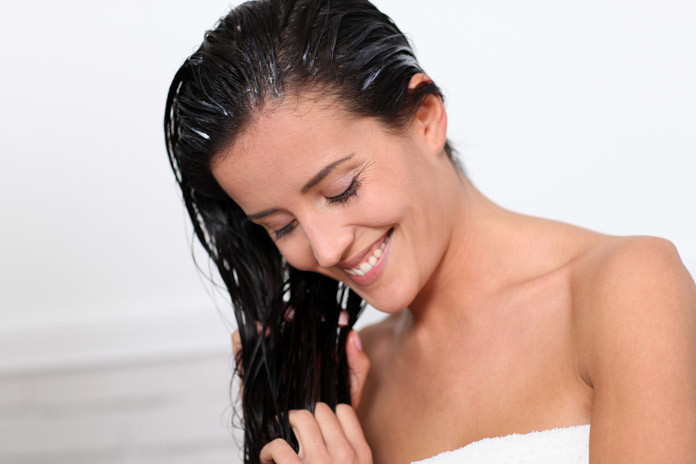 Hair Masks For Dry Hair – The fight with dull, damaged, frizzy and dry hair is a never ending one. However, all we long for are long lustrous, gorgeous and silky smooth hair. The trick to look fabulous at all times is to have perfect bouncy and dazzling hair.
Honestly, frequent trips to the salon are taxing. Not only on our pockets but valuable time as well. Moreover, do not forget all the chemicals used. However, these organic, easy to make at home masks are going to change all that for you. Give your hair the best pampering with this all natural ensemble of hair masks.
Related: 5 Natural Hairs Masks For Healthier Hairs.
Get right away to trying out these hair masks for dry hair.
Henna
The traditional unerring grandmother's remedy for dry hair. To prepare the mask, take henna soaked overnight in black tea. Add one tablespoon olive or coconut oil, four tablespoons curd, two beaten eggs and squeeze half a lemon into it.
Mix well and apply to your hair, leaving it in for two hours. Wash away with a mild shampoo and cold water for great hair.
Coconut Cream
Coconut is not only great for health and skin, but for dry hair as well. This mask makes hair glossy and dashing too. Taking an unripe coconut scoop out the cream from the bottom. Warm up this cream a little before giving your hair a tip to root massage. Roll up your hair in a warm towel for an hour. Use a mild shampoo to wash hair, do not use a hair dryer. You can try coconut oil hair treatments also for hair problems.
Avocado Pulp
The creamy texture of an avocado fruit is perfect to achieve sleek frictionless hair. Combine avocado pulp and mayonnaise to a smooth paste, in a one to two ratio. Put the mask on entire hair. After half an hour wash hair with room temperature water. There are many avocado hairs masks recipes also to take care of your hairs.
Hibiscus Petals
To add shimmer and radiance to dull hair try the hibiscus mask. Soak a cup of red hibiscus petals overnight. Blend to a paste while adding a little olive oil. Cover hair with the mask, especially the scalp. After about an hour wash off to get polished hair.
Egg Mask
If you are looking for hair masks for dry hair This protein filled mask is fabulous for damaged hair. Repairs hair damage if used on alternate days. In a bowl add one tablespoon of honey and castor oil to one egg.
Mix well together and mask your hair from root to tips. Drape hair in a towel or wear a shower cap to avoid messiness. Wait for an hour before washing off. First with water followed by apple cider vinegar.
Banana
A banana is a natural smoothing agent. It also softens rough, frizzy and dull hair. Take one tablespoon olive oil, two tablespoons of mayonnaise and two ripe bananas, mashed to a smooth paste. Mixing them together put on hair for an hours time. Follow up by washing hair with warm water.
Black Gram
To make this mask, grind to a paste, three tablespoons of black grams soaked all night. Mix a cup of yogurt, a tablespoon of lemon juice and one beaten egg into the paste. After the mask has stayed on for thirty minutes, use cold water to wash hair clean.
Methi Mask
A simple mask to make is good for fighting off dandruff in hair and scalp. Take methi seeds immersed in water all night. Blend them into a smooth paste. Rub paste onto scalp and hair. Leave in for not more than twenty minutes and rinse off with a gentle shampoo.
Potato
Aloe Vera mask enhance growth and fight hair fall by using this solution. For this mask, you will need potato juice. So, peal and grate a big potato, to wring out the juice. Along with this juice combine two tablespoons of aloe vera gel. For a quarter hour massage scalp and hair nicely. Wash hair after two hours and towel dry.
So, Try any of these hair masks for dry hair to protect form damages.