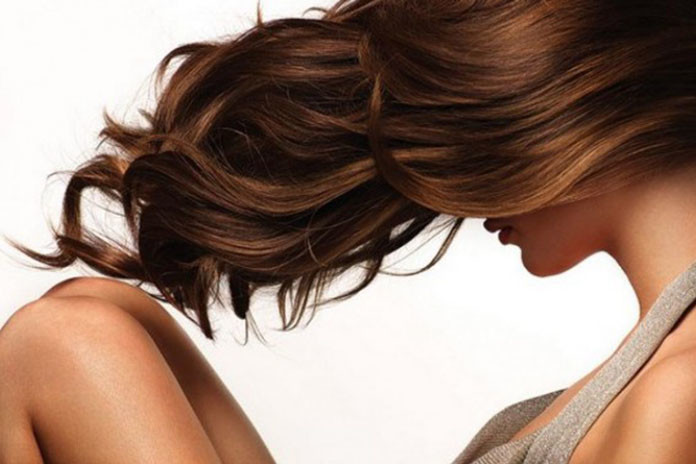 Natural Hair Mask – Hair masks are excellent for improving the strength and health of your hair. However, hair masks, particularly the ones purchased from stores tend to be expensive and may even contain chemicals. Such masks will do you more harm than good. Or you can try coconut oil treatment for hair.
So, how about you make your own natural hair masks? They are fuss free to make. They offer an endless range of benefits. Check out these five natural masks that will provide endless nourishment to your hair!
Egg and Yoghurt Homemade Mask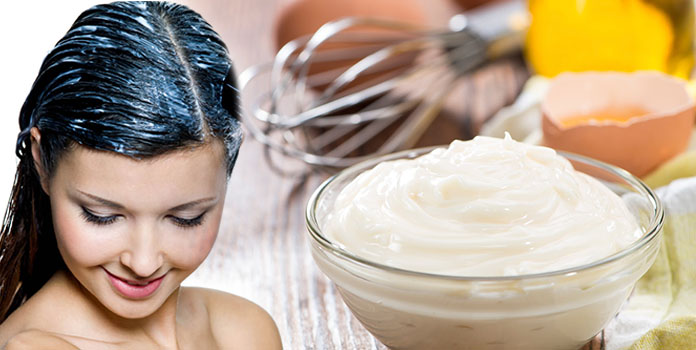 Recommended For- Dry, Dull Hair
Rich in protein, eggs are a fantastic source of a variety of essential nutrients, which includes Vitamins A, B, B12 and D, iron, potassium, fatty acids and calcium.
The Vitamins and calcium protect your hair against damaging and prevent hair loss. Fatty acids bring shine and yoghurt, which is rich in lactic acid and zinc, aid in hair softening. Yogurt is one of the most significant hair growth food as well.
Ingredients:
1 to 2 eggs
1 cup of yoghurt
½ lemon
Two tablespoons extra-virgin olive oil
Mix these ingredients together. If your scalp is greasy but the tips seem dry, you can only use egg whites or skip olive oil. Apply the mask from root to the tip, going from roots to the tip. Leave for 20 minutes. Wear a shower cap to avoid smell and dripping from the mask. Wash off with shampoo and conditioner.
Also Read: Homemade Olive Oil Hair Treatment.
Banana and Coconut Oil Hair Mask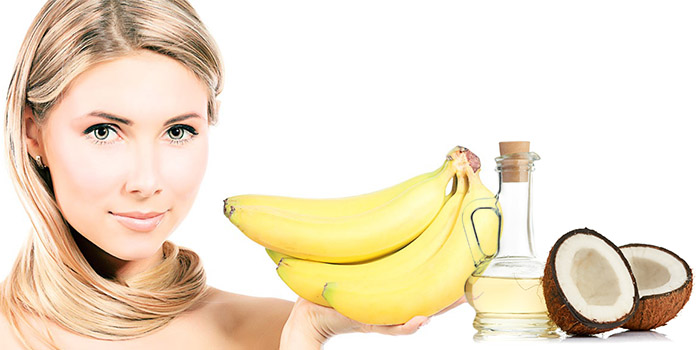 Recommended For- Damaged, Dry and Limp Hair
Rich in potassium, vitamins, antioxidants, and natural oils, bananas are considered to be one of the best fruits for making natural hair masks. With Vitamins A, C and E, this mask nourishes and strengthens hair follicles, promotes healthy hair. Potassium heals damaged hair. Coconut oil and honey have antioxidants and anti-inflammatory compounds.
Also Read: DIY Coconut Oil Hair Treatment For Healthier Hairs.
They work magnificently in treating dandruff and dry, irritated scalp. They act as natural emollients.
Ingredients:
1 or 2 over ripened bananas
1 teaspoon of coconut oil
1 teaspoon of honey
1 teaspoon of extra-virgin olive oil
Whisk bananas with olive oil. Form a smooth mixture. Add coconut oil and honey to the mix. Apply smoothly to your hair. Let it sink into the scalp for 15 minutes. Rinse with warm water. Shampoo your hair. Skip conditioning if your hair feels soft.
Yoghurt and Apple Cider Mask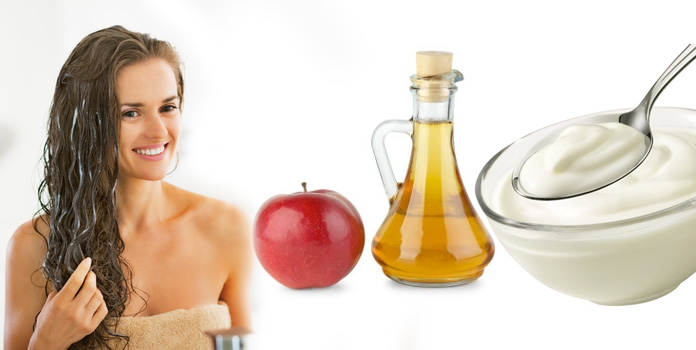 Recommended For- Normal Hair
Hair care is vital. For that, you need masks like this one. It is packed with anti-oxidants, vitamins, calcium, and protein, and yoghurt acts as an excellent emollient for your hair.
Apple cider vinegar and its acid content help in removing the buildup of residue from your hair, making them look shiny and lustrous. Moreover, this natural hair mask contains honey, which encourages hair growth.
Ingredients:
1/2 cup of natural probiotic yogurt
1 teaspoon of honey
1 teaspoon of apple cider vinegar (Note: don't overuse apple cider vinegar, as it may cause a burning sensation on your scalp.)
Mix all ingredients and apply on your hair, from root to scalp. Let it sit for about half an hour before shampooing.
Avocado, Milk And Olive Mask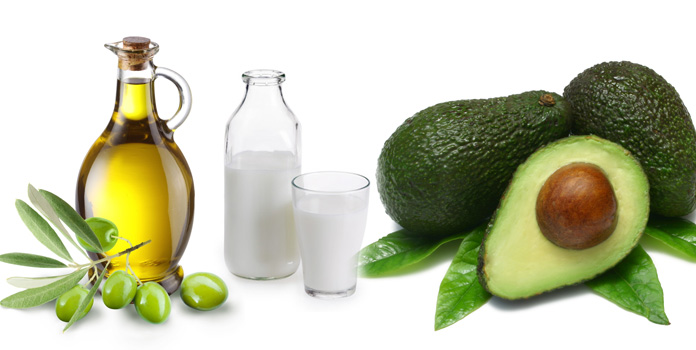 Recommended For- Frizzy, Colored and Damaged Hair
This is an amazing natural hair mask that contains, avocado, milk, oatmeal and extra-virgin olive oil. All these ingredients have moisturizing properties, which keep your hair hydrated all day long. Avocado's biotin content strengthens your hair whereas olive oil keeps it free from frizzes. Also, oatmeal being rich in Vitamin B protects and nourishes your hair back to its optimal health.
Related: Top 4 Avocado Hair Masks For Every Hair Type.
Ingredients:
1 ripe avocado
1 cup of milk
1/4 cup of extra-virgin olive oil
1/4 cup of oatmeal
Mix the ingredients and apply on damp hair. Leave it for half an hour. Follow up with shampoo and conditioner.
Strawberries, Coconut Oil and Honey Hair Mask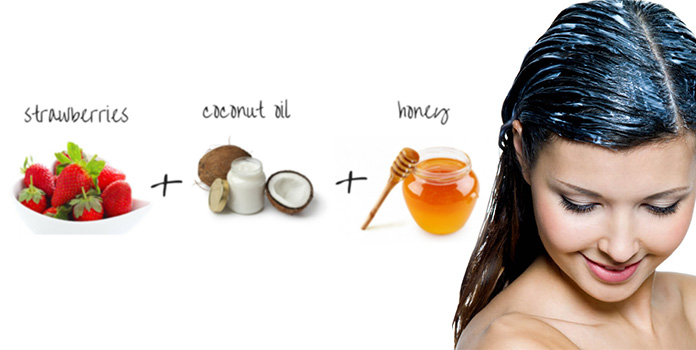 Recommended For- Infected Hair, Dandruff, Oily Hair
Strawberries are rich in Vitamin C. It regulates hair pH levels and helps in avoiding greasiness. Honey provides moisture to prevent loose ends.
Ingredients:
7-8 pieces of medium sized strawberries
1 tablespoon of honey
1 tablespoon of coconut oil
Also Read: The Uncommon Benefits of Coconut Oil.
Make a smooth paste mixing these ingredients Apply and leave onto hair for at least 20 minutes. Use a mild shampoo for cleansing. This hair mask has a heavenly aroma.
Use any of these hair masks at least once a week for best results. Remember that all these masks promote hair growth as well.
Also Read: 10 Powerful Hair Growth Remedies.
Top 10 Men's Beard Grooming Tips.