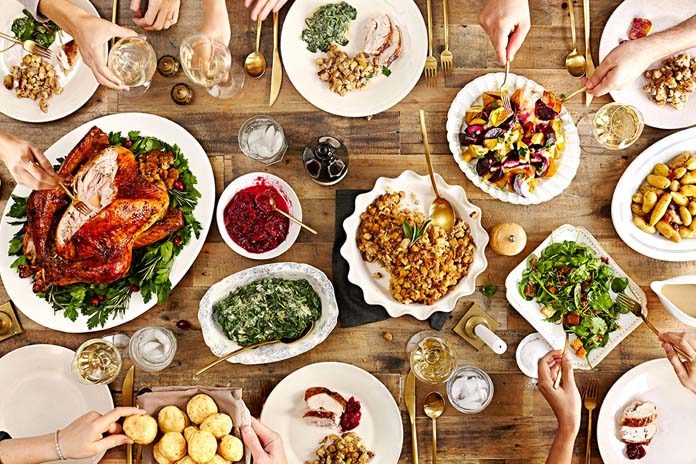 Thanksgiving Foods – Are you ready to have a look at the most lip-smacking Thanksgiving foods which may give you a foodgasm? Thanksgiving Day is the time to feel grateful for all your blessings as well as hardships in your life which make you a better person. Most importantly, it is the time to celebrate with family and have a nice, long Thanksgiving dinner with the people you love the most.
Related: Thanksgiving Cards.
But, what items you should include in this year's Thanksgiving menu? Let us end this confusion of you and offer you 31 Thanksgiving foods ideas which are guaranteed to help you in preparing the best Thanksgiving dinner ever! So, roll up your sleeves and note down the Thanksgiving dishes you want to make this year:
1. Maple-Glazed Turkey with Gravy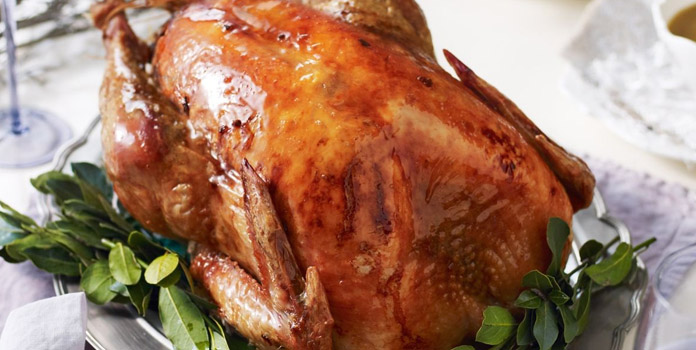 Use your favorite maple syrup to prepare a yummy turkey this year. Make the gravy by mixing turkey juices with maple syrup and serve it for a traditional turkey meal.
2. Apple Raisin Stuffing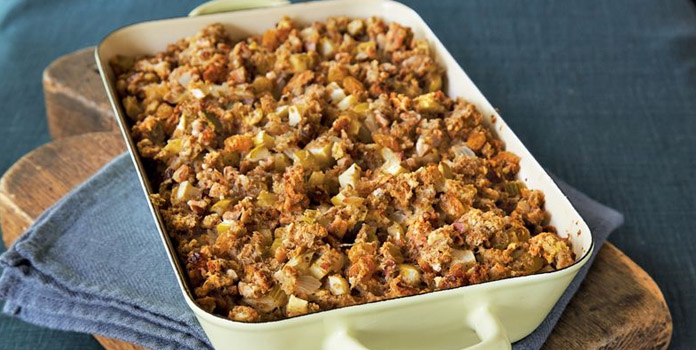 Make your stuffing a bit sweet using the combination of apple and raisins. Season it with chopped onions, celery, and cinnamon to prepare this dish. You can use it independently over the turkey or as stuffing before cooking to prevent the turkey from getting dry.
3. Pumpkin Cranberry Pie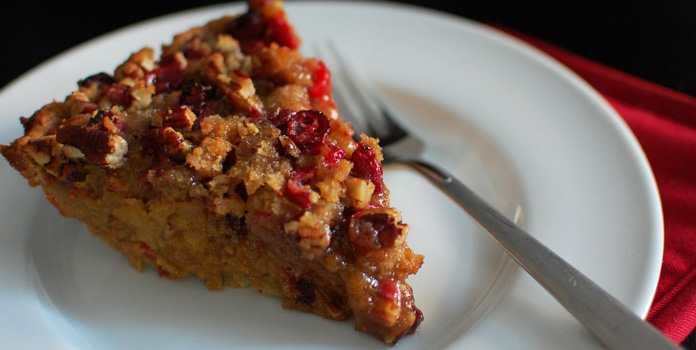 Combine two traditional Thanksgiving foods and prepare a dessert whose heavenly taste will stay with your guests forever. Make the topping of cranberry crunchy and get lost in its sweet, crunchy taste!
4. Turkey with Fruit-and-Nut Stuffing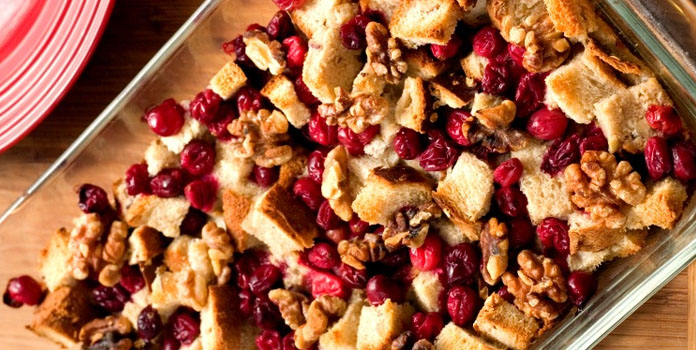 Try this unique Turkey this year as you stuff it with items like macadamia nuts, walnuts, cashews, apples, raisins, apricots, and prunes. Roast this turkey and use butter and white wine to glaze this turkey during roasting.
5. Oyster Stuffing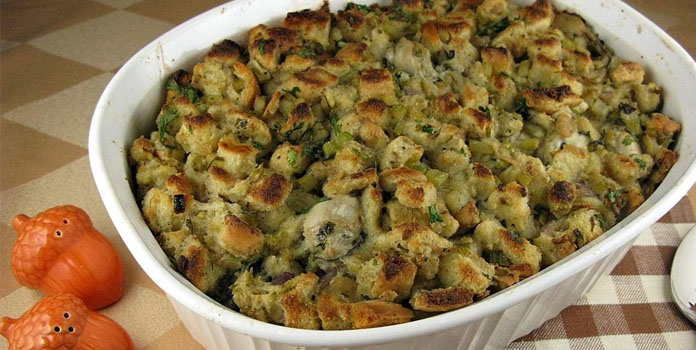 If you are already raising your eyebrows at this one, trust us, it could be one of the best Thanksgiving stuffing ideas you will come across. It is guaranteed to make your holiday meal yummy!
6. Chocolate Turkey Truffles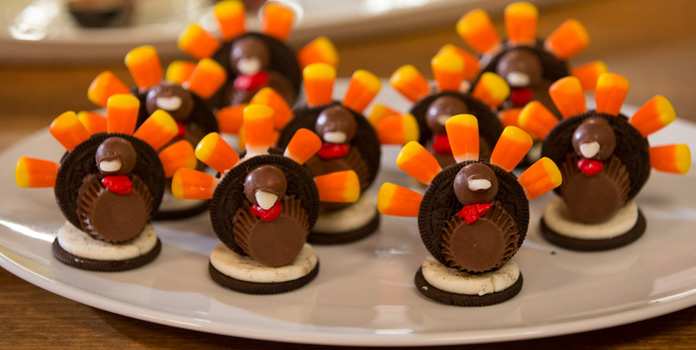 Turkey does not have to be limited to your main Thanksgiving meal only. Prepare yummy Chocolate Turkey Truffles. You will love the Pumpkin ganache filling inside these chocolate truffles which will leave you wanting for more.
7. Bacon Jalapeno Stuffing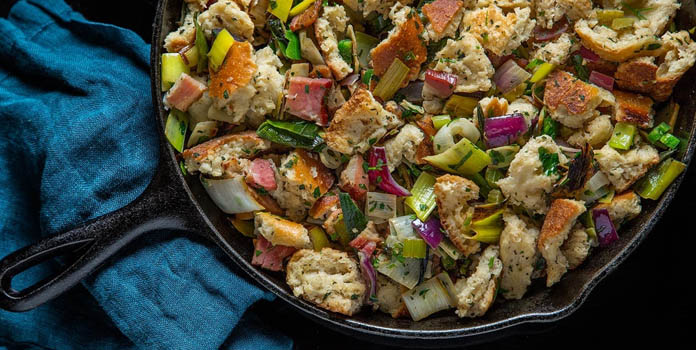 You may have never seen this in a traditional Thanksgiving food list; you will never regret making this stuffing made of a unique combination of bacon and jalapeno. However, if you do not like your Thanksgiving meal spicy, you would have to think twice before making this dish.
8. Deep Fried Turkey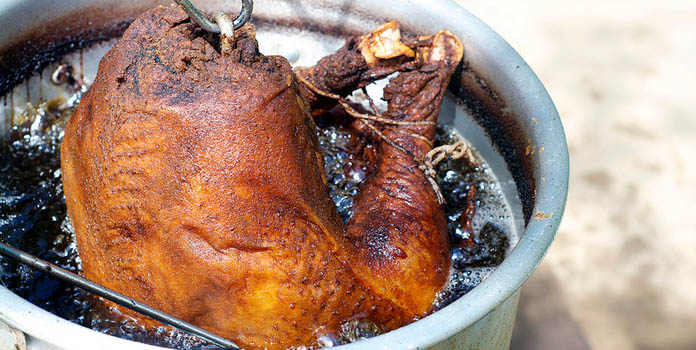 Tired of your old method of cooking Turkey which often leaves you with a dry and tasteless Thanksgiving meal? Then you must try deep fry your turkey as you can get an incredibly soft and delicious turkey with it.
9. Sausage, Apple and Cranberry Stuffing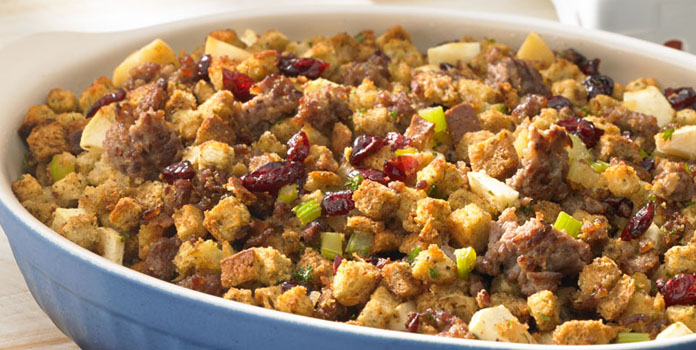 Try this traditional Thanksgiving stuffing to have a yummy meal combo of three items. It is one of the best stuffing recipe ever.
10. Brussels Sprouts with Bacon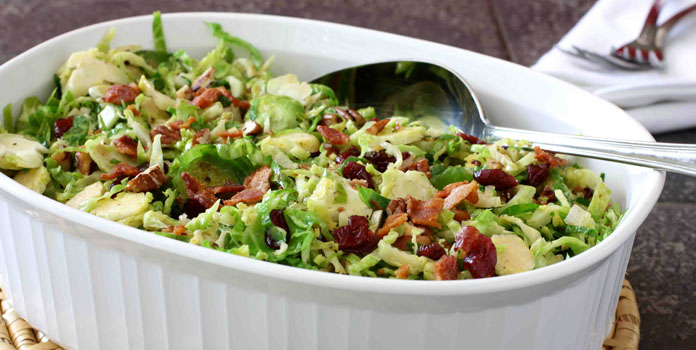 Want to experiment with different Thanksgiving foods ideas? Try this ultimate combo of bacon along with brussels sprouts and surprise your guests with one of the most unlikeliest Thanksgiving side dishes.
11. Vegan Stuffing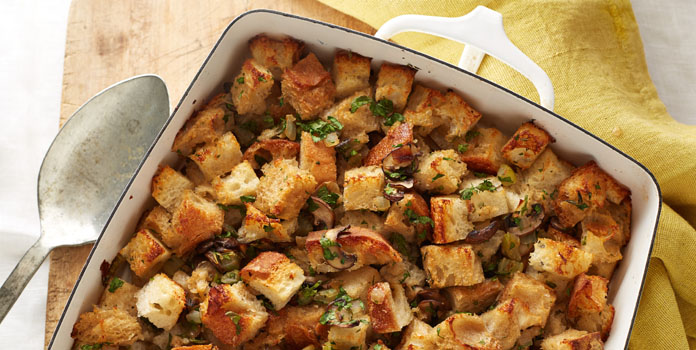 Although Thanksgiving means Turkey Day, you could try to bring a bit variety into your Thanksgiving meal by making this vegan stuffing. Use onion, mushroom, celery, and other vegetables you like without any butter or meat and enjoy this delicious Thanksgiving stuffing.
12. Apple Pumpkin Pecan Pie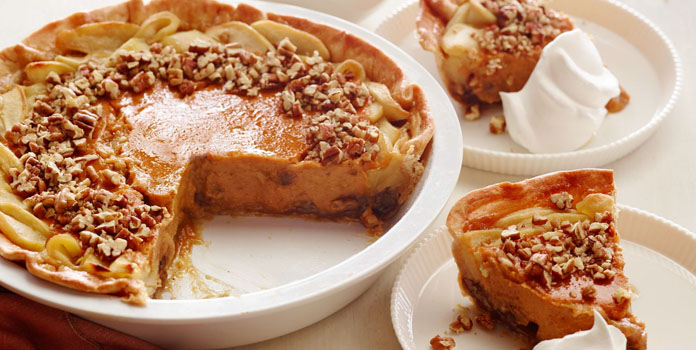 Can't get enough of apple pie, pumpkin pie or pecan pie alone? Try this ultimate holiday pie using all the three item for your Thanksgiving dessert! Use pecan at the bottom, pumpkin in the center, and apple on the edges to make this creamy pie for your Thanksgiving meal.
13. Slow-Grilled Turkey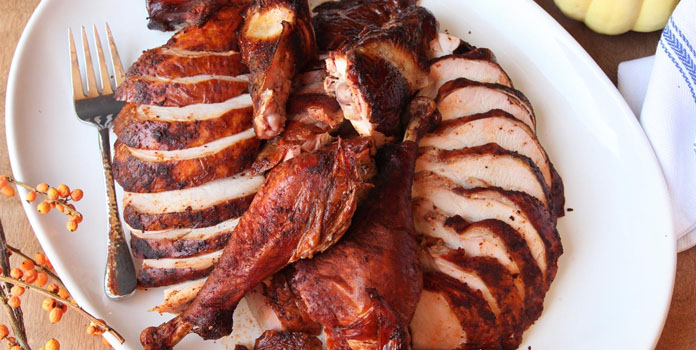 Take your Thanksgiving celebration outside and grill your turkey this year as you bond with your family. It may not be a traditional way to cook Turkey, but that is what makes this unique!
14. Mashed Potato With Roasted Garlic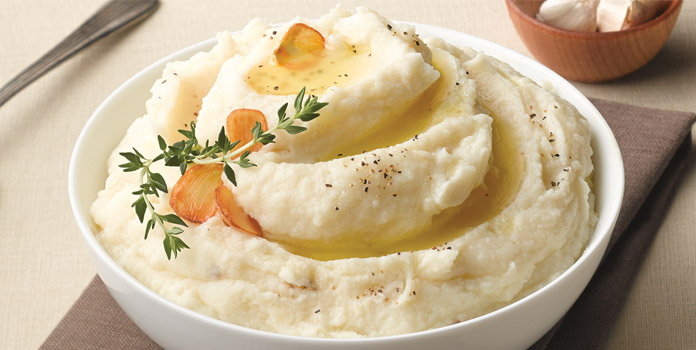 Try the classic Garlic mashed potatoes dish as your Thanksgiving side dish. You can prepare a portion of this while you cook the turkey in the oven.
15. Peanut Butter Pie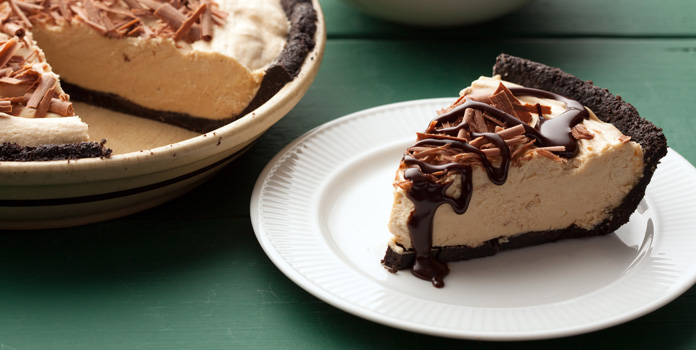 This is one of the best Thanksgiving desserts for kids who may not like your regular pumpkin pie. Make this pie using peanut butter, cream, cocoa powder. You will not be able to resist from eating this along with your kids.
16. Roasted Turkey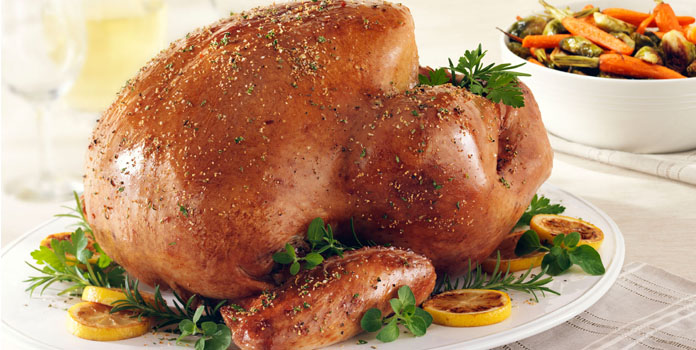 Have a classic Thanksgiving meal with a simple roasted turkey. You can easily roast a turkey in an oven. Just do not forget to tent it with an aluminum foil after you have completed 2/3rd of the process.
17. Cornbread Stuffing With Apples And Sausages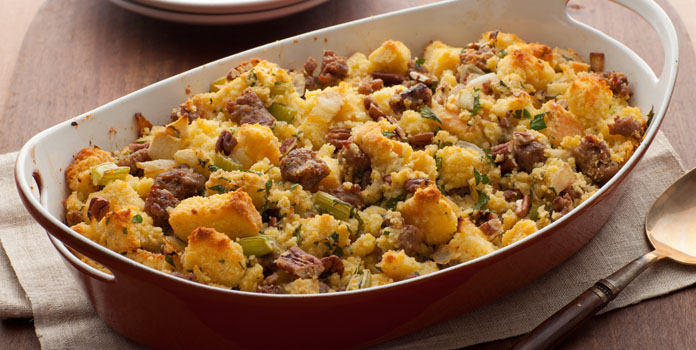 Cornbread dressing recipe is one of the most popular Thanksgiving foods which you must have in any holiday meal. Use apples and sausages along with it to give a unique flavor to this classic stuffing recipe.
18. Chocolate Pecan Pie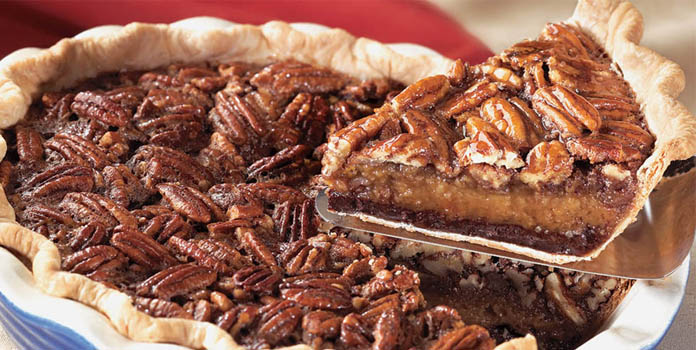 Prepare this special Thanksgiving dessert for kids who love chocolates. Include the traditional pecan nut in the recipe to have a delicious dessert after the holiday meal with your family.
19. Pumpkin Cheese Cake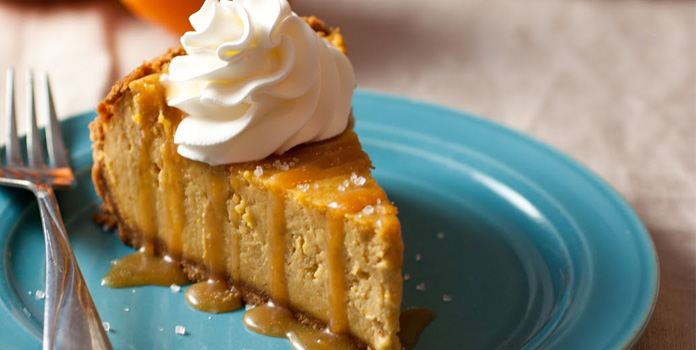 Make this easy pumpkin cheesecake as your Thanksgiving dessert for the afternoon meal. You may gain a bit of holiday weight, but even the sight of the cheesecake is enough to make you forget about it for a while!
20. Roasted Brined Turkey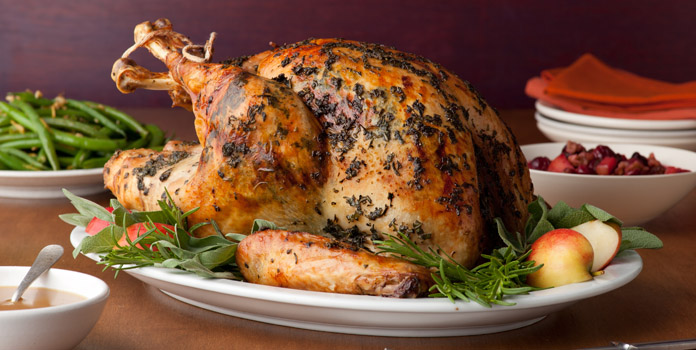 If you want to go beyond your traditional roasted turkey, try roasting it using the simple art of brining. You will be able to make the meat flavorful and juicy using brining without any extra effort!
21. Gluten-Free Stuffing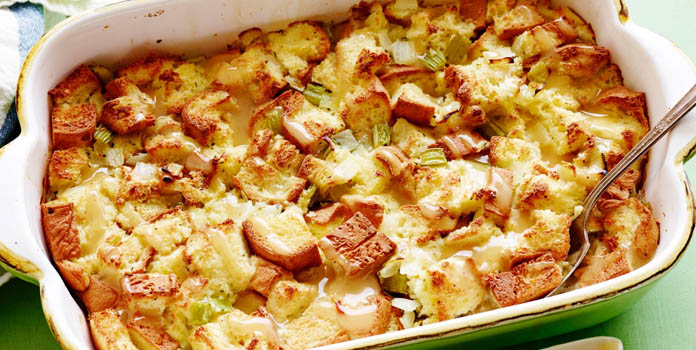 Go healthy with gluten free this holiday season! Prepare this stuffing, serve it, and eat with pleasure without feeling guilty about it later.
22. Brussels Sprouts with Cheese Sauce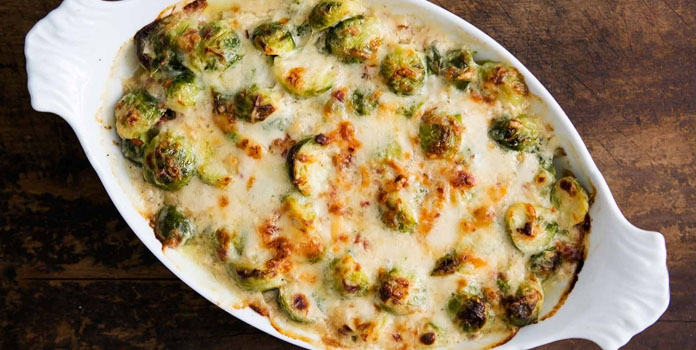 If your kids do not like Brussels Sprouts alone, they will fall in love with this particular Thanksgiving food. Serve cooked Brussels sprouts with seasoning and topping of cheese sauce and see them gorging on this Thanksgiving side dish.
23. Green Bean Casserole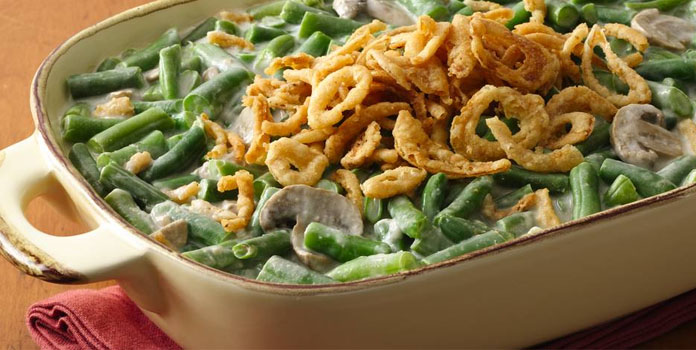 Another traditional Thanksgiving food made of fried onions, cream of mushroom soup, and of course, green beans. Add cheddar cheese as topping along with fried onions to give this side dish an extra twist of taste!
24. Brined, Slow-Cooked Turkey Breast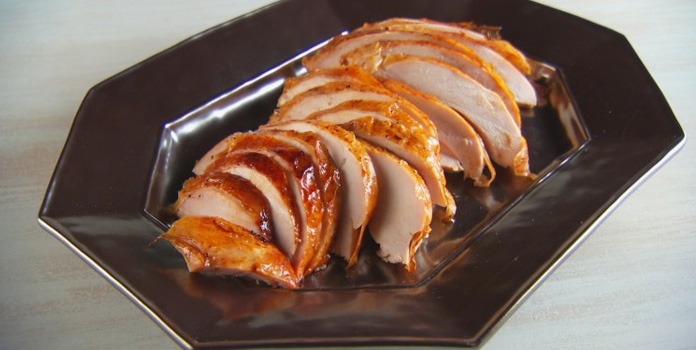 Soak the turkey breast in the brine solution to get a yummy flavor of turkey with the much-needed moisture retention. Take it outdoors and cook on the charcoal grill for 90 minutes during which you can have a sweet family time.
25. Roasted Veggies Delight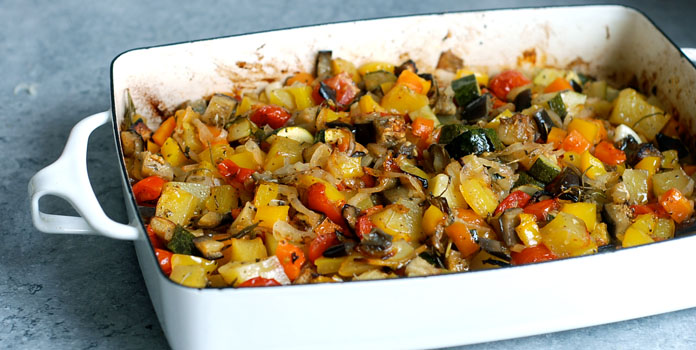 Do not sacrifice your health in the holiday season and make this delicious side dish for your meal. Use potatoes, parsnips, carrots and brussels sprouts together to make one of the best Thanksgiving vegetable side dishes.
26. Pumpkin Pie Cupcakes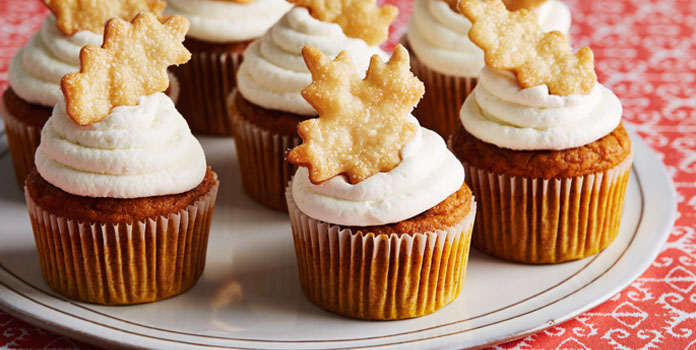 This is one of the best Thanksgiving fruit desserts as little cupcakes are the favorite of everyone in the house. Make these pumpkin pie cheesecakes for your mini Thanksgiving desserts.
27. Bacon-Roasted Turkey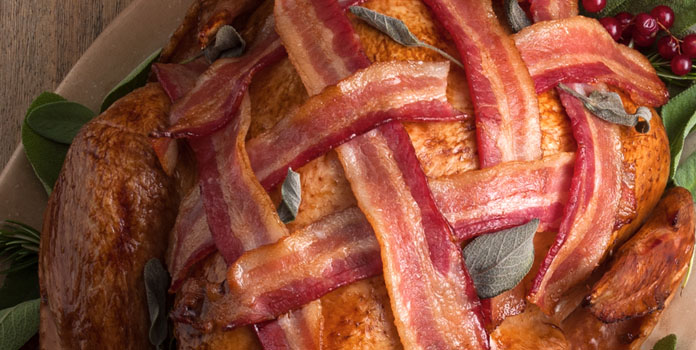 Wrap the breast of turkey in bacon before roasting and fill it with a stuffing of seasoned fruit-and-nut. This unique turkey will surely make you a cooking superstar on Thanksgiving Day this year.
28. Creamy Mashed Potatoes
This is one of the most popular Thanksgiving foods ideas which can never fail if you want to have the best Thanksgiving meal ever. Cook it in chicken broth to make your potatoes extra smooth and fluffy.
29. Evergreen Cranberry sauce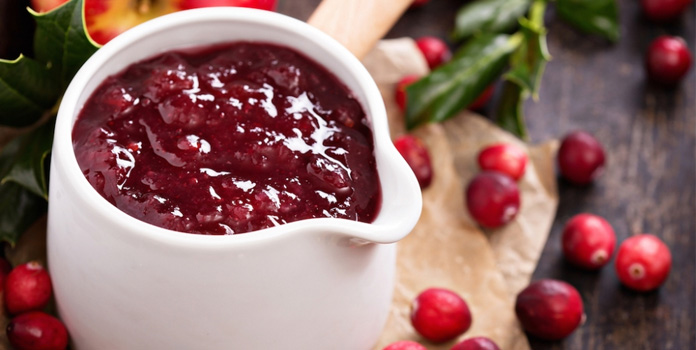 Remember the time your grandma used to make this sweet cranberry sauce. Well, it is time to go traditional and make the evergreen cranberry sauce for Thanksgiving dinner!
30. Mashed Potatoes with Caramelized Onion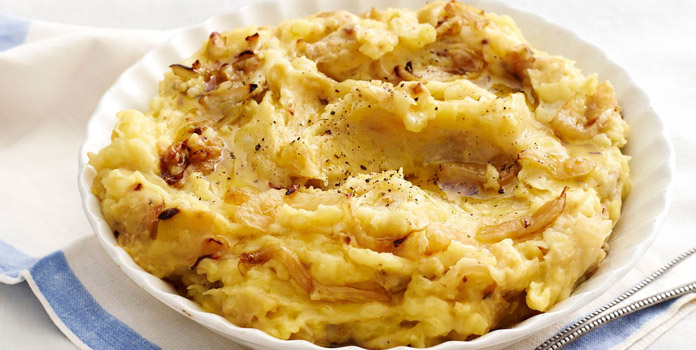 The creamy caramelized onion along with smashed potatoes taste absolutely delicious. This is a simple Thanksgiving dish which you can prepare quickly in less than an hour!
31. Sweet Potato Casserole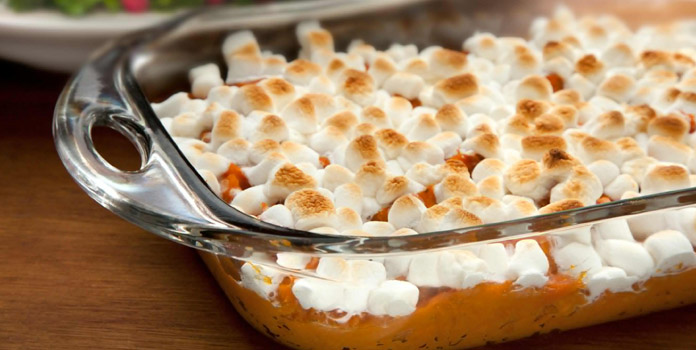 Any list of Thanksgiving foods is incomplete without this classic Thanksgiving dish. You can go for a traditional marshmallow topping or try something different like brown sugar and pecan topping.
You will love to make and serve the above Thanksgiving foods this year to your family and guests. Pick the right combination of turkey, stuffing, dessert and side dishes, and you have got yourself a fabulous Thanksgiving meal.
Share this list with your friends and family and help them decide their Thanksgiving menu as well! Happy Thanksgiving!
Also Read: Healthy Diet For Routine Days.
Why to Fall in Love with the Mediterranean Diet?