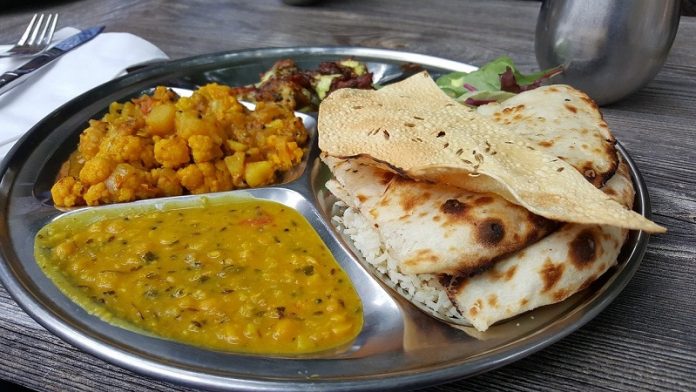 Indian Vegan Dishes – Looking for vegan dishes, then India is the place to find your vegan Dishes. India is home to 375 million Vegetarian people from various communities. That means India has varieties of Vegan food to offer you. Many of these Indian Vegan Dishes are originated Centuries ago and now are part of Indian Vegan Food.
Indian Vegan Dishes Tasty and Healthy Option
Why Indian food is so delicious? yes, Indian food is Tasty and healthy. India's Diversity Made Indian food so delicious. Indian food is a combination of spicy nutrition and tasty vegetables. In other countries "Vegan" Means just a Vegetable-based Healthy diet. It lacks Diversity. But you can add spice to your vegan diet. Add Indian Vegan Food Dishes to your vegan menu and eat tasty and healthy in your vegan diet. A list of Some of the Best known Indian Vegan Dishes is below read them and consider them to add to your Vegan Indian menu….
1.Indian Vegan Food Chole (Chickpea curry)
Chole or Chickpea Curry is Indian vegan food you can eat at any time. Don't get afraid just reading the word curry, and Spices. Eating spicy food helps you live longer. Chole is mixed with tomato and onion puree with a few Spices is filled with Protein and lots of Nutrition. So have your healthy Indian Vegan Dish Chole at your table.
Recipe-
First, boil ½ Cup chickpeas, then let them rest.
Now add 2 spoons of cooking oil and 1 ½ spoon of ginger-garlic paste to your cooking pan let it cook for 2 minutes.
Add ¼ spoon turmeric, ½ spoon red chili, and 1 spoon coriander powder and cook it for a minute.
Make a puree of 2 tomatoes and 1 onion, then add puree and salt in the pan and let it cook for 5 to 8 minutes.
Add chickpea and some water and cook for 2 minutes. Your Indian Vegan dish Chole is ready to eat.
2.Indian Vegan Snacks Yellow Dal ( Split Pea)
You don't like Spicy food. You have tried many Indian vegan dishes all of them full of spices. Don't worry here is one Indian Vegan dish that is not filled with spices. Yellow Dal (Split Pea) a healthy option for your vegan menu. you can even have these Vegan Indian Snacks after your gym workout or in your breakfast.
Recipe-
Just boil 1 or 2 Cups of Split pea with ¼ spoon of Turmeric powder.
After boiling add some fresh Coriander leaves and Salt and in yellow dal. Your Indian vegan dish is ready to eat.
Because of yellow Dal's, Simplicity in Cooking. You can enjoy this Indian vegan food for breakfast or dinner.
3.Indian Vegan Dish Vegetable Curry
Vegetable Curry is at the top of the list of Best Indian vegan dishes. Vegetables are good for health so add vegetable curry to your vegan Indian menu and enjoy your Healthy Indian vegan dish. Vegetable Curry is a must-have dish in your list of Indian vegan dishes list.
Recipe-
For making vegan vegetable curry gather your Vegetables like Carrot, Potato, and cauliflower chop them into small pieces.
Add 2 spoons of cooking oil into your pan add ½ spoon of Ginger garlic paste let it cook for a minute.
Add your Vegetables and salt to the cooking pan and cook for 2 minutes. Then add 2 cups of tomato puree, ¼ spoon turmeric, ½ spoon red chili, and 1 spoon coriander powder and cook for 5 minutes.
pour some water and let it simmer for 2 to 3 minutes. Now your Vegetable Curry is ready to eat. and Add to your vegan Indian menu.
4. Indian Dal Chawal (lentils and rice)
Dal Chawal or rice and lentils is one of the Best Indian vegan dishes for rice lovers. Dal Chawal is one of the easiest Indian Vegan Dishes to cook and a healthy option for your daily life. So add Dal Chawal Into your vegan diet and enjoy.
Recipe-
Add 1 cup of rice into your Rice cooker and Let it cook.
Boil dal(Lentils) with a pinch of turmeric.
Add some salt as per your taste in dal. Enjoy Your dal with cooked rice.
Because of the simple cooking procedure, Dal Chawal always ranks in the Indian vegan dishes list.
5.Indian Vegetable Biryani
Yes, vegetable biryani one of the famous Indian vegan snacks in the world. Vegetable biryani is simple to cook and a healthy option for rice lovers. A must-have Dish in your list of Indian Vegan Dishes. You can enjoy vegetable biryani with many Vegan Indian Snacks.
Recipe-
Chop your Vegetables, Then chop 1 onion, 2 to 3 green chillis, some cloves of garlic.
Now add 2 spoons of Cooking oil into your cooking pan.
Add onion, garlic, green chili, and vegetables into the pan.
Add a pinch of turmeric, ½ spoon of red chili powder, 1 spoon of coriander powder, Biryani masala, and some water.
Let it cook for 3 to 4 minutes.
Meanwhile, wash your rice and ready your rice cooker.
Check your vegetables, if it has half done then turn off the heat.
Now add rice to the cooker and mix your half-cooked vegetables with rice and Cook.
Vegetable biryani is ready to eat. Enjoy your Indian vegan biryani.
The Takeaway from Indian Vegan Dishes
Most of the Indian vegan Dishes in the above list are healthy and easy to cook. These Indian Vegan foods are less spicy and full of nutrition. So can add these foods to your kids' healthy food list. and You don't have to go to India to learn about these Indian vegan dishes you can learn from your mobile.