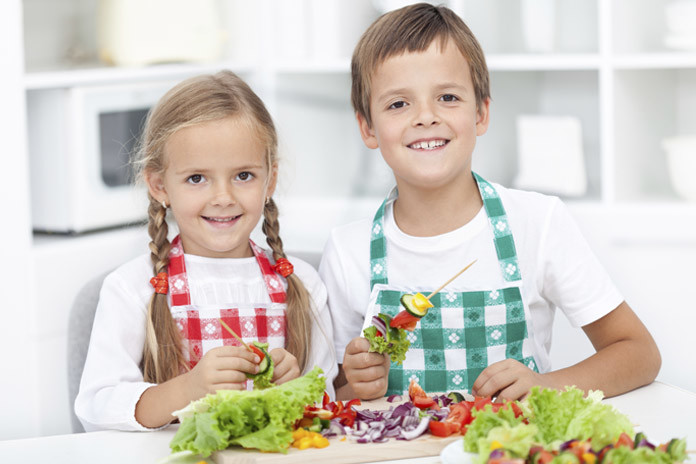 healthy food for kids – When it comes to making children eat healthy foods, that parents eat, every parent might start to scratch their heads thinking what healthy foods for kids should be served to their children. Or planning healthy breakfast for toddlers also.
Children should eat food that is healthy and nutritious. However, of course, persuading kids for the same requires the food to look tempting and attractive. Most of the kids do not like eating spinach, tofu, broccoli, chenopodium album dishes which are considered as few of the most nutritious foods. Children naturally pick the foods they like.
Related: Eating Spicy Food a Secret to a Longer Life?
Now, when it comes to fast food, they are quite ahead of everyone in the family in clearing out the plates as soon as possible! What moms and some dads can do is prepare fast foods at home in such a way that they contain almost every nutrition which can make the food healthier and tastier.
Also know : 13 best healthy food to improve digestion power naturally.
Let us now take a look at kids friendly meals which also act as healthy food for kids.
1
The Yummy & Nutritious Vegetable Momos
The all purpose flour in restaurants might contain MSGs (monosodium glutamate), along with the other ingredients used in it, which we all know is totally unhealthy. At home finely chopped fresh cauliflowers, cabbages, green onions can be put into the momos that can be served with the healthy black sesame seeds sauce.
Needless to mention that kids just love momos and will never say NO to them! Packed with the goodness of vitamins, minerals and other nutrients these vegetable momos can also be used in lunch ideas for kids.
2
Non-Veg Sandwiches with Mutton Fillings
Sandwiches for kids have to be filled with something tasty and healthy and obviously, a mutton filling is a very good idea! Mutton is full of protein and protein in turn, is a quintessential for the proper development and growth of a child.
Also, take care to use brown bread for making sandwiches. A layer of cheese slice will add an accentuated delicious flavor to these mutton sandwiches.
3
Delicious Nutritious Manchurian
All kids would love to have Manchurian on their dinner table. Fresh vegetables and pre-ingredients prepared at home while cooking Manchurian is the wisest choice. Manchurian is a rice friendly dish which means its taste enhances while eating it with rice.
4
Steam Cooked Light & Healthy Dosa
Dosa is a very healthy, light and tasty Indian dish. Your kids can fall in love with dosa. Dosa is a food made from rice flour, ground pulses including the black lentils too. It is combined with a spiced vegetable filling.
For kids, you can put spices as per their taste and preferences. The coconut sauce or chutney also makes an excellent combination with dosa. It can also be served as a healthy breakfast for kids.
5
Fruits & Fruit Juices or Smoothies
Almost all fruits are sweet, and they contain fibers too. Kids should be suggested to eat fruits on the daily basis as fruits provide energy, vitamins, minerals, fibers and water to our body. Preferably, the kids should always be encouraged to eat fruits in their natural form.
Related: Smoothies to Lose Weight.
However, if your kids wish to have fruits juices or smoothies, prepare them at home. By preparing fruit juices and smoothies at home, you can keep control over the ingredients used and can serve them fresh to your kids.
They help in increasing the water content in the body. Kids love to drink fruit juices. Natural fruit juices are very good for health and they are very yummy as well.
6
Quick & Easy Omelets as Healthy Food for Kids
Omelets top the list of quick, easy and healthy foods for kids. Omelets can be prepared in no time. Omelets can also be cooked in a variety of ways. Combine them with finely chopped onions and green capsicums to give it a pizza kind of look.
Shallow fry the omelets plain and full or keep the omelets half fried according to the taste preferences of your kid. Full of calcium and protein, this quick food can be served at any time.
7
Dairy Products Enriched with Calcium
Calcium is one of the most important nutrients for all kids. The growing kids need good calcium supplies for their bones, teeth and overall development. Dairy products like milk, cheese, buttermilk, butter, yogurt, etc. are good sources of calcium.
Parents should always endeavor to serve home cooked food to their kids as the outdoor foods cannot be completely trusted for their quality and ingredients. Moreover if you have kids then you must know the healthy tips for women, because a healthy mom can take care of her kids in a much better way.
The best recipe for healthy food for kids includes healthy ingredients cooked with patience and served with lots of love and creativity! Often, parents keep searching for healthy food ideas for their children. Moreover you should always remember that you have to cook food for your kids as the healthy eating rules.
Therefore, if you have got a tasty and healthy food for kids, please share that with us. Also, do not forget to share our content if you like it!
Also Read: Five Easy Yoga For Kids.