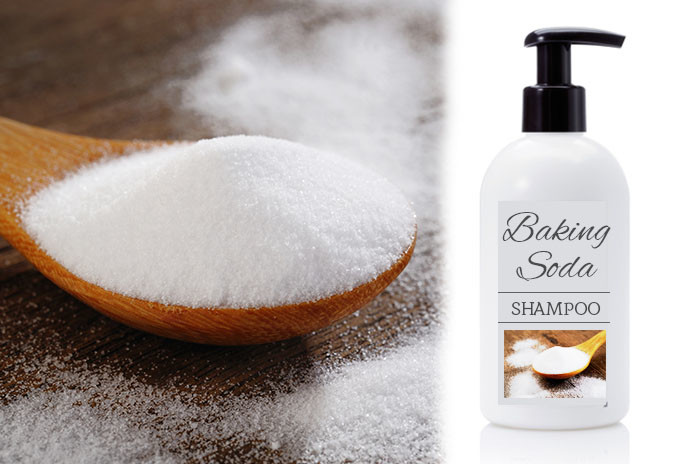 Baking Soda Shampoo – There are so many reasons why a typical shampoo or hair cleansing solution might not be the right option for you. For instance, shampoos with drying sulfates like sodium Laureth sulfate, ammonium laureth sulfate, and other chemicals can heavily damage your hair. Plus, pollution and stress can increase hair fall.
That is why you should try baking soda shampoo recipes to revitalize your hair. These shampoos can be easily made at home and offer respite from hair troubles.
Related: Baking Soda Health Benefits
Gentle Baking Soda Hair Cleanser
Baking soda for hair is just excellent. It can naturally cleanse the pores, provide hair nourishment while ensuring that the pH level of the scalp and hair is perfect. You can make a general baking soda hair wash treatment by simply combining one tablespoon of baking soda with a cup of warm water.
Shake the mixture in a bottle and spray it on your scalp, working you way through the roots to spread the mixture evenly. Wait for a minute and then rinse thoroughly with water. Use vinegar to condition your hair further.
Benefits- This cleanser is great for all kinds of hair. The gentle cleanser can be easily used once a week to remove dirt and grime from the locks.
The Apple Cider Vinegar Concoction
Want a baking soda hair treatment that doesn't leave your hair limp and dry? Then try this technique. Just one part of baking soda with three parts of water. Apply this on slightly damp hair. Moreover you can try baking soda for heartburn also.
Remember, this shampoo will not be like a regular lather shampoo, but the mixture of baking soda will help in removing dirt and sweat from your locks.
Leave it on for a few minutes and then rinse it off with an apple cider vinegar concoction. To make this mix, add one part of apple cider with four parts of water. Rinse with this mixture before washing your hair with cold water. This shampoo with strengthen your roots and liven up your locks.
Benefits- This baking soda shampoo recipe acts as a conditioning cleanser. In case you have dull hair, this mixture can help. It can bring life to your locks and slowly strengthen the roots at the same time.
Baking Soda Shampoo Recipe and Mask
Use straighteners and curlers regularly? Then your locks can look dull and lifeless. Using this shampoo can be the right option for you. Baking soda is quite an effective ingredient to reduce hair damage. At the same time, it can remove cosmetic products, grease, and dirt from the hair. Plus, this shampoo is like a hair mask. There are many baking soda remedies which you should try for your health, skin & hairs.
So, if you are concerned about the smell, you can easily wash it off with a mild shampoo. All you have to do is add a tablespoon of baking soda to two tablespoons of yogurt or mayonnaise to make a smooth paste. Then, apply it from roots to the tip. Wash it off after 20 minutes. Use this treatment once a fortnight.
Benefits- If you have been using cosmetics and treatments on your hair for a long time, suffer from hair fall and damage, then this shampoo-mask recipe is the right option for you.
Baking Soda for Dandruff
Another excellent DIY Dandruff solution. Add single tablespoon of baking soda to a tablespoon of lemon juice. Apply it to your hair roots. Keep it on for two to five minutes before rinsing it off with cold water.
The combination of these two ingredients will help in reducing dandruff. Baking soda can counteract overactive fungi which are responsible for dandruff. Just ensure that you do not use this treatment more than once a week and stop using it after six weeks (otherwise, your hair color may lighten).
Benefits- This Baking soda shampoo is great for reducing shampoo.
Baking Soda Dry Shampoo
Did you know that using regular shampoo too often can leave your hair dull? It can also cause your hair to become too oily as the scalp will produce more sebum to counter the shampoo that is stripping your hair off its natural oils.
Consequently, you will use shampoo more. So, why not end that cycle with baking soda dry shampoo? Mix a tablespoon of baking soda with a tablespoon of corn-flour and keep it in a container. Whenever your hair feels too oily, just use this mixture sparingly on the scalp.
Let it sit on the scalp for a minute and absorb the oils. You can use a brush or a comb to remove it. If you have darker hair, add a tablespoon of cocoa powder to the mixture so that the powder is not visible on the scalp.
Benefits- Excellent for oil removal and reduces the need to shampoo often.
Go ahead and try these ideas!
Also Read: Baking Soda Uses For Health And Beauty
6 Baking Soda Side Effects That Should not Be Ignored