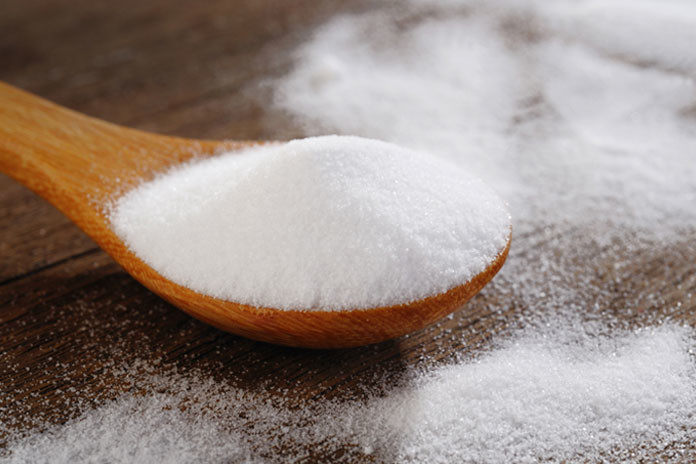 Baking Soda Health Benefits – You have known it as a salt that helps in baking cakes or cookies or as an element that can be used for cleaning your home without those harsh chemicals! Sodium bicarbonate, aka baking soda, is one of the most popular household cooking items. Almost every home has a box of baking soda stacked somewhere in the pantry.
Whether you use it for cooking or as a 'green' cleaning agent for your home, you cannot deny the fact that it is vastly versatile. In fact, baking soda health benefits are endless and well documented.
Related: Baking Soda Uses for Beauty and Health.
The uses for cooking, with acids, by heating, for pest control, paint removal and pH balancer are all well-known. Let's focus on the surprising health benefits of baking soda and its several alternative uses. Check them out!
For better Oral health
Want to whiten your teeth? But scared of using regular products that might cause more harm than good? Then make yourself a toothpaste using Baking Soda. It is a great alternative to regular non-fluoride tubes of toothpaste in the market.
Recipe 1- Combine baking soda and salt in a bowl. Then add peppermint oil to the mix. Keep it stacked somewhere and place a small amount on the paste. Try to brush using it. The texture might appear weird at first, but it is quite good for your teeth.
Recipe 2- Mix a few teaspoons of baking soda with fresh lemon juice or water to make a paste. Use a toothbrush to apply. Leave it on for a minute and then rinse it off. Avoid lemon juice if you have enamel erosion. Don't use it often. You can also make a paste using hydrogen peroxide with a tablespoon of baking soda.
For Kidney Disease
Research suggests that patients with advanced kidney disease can get several benefits from using oral sodium bicarbonate with usual treatment. The use of baking soda can help in slowing the rate of decline in kidney function. Studies suggest that this can be a promising complementary therapy for kidney patients. This is one of the most common of baking soda health benefits.
For Heartburn and Indigestion
You can drink baking soda for health benefits against occasional heartburn and indigestion. Many over-the-counter acidity products already have this product in their mixture. However, you can make one of your own by simply stirring half a teaspoon of baking soda with water and drink it an hour after the meals.
Also Read: How Much Baking Soda for Heartburn.
For Dermatological Conditions
Experiencing psoriasis and need a cure for the itch or discomfort? Then try this baking soda health benefits. Simply add one-half cup of baking soda to the bathwater and it will help in soothing the irritation associated with psoriasis.
Recipe- For sunburn or skin irritation and insect bites, make a paste of baking soda with a little water. Dab it on the affected area and it will help in reducing the symptoms.
For Body Odor
Do regular deodorants fail to have a lasting effect on you? or using lemon as a deodorant and super beauty product, Then it is time to try baking soda benefits for health. Reduce by body odor drastically by using this idea.
Recipe- Mix a teaspoon of baking soda with water to create a milky liquid and rub it on the feet or underarms (anywhere that can smell). It will help in absorbing the sweat and moisture, reducing sweaty underarms and smelly feet.
For better athletic performance
Many athletes feel pain while practicing to hone their skills. They use the health benefits of sodium bicarbonate and so should you. Baking soda can be taken topically or through oral use and it safe when taken in smaller amounts (it might cause diarrhea and nausea if taken in large amounts). It can buffer lactic buildup and increase performance.
For Foot Exfoliation
One of the major baking soda health benefit is the fact that it can help in reducing the cracks on your feet. Because it is powdery and grainy in texture, baking soda can be used for foot soaks after a long day at work. It can also work as an exfoliator to leave your skin feeling soft and smooth.
Recipe- Add three tablespoons of baking soda to a tub of warm water and keep your feet in it for as long as you like. Rub it on feet for exfoliation.
For Stress-Reduction
Wondering what are the health benefits of baking soda? Well, the benefits go beyond physical health! Baking soda health benefits can help in your mental health as well. You can make a bath soak using it and the concoction can help reduce your stress levels.
Also Read: How to Help A Depressed Person or Loved One.
Recipe- Use half a cup of baking soda with equal quantities of Epsom bath salts in the bathtub. Soak yourself in it for a while, gently massaging yourself. The mixture will neutralize acids on the skin. It will also help in reducing stress and keep your skin soft.
For Blackheads
Looking for grooming tips for men and want to get rid of those blackheads? Then you should try using soda for better skin. Also, use a Mango face mask after Baking soda for better results.
Recipfa me- Apply baking soda and water mixture on your face. Leave it on for a minute, gently exfoliate and then wash it off.
For Stretchmarks
Of course, stretch marks are not a health problem, but you can always feel more confident and increase your self-esteem by utilizing this soda health benefit.
Recipe- Mix half a teaspoon of fresh lemon juice with one tablespoon of baking powder to create a paste. Apply this paste on your stretchmarks and allow it to dry.
For Scars
Scars can undermine your confidence and affect your health and beauty. However, one of the best health benefits of soda is that it can help you reduce your scars and get your confidence back.
Recipe- Mix baking soda with honey and cinnamon powder to create a paste. Apply it on dry face. Leave it about 20 minutes before washing it off with lukewarm water. Remember to repeat the process twice every week.
For Reducing Hair fall
Did you know that the health benefits of baking soda included better hair as well? That is true! Our regular shampoos can leave the hair feeling dry and limp. However, baking soda can help you get rid of that.
Also Read: Keep Your Healthier With These Natural Hair Masks.
You can use baking soda to simply wash your hair by making soda and water paste. Apply it on the scalp and rinse it off using apple cider vinegar. The all natural shampoo will reduce hair fall and provide you longer hair. And you can also try olive oil hair treatment for beautiful hairs.
For losing weight
Get healthier and keep that weight off by drinking baking soda regularly. This is the not the most commonly used weight loss treatment but you can try baking soda health benefits as the losing of weight.
Recipe- Drink a small amount of baking soda with water before exercising to delay fatigue and increase metabolism.
So, consume baking soda more often because Baking Soda Health Benefits are undeniable!
Also Read: Surprising Avocado Health Benefits, You Should Know About.
Top 15 Eating Rules To Follow For Better Health.