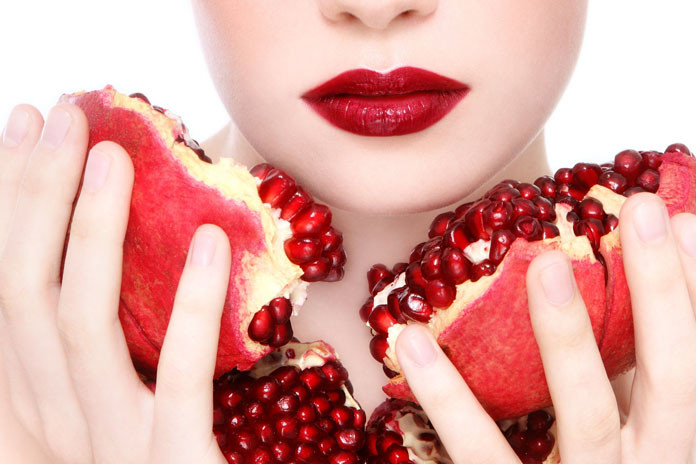 Benefits of Pomegranate For Skin – Pomegranates are delicious. Not only are they great for preparing healthy desserts and recipes, but it's even great for your skin! Packed with powerful antioxidants with vitamins and minerals, this delectable fruit has anti-ageing properties and promotes better skin!
The super-food can even make you fit, thereby keeping you healthy inside out. Use it in your skincare regime, consume it with juices regularly, or prepare a mask out of it to give yourself younger, youthful and vibrant skin. You should be befriending this fruit!
Related: 15 Pomegranate Juice Benefits That Help You To Stay Young.
Here are some skin and beauty benefits of pomegranates you know about.
1
For Keeping Pimples at Bay
Are those zits popping everywhere? Do you have pimples on your beautiful dimples? Then you need Pomegranates for beauty. Remember, pimples usually happen due to hormonal imbalances and therefore, the best way to correct them is to deal with the production of oil and excessive hormones. So, what can you do?
Well, you can use pomegranate in a face pack. Simply mix seeds of a pomegranate with brown sugar (the ratio should be 1:2), a tablespoon of honey and orange peel to make a DIY face mask. Keep this mask on the skin for 15 minutes and lightly scrub it for a wash.
Seeds of the pomegranate are super product for your health. Your pimples and redness will reduce over a course of few days. Prepare this mixture and keep it in the fridge for a few days. Use it every day for best results.
Pollution, lifestyle, and stresses can take a toll on our skin. But you can protect yourself with this super fruit. Kickstart your day (or use it in the evening) in a cell-renewal face-mask. Prepare a paste of pomegranate with a tablespoon of yogurt and honey.
You can add a some drops of lemon as well for a thick paste. Apply it on the skin as a mask and wash off after 15 minutes. Use twice a week for best results.
Do you want luscious, pouty, selfie-ready sweet lips? Then use pomegranate! The super-food can make great lip balms and heal chapped lips. At the same time, it can give a red or a pinkish lip stain. So, you don't need glosses and lipsticks.
To prepare a lip balm, simply heat a tablespoon of olive oil, a tablespoon of Beeswax, a small teaspoon of honey and coconut oil. Now, add pomegranate juice to it, just a few drops till you get desired color and consistency.
You can even use pomegranate oil if needed. Pour it into a tin and let it cool. Keep it in the fridge to keep a solid consistency and use whenever needed. Or, try other DIY Lip Balms.
Also Read: Lemon As A Beauty Product For Lips
Skin allergies and inflammation are quite common these days. You can deal with that by choosing pomegranate. Pomegranate seed oil is readily available and can be used directly on the skin to soothe inflammation.
Recommended by experts, the seed oil can even reduce scars. Just rub a few drops on the palm and massage on the skin using the circular motion.
Our skin cells die every day, but as well get older, the production of newer cells stop. That's why you need to add pomegranate to your regular diet. Pomegranates are best for your health. It has anti-ageing properties that result in cell regeneration. You can easily get fruit oil from the market and apply it to the skin every day.
Within a week, you will notice increased collagen production that will give a firm, smooth look to your face. Creams and ointments made using this food offer sun damage protection, reduce premature ageing and soothe the skin.
Do you have rough, dry and patchy skin? Well, pomegranate is what you need. It protects cells from environmental stresses and produces antioxidants to keep skin hydrated. Eat a serving of this fruit every day for glowing skin.
Or else, use the fruit's juice to lock moisture into your skin and keep out the bacteria. You can apply pomegranate skin directly on your face to exfoliate it. In fact, drink a glass of pomegranate juice every day to keep pimples at bay.
7
For Overall Skin Nourishment
Pomegranates as beauty treatment have been used for centuries. But now, this superfood is used more often, particularly because its products and derivate are easily available. You can use it for nourishing your skin and prepare a DIY pomegranate moisturizer.
All you need is a tablespoon of cocoa butter, two tablespoons of jojoba, a tablespoon of pomegranate seed oil and a tablespoon of aloe vera gel.
Now, once you have the ingredients, just melt cocoa butter and add everything except aloe vera gel to the mix. Once it is cool, slowly mix the gel to create a moisturizer like consistency. Store it in a bottle and use whenever you look. Your skin will glow!
So, go ahead! Get Pomegranate or Pomegranate seed oil to get incredibly healthy, lovely skin!
Also Read: Beauty Benefits of Coconut Oil.