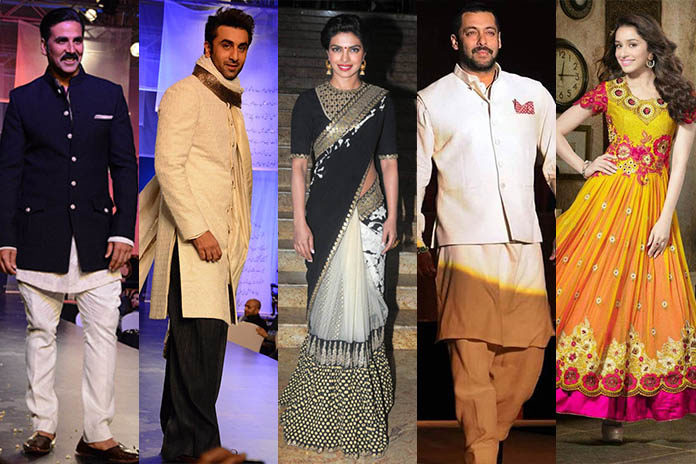 Bollywood Celebrity on Diwali – You love them on the big screen. You cannot get enough of their sense of style and fashion. No matter how much you try to avoid them, Bollywood celebrities remain an eternal inspiration to many of your fashion choices.
Related: Diwali Decoration Ideas.
The best part is that it not at all tough to look like Bollywood stars especially on a festive occasion like Diwali. Many celebrities have redefined the ethnic outfits which you can try on Diwali to sport a traditional look.
More On Diwali:
So, without any further adieu, check out these 17 ways in which you can impress your friends and family on Diwali by wearing ethnic dresses inspired by style icons of Bollywood:
1. Style Your Saree With Jacket Blouse Like Jacqueline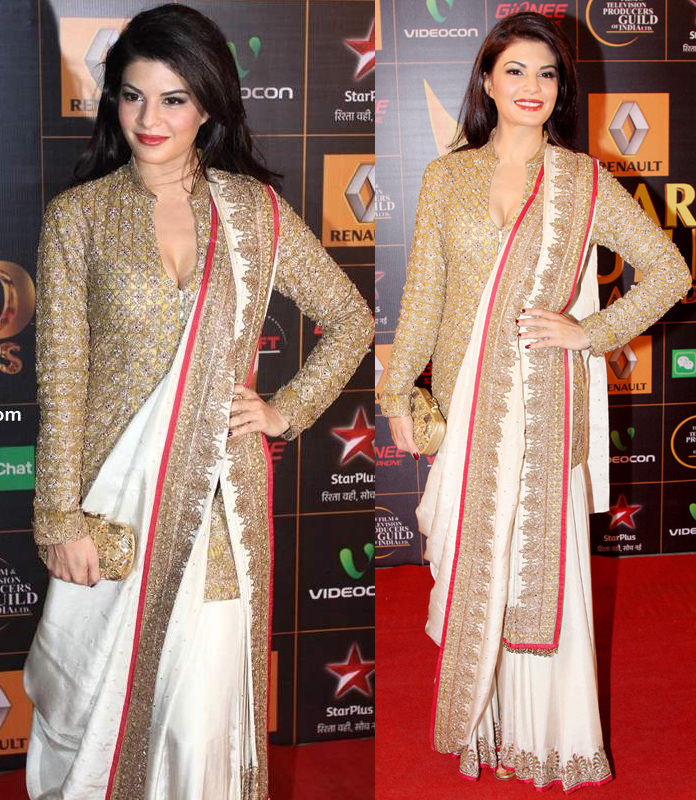 Did you think that sarees have become old fashioned and repetitive on traditional occasions? You need to take lessons from Former Miss Sri Lanka and now a Bollywood heartthrob, Jacqueline Fernandez.
She looks absolutely stunning in this traditional saree with a unique jacket blouse. Doesn't she look gorgeous in this attire? You must try this ethnic wear on Diwali night this year!
2. Sonam Kapoor Trendy Anarkali Suit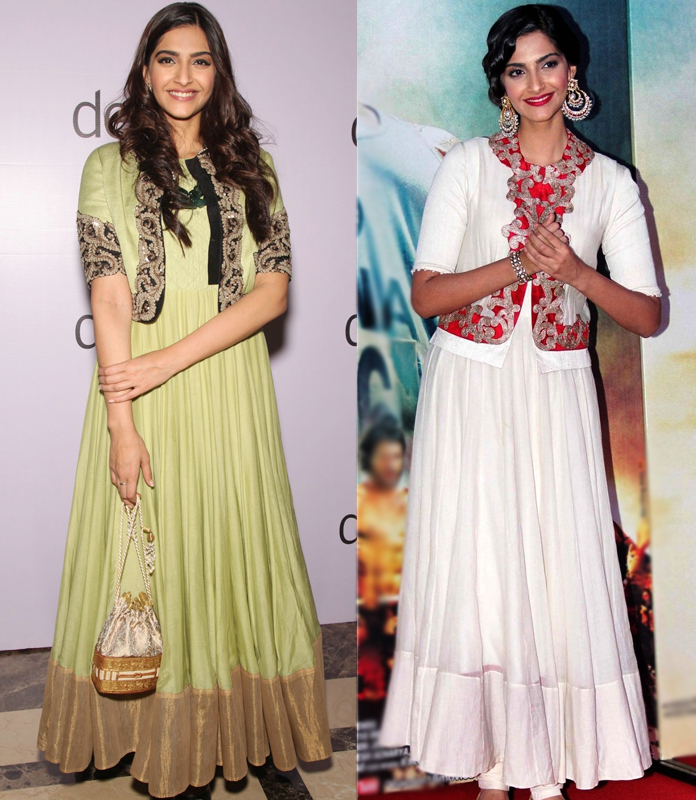 When it comes to the style of Bollywood celebrities, the style icon Sonam Kapoor is sure to appear in the list. If you are looking to give a twist to the famous Anarkali dress, this look is your inspiration with a stylish, matching jacket over the suit.
3. Royal Anil Kapoor In Black Sherwani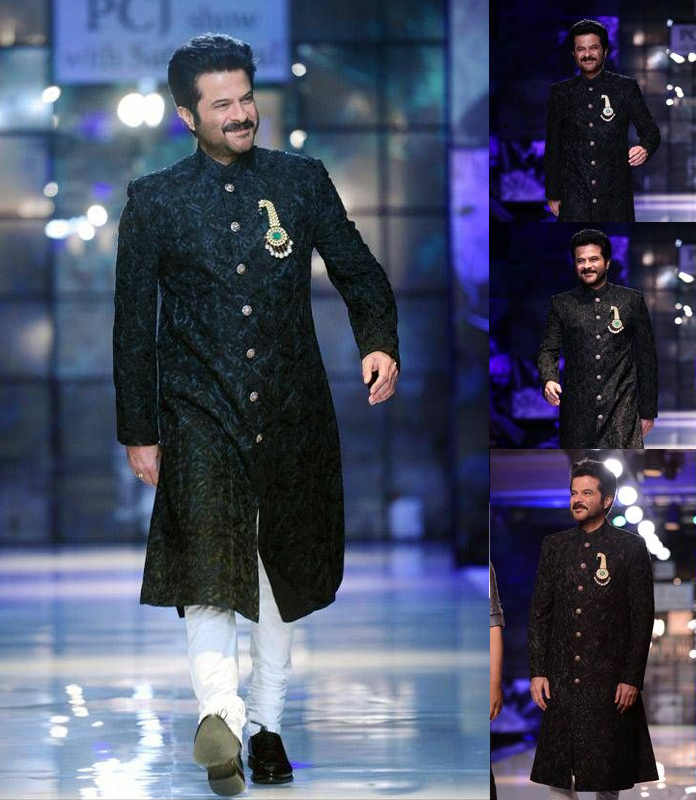 Anil Kapoor, who by the way is over the age of 50, can give a run for money to youngsters half his age when it comes to style. This typical black sherwani with dress shoes is simply perfect for the festive season. You now know from where does Sonam Kapoor gets her intuitive fashion sense!
4. Total Black Sherwani Look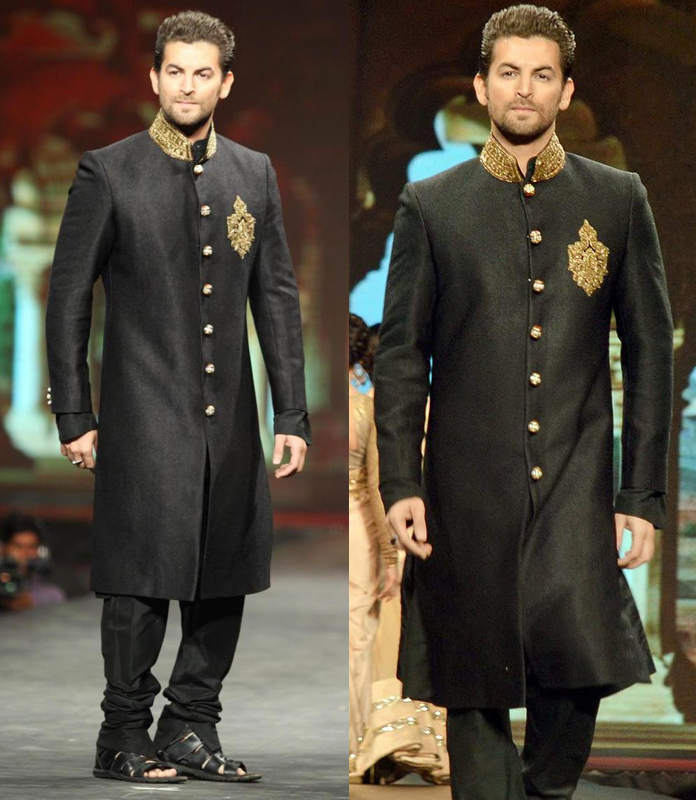 You do not always need to find contrasting or different colors while looking for festive dressing. Even an all-black attire like this sherwani of Neil Nitin Mukesh will give you a great look for Diwali. Moreover, the golden touch on this sherwani is the cherry on the cake!
5. Dress Up as Akshay Kumar in Designer Suit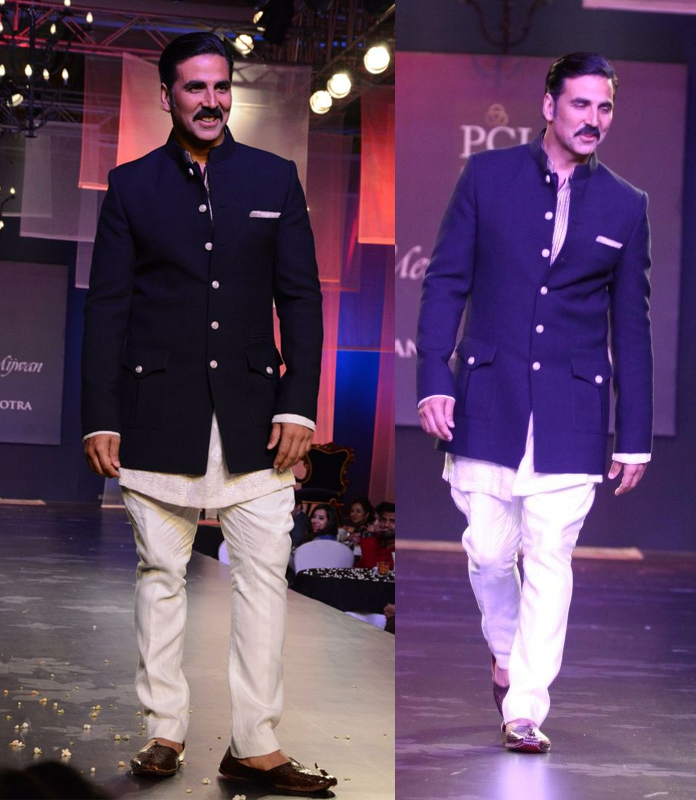 You cannot go wrong with a designer coat over the traditional attire of kurta pajama on any festive occasion. Wear it like Khiladi Kumar with Jodhpuri footwear, and you have a perfect Diwali ethnic outfit!
Related: Try these 11 best men's party wear to be the celebrity of your next party.
6. Traditional Lehenga Choli with Chitrangada Singh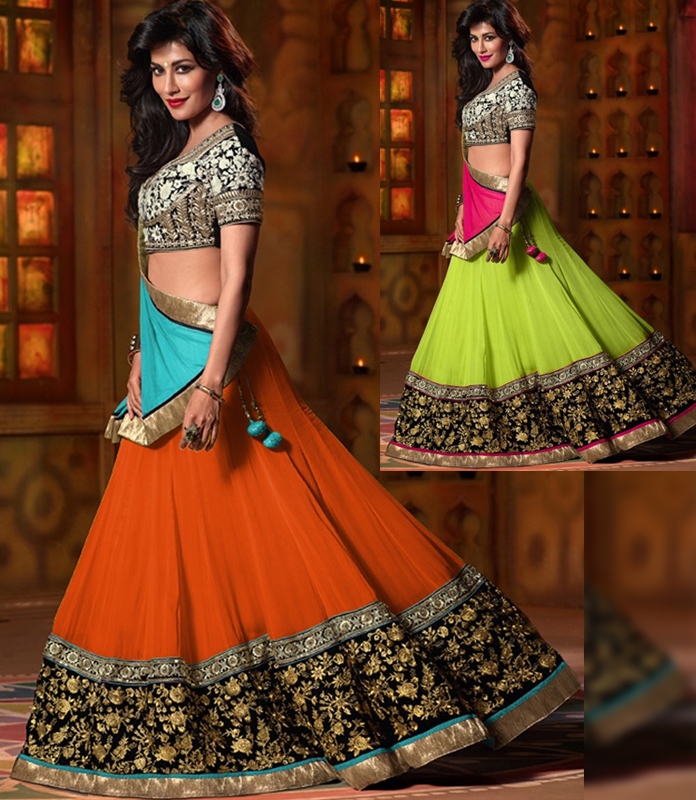 On the occasion of Diwali, you can never go wrong with the tried and tested yet beautiful lehenga cholis. If you need any inspiration, smoky Chitrangada in this traditional attire is all that you need!
7. Kareena Kapoor Salwar Kameez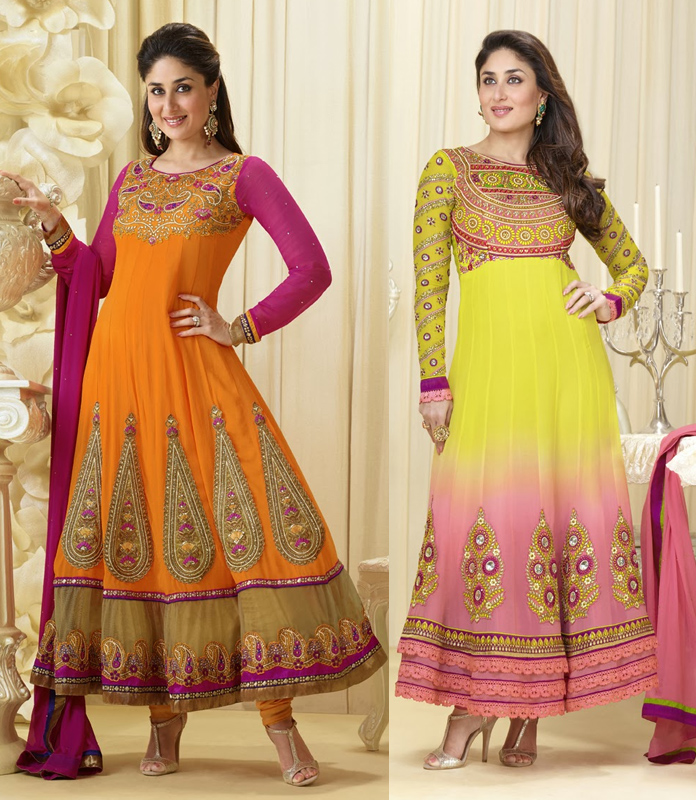 The style queen Kareena Kapoor is the inspiration of millions of women and girls for her incredible fashion sense. Just follow your idol for Diwali ethnic wear as well and flaunt this stunning dress in any Diwali party to become the center of attraction!
8. Rock Like Ranveer In Kurta-Pyjama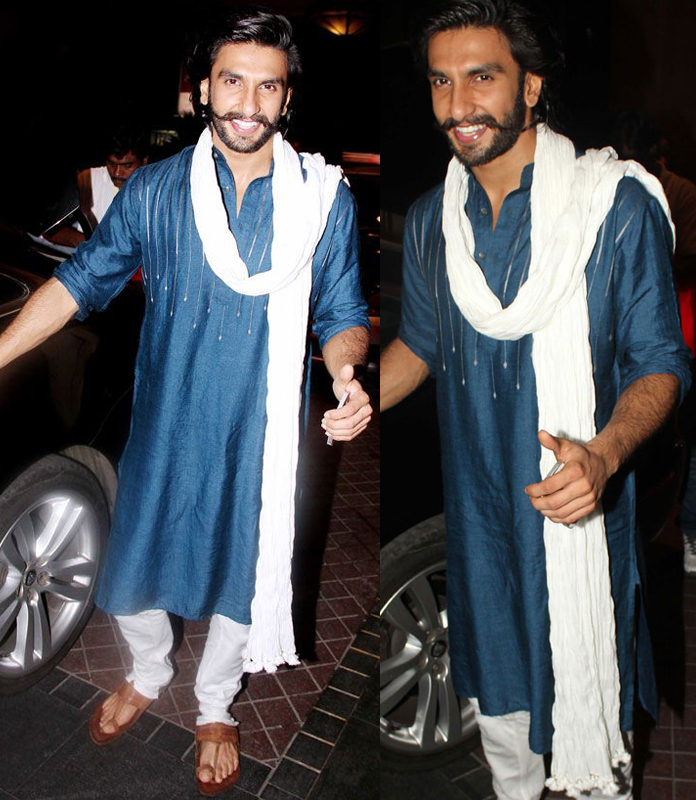 Who said that you only need premium sherwanis and designer suits for an ethnic look on Diwali? Ranveer, who is always in the news for his eccentric fashion sense, easily blends into a traditional kurta pyjama. Completing the simpleton look are Kolhapuri chappals which look fantastic for a perfect ethnic outfit!
9. Stunning Priyanka Chopra in Black Saree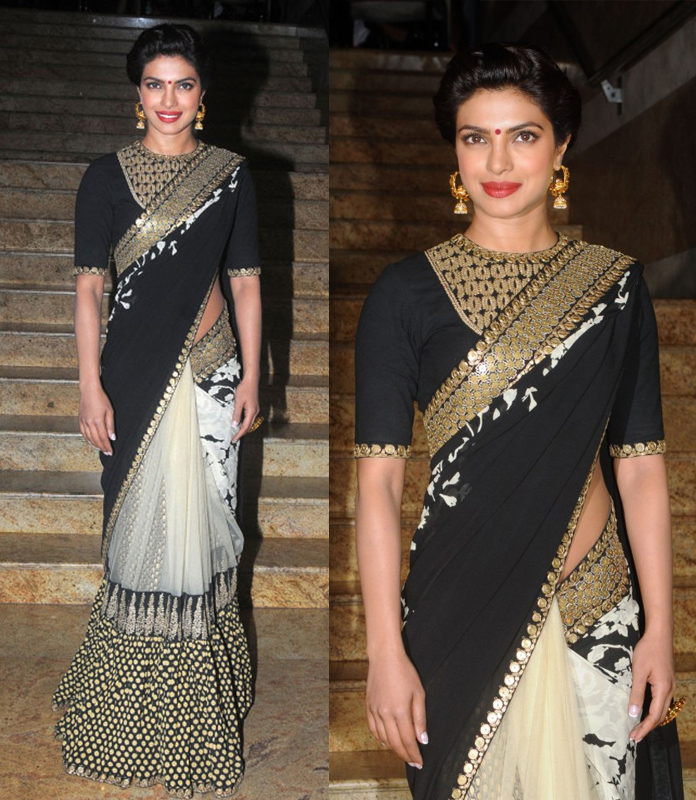 Nothing looks hotter than a black netted saree for a traditional cum modern look in the festive season. Desi Girl Priyanka Chopra shows how to do it in style!
10. Style Like a Nawab with White Sherwani
Make the girls swoon over you in Diwali season by dressing up like Nawab Saif Ali Khan in a dapper white sherwani. As they say, when nothing feels right, go with white!
11. Ileana DCruz Sexy Lehenga Choli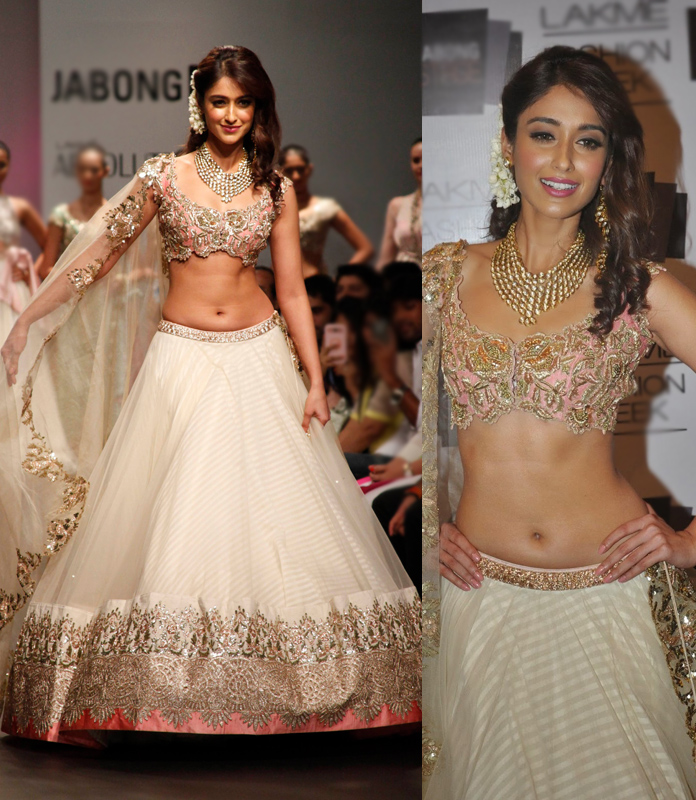 Increase the temperature of the cold Diwali night and dress up like the hot Ileana in a sexy lehenga choli. Although she wore this in Lakme Fashion Week you can definitely try this if you want to try ethnic wear on Diwali.
12. Perfect Male Diwali Ethnic Wear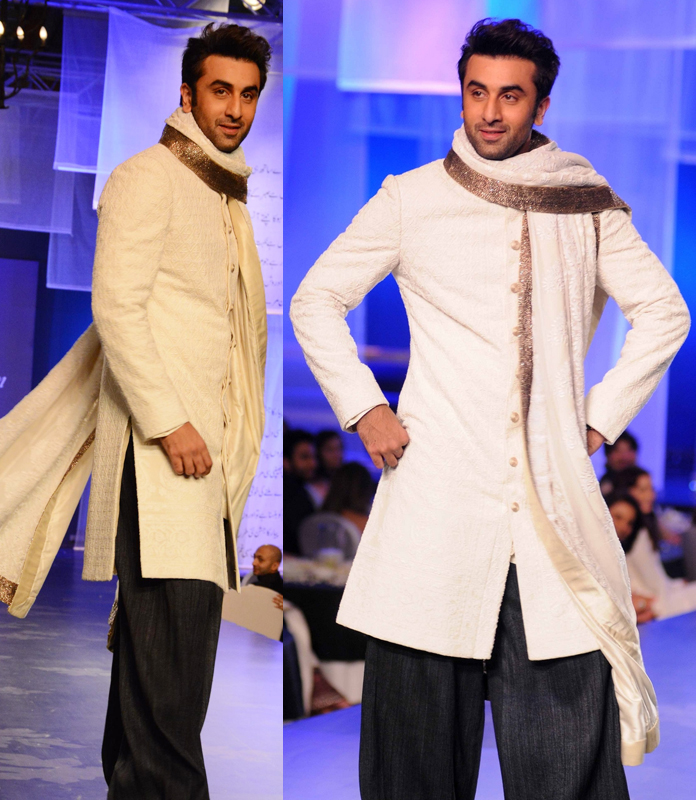 Chocolaty boy Ranbir Kapoor transforms him from a boy next door to a well-groomed man with this perfect Diwali ethnic wear for men. This is an excellent idea for you to flaunt your traditional look and surprise your family members who are only used to seeing you in western outfits.
13. Cute Anarkali Dress Shraddha Kapoor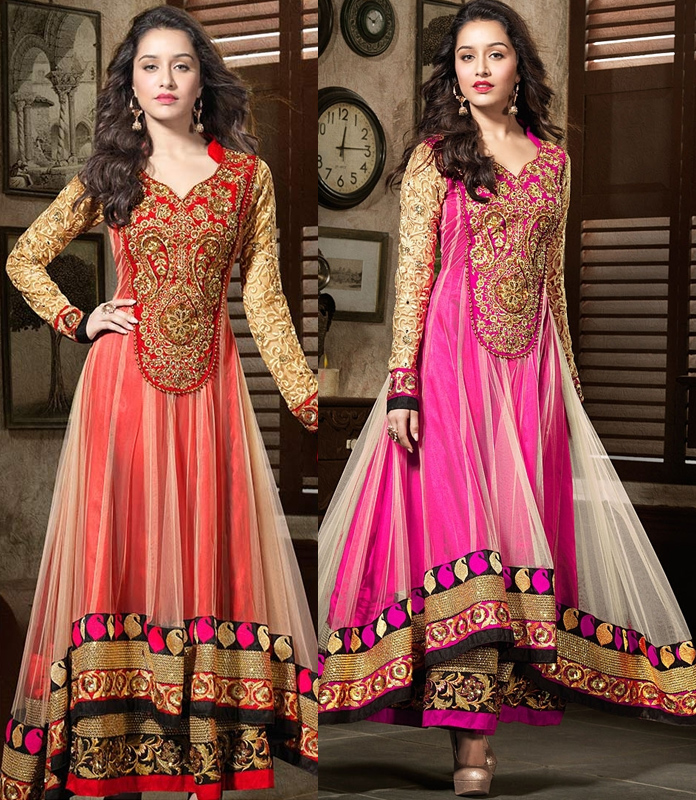 Anarkali suits are all the rage in this season, and they have every reason to be so! Try this Shraddha Kapoor Anarkali suit with bright and bubbly colors and patterns and show your fun and vivacious side on the Diwali night.
14. Killer Khadi Look Like Salman Khan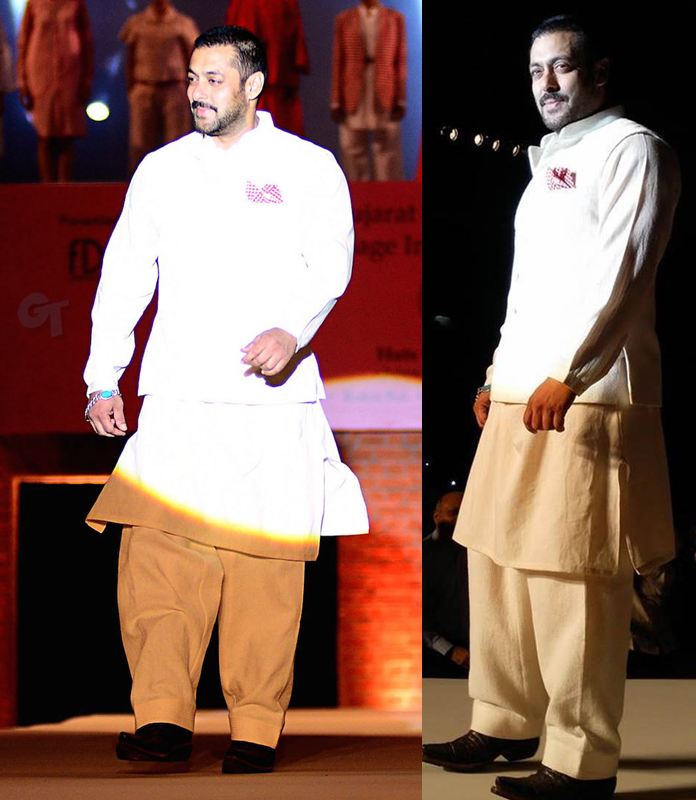 The ultimate poster boy of Bollywood, Salman Khan, shows how to sport a plain Khadi outfit in a rocking style! If you are looking for unique Diwali ethnic wears, you have got to try this outfit. Do not forget to share the compliments with us, however.
15. Ravishing Black Anarkali Suit of Shilpa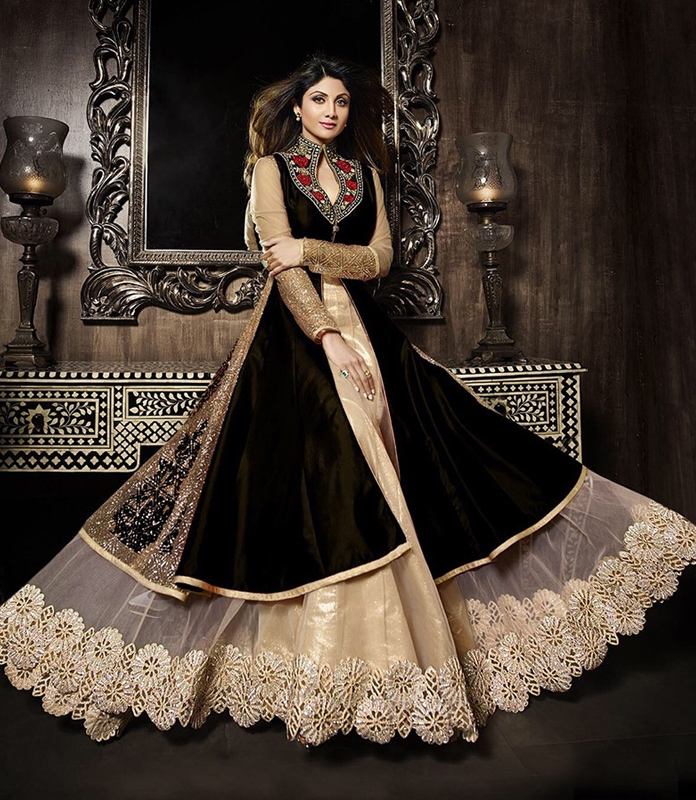 When everyone around you is going crazy about colorful and bright lehengas and suits, how about you try this elegant black Anarkali suit? Shilpa Shetty sure knows how to pull off this Diwali dress, can you do it?
16. Wear Your Attitude this Diwali with Arjun Kapoor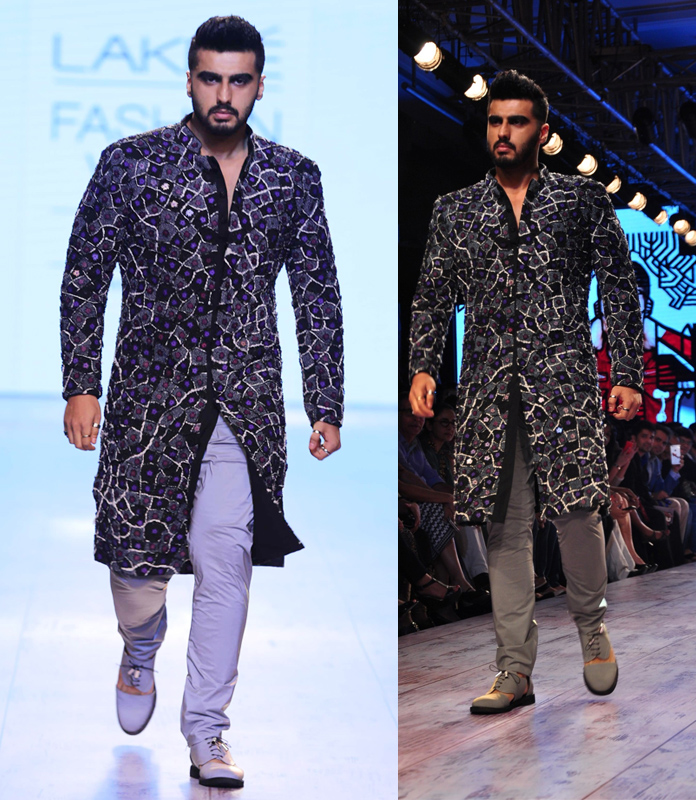 If you are one of those who thinks that traditional wear kills your natural aggression, you can learn few tips from Arjun Kapoor here who stuns in this stylish print kurta with churidar. Sport a sexy beard with this attire, and you are sure to attract a lot of attention from ladies.
Related: How to Grow a Beard

17. Gorgeous Sonam in Ghaghra Choli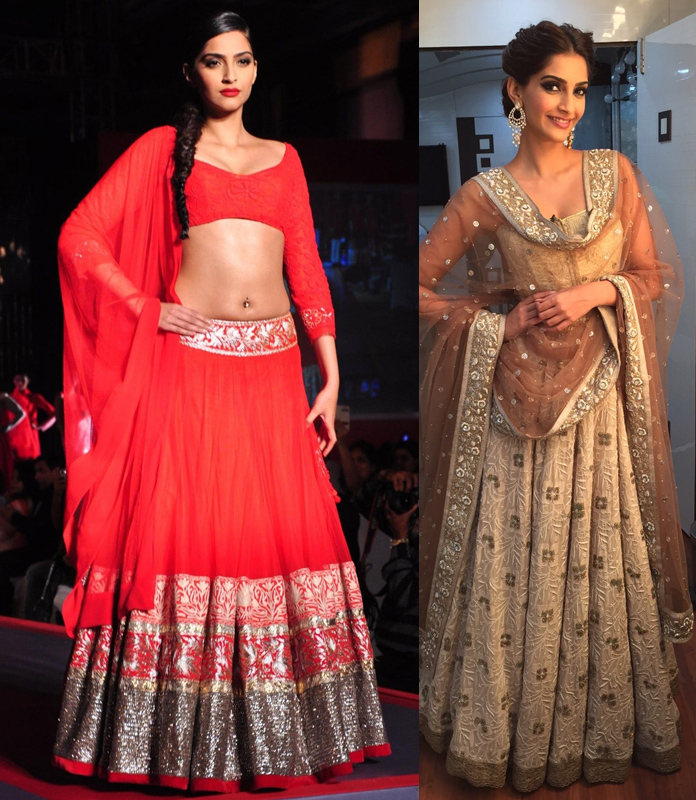 The style diva Sonam Kapoor once again appears in this list to give you lessons on Diwali ethnic wear yet you cannot complain though given the breathtaking beauty of this Diwali dress. You can never go wrong with this hot pink ghagra choli on the festive occasion.
So, what are you waiting for? Get ready to dress up in best ethnic outfits for Diwali by taking inspiration from your favorite Bollywood celebrities. You will surely earn many compliments on your perfect choice of Diwali ethnic wear. After all, you too are nothing less than a celebrity, right?
Also, check out these sexy dresses for women which will make you a center of attraction of any event or party!
Related: Diwali Gift Ideas.