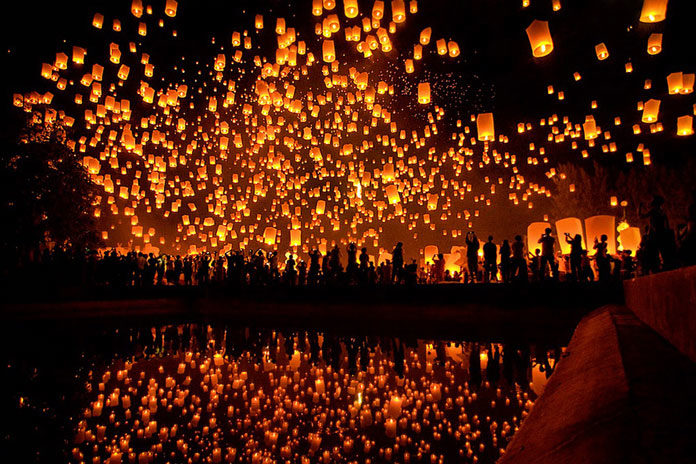 Must Visit Places On Diwali – Glimmering diyas, bright lights, brightly lit sky, and happiness all over the place! This is the sight of Diwali in almost all main cities of India. However, there are some places where Diwali celebration reaches new heights and tourists from all over the world visit to witness the epic celebration at these locations.
Related: Diwali Snacks To Try.
Each place on this list celebrates the Festival of Lights in their own unique manner which is unlike any other celebration in the world. Check out these spectacular places which you must visit on Diwali at least once in a lifetime:
1. Royal Diwali in Jaipur
Pink City is famous for its beauty and historical monuments, forts, and buildings (Hawamahal, City Palace, Nahargarh, etc.). In the night of Diwali, decorations reach an altogether different level when the whole city is bathed with heavenly lights enthralling the tourists from all over the world who visit Jaipur, especially during this time.
You can witness an unforgettable display of lights and fireworks in Jaipur throughout Diwali celebrations which last for five days. The markets and shops in the central city area dazzle everyone with their breathtaking decorations.
2. Golden Temple Diwali in Amritsar
If you actually want to experience a grand scale of Diwali celebrations, you cannot miss to go to Amritsar and visit the Golden Temple on Diwali night. The lights on the Golden Temple look just stunning as people celebrate Diwali as well as Bandi Chor Diwas on this day.
It is said that the foundation of Golden Temple was also established on the day of Diwali itself. Hence Sikhs also celebrate Diwali with equal enthusiasm and vigor. People light oil lamps, candles in the water while Golden Temple is decorated with thousands of lights making it a truly mesmerizing sight.
3. Spiritual Diwali of Varanasi
Take a bath in the holy river of Ganga in Haridwar and participate in the grand Ganga aarti in the evening of Diwali. You can witness the special Dev Diwali in Varanasi (also known as Benaras) where the whole river is lighted up with earthen diyas and oil lamps.
The peaceful and spiritual aura of the place is magnified with the glorious decorations and firework display in Varanasi. Due to these grand lighting in the city, Varanasi has earned the title of the City of Lights.
4. Go Gambling In Goa This Diwali
Did you know that gambling is a part of the tradition of Diwali? And, what better way to follow the tradition than at the heaven of casinos, Apart from being a paradise of gambling, people in Goa celebrate Diwali by staging the killing of Narakasura by Lord Krishna.
Just like Ravana is burnt on the occasion of Dusshera, huge effigies of Narakasura are burnt by people in Goa on Diwali. You can also visit serene beaches of Goa on Diwali if you want to stay away from noise and smoke in other cities of India.
5. Kali Puja in Kolkata
Kali Puja celebration in West Bengal is one of the most famous and grand festival celebrations all over in India. The main festival in Kolkata coincides with Diwali where you can find magnificent pandals (temporary shrines) in every street and corner of the city.
Giant statues of Goddess Kali are decorated lavishly in these shrines and people offer prayers and sing devotional songs and hymns in the evening.
The whole city bathes in scintillating lights and earthen lamps with multiple exhibitions and markets sporting breathtaking decorations. You will simply fall in love with the enthusiasm and gusto of the people in the City of Joy during Kali Puja festival.
6. Magnificent Mumbai in Diwali
While you may know Mumbai as just the big metropolis of India with hardly any trademark Diwali celebrations but the Aamchi Mumbai celebrates Diwali in its own style. You cannot miss to drive through Marine Drive on the night of Diwali and witness the stunning display of lights and fireworks along the arc of Queens.
The sight of sparkling fireworks reflected in the sea waters is simply spellbinding and attracts tourists from all over the world!
If you are lucky to witness celebrations of Diwali in any of the above cities, you will be amazed to see the vigor and enthusiasm of people to follow all customs, tradition, and rituals associated with Diwali. Just for the sake of sheer magnificence and grand scale of Diwali at these places, you must visit these cities during the festival whenever you get a chance!
Also, read about other surprising places in the world where Diwali celebration takes place.
Also Read: Diwali Facts And A Different History.