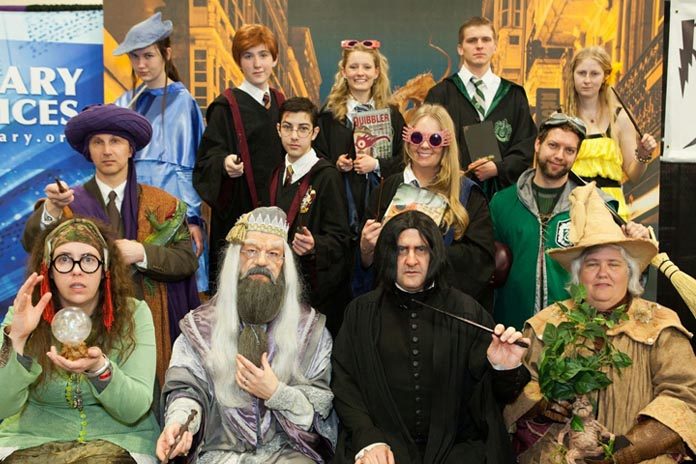 Harry Potter Halloween Costumes – Get ready to jump on the Hogwarts Express to visit the Hogwarts School of Witchcraft and Wizardry this year on Halloween! Yes, we know that in that magical universe, James and Lily Potter were killed by Voldemort on the Halloween night yet you can always count on Harry Potter Halloween costumes to give you an eccentric look for any Halloween party.
Related: Amazing Halloween Party Themes.
That is why you are going to love this collection of best Halloween costumes inspired by the crazy, weird yet adorable characters from Harry Potter universe. Check out this collection of 14 amazing Harry Potter Halloween costumes which will take you to the magical world:
More On Halloween
1. Baby Harry Potter Halloween Dress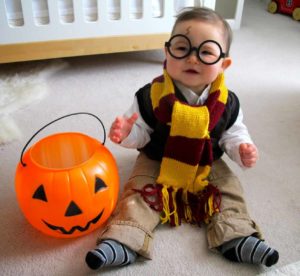 Dress up your toddler as a cute baby Harry Potter in this adorable Halloween costume. When he grows up and read Harry Potter books, he would be grateful to you for such memorable snap!
2. Hermione Kids Halloween Costume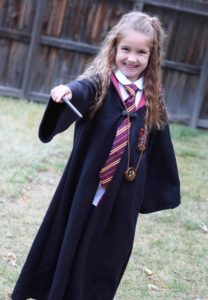 This Halloween costume of the smartest girl in Harry Potter world, Hermione is perfect for your intelligent little daughter. Watch your lovely girl shine in this costume on October 31 and win hearts of all people.
3. Harry Potter Couple Halloween Costume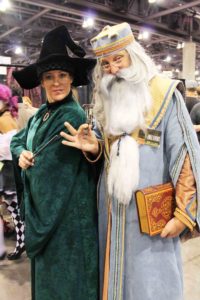 If you and your partner are both Harry Potter fans, then this couple costume is ideal for you. Dumbledore and McGonagall were never an official couple though these coolest single characters in Rowling's universe would make up for a funny Harry Potter couple!
4. Luna Lovegood Harry Potter Costume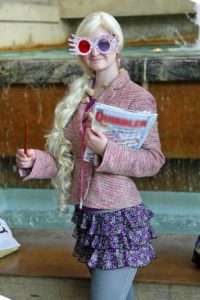 Out of all characters in Harry Potter, Luna Lovegood was perhaps the most quirky yet adorable. If you share her craziness and weird nature, you must try this unique Halloween costume.
5. Adult Harry Potter Costume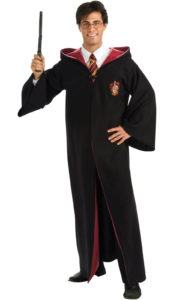 You are never too old to love Harry Potter and this adult Harry Potter Halloween costume is just perfect to express your love for "The Boy Who Lived"!
6. Female Harry Potter Halloween Dress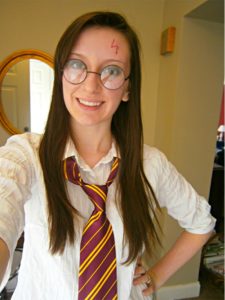 This is one of the most different Harry Potter Halloween costumes. Break the norm by dressing up as a female Harry Potter with a mark exactly like him on your forehead. You are guaranteed to impress everyone at the Halloween party with this dress selection!
7. Bellatrix Halloween Costume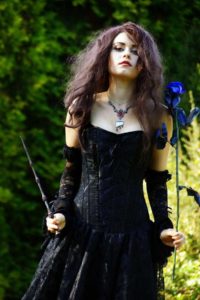 Show off your dark side and dress up as the meanest enemy of Harry Potter, Bellatrix Lestrange. This particular Harry Potter Halloween costume will definitely turn many heads towards you at any Halloween party!
8. McGonagall Halloween Costume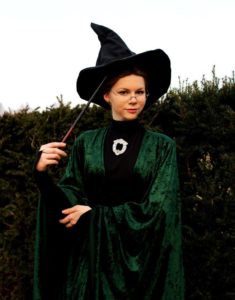 You love Professor McGonagall, and this Halloween costume does full justice towards it. You cannot find a better Halloween costume than this one belonging to one of the strict yet compassionate teachers of Hogwarts.
9. Kids Harry Potter Costume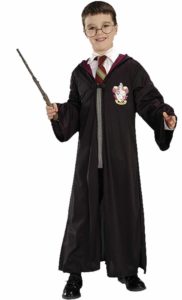 Nothing better than one of the most popular and evergreen Harry Potter Halloween costumes for your child! The best part of this costume is that you can just use his school uniform for a major portion and just need a black cloak to complete the Hogwarts look!
10. Trelawney Halloween Costume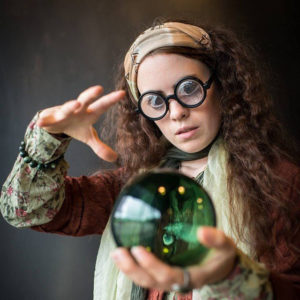 Do you want to look the most different than other characters in a Harry Potter Halloween theme party? Then you must try this Halloween costume of the crazy Professor Trelawney. You will look the most eccentric in the party, and you can show off your skills as a voice artist as well by making a spooky prophecy in a high pitched voice of Trelawney!
11. Death Eater Halloween Costume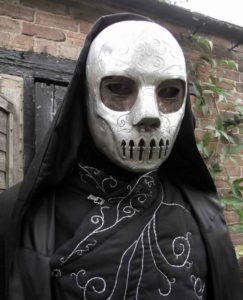 Dress up as a deadly death eater on Halloween and show your evil side. Keeping in mind the general theme of Halloween, this is one of the best Harry Potter Halloween costumes.
Also Try: Kids Fun Activities For Halloween.
12. Umbridge Halloween Costume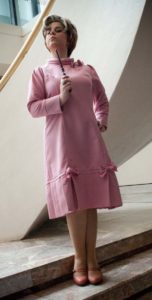 How about dressing up as perhaps the most hated character in Harry Potter universe? Well, you may not like her, but she would prove to be a truly evil Halloween character! Don't you agree?
13. Malfoy Couple Halloween Costume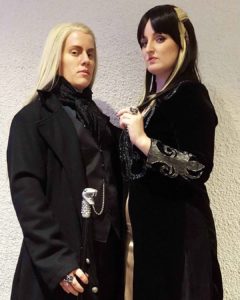 If you are looking for couple Halloween costumes inspired by Harry Potter, then look no further than this Malfoy couple costume of Lucius and Narcissa Malfoy. This couple dress is perfect for you and your partner on Halloween night.
14. Kids Voldemort Halloween Costume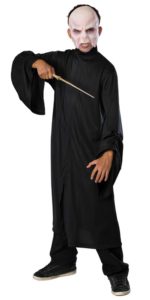 Dress up your naughty child as the biggest villain of Harry Potter with this unique Voldemort costume for Halloween. This one is an ideal Halloween costume for a kid's fancy dress party on the Halloween night!
You may not find a perfect Halloween costume every time however you will never regret wearing these Harry Potter Halloween costumes on the Halloween night. There is no better way to celebrate the spooky festival of Halloween than sporting these unique dresses from the most popular fiction series of all time!
You will also love these Adult Halloween costumes which are sure to add spice to your Halloween party.
Also Read: Halloween Makeup.