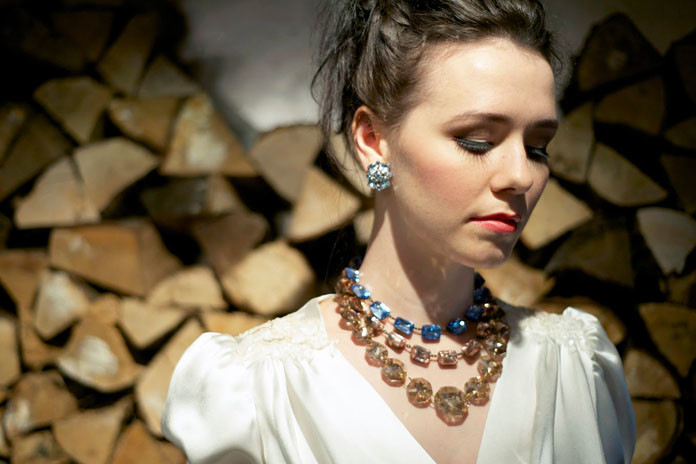 Bridal Jewellery – We firmly believe that bridal jewellry is not just jewelry. Rather, it is the witness of the most beautiful day of your life – Your Wedding Day! Undoubtedly, the bridal jewellry accompanies the bride for the whole special day and makes her look remarkably beautiful. Everyone wait desperately to take a look at the beautiful bride who is the main center of attraction on the wedding day.
Related: Top 8 Bold & Beautiful Bridal Shoes
Hence, every bride wants to look her best on this grand day. The bridal jewellery not only accentuates the beauty of bride but also makes her look quite distinct in fashion and style. We now invite you to take a look at the seven beautiful bridal jewelry items that make you feel like a princess.
1. Shimmering Diamond Solitaire Ring in White Gold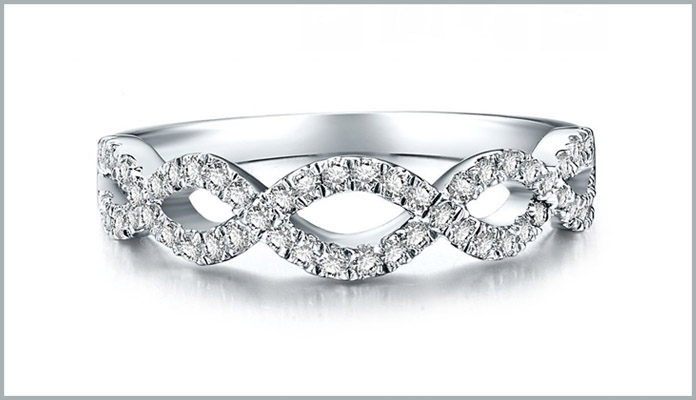 To look your best on your wedding day, you should take care of your skin too. By using homemade face masks, you can get a flawless and attractive skin which is a must for every bride. The spotless healthy skin is a jewel in itself and helps you flaunt beautiful jewelry perfectly. If you have been looking for a fabulous bridal ring, just look at this one.
This beautifully intertwined ring is set in white gold and diamond solitaires. It truly compliments the pure white bridal gown. Wear this sparkling ring and flaunt your delicate fair fingers.
2. Beautiful Orchid Necklace with Ruby Color Swarovski Crystal
Just take a look at this awesome orchid pattern necklace that embeds a beautiful ruby color Swarovski crystal in its design. The orchids are set in matte white gold which creates a beautiful contrast with the red crystal. The sterling silver chain has got a spring clasp which makes it easy for the bride to put on the necklace.
3. Bridal Brooch with Multicolor Rhinestones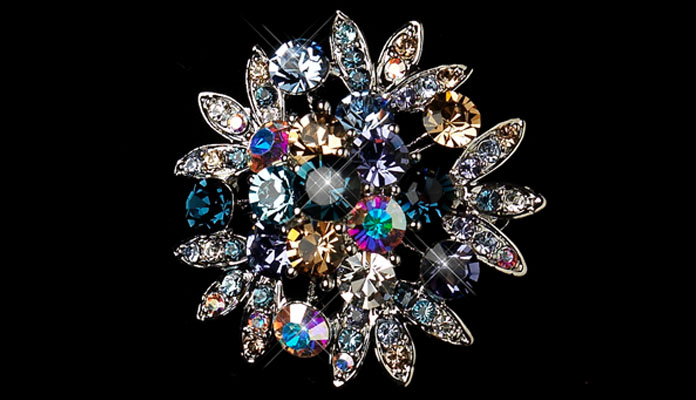 Why not combine some extra color and celebration with this colorful and lively bridal brooch! The best part of this bridal jewelry is that you can use this pin on your hair, attire or bouquet. This scintillating accessory dazzles with multicolor rhinestones and crystals. The beautiful star pattern and a cluster of rhinestones provide the brooch the unique look that is perfect for the bride.
4. Floral Bridal Tiara in Gold & Crystals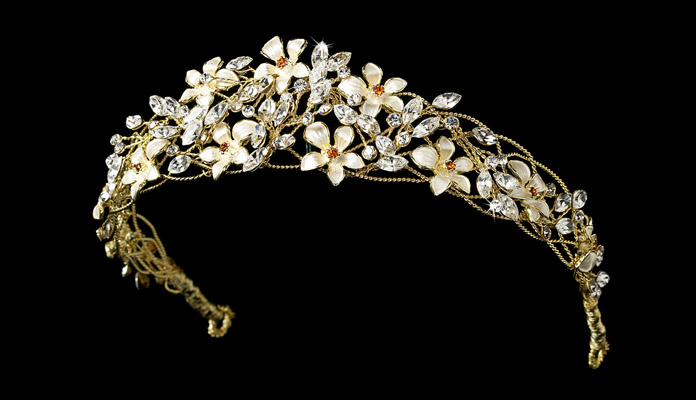 Gold is never old and can never be out of fashion. A small touch of gold to the bridal jewellery adds a lovely appeal. This beautiful tiara is adorned with a floral pattern. The gold plated work and crystals create a mesmerizing combination. Use bobby pins to set this tiara in your hair. It will not only help you feel but also look like a queen!
5. Engrossing Blue Sapphire Dangle Earrings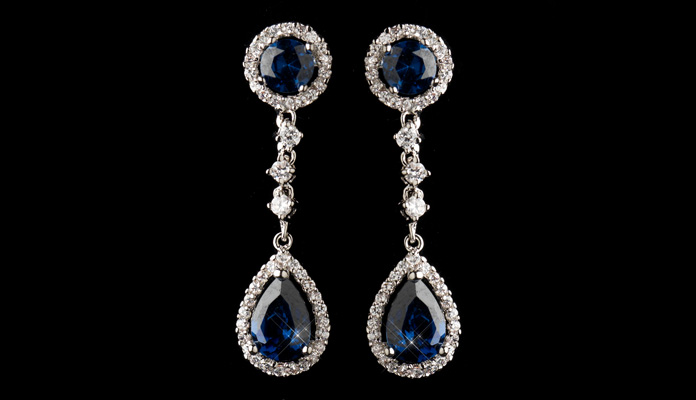 These special and interesting bridal earrings look great with a bridal gown that has got a blue touch in it in the form of embroidery or other embellishments. The earrings have got impactful blue sapphires that are surrounded by tiny Zircons. These silver plated earrings sparkle with beauty and elegance.
6. Bridal Cuff Bracelet with Pearls & Diamonds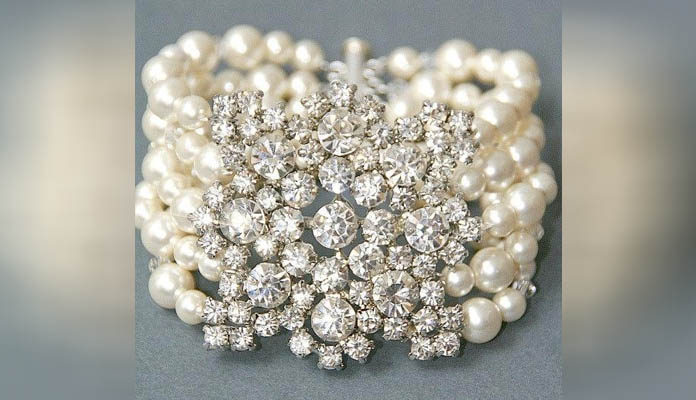 Let your groom stay mesmerized when he holds your delicate hand adorned with this delightful cuff bracelet! Lots of pearls and lots of diamonds come together to form this lovely bridal accessory.
Just wave lovingly to your relatives and friends with this enchanting pearl bracelet in your hand! Pearls carry an infinite beauty and tranquility. When combined with pure white diamonds, they look even more captivating.
Also, when using this pearl and diamond bracelet, the bride should go for a complimenting pearl and diamond necklace and earrings as well.
7. Blue Sapphire & White Diamond Bridal Jewellery Set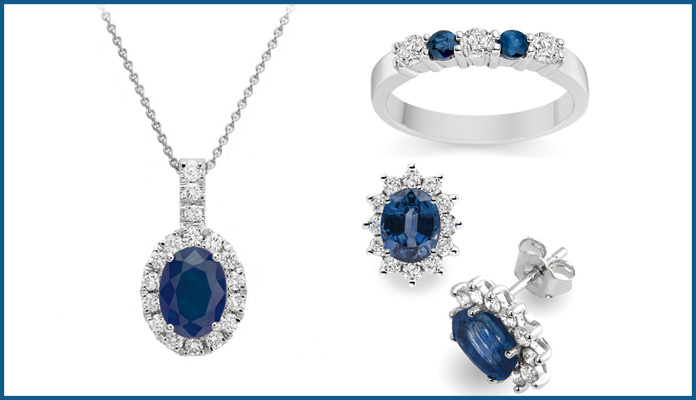 A bridal jewelry set comes with a complete solution for your bridal needs. Just take a look at this stunning jewelry set. It consists of exquisite earrings, pendant, and a wonderful ring. All these are encrusted with royal looking blue sapphires and diamonds.
This set helps the bride attain a marvelous rich look. If you wish, you can opt for similar bridal jewellery sets with a different color gemstone in it. There are a plethora of choices available for such jewelry sets.
Also Try: 25 Indian Mehndi Designs that are Pure Inspiration
Remember that the bridal jewellery and bridal shoes should be selected as per your wedding gown. You should take help of fashion experts to know that what kind of jewelry should be combined with your chosen bridal gown. You should also not ignore the comfort factor as you need to feel cozy along with looking beautiful.
As a bride, it is your right to fulfill all your dreams that you had seen for your grand wedding day. Even if the lovely bridal jewellery of your choice costs you some extra bucks, it should not matter at all. Wedding happens once in life and you should do something much extra to look most beautiful on this very special day.
Also Read: 11 Wedding Dresses for Girls You Can Gift